Timesvape Notion MTL Mech Mod $24.99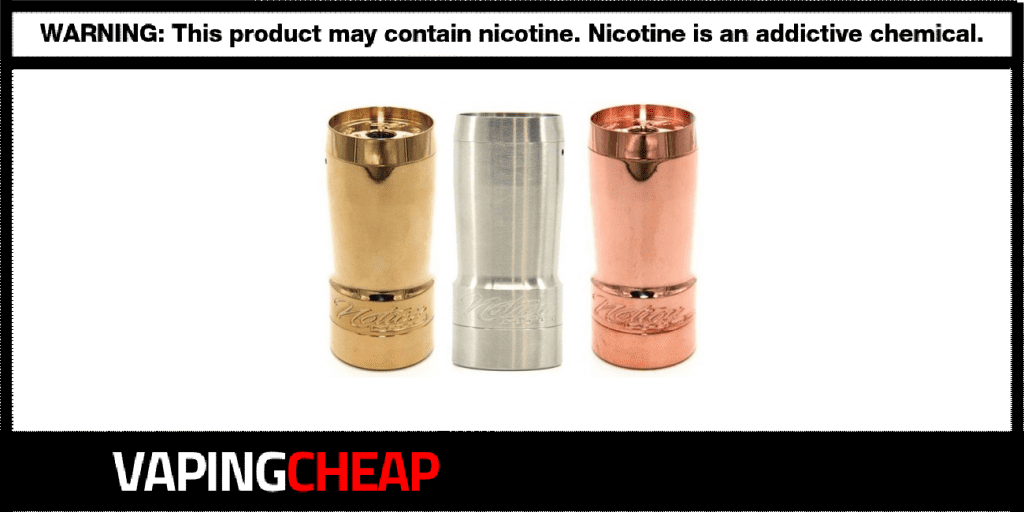 Here's a cheap deal and discount on the Timesvape Notion MTL Mech Mod in collaboration with TenaciousTXVapes. Grab yours starting from only $24.99 after logging into your account. There's currently three options you can choose from which include Brass, Copper and Stainless Steel.
The Timesvape and TenaciousTXVapes Notion MTL Mechanical Mod is an ultra compact and unique device that's catered strictly to be used with mouth to lung atomizers. Since it is fully mechanical, we do recommend fully understanding ohms law and battery safety before use.
With that being said, the Notion mech mod is compatible with two different battery sizes which are 18350 and 20350. A battery adapter is included which allows you to easily swap to which battery you'd want to use.
In addition, it's compatible with RDAs or RTAs up to 24mm in diameter, and includes an adapter cap for your smaller 22mm diameter atomizers. Something to keep in mind with the Timesvape Notion MTL Mech Mod is that it does have a hybrid 510 connection; therefore you'd want to use atomizers with a protruding 510 pin only. We highly suggest not using any stock coil tank with this mechanical device.
One of the best features of the Notion MTL Mech Mod by Timesvape and TenaciousTXVapes is definitely the firing switch. It's similar to that of their Keen Mech Mod, where it's a constant contact switch. What this allows for is less battery arching, and a smooth throw every time you press the switch to take a vape.
If you're a fan of mouth to lung vaping, and looking for an affordable and high performing mechanical tube mod, then you'll definitely want to grab the Timesvape Notion MTL Mech Mod. For the price, it's easily one of the best options out there.
Timesvape Notion MTL Mechanical Mod Features:
Collaboration Between Timesvape & TenaciousTXVapes
Brass, Copper or Stainless Steel Construction
Ultra Compact Size
Powered By High Drain 18350 or 20350 Battery (Not Included)
Unique Constant Contact Firing Switch
Hybrid 510 Connection
Compatible With Atomizers up to 24mm In Diameter
Fully Mechanical
What's Included
Timesvape &

TenaciousTXVapes Notion MTL Mech Mod

18350 Battery Adapter

Adapter Cap for 22mm Atomizers

User Manual
Check Out The Timesvape Notion MTL Mech Mod Review
More Great Vape Deals...
---
Innokin GoMax Tube Kit $15.89
Here's a cheap deal and discount on the Innokin GoMax Tube Kit. Buy yours for only $15.59. No code required. There's[...]