Vaptio Super Bat 220w Kit Review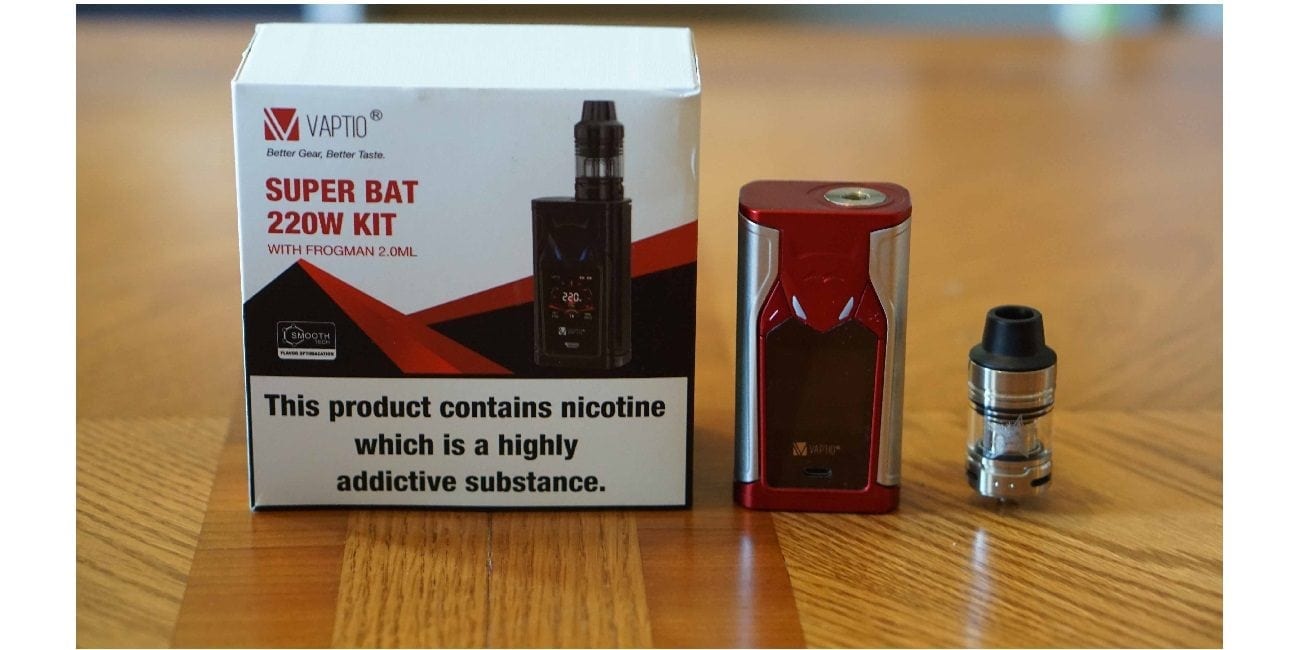 Vaptio Super Bat 220w Kit Review
In this vape review, we'll be taking a look at one of the newest products to be released by Vaptio, the Super Bat 220w Kit. This vape starter kit includes the new Super Bat 220w TC Box Mod and the popular Frogman Sub Ohm Tank. Like the Wall Crawler, this new device features a unique design, and a much better display screen alongside an easy to use user interface. This device is powered by two high drain 18650 batteries and offers the vaper a ton of different features such as TC, an LED lighting system, and more.
Before getting any further into this review, we'd like to thank Vaptio for sending us this vape kit for the purposes of this review. We'll cover our first impressions, usage, performance, pros and cons, and conclude with whether or not we recommend the Vaptio Super Bat 220w Kit!
First Impressions
The Vaptio Super Bat Kit comes in a relatively simple box that we've seen from Vaptio in the past with basic information on the front alongside an image of the actual kit, and on the back there's some more information such as what's included. There is a nicotine warning as well, which is something that's becoming more and more standard.
The Super Bat 220w Kit by Vaptio is currently offered in three different colors which are Black, Silver and Red. The color shown here is the Red color which has silver accents. The silver color does have black accents while the black has somewhat of a dark gray accent. You can also choose between the 5ml Frogman Tank or 2ml Forgman Tank, which is great for those who must follow TPD regulations.
Liked mentioned previously this vape starter kit includes the new SuperBat 220w Box Mod and the Frogman Tank. I am happy they stuck with the Frogman as it's a solid performing sub ohm tank and much better than their Throne tank in our experiences. Once you slide open the packaging, you're immediately met with the vape mod and the vape tank alongside a replacement glass tank section. Underneath that is where you'll find the user manual, USB cable and spare coil head. The packaging itself is good and keeps everything secure.
My first impressions of the SuperBat Mod is that it's a nice looking device, and you can spot the LED lights on the front right away as their in the shape of an eye. It does feature a side firing bar like some other devices on the market, which is something I do enjoy, although it's not something everybody likes. The back of the device you'll see a few slots which all have LED lights behind them as well. Now, I will mention right away that you can fully customize the LED lights or completely turn them off, which is a pro as some vapers simply dislike lights on their devices, which I totally understand.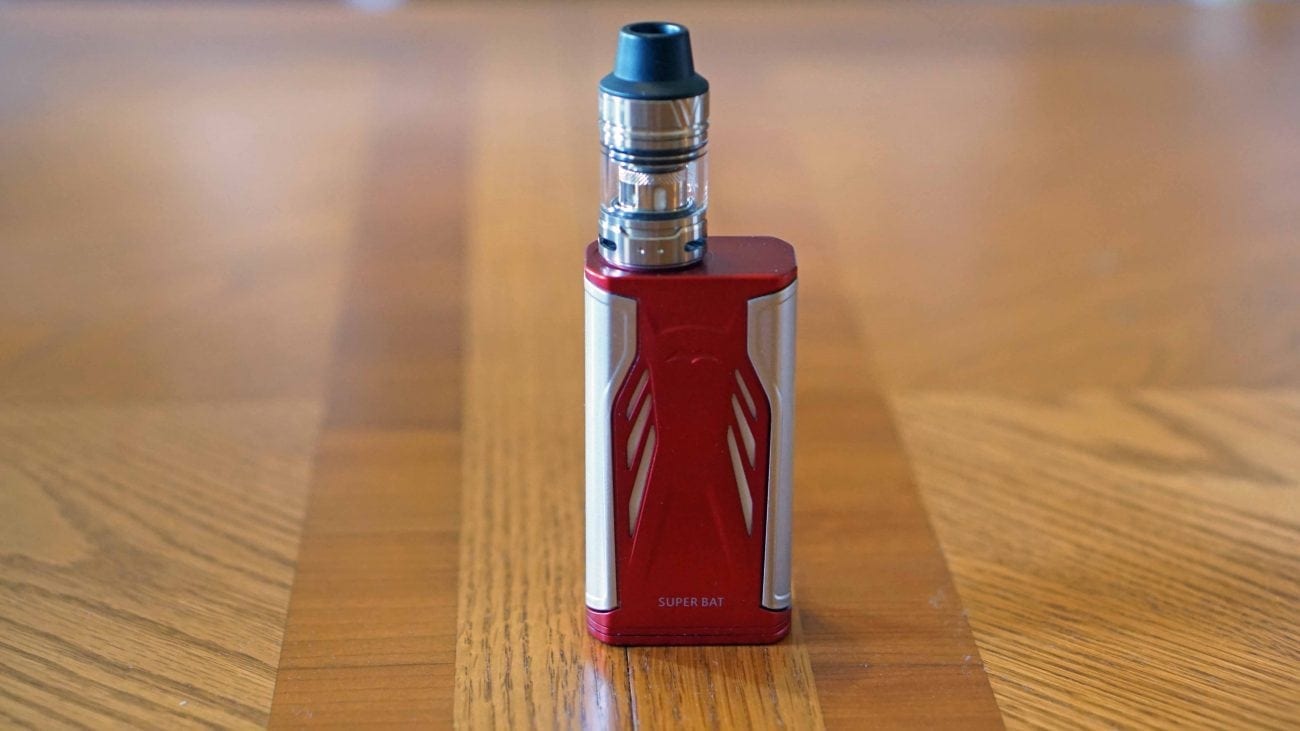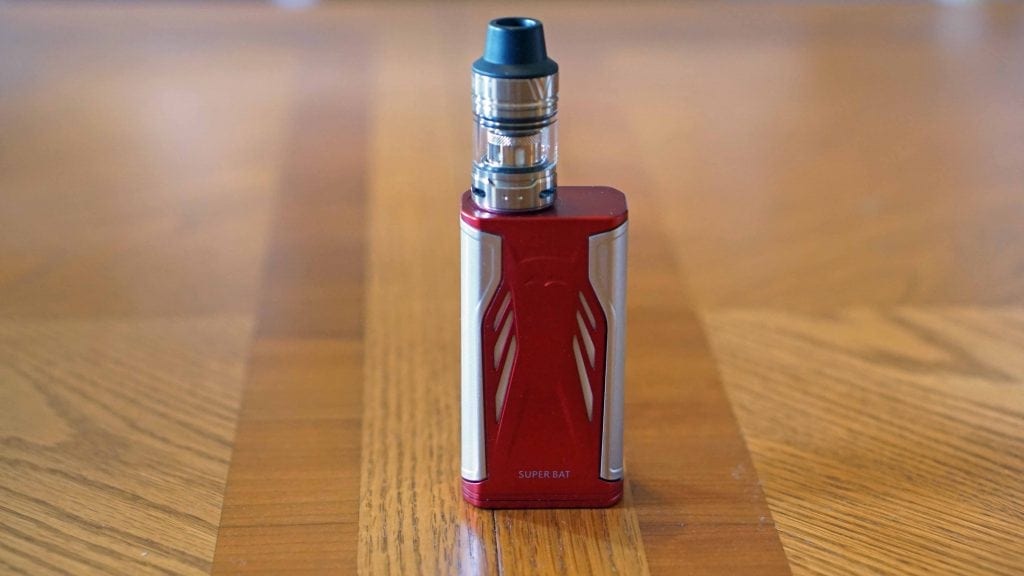 The SuperBat is comfortable to hold in the hands with no sharp edges to be found. The size is pretty much standard for a dual 18650 box mod in my opinion. It's not small nor is it very large. I do want to mention that the screen is pretty large, which is something I wanted to see since our first review of their N1 Pro 240w Kit. The battery door is also held in place firmly with zero play, which is always a good thing.
One last thing I want to mention with my first impressions is that the Frogman Tank included with this kit did come with a decent amount of machine oil, which is a con in my book. I do recommend giving this tank a good wash before use, but I do recommend this regardless with any new atomizer.
Overall, aside from the machine oil mentioned, my first impressions were good! I did like the look and feel of the SuperBat 220w Box Mod and was excited to see how it performed.
Usage
Like mentioned before, the Vaptio SuperBat does require two high drain 18650 batteries for operation. It's very easy to insert and take out your batteries thanks to it's solid battery door. I never once had an issue with my battery wraps tearing or fitting in the device, which is a pro for sure. There is an "A" and "B" for the batteries, which will indicate on your screen the battery life left for each battery as it does monitor each battery independently.
Once you slide two batteries inside, it'll automatically turn on and ask you if it's a new atomizer. It will also ask you this if you attach a new atomizer when it's on, which I do like. Once you choose this, you'll be brought to the main screen, and I must say this screen is really nice and vibrant. It's very easy to see, and just looks great. The resistance or Ohms and voltage output is pretty much and is located on each corner. However, the wattage is shown in a much larger text right in the center. Like a lot of newer mods, this one also features a speedometer type of design in the screen.
As of this review, there aren't any new themes, but it does say coming soon. I did however download a new firmware which introduced a new "Super" mod mode, which basically makes the device fire even faster, although I found that it fired pretty quickly as it. In addition, it added a new display function under setting which if you turned on will display a logo if the mod was on standby for 20 seconds.
I do want to mention that this device is setup right away to turn off after 30 minutes, but if you do dig into the settings, you can adjust this to your preference. I found that you cannot turn this off completely and only adjust it up to 360 minutes, which may be a con to some. Navigating through this device is easy overall, and pretty similar to a lot of box mods on the market today. Firstly, five clicks of the fire button will turn this device on or off.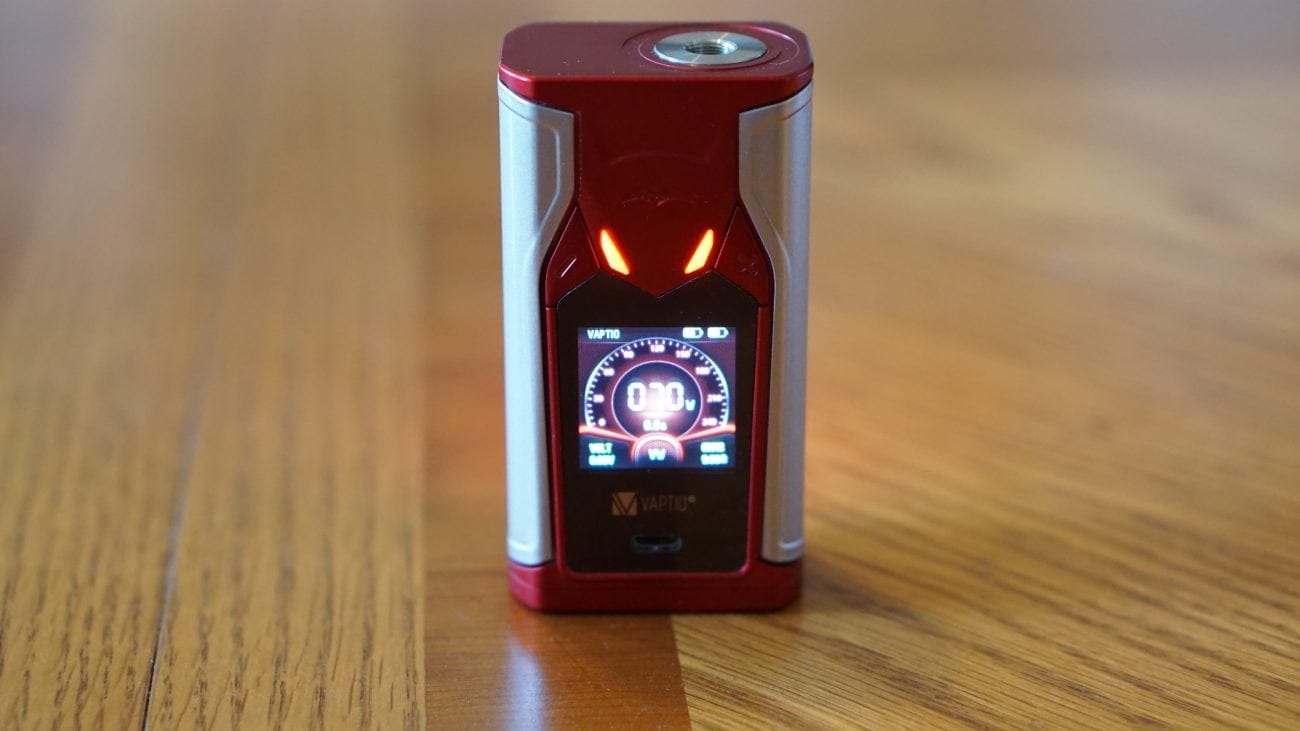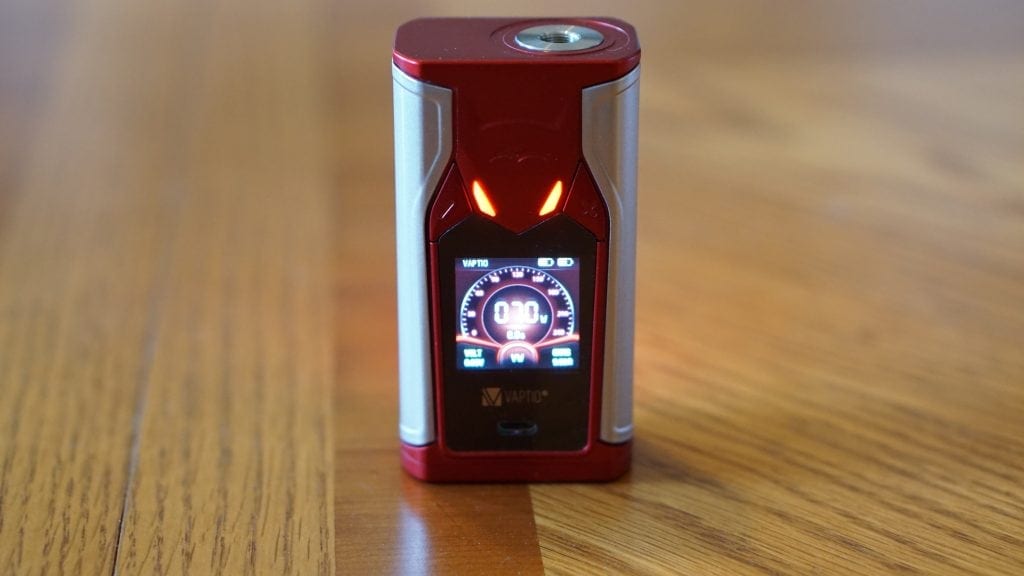 Three clicks of the fire button will bring you to the menu where you can choose from Mode, Setting, Theme and Back. Choosing Mode will allow you to choose between the different temperature control functions (Ni200, Ti, SS), Smart Mode, CCW Mode, CCT Mode, Bypass Mode and standard wattage mode.
In setting, you can adjust the system settings, vape time, sleep time, mode settings, LED settings, puff manager and language. In the theme, there was only one currently available, but I'm sure they'll add more in the future. Another feature is that if you hold the wattage up and down buttons, it will lock the device.
So with that being said, I can certainly say that this device is user friendly. It's very easy to use and navigate through, and if you've vaped with other regulated box mods, I doubt you'll have any issues with this one. The screen itself does remind me a little bit of the Vaptio Wall Crawler Kit, but I do like this one just a bit better. I think it's a bit more vibrant, and the base display it comes with is surely eye appealing.
I won't get too much into the Frogman Tank as we've covered it before, but I will say it's a pretty straightforward sub ohm tank. It's very easy to use and fill, so it's great for both the advanced vaper and beginner. The airflow adjustment is easy, and it does stop when it's fully closed or wide open, allowing you to easily take it apart for changing coils or cleaning.
All in all, using the Vaptio Super Bat 220w Kit was great! The only issue I found was that you cannot completely turn off the auto turn off function, and only increase it to a maximum of 360 minutes. While this doesn't bother me too much, I know for a fact some vapers simply hate that feature.
Performance
For performance of this vape kit, I'll mostly cover the SuperBat 220w Box Mod, but I will quickly cover the performance of the Frogman. The included sub ohm tank is great overall, and currently sits somewhere towards the top when it comes to my favorite sub ohm tanks. It's a simple tank, but it just works well. Filling it is quick with it's top fill system. Simply turn the top and with just half a turn it'll basically pop open, and once you're done simply push down while turning it and it'll close securely.
The coil heads included with this kit are what we've seen before, which are the Frogman W2 Coil and Frogman W8 Coil. The w8 has a resistance of 0.15 ohm and is rated up to 110w while the W2 has a resistance of 0.4 ohm and is rated up to 80w. These coils have little break in time, and the flavor production is solid considering it's a stock coil tank. If you prefer higher wattage vaping the W8 coil will suit your needs, but if you like a bit of a cooler vape and less wattage, then the W2 will be great. I personally enjoy both coils, but the W8 does edge the W2 for me just by a little due to my vaping preferences.
The airflow is nice and smooth, and it does provide a nice slightly restricted direct lung vape. I wouldn't say you can mouth to lung with this one as it's not really designed for that. The drip tip is constructed of delrin, which is another great feature, as it doesn't get hot at all while vaping even at the 80w to 90w range.
The Vaptio SuperBat does require 2 high drain 18650 batteries, and does offer a maximum wattage output of 220w. If you're vaping at higher wattages I always recommend to use good batteries with higher CDR such as the Sony VTC5A or LG HB6. I'm not sure if this device does actually hit 220w, but I will say that it does feel like it's delivering about 200w, which is more than enough for most vapers. I only vaped between 50w and 90w with the SuperBat and I was very satisfied with its performance in wattage mode.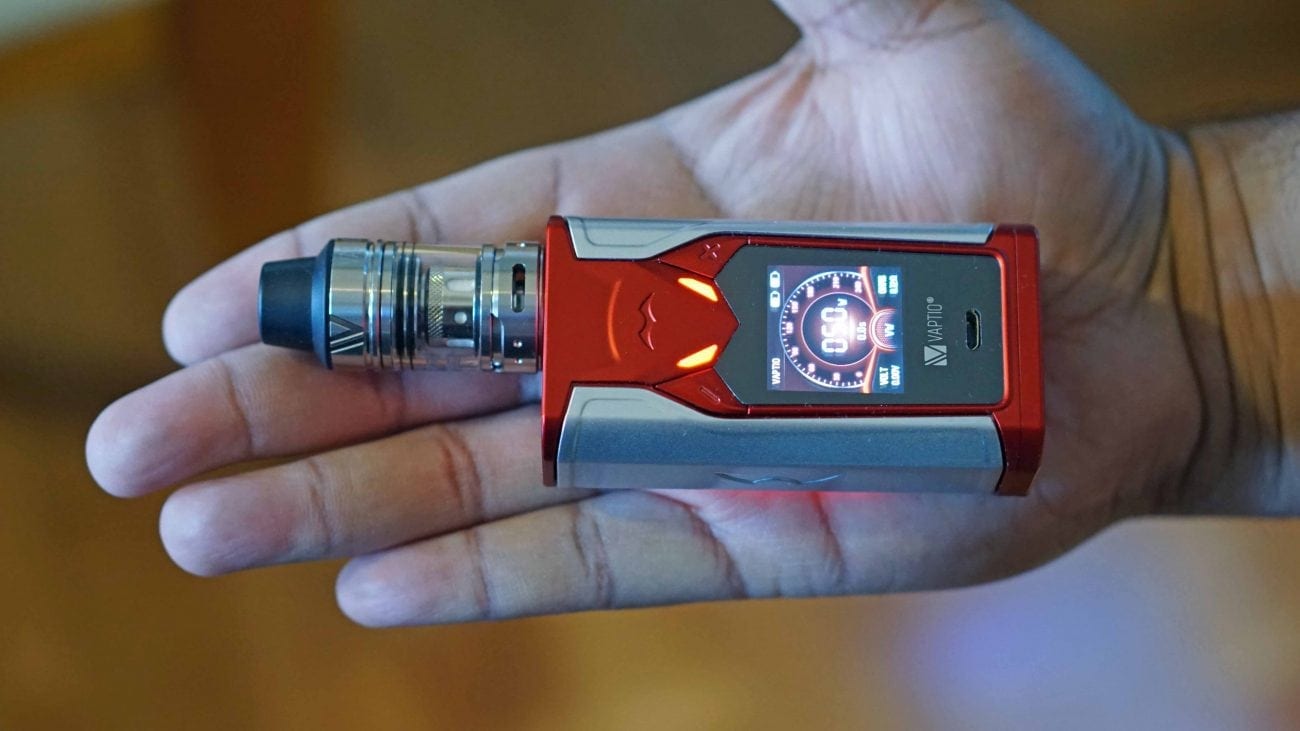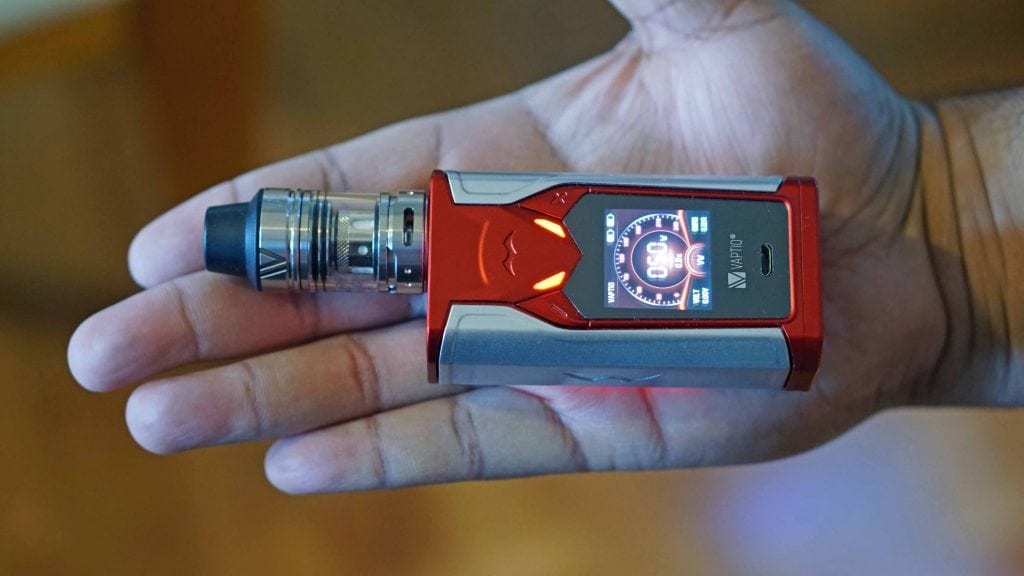 It does also offer curve modes (CCW and CCT) if that's something you enjoy, but I personally don't use these modes much, if at all. In temperature control mode for Stainless Steel, it does work quite well. I never once experienced a dry hit, and the vape itself was pretty consistent overall.
I wouldn't put it in the league of a DNA or YiHi powered device, but it's better than some other devices in its price range. With how it performed in SS TC mode, it'll probably work just as good in Ni200 or Ti mode. I don't vape those wires anymore, but I'm confident with it performing just as well.
The battery life is as you'd expect with a dual 18650 box mod. I can easily get through all of the work day on a single pair of batteries vaping between 60w and 80w. If you're vaping at higher wattages or chain vaping often, then you might have to switch out the pair for a new set, but that's also expected. It does drain the batteries down to about 3.3v each, and after it will not fire at all, which is definitely a good thing.
Overall, I was satisfied with the performance of both the Frogman Tank and the SuperBat 220w TC Box Mod. I had no issues with either device.
Pros
Great Build Quality
Vibrant Screen
Firmware Upgradeable
Solid Performing Tank
Can Customize or Turn off LED lights
Good Battery Door
Cons
Cannot completely take off the auto turn off function
Lots of machine oil in the Frogman Tank
Conclusion
In conclusion, the Vaptio SuperBat 220w Kit is another solid starter kit coming from Vaptio. This company has come a long way with its products, and continue to improve with new releases. Like mentioned previously, I'm glad they included the Frogman Tank as it's a very good performing vape tank and the coils are what make it even better. The box mod has pretty much all of the features you need including TC, Bypass mode and curve mods. Not to mention, the display screen is gorgeous!
There were two cons to be mentioned, and the first one can be fixed with a simple firmware update. The other is just a con and there's no way around the machine oil. Regardless, I do recommend to always clean new atomizers, but when there's machine oil present, it takes even longer to really get it clean. The last thing you want is to taste machine oil mixed with your e-liquid.
Overall, the Vaptio SuperBat 220w Kit is great and for those who enjoy its looks and a fan of LED lights will love vaping with it. If you're looking for a good dual battery vape kit, then this is definitely a good option to consider as well.
We hope you find this review helpful in finding the right vaping kit to fit all of your vaping needs! Feel free to leave any questions or comments down below! Thanks for reading!
Product Features:
Vaptio SuperBat 220w Box Mod

Requires 2 High Drain 18650 Batteries (Not Included)
Maximum Wattage Output: 220w
Temperature Control (Ni200, Ti, SS)
Bypass, CCW & CCT Modes
Firmware Upgradeable
LED Lights (Can be Customized or Turned Off)
Many Safety Features
Side Firing Bar
Colors Available: Black, Silver, Red

Vaptio Frogman Tank

23.5mm Diameter
2ml/5ml E-Liquid Capacity
Top Fill System
Adjustable Bottom Airflow
Includes 2 Replacement Coil Heads (W2 & W8)
Wide Bore Delrin Drip Tip
Replacement Glass Tank Included