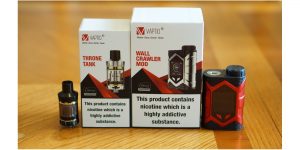 Vaptio Wall Crawler Kit Review
In this review, we'll be taking a look at one of the latest products to be released by Vaptio, the Wall Crawler Kit. This kit is available in two different options, one that includes the new Throne Tank and the other which includes the popular Frogman XL Tank. The new Wall Crawler Mod features a brand new user interface with quick firing, requires a single high drain 18650 battery and sports a compact form factor. This kit is available in four different colors as well such as Black/Stainless Steel, Full Black, Black/Red and Black/Blue.
Before getting any further into this vape review, we'd like to thank Vaptio for sending this vape starter kit our way for the purposes of this review. We'll cover our first impressions, usage, performance, pros and cons and conclude with whether or not we recommend the Vaptio Wall Crawler Kit!
[button color="red" size="big" link="https://vapingcheap.com/likes/Vaptio/Wall-Crawler-Kit-Throne-Tank-Review" ]Purchase Here! (Wall Crawler Kit with Throne Tank)[/button][button color="red" size="big" link="https://vapingcheap.com/likes/Vaptio/Wall-Crawler-Kit-Frogman-XL-Review" ]Purchase Here! (Wall Crawler Kit with Frogman XL Tank)[/button]
First Impressions
The Vaptio Wall Crawler Kit I received came with two separate packages for each vaping device. Both of the boxes showed an image of what's included, has the nicotine warning and on the back it gives you some more information about the product, and what's included. With the device itself, you do receive the Wall Crawler Mod, a user manual and a USB cable.
I'll be mostly covering the Throne Tank since we did cover the Frogman XL tank in our previous review for the Vaptio N1 Pro 240w Kit. The Throne Tank includes a replacement glass tank section, user manual, a MTL drip tip, a pre-installed 0.25 ohm coil, an additional 1.2 ohm coil and a bag of spare parts.
I do want to mention that the replacement glass tubes for the Throne tank are "smoked", which I personally like, but some vapers may not. In addition, this sub ohm tank is compatible with 510 drip tips only, so no 810 drip tip with this one, which may be another subjective con. I personally didn't mind the 510 drip tip since this is more of a low-wattage to mid-wattage vape tank.
The Throne Tank also features a plug and play coil system similar to some Uwell tanks, and has fully adjustable bottom airflow. I do like the overall design of the Throne Tank, and the top does look somewhat like a crown; hence the name "Throne".
I do want to mention that the tank did come with a lot of machine oil, and required a very good cleaning before it went completely away. For me, this is a con as I just hate when atomizers come drenched with machine oil. It's not the biggest con nor a deal breaker, but something worth mentioning.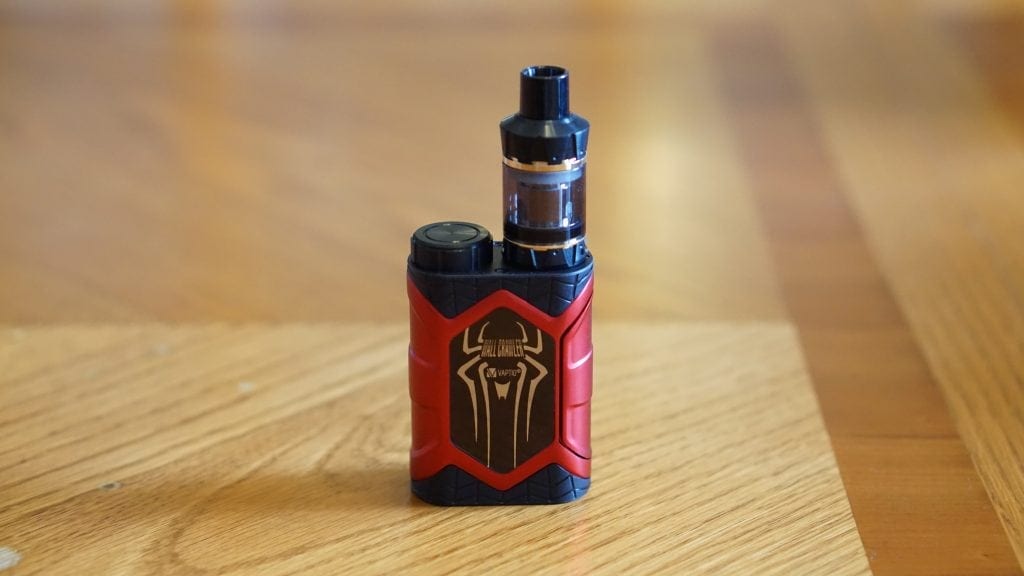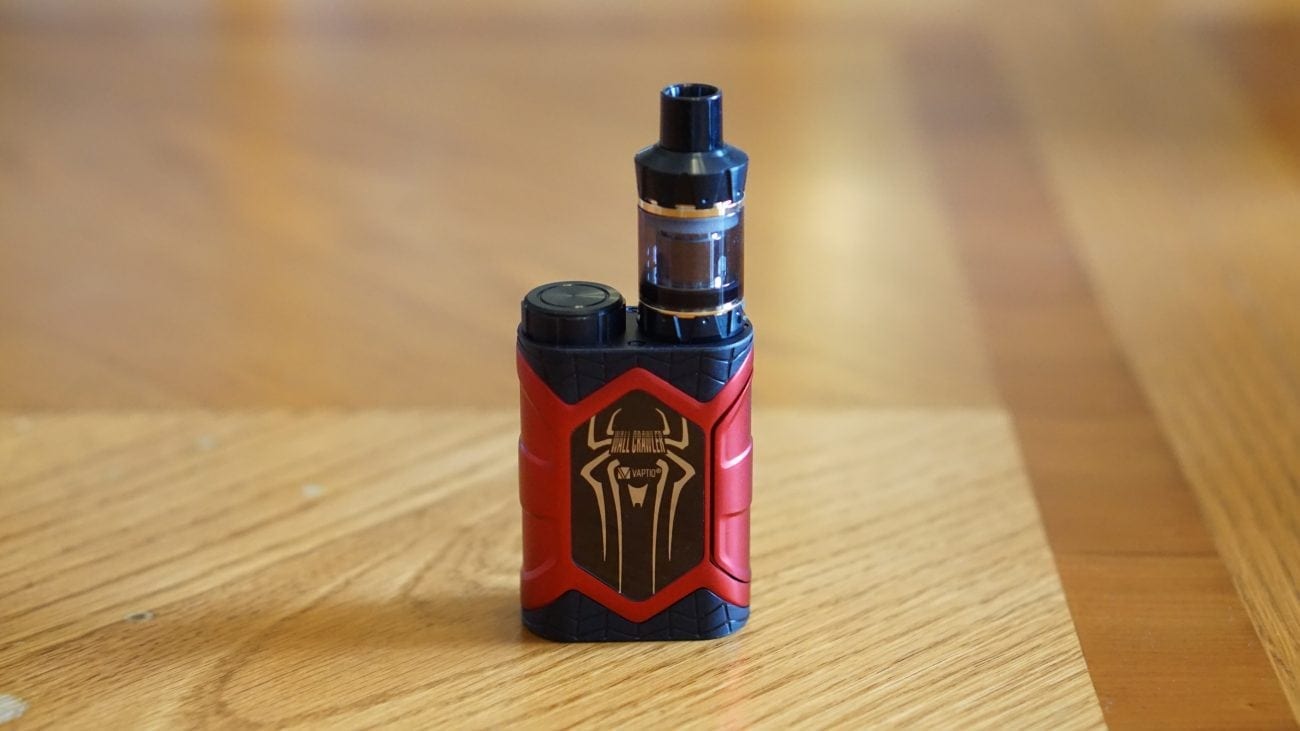 The Wall Crawler Mod sports a similar design to some other box mods we've seen from other brands, which is definitely a good thing. I do like this specific form factor as it's not only compact, but very comfortable to hold and use. The vape mod itself sports a web kind of design at the top and bottom, which is something that did grow on me over some time. I know some vapers may not enjoy this type of look, but give it some time, I think it'll grow on you. It's a really sleek looking box mod overall with a side firing bar that's nice and clicky.
The threads for the battery cap are decent, and it's clearly marked how to insert your batteries, which is positive down. A big pro to this box mod is that atomizers up to 25mm will fit with zero overhang. With so many atomizers being released that's 24mm and 25mm, it's great to see they made sure it'll accommodate most atomizers that is being released, including their own. The screen is also quite large as well for its size, coming in at 1.3 inches. This is the size screen I would've loved to have seen on their first mod, the N1 Pro.
All in all, my first impressions of both the Throne Tank and Wall Crawler Mod were great! There was the issue of machine oil with my specific tank, but it wasn't a deal breaker, more of an annoyance.
Usage
As mentioned previously, the Wall Crawler Mod by Vaptio does sport a compact design; therefore it's easy to carry with you in your bag or pocket. Replacing the battery is easy too thanks to its threaded battery cap which is located at the top of the device. I do wish the threading was just a little better, but it's not bad by any means. It could just be a tad bit smoother. I never had any issues though using the battery cap, and never had any issues with my batteries I would use.
The 1.3 inch color display screen is nice and bright, so it's very easy to see all of your vaping information. On the screen, it shows the wattage in large font alongside which firing mode you are in, and in the corners it'll show you the battery bar, which mode you are in (TC, Wattage, Bypass), resistance, and voltage. This is definitely one of the better display screens on the market for sure when it comes to single battery devices.
Navigating through the menu system is also easy. Firstly, five clicks of the fire button will turn the Wall Crawler Mod on or off. After turning the device on, a simple three clicks of the fire button will enter the main menu. In this menu, you can select between mode, setting, theme and go back. In mode, you can choose between standard wattage mode, the different TC modes available (Ni200, Ti, SS, TCR), Bypass, CCW and CCT modes which are your curve modes.
In theme, you can select from the different backgrounds I would assume. There's currently only 1 theme available on the firmware on my device, but I would guess they'll be adding more in the future or maybe you can add some yourself. In setting, you can select from System, Smoke Time, Sleep Time, Inner Resistance, and Language. On each menu, there's always a back and home selection, which allows you to quickly return to the base menu.
So, with that being covered, I can say that this device is pretty straightforward and easy to use. I'm sure beginners will have no issues getting used to it, and advanced users will easily adapt to its menu system. Something else worth mentioning is that all of the atomizers I've used with this device up to 25mm sat flush and made a connection.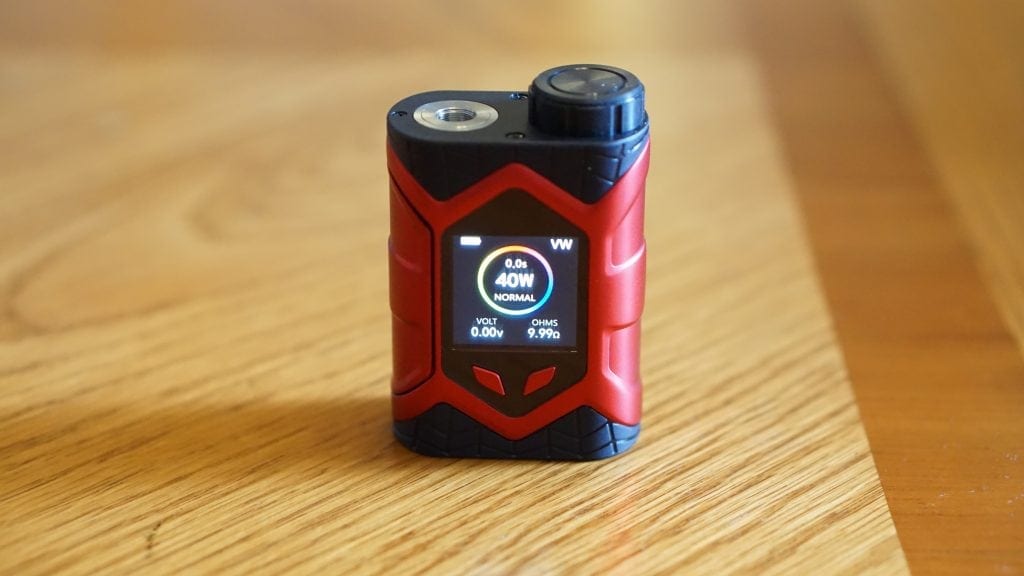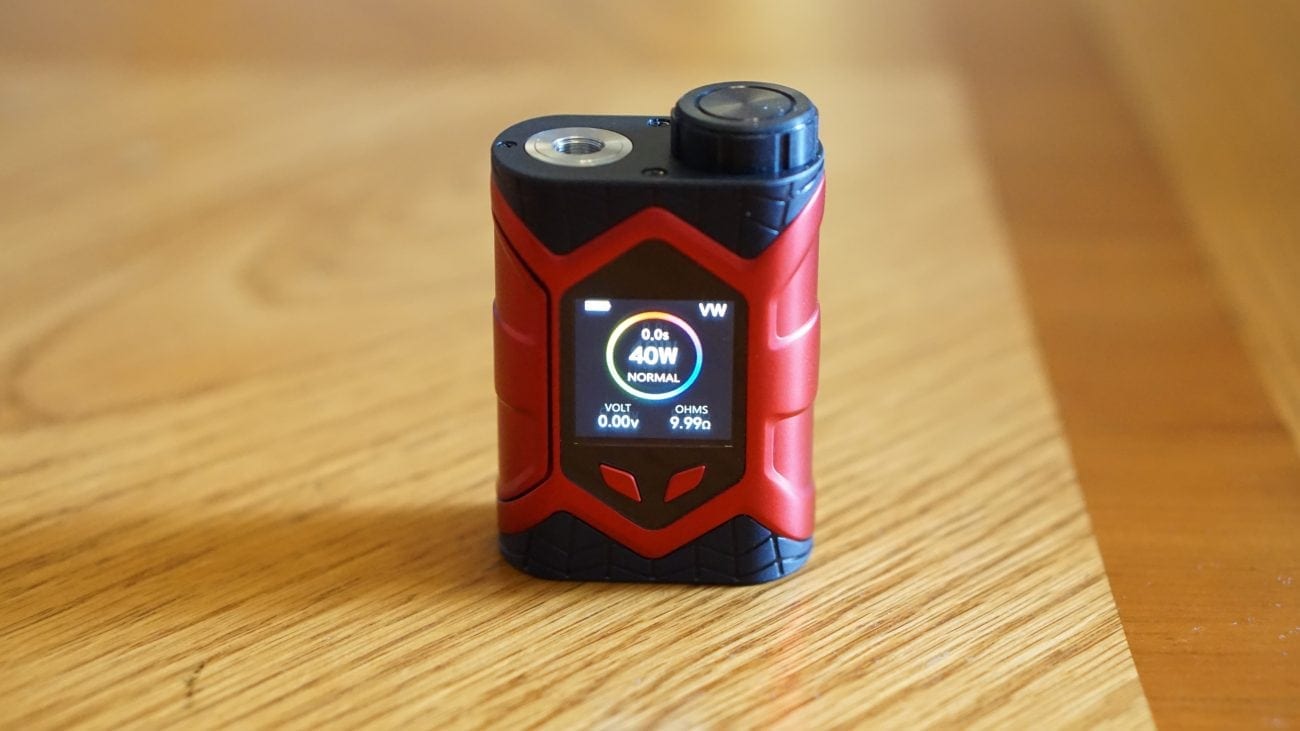 The Throne Tank is pretty interesting in how you fill e-juice and change coils. Typically with plug and play coils, you would insert the coil from the bottom when unscrewing the base.
With this vape tank, when you unscrew the top section, this is how you access your coil. Simply unscrew the top like if you were going to fill, and take out the coil. The coil does go in a specific way, so do keep that in mind. Also, you'll notice a silicone or rubber ring right below this area, and this acts like a fill port in a way. Simply push your e-liquid bottle past it and you can easily fill this tank. It's an interesting fill method, but it works.
What's great about this tank as well is that it features juice flow control. This is something you don't often see with sub ohm tanks, and you can close or open the juice flow control by simply turning the top section. Even with the smoked glass tank section, you can clearly see when the juice flow ports are open or closed. The airflow is also easily adjustable thanks to its knurling, and has just the right amount of tolerance in my opinion.
Overall, using the Vaptio Wall Crawler Kit has been a great experience. I had no issues with the mod or the tank over the past two weeks.
[button color="red" size="big" link="https://vapingcheap.com/likes/Vaptio/Wall-Crawler-Kit-Throne-Tank-Review" ]Purchase Here! (Wall Crawler Kit with Throne Tank)[/button][button color="red" size="big" link="https://vapingcheap.com/likes/Vaptio/Wall-Crawler-Kit-Frogman-XL-Review" ]Purchase Here! (Wall Crawler Kit with Frogman XL Tank)[/button]
Performance
In regards to performance, I'll first cover the Wall Crawler Mod. As mentioned previously, this device does require a single high drain 18650 battery for operation, and has a maximum wattage output of 80w. I do like that this device is not claiming an overly high amount of wattage with a single battery, and can say that this device does vape like it's delivering a true 80w. I think 80w is more than enough for a single battery device, and if you're vaping at higher wattages consistently, then you'll probably benefit from a dual or triple battery vape mod.
When it comes to temperature control performance, this device does perform quite well. The temperature setting felt quite accurate and the same can be said when it comes to the resistance this device was reading. I did test this device in TCR mode and the standard stainless steel TC mode, but going by how it performed there, I'd say the TC performance for other wires such as Ni200 or Ti, it'll work just fine.
In wattage mode, it does offer various fire modes such as Soft, Standard and Hard, which is always great to see with the devices. The "Hard" mode is great for when you need a punch to ramp up an exotic coil build such as a Fused Clapton. Honestly, I keep it in the "standard" mode for the majority of the time while using it, but it's still nice to see they added these functions. Something worth mentioning is that this device does fire instantaneously with pretty much no delays. This is certainly a pro in my book!
When it comes to battery life, it's on par with most other single 18650 devices on the market today. While vaping on and off at around 50w, I could get through about half the day before needing to change out the batteries to a fresh pair. When vaping at lower wattages such as 10w to 20w, I can definitely get through pretty much all of the work day before needing to change batteries. The battery life for any device will be determined by how much you vape and the wattage you're vaping at.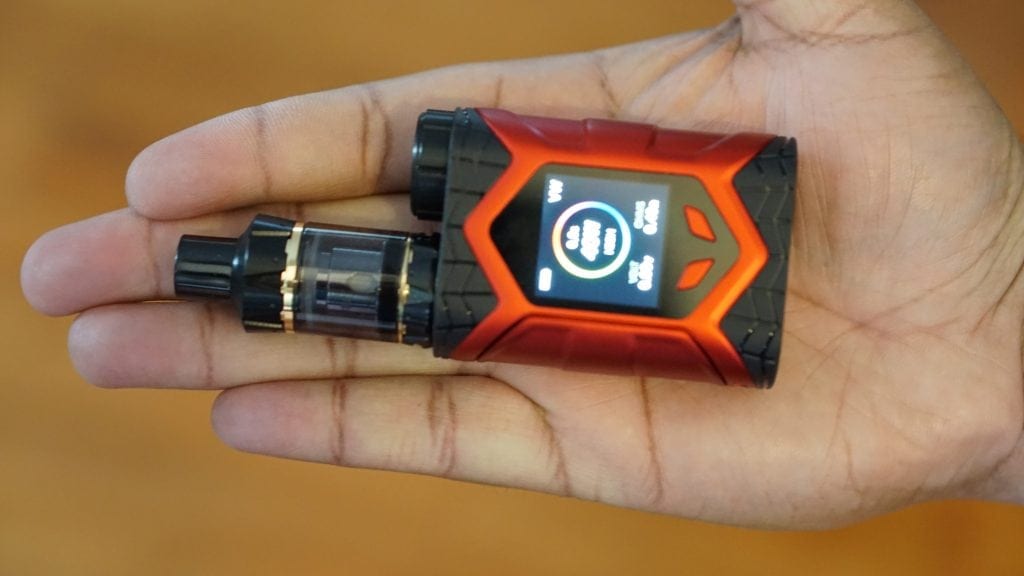 When it comes to the Throne Tank, the performance was decent overall. It does come with two coils which are 0.25 ohm and 1.2 ohm. The 1.2 ohm is of course more suited for mouth to lung vaping, while the 0.25 ohm is more for direct lung vaping. I much preferred the 0.25 ohm coil, as it fits my vaping preferences much better. The flavor was decent off of these coils, not the best nor the worst. The vapor production was better with the 0.25 ohm as well since it's more of a direct lung vape experience, but the 1.2 ohm coil did produce a respectable amount of vapor.
The airflow is nice and smooth, and when it's wide open, there's a slight restriction to the vape, which is what I prefer. The tank capacity is 2ml, so depending on how much you vape and at what wattage will determine how many times you'll fill this tank during the day. I found myself having to fill it at least twice per day and sometimes up to four, depending on how much I was vaping.
Overall, when it came to performance, the Wall Crawler Mod definitely delivered. The Throne Tank was a good performer overall with decent flavor and vapor production.
Pros
Excellent build quality
Large 1.3 inch color display screen
Solid Temperature Control & Wattage Performance
Great Design (Throne Tank & Wall Crawler Mod)
Easy to use
Accommodates atomizers up to 25mm with no overhang
Instant Firing
Cons
Throne Tank had lots of machine oil
Could have better threading for battery cap
Conclusion
In conclusion, the Vaptio Wall Crawler Kit is another excellent vape starter kit released by Vaptio. The build quality from Vaptio has been excellent thus far, and quite impressive honestly. The fact that this device can house a 25mm atomizer with no overhang is great, and it does have a ton of features packed into a small size. The Throne Tank is gorgeous, and would fit the vaper who enjoys vaping at the low to mid wattage range.
Although this kit is great, it does have some cons to be mentioned. The first one was the machine oil in the Throne Tank. There was a lot of it, and it did take some time to really get it all out. It's not a deal breaker by any means, but it's certainly annoying having to wash an atomizer that much in order to get it clean. The next con was the threading for the battery cap. It's not terrible by any means, but it's not the greatest either.
All in all, I can surely recommend the Vaptio Wall Crawler Kit to either the newer vaper wanting to upgrade to the next step or the advanced vaper looking to get something new and unique that packs a punch.
We hope you find this review helpful in finding the right vaping kit to fit all of your vaping needs! Feel free to leave any questions or comments down below! Thanks for reading!
[button color="red" size="big" link="https://vapingcheap.com/likes/Vaptio/Wall-Crawler-Kit-Throne-Tank-Review" ]Purchase Here! (Wall Crawler Kit with Throne Tank)[/button][button color="red" size="big" link="https://vapingcheap.com/likes/Vaptio/Wall-Crawler-Kit-Frogman-XL-Review" ]Purchase Here! (Wall Crawler Kit with Frogman XL Tank)[/button]
Product Features:
Wall Crawler Mod

Requires a Single High Drain 18650 Battery (Not Included)
Maximum Wattage Output: 80w
Temperature Control (Ni200, Ti, SS)
TCR, Bypass & Curve Modes
Threaded Battery Cap
1.3 Inch Color Display Screen
Side Firing Bar
Instant Firing
Many Safety Features
Various Colors Available

Throne Tank

23.5mm Diameter
2ml E-Liquid Capacity
Top Fill Design
Fully Adjustable Bottom Airflow
Juice Flow Control
Includes 0.25 ohm & 1.2 ohm Coil Heads
MTL 510 Drip Tip Included
Bag of Spare Parts & Replacement Glass Tank Section Included