Vaporesso Barr Review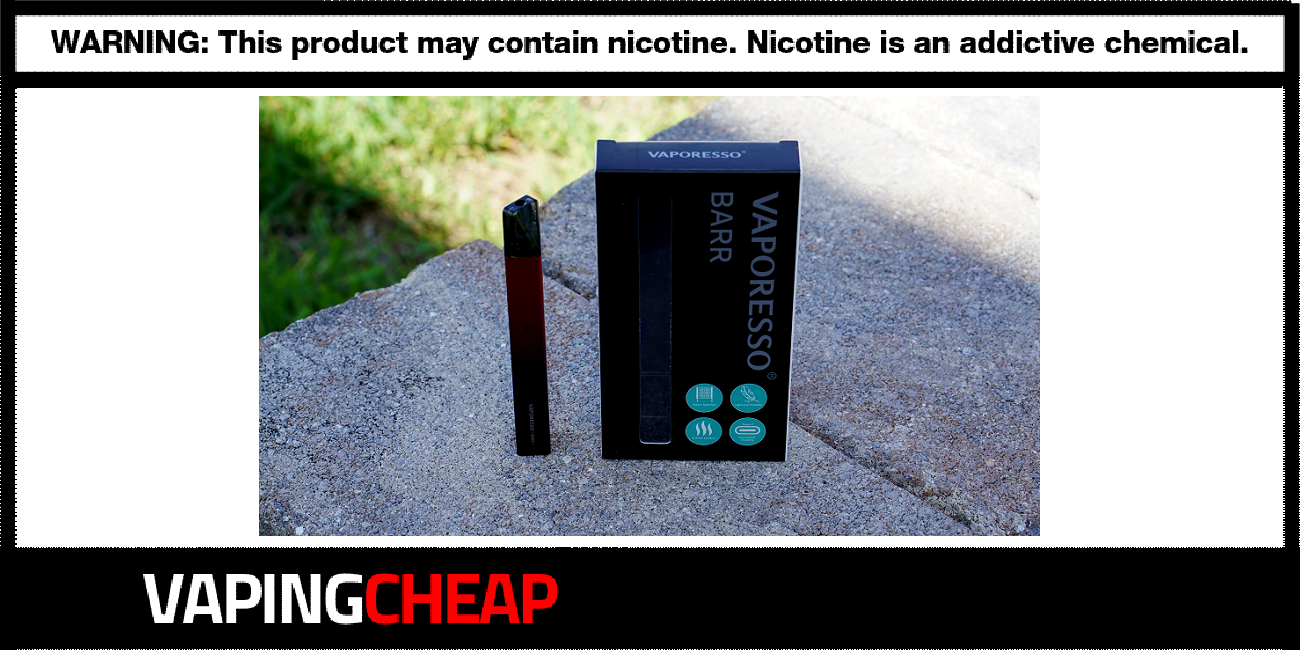 Ever since the release of refillable pod vapes, they've always been a simple, cheap and effective way to deliver higher strengths of nicotine. Although these kinds of vape devices are relatively simple at their core, there is always a need to go above and beyond to implement changes in order to deliver an even better vape experience.

Whether it's the aesthetic, pod cartridge coil, power control, or airflow, there are certainly ways to achieve this. Vape brand, Vaporesso, is back with yet another device, the Barr, which aims to be cost effective while offering some key features that is set to provide a great vape. Is this the case and is it really different from the sea of pod systems currently on the market? We'll let you know this and more in our Vaporesso Barr review.
Vaporesso Barr Key Features
As mentioned earlier, the Barr pod system does implement quite a few unique features that sets itself apart from the competition. Let's get started and quickly cover what you'll find with this slim device.
Vaporesso Barr First Impressions
The packaging for the Barr by Vaporesso is incredibly simple yet effective. On the front, you've got the name of the device alongside some primary features. This includes a flavor satisfisfying mesh coil, light and portable weight, airflow control and of course type-C charging. Thank you Vaporesso, once again for implementing this on your new products!
It's something I hoped for when reviewing the Gen Nano, so I'm glad to see they're listening to their customers. The only downside to this is that the charging port is located on the bottom, but I'm still glad to see type-C instead of micro USB. This way of charging is safer, easier and faster.

On the back of the Vaporesso Barr's packaging, you'll see more information such as specifications and what's included inside. Speaking of, once you cut open the plastic and slide it open, you're met right away with the BARR.
My first impression was that it is quite sleek and stylish just as they mentioned. However, it is pretty modern looking and something you'd expect to get in the year 2020. Additionally, the Barr vape pod is very slim and compact. I could easily see this fitting into anyone's pocket, purse or travel bag.
In The Box
Inside the box, you will get not one, but two replacement pod cartridges. Yet another huge pro in my book! I hate seeing pods or even starter kits coming with only one coil or pod. Both pod cartridges are the exact same and both feature the 1.2 ohm "well-developed: mesh coil head" inside it. We'll cover more on this later.
You also get a charging cable, user manual, warranty card and reminder card. You know, all the other usual stuff you get with any vape device you buy.

All in all, my first impressions of the Vaporesso Bar were all positive. There wasn't anything I could complain about. From the looks to what's in the packaging, it had everything you'd expect or even want it a pod device at its price point, which is super cheap by the way!
Vaporesso Barr Performance - Up To Par?
While my first impression was good, I was excited to see if the vape experience would match. So with that being said, let's get into the actual performance of the Vaporesso Bar.
Simplicity At Its Finest
When looking at the Barr pod system by Vaporesso, it's simple and this is by no means as bad thing. Like mentioned in the beginning, most pod vapes are generally known for their simplicity and this shows that simple can be great. Whether for the beginner or advanced vaper, it's easy to pick up and grab when on the go. You fill, slide the pod cartridge into the device and you're good to go.

Speaking of filling, the Barr pod cartridges feature a simple side fill port. It's covered by a silicone plug. Simply lift to reveal the fill port, which is large enough to fill with your standard unicorn bottles. I recommend, as always, to fill slowly to ensure you don't spill any on the outside of the pod. Once you're done, seal the fill port back with the silicone plug and you're done. Couldn't be easier!
It's relatively similar to what we saw when we reviewed the Xtra. However, it does only hold 1.2ml of e-liquid, which can indeed be seen as a con for some. Something to keep in mind is that this device is quite small and the capacity does make it TPD compliant. However, I wish it did hold at least 2ml.

The Barr does also feature a draw activated firing system that works very well. It takes very little effort for it to activate and fires instantly. I never once ran into the issue of misfiring or auto firing. This is definitely a good thing, because it can be hit or miss with these style firing systems, especially over a longer period of time.
Charging can be done via its type-C port. While I wish it was on the side, I couldn't see this being there due to its design. While it's not the biggest deal in the world, I know some vapers would simply prefer not to have the bottom port. I'll mention it as a subjective con, but for me, I'm just happy it's type-C! While charging it from a fully depleted battery, it does fill up pretty fast. This is expected since it does have a smaller 350mAh battery built-in.

I honestly don't see this lasting someone all day, especially if it's the only device they're using. However, when in need of a charge, it won't take you long to get back to vaping. For the size, the battery size and how long it'll last you, I think it's acceptable. Remember, this is an incredibly portable pod system, so you can't expect a giant battery with all day battery life. If battery life is a concern for you, then I'd recommend checking out the GTX One By Vaporesso.
4 Adjustable Airflow Options
One of the key features of the Vaporesso Barr is definitely the airflow control system. However, it is quite different as seen in our XROS review we did recently. Unlike the XROS which has a lever or actual controller which you can slide left or right to adjust the amount of air, the Barr changes up the airflow depending on how you insert the pod cartridge. You've got four levels of airflow you can choose between, this includes level one through four. Level one will provide the tightest draw while level four is more open.

However, no matter where the airflow setting is situated, you're getting a mouth to lung or MTL vape experience. You cannot direct-lung this device at all, which is a good thing as it was designed for this style of vape. For any vapers wanting more airflow and direct lung vaping, check out our Target PMSE 80 Review.
Although there is airflow control, it was difficult to tell the difference between airflow levels 2, 3 and 4. I could if I pushed down on the pod cartridge while vaping. The issue I see is that the actual pod is not flush down onto the device, so it could be an easy fix on the pod cartridge. On the tightest or most restrictive airflow setting, I could tell a difference instantly without having to push down on the pod.
I'm not sure why this is the case unlike the others, but I'm glad I could at least tighten the draw if I wanted to. While on airflow levels two, three or four, it's a looser MTL draw. On level 1, it's a more tight and authentic mouth to lung vape. I'm sure this draw would satisfy most, if not all mouth to lung vapers out there. I enjoyed the looser airflow setting on this device the most.
1.2 Ohm Mesh Coil Pod Cartridge
Moving onto the actual pod cartridge performance, which is the star of the show. Like on their XROS, Vaporesso mentions that these are "well-developed" mesh coils built into the pod cartridges. Again, I must agree with this claim as these coils offer a phenomenal vape experience.
Remember, with these pods that often have coils built-in and cannot be replaced, I highly recommend filling them and waiting five or even ten minutes before taking your first vape. Whether you're using higher freebase or nicotine salt vape juices, you'd want to follow this, trust me. The last thing you want to happen is to burn out your coil on the first vape you take! This is typically the case with any coil head, but since you're not able to directly prime the cotton and coil, I'll always recommend waiting just a bit longer before taking that first vape.

With its 1.2 ohm resistance coil head and 13w of wattage, I was getting an enjoyable vape experience. It's not the warmest vape, but if you do cut down the airflow to level one, it does get slightly warmer if that's something you want. I do wish it was a warmer vape in general as that's my personal preference, but that didn't take anything away from the quality of vape you're getting. Flavor was excellent too with the Vaporesso Barr 1.2 ohm mesh pods. It does take some time to really break in and deliver the best flavor it can, but that's expected with any device.

Vapor production is as you'd expect with any mouth-to-lung vape setup. It's plenty for this type of vape, so no complaints there.
Another great feature and something not often mentioned in reviews is the mouthpiece. It's very comfortable and smaller than usual. Some pod systems tend to offer a wide mouthpiece with a wider bore. The Barr is the opposite and has a mouthpiece with a small inner bore, perfect for MTL vaping. It wicks quickly too as I was able to chain vape with zero issues. So when it comes to performance, the Barr pod vape by Vaporesso definitely delivers!
Vaporesso Barr Pros & Cons
Vaporesso Barr Pod System Review Conclusion
All in all, the Vaporesso Barr is a cheap solution for vapers looking for a solid performing MTL kit that does offer some unique features to set it apart from the rest. There aren't many pods on the market that offer any type of airflow control, so that one feature does indeed set it apart from the sea of pod vapes that have flooded the market in the past year.

While I did encounter my own issue with the airflow control, at least it works with the tightest setting without having to push down the pod cartridge into the device to notice the difference. Like mentioned earlier, I do think this can be fixed by Vaporesso once they launch this device and the replacement pods onto the market.
A subjective con is the charging port location. It's not ideal by any means, but trust me, it charges so fast that it wouldn't bother you over time. The last con I mentioned is the e-liquid capacity. Even though it's only 1.2ml, you're not plowing through the vape juice like you could with something like the Gen S Kit and it's massive tank and coils. However, you will be filling it more so than other devices with larger capacities like the XROS.

Speaking of the XROS, I wouldn't really compare the two since they are priced very differently and even more different when it comes to the actual size. While that's an excellent all around device, the Barr does have its place. It's cheaper, smaller and will cater to those vapers, especially newcomers looking for an entry level pod system that's easy to use to get into vaping.

With all of that being said, I do recommend the Vaporesso Barr to both new and experience vapers if it fits the criteria of your needs. It delivers a lot for the money, that's for sure!

Thanks for reading, and we hope you enjoyed our Vaporesso Barr Review! Feel free to let us know if you have any questions or leave any comments down below! We look forward to hearing from you vapers!