Vaporesso Gen Nano Review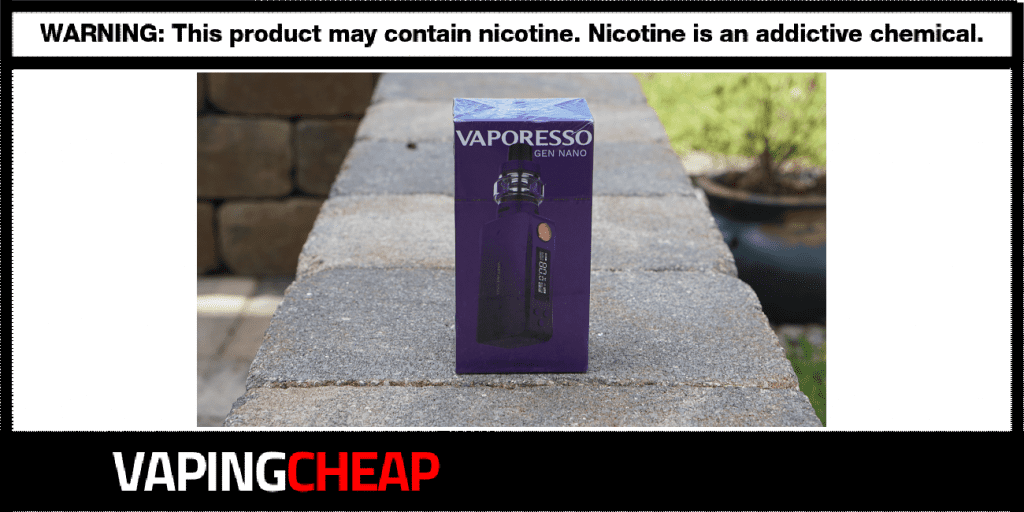 In the past year or so, there has been a shortage of smaller devices with built-in batteries that cater to both beginners looking to take that next step and the advanced vaper looking for a hassle free kit. However, there is still a need for these kinds of vaping devices. On that note, meet the Vaporesso Gen Nano, offered as both a mod and kit that sports a familiar shape and name, but in a much smaller package. In our full in-depth review, we go over what you need to know to determine if this tiny vape setup deserves a spot in your vape arsenal.
Vaporesso Gen Nano Starter Kit Features
Starter kits and mods are something popular Vaporesso is known for and the company's products are generally packed with features and priced affordably. With that being said, let's look at the key features you'll find with the new Vaporesso Gen Nano and the included GTX Tank 22.
Vaporesso Gen Nano Box Mod
Vaporesso GTX 22 Sub Ohm Tank
Vaporesso Gen Nano Kit First Impressions
If you've seen our previous review of the Vaporesso Xtra, then you've already seen this packaging before. What's great is that it's consistent, which is always a good thing in my book. Simplistic yet informative. However, I did notice a difference this time around and I'm not sure if it's the same as their other products. The actual box the Vaporesso Gen Nano 80w Kit comes in is a specific color that matches the kit color. For example, the purple box holds a purple kit while the green box means you've got the green colored kit. It's nothing major, but it does show Vaporesso's attention to detail.
Gen Nano 80w Vape Mod
Moving forward, once you take off the plastic and slide open the box, you're immediately met with the Gen Nano. Now, the pictures you'll see show that it is quite small, but I was still in shock by how small it really is when you have it in front of you. This mod is tiny! Even with the GTX Tank 22 installed, it's still quite small. I'm really amazed by the size and could easily see this fitting the needs of many vapers.

Something else you'd notice by looking at sample images is the similarities to the original Gen Mod. It features the same aesthetics, but shrunken down to match the name "nano." This is definitely a good thing as myself and many other vapers enjoy how the Gen feels in the hand and the overall looks the device. Speaking of which, it has a smooth textured body which feels incredibly comfortable to hold while remaining durable. It definitely has that "Vaporshark" feel to it, that's for sure. On the front of the Vaporesso Gen Nano is the 0.91 inch (2.31 cm) OLED display screen alongside the firing button, wattage adjustment buttons and mode button. The firing button is colored to match the 510 connection and the side panel accent color branding.
GTX 22 Tank Atomizer
The GTX 22 Tank does resemble some other sub ohm tanks we've seen before from Vaporesso, including the one we saw in our GTX One Review. However, it is bigger, coming in at 22 mm at the base. It also features knurling which means it's easy to take apart and clean or change the coil heads. Airflow does come in from the bottom (as expected) and can be fully adjusted. Additionally, it does come pre-installed with the bubble tank section, which is a good thing since it does hold more e-liquid. However, if you don't like the look of it and prefer a traditional look, there is the straight glass tank section inside the box. Keep in mind, you're losing quite a bit of capacity if you do install this piece.

Overall, my first impressions of the Vaporesso Gen Nano were all positive. The actual size is just amazing and it's just insane to see how many features are packed into this small kit.
Vaporesso Gen Nano Performance
I'm pretty sure if you're looking to get one of these ultraportable kits, then you're probably asking how well does the Gen Nano perform? Well, let's get into it!
Battery Life - Is It Any Good?
One of the main questions you're asking yourself is how long can the battery last with such a tiny mod or kit? As mentioned earlier, the Gen Nano sports an internal 2,000mAh battery. While this may not seem like a lot, trust me it is, especially considering how small this mod really is. The battery life on the Gen Nano will be based on a few factors.

Firstly, how high of a wattage will you be vaping it. If you're cranking the Gen Nano Mod to its max 80w, then of course expect it to not last very long. Maybe an hour or two of consistent vaping is what you'd get at most. However, if you're vaping at lower or mid wattage settings, then it'll definitely last you quite a bit longer. Inside the box, you do get a 0.6 ohm mesh coil which does perform really well with lower wattage, but we'll get into that later.
Next is how often will you be vaping. If you're a chain vaper, then the battery life will also be affected. This is the case with any device really, but something to consider.
If you're worried about the battery life, I will say that charging the Gen Nano doesn't take long since it supports 2A charging speeds. The only downside to that is that it charges via micro-USB. I would've loved to see a type-C charging port on this device.
Power Delivery & Easy Temp Control
When it comes to the power of the Gen Nano, it delivers just as advertised, 80w. With that being said, there are zero issues there when it comes to the actual wattage. However, there are a couple other firing modes avaiable which make this device pretty versatile.

First, you've got Pulse Mode, which is thanks to the Axon chipset. When in this mode, it fires every 0.02 seconds to maintain the temperature and provides a powerful yet consistent vape experience to deliver amazing vapor and flavor production. Secondly, there's a DIY mode which was enjoyed in their previous OMNI Board 4. This allows you to really fine tune your vape to exactly how you want it.

There's another awesome feature which is the fact that the mod will automatically detect which coil you've installed and attached, even with their TC compatible coils. This means there's only one step needed to set the temperature control for you, how great is that! Lastly, there's Power ECO mode, which does allow you to preserve the battery as much as you can. While I personally didn't need this mode due to its quick charging, I'm glad it's there when you're in a pinch.
When it comes to performance, the Vaporesso Gen Nano Mod 80w performs just as how you'd want it to. Plus, it has a wide range of features you can use allowing you to dial in the settings to deliver exactly the kind of vape you're looking for.
GTX Tank 22 - The Perfect Match
To start with the Vaporesso GTX 22 Tank, we'll cover some basic facts. With the bubble tank installed it'll hold 3.5ml. When using the regular straight glass, you'll have a maximum of 2ml. Filling couldn't be easier since it can be filled from the top. I do wish it was a sliding top fill system, but it's still way easier than filling from the side or bottom.

With the airflow wide open, it does provide a pretty open direct lung draw, but this will depend on which coil you've got installed. Speaking of, it is compatible with all the GTX coils, the same coil heads we saw in our Target PM80 SE Review. This is a huge pro! Being able to use the same coil heads across a vast lineup of devices saves you money and lets you invest in just one set of coils instead of multiple. Seriously, thank you Vaporesso for going this route and actually caring about our wallet.
0.2 ohm Mesh Coil Head
Pre-installed in the GTX Tank 22 is the GTX 0.2 ohm mesh coil head. It's a plug and play system, so replacing your coils is super easy. This specific coil is rated between 45w and 60w. This is very accurate based on my testing, but it can definitely handle a bit more power, even up to the max 80w the Gen Nano can provide. While I wouldn't necessarily recommend this since this would affect the actual lifespan of the coil, it's good you can do it to get an even hotter vape.

Personally, I enjoyed this coil anywhere between 50w and 60w. As this wattage setting, you'll get a nice warm vape and the flavor is amazing. It had no issues keeping up with wicking too, which is great. With the airflow wide open, it is quite airy and delivers a comfortable direct lung vape. However, I chose to cut down the airflow to about halfway as this intensified the flavor just a bit and provided an even warmer vape at the same wattage.

Vaporesso has delivered some awesome coils in the past, but these new coils are fantastic. I was completely satisfied with the cloud production as well. You'll get plenty of that, especially with high VG vape juices.
0.6 ohm Mesh Coil Head
The 0.6 ohm mesh coil is the spare you'll receive inside the packaging. This is much different from the pre-installed 0.2 ohm coil as it's not only rated at a lower wattage, but is more restrictive. With that being said, I think this coil suits the kit much better since it's rated only between 20w and 30w, which is yet again accurate. I kept the airflow wide open or slightly closed with this coil since the bore of the coil is much smaller in comparison to the previous variant.
At the max 30w rating, you'll get a slightly cooler vape than the 0.2 ohm coil, but you'll still be satisfied, especially if you enjoy restricted direct lung vaping like myself. You won't get as much cloud production as the previous either, but that is to be expected. However, the flavor is stellar!

If I had to choose between the two coils, I would prefer the 0.2 ohm. Like mentioned before though, this kit is best suited for higher resistances and lower wattage as it won't tax the battery like the 0.2 ohm mesh coil does. Either way, I think vapers would be happy with both options.
Vaporesso Gen Nano Pros & Cons
Vaporesso Gen Nano Final Thoughts
Yet again, I'm thoroughly impressed with a Vaporesso product. They've done an amazing job with the Gen Nano Kit. They took a popular design from before and just made it much smaller to cater to a set of vapers that not many companies are catering to. It's packed with all the features you'll find in the larger full sized vape mods, but offers the portability you won't get with those. What's even better is the coils this kit can use. You'll easily find them anywhere as they're the same used in a variety of Vaporesso kits.

I literally had only one con to mention with this one and that's the micro-USB charging port. While it's not the biggest issue and not as good as type-C, you can quickly charge it since it supports lightning fast 2A charging speeds. So, for me, I don't mind at all. Everything else with the Gen Nano Kit by Vaporesso is all pros!

So, I think I already answered the question of would I recommend this mod or kit. It's a firm yes! Seriously, I don't think any vaper looking for something super compact and easy to use would be disappointed by it. Wonderful job Vaporesso! If you're interested in getting one, definitely check out our Gen Nano deal post to save a few extra bucks.

Thanks for reading our Vaporesso Gen Nano Review! We hope you enjoyed it! Feel free to leave us any questions or comments down below! Let us know what you think of the Gen series!