Suorin Reno Replacement Coils 5 Pack $5.82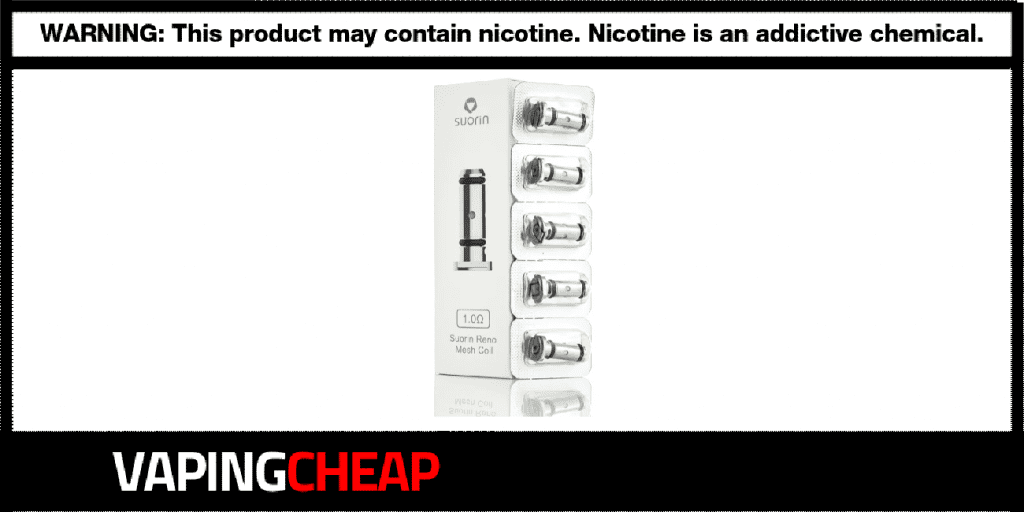 Here are discounts and cheap deals for the Suorin Reno Replacement Coils. Buy a 5 pack for just $5.82 when using our code "vapingcheap". It's also available from a USA based store for only $9.00 plus free shipping when spending over $50 with code "VC10".
These replacement coil heads by Suorin are compatible with their latest release, the Reno Pod System. There's one coil option that's available, which is the 1.0 ohm mesh coil. It can handle a maximum of 13w, and has been designed for a mouth to lung vape experience.
Additionally, installation is super easy thanks to its plug and play design. Simply insert the Suorin Reno mesh coil into the pod cartridge, and that's it. Just remember to always prime your coil with e-liquid beforehand.
As we've seen with many other devices, mesh coil heads simply outperform many other types of coils on the market. Not only do they last quite a bit longer than regular coils, but offer amazing flavor and vapor. Lastly, you can use whichever e-liquid you want with the Suorin Reno replacement coils, including freebase and nicotine salt.
If you've been looking for cheap coils for your Suorin Reno, then you'll want to stock up with this sale. Don't miss out on the limited time savings!
Suorin Reno Replacement Mesh Coils Features:
Pack of 5 Coil Heads
Compatible with Suorin Reno Pod System
Resistance: 1.0 ohm
Single Mesh Wire Strip
Plug and Play Installation (Friction Fit)
Maximum Wattage: 13w
Compatible with Nic Salts & Freebase