Freemax TX Replacement Coils $4.99 (USA)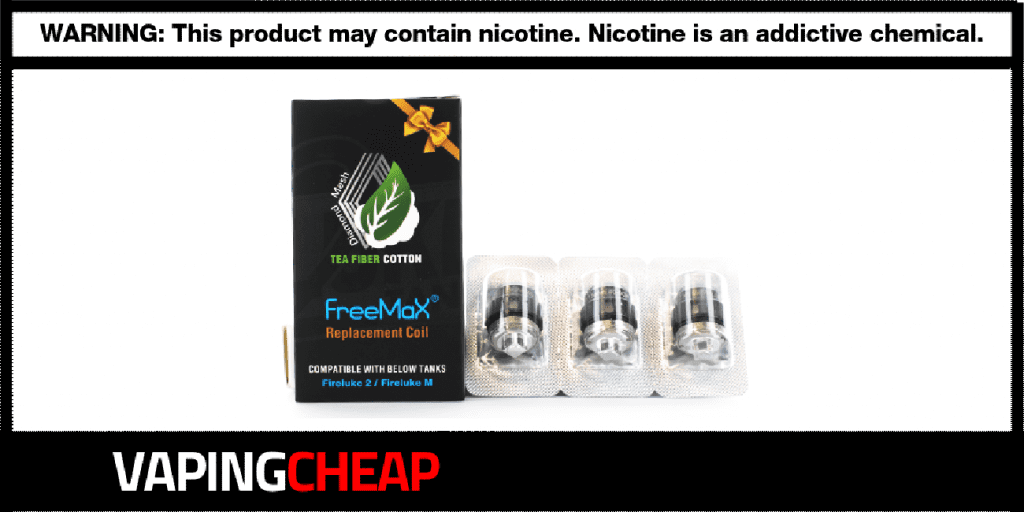 Here are cheap deals and discounts for the Freemax TX Replacement Coils. Grab a 3 pack from a USA based store for just $4.99. You can also buy the 5 pack for $11.95.
The Freemax TX Replacement Coils are designed for the Freemax Fireluke 2 Tank and Fireluke M. With the 3 pack, there's currently one option available which is the TX1 Mesh Coil 0.15 ohm.
If you want even more options for your compatible tank, then the 5 pack variant has a wider selection for you to choose from.
The first option for the 5 pack of Freemax TX replacement coils is the TNX2 mesh coil which has a resistance of 0.5 ohm. Next, you can select the SS316L TX1 mesh coil, which has a lower resistance, coming in at 0.12 ohm. The last other coil option aside from the regular 0.15 ohm TX1 is the TX3 mesh coil, which has the same 0.15 ohm resistance.
Like with many sub ohm tanks we've seen featuring these style coils, the provide stellar flavor. Additionally, mesh coil heads tend to last longer, which is always a good thing. Just remember to prime your coil well with e-liquid beforehand, and break it in at lower wattages before cranking it up to its recommended highest setting.
All in all, this is a great sale for the Freemax TX replacement coils. If you've been looking to stock up on coils for your Fireluke 2 Tank for cheap, then you won't want to miss out on this limited time sale. For under $5 for a 3 pack, you can't go wrong.
Freemax TX Replacement Coil Heads Features:
Pack of 3 or 5
Compatible with Fireluke 2 Tank
Tea Fiber Cotton
Coil Options:

TX1 Mesh Coil (0.15 ohm)
TNX2 Mesh Coil (0.5 ohm)
SS316L TX1 Mesh Coil (0.12 ohm)
TX3 Mesh Coil (0.15 ohm)