Smok TFV16 Lite Sub Ohm Tank $21.59 (USA)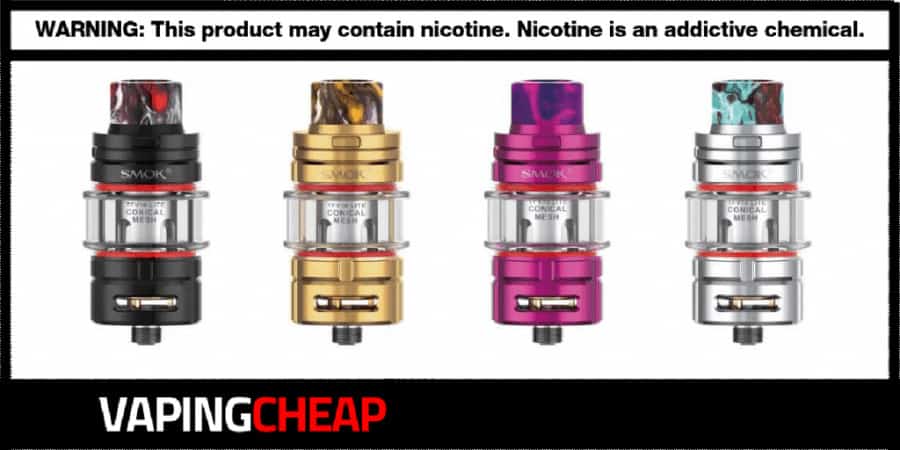 Here are cheap deals and discounts for the Smok TFV16 Lite Sub Ohm Tank. Buy yours from a US shipper for $21.59. To get this discount, use coupon "Get10". When it comes to color options, you've currently got three to choose from which are Black, Stainless Steel, and Gold.
The Smok TFV16 Lite Tank is the same that's included in the G-Priv 3 Kit. With that being said, it's a complete improvement over the original, and past tanks from Smok in a few ways. This tank does sport an overall diameter of 28mm, and is constructed of stainless steel and glass. It can hold up to 5ml of vape juice, and features Smok's signature hinged top filling system. However, it's been slightly redone in order to provide a cleaner look, while keeping it easy to use.
Another great feature is the innovative atomizer base design alongside its upgraded airflow system. With these improvements, the TFV16 Lite Tank will provide an even smoother draw, and better flavor production. More flavor is always a good thing! Speaking of draw, the airflow does come in from the bottom, and is fully adjustable. At the top, this vape tank does come pre-installed with a super wide bore resin 810 drip tip.
Now, the best addition to the Smok TFV16 Lite Sub Ohm Tank are the new coil heads. Firstly, there's the TFV16 Lite Conical Mesh Coil powered by nexMesh technology, coming in at a 0.2 ohm resistance. As seen in some other sub ohm tanks, these style coils simply provide awesome flavor, and last longer than traditional replacement coil heads. Secondly, you'll get the dual mesh 0.15 ohm coil head. This coil is rated up to 90w, while the conical mesh coil is rated up to 85w.
If you were a fan of previous vape tanks for Smok, or in the market for a new mesh sub ohm tank, the Smok TFV16 Lite may just be what you're looking for. With all of its improvements and new coils, it'll surely deliver an excellent vape experience.
Smok TFV16 Lite Tank Features:
Stainless Steel & Glass Construction
Overall Diameter: 28mm
Resin Wide Bore 810 Drip Tip with 16mm Bore
5ml Maximum E-Juice Capacity
Locking Hinged Top Fill System
Fully Adjustable Bottom Airflow
Innovative Atomizer Base Design
Upgraded Airflow for Smoother Draw & Better Flavor
Gold Plated 510 Contact
New TFV16 Lite Coils

0.2 ohm Conical Mesh Coil Head

Powered by nexMesh Technology
Rated Between 60w - 85w

0.15 ohm Dual Mesh Coil

4 Color Options
What's Included
Smok TFV16 Lite Vape Tank
TFV16 Lite Conical Mesh Coil Powered by nexMesh (0.2 ohm)
Dual Mesh Coil Head (0.15 ohm)
Spare Glass Tank Section
Bag of Spare Parts
User Manual