Smok G-Priv 3 Mod $38.99 | Vape Kit $51.99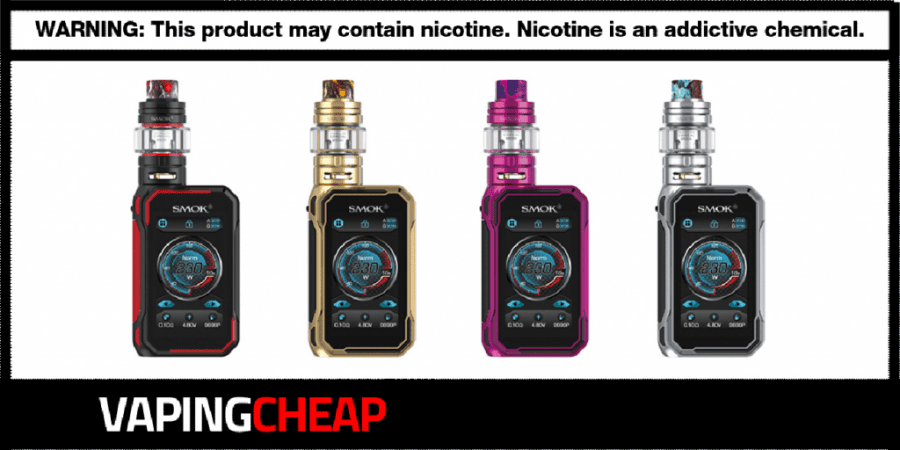 Here are cheap deals for both the Smok G-Priv 3 Kit, and G-Priv 3 Mod. Grab the mod only for just $38.99 with the coupon code "PRIV3M". You can also get the full vape starter kit for only $51.99 when you apply the code "PRIV3K". It's also in stock at a USA based shipper for $53.99 with code "JULY10". There's multiple color options you're able to choose from including Prism Chrome, Prism Gold and more.
Smok's G-Priv 3 Vape Kit includes the G-Priv 3 Box Mod and the Smok TFV16 Lite Tank. The included device requires two high drain 18650 batteries, and is powered by Smok's new IQ-G chipset. This allows the G-Priv 3 Mod to not only deliver up to 230w of power, but can fire at a super fast speed. As soon as you press that fire button, you're vaping without any delay. Another great feature, and improvement in comparison to the originals is the acrylic shell pattern panel.
It provides a great hand feel, and just looks amazing. As expected, it does have a large 2.4 inch color display screen, so you'll be able to fully adjust everything with your finger. Additionally, with the new UI, it makes it much easier than before. Some other features you'll find with this vape mod is temperature control, and a secondary key to lock or unlock the screen.
Now, moving onto the Smok TFV16 Lite Sub Ohm Tank. It's primarily constructed of stainless steel, and glass material, In addition, it can hold up to 5ml of vape juice, and can be filled from the top. Also, at the top, you'll find a 810 resin drip tip, which is perfect when vaping at those higher wattages and cloud chasing.
At the bottom, you'll find a fully adjustable airflow control system. It's super smooth, and provides enough air for a comfortable direct lung inhale. Included in the packaging, you'll get the new TFV16 Lite Conical Mesh Coils, so you know you'll get some killer flavor.
All in all, the Smok G-Priv 3 is not only a unique vape mod, but offers a ton of new and awesome features, making it an excellent addition to your vape collection. Whether you grab the full kit, or the just device, you're in for a treat.
Smok G-Priv 3 Vape Kit Features:
Smok G-Priv 3 TC Box Mod

Requires 2 High Drain 18650 Batteries (Not Included)
Powered By New IQ-G Chipset
Maximum Wattage Output: 230w
Temperature Control (Ni200, Ti, SS)
2.4 Inch Color Touchscreen Display
Upgraded UI (User Interface)
Secondary Key to Lock/Unlock Screen
Acrylic Shell Pattern Panel
Ergonomic Form Factor
USB Type C Port for Faster Transmission
Safe & Easy Battery Replacement
Many Safety Features Built In

Smok TFV16 Lite Tank

28mm Overall Diameter
Stainless Steel & Glass Construction
5ml Maximum E-Juice Capacity
Top Fill Design
Adjustable Bottom Airflow
Wide Bore Resin 810 Drip Tip
New Conical Mesh Coils
What's Included (Full Kit)
Smok G-Priv 3 Vape Mod
Smok TFV16 Lite Tank
0.2 ohm Conical Mesh Coil (Powered by nexMesh)
0.15 ohm Dual Mesh Coil
Replacement Glass Tank Section
USB Cable
Bag of Spare Parts
User Manual
Check Out The Smok G-Priv 3 Kit Review