Smok RPM Lite Pod Mod Kit $16.99 (USA)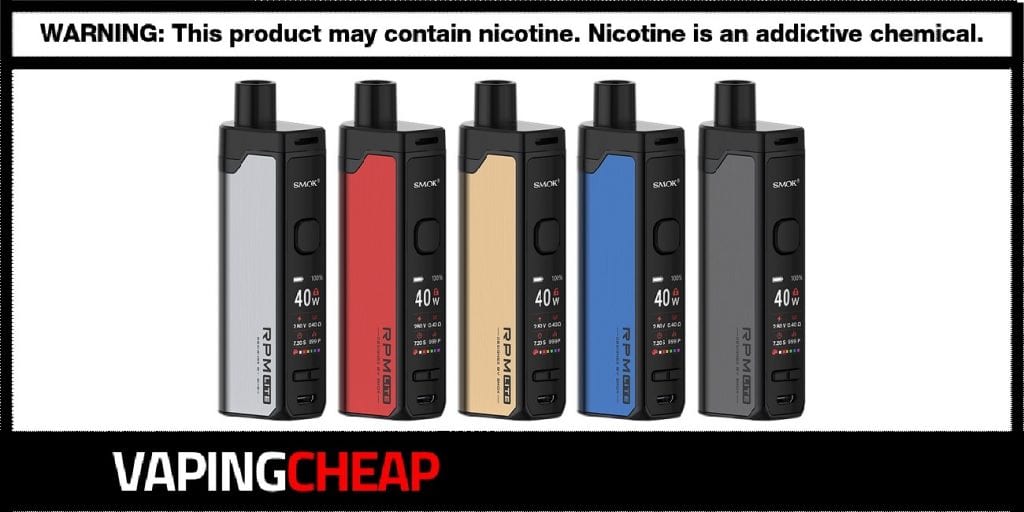 The Smok RPM Lite Pod Mod Kit is now in stock! Get yours on sale for a limited time only at a USA based shipper for only $16.99 after the code "Vapor15". It's also available from a China based store for $16.99 when using the discount code "SRLK". There's various color options available including Gunmetal, Blue, Red and others.
The Smok RPM Lite Pod Mod Kit is another great addition to the growing Smok RPM Pod line. This device has a similar look when comparing it to the larger Smok RPM80 Pod Mod Kit. However, it utilizes an internal 1,250mAh battery and has a 1.2A charging rate, so you'll be able to fully charge it quickly. Smok's new RPM Lite vape pod does have maximum wattage output of 40w, which is expected with a "Lite" variant.
Additionally, it's powered by the Smok IQ-R chipset that not only provides multiple safety features, but offers accurate performance The RPM Lite pod vape also has a large crystal clear OLED display screen, so it's easy to see all of your vaping information. There's a large button on the top of the screen, and like box mods, you can turn it on or off by clicking it 5 times.
The Smok RPM Lite Pod Kit does use the RPM Lite Pod Cartridges. These refillable pods holds a large amount of e-juice, 3.2ml to be exact. You can fill it easily from the side by removing the silicone plugs. On the top of the pod is a large airflow slot, providing the vaper with ample amount of airflow. Now the best part is that it does use Smok RPM Coil family and includes two inside of the packaging.
If you enjoyed the previous version, and looking for something smaller, and slimmer, then you'll want to check out the Smok RPM Lite Pod Mod Kit. It still packs a punch with 40w, and uses the same flavorful coils as the others.
Smok RPM Lite 40w Pod System Features:
Internal 1,250mAh Battery

Charge using the included USB Cable

Maximum wattage output: 40w
Maximum voltage output: 4.0v
Large OLED display screen
Three button design
Includes a refillable pod cartridge

Maximum e-juice capacity: 3.2ml
Side fill design
Compatible with the Smok RPM Coils
Top airflow slot
What's Included:
Smok RPM Lite Pod Device
Refillable Pod
Smok RPM 0.4 ohm mesh coil head
USB Cable
Smok RPM 0.8 ohm DC coil head
User Manual
Check Out The Smok RPM Lite 40w Pod Kit Review