Smok Priv N19 Kit $19.59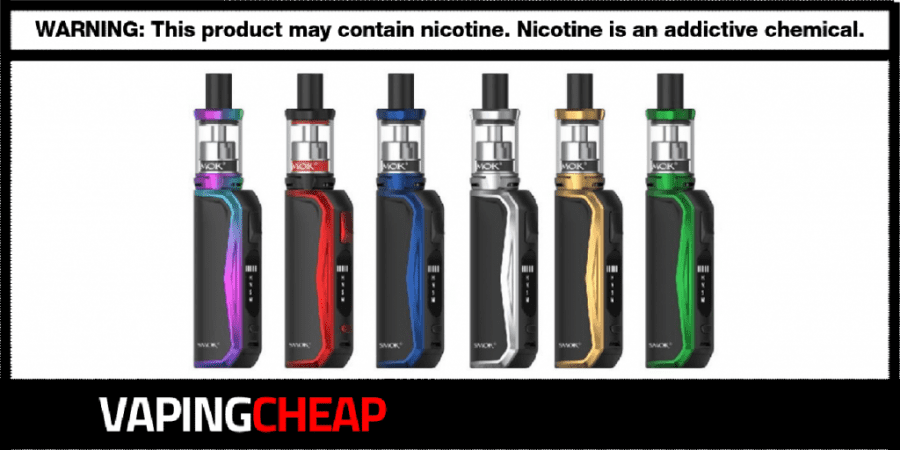 The Smok Priv N19 Kit is now on sale from a China based shipper for only $19.59 after using the code "N19Kit". It's also on sale from a USA based store for only $19.96. There's many color options that's available including Green Black, Red Black, 7 Color, Prism Chrome Black and more.
Smok's Priv N19 Starter Kit includes two different products, a mod and tank. Let's cover some details about the included vape mod first. The Priv N19 Mod by Smok packs a 1,200 mAh internal battery, and charges via a standard micro USB cable. It has four different power settings which include minimum, soft, normal and hard. Depending on the mode chosen, you'll get anywhere between 5w and 30w. There's a small LED display as well which will indicate the battery life alongside the power control. Not only this, but there's a simple two button control, so it's a great option for the beginner vaper.
The second piece of hardware you'll get is the Smok Nord 19 Tank, which is similar to the tank section from the Smok Vape Pen Nord Kit. This vape tank has a 2ml capacity, so it is TPD compliant, and can be filled from the top via its two large fill ports. You can literally just pour your e-liquid in this tank, that's how easy it is to fill. Now, the absolute best part of this atomizer is the compatible coil heads, which are the Smok Nord Replacement Coils, which are the same that was used in the Smok Nord Pod System, The Smok Nord 19 Tank does have fully adjustable bottom airflow as well, and a delrin drip tip.
If you're looking for an easy to use box mod kit that uses awesome coils, then this is a deal definitely worth checking out for sure. We're glad they decided to go with these coils on the Smok Priv N19 Kit as it's some of the best available today.
Smok Priv N19 Starter Kit Features:
Smok Priv N19 Box Mod

1,200mAh Built In Battery
Four Wattage Settings
Wattage Output Range: 5w - 30w
Simple 2 Button Control
LED Display
Compact & Ergonomic Design
Multiple Safety Features
Spring Loaded 510 Connection

Smok Nord 19 Vape Tank

19mm Diameter
2ml Capacity
Top Fill
Compatible with Nord Coils
Adjustable Bottom Airflow
Delrin Drip Tip
Gold Plated 510 Contact
What's Included
Smok Priv N19 30w Starter Kit
0.6 ohm Mesh Nord Coil
0.8 ohm Nord Mesh MTL Coil
Charging Cable
User Manual
Check Out The Smok Priv N19 Kit Review
More Great Vape Deals...
---
Smok Nord Pod System $8.90
For a limited time only, the Desire Cut Premium 220w Starter Kit is now on sale right here for only $59.95 + Free US shipping! No coupon[...]
Vapefly Holic MTL RDA $6.99
For a limited time only, the Vapefly Holic MTl RDA in silver is now available for pre-order right here for only $14.31 using coupon code "vapingcheap10"![...]
Asmodus Lustro Box Mod $23.84
Temperature Control Box Mod The Asmodus Lustro Box Mod is now in stock and on sale right here for only $36.00 using coupon[...]
Smok TF2019 Sub Ohm Tank $13.64
For a limited time only, Cookie Twist Strawberry Honey Graham 2 Pack bundle is now on sale right here for only $15.95! No coupon[...]