Sigelei 150w Review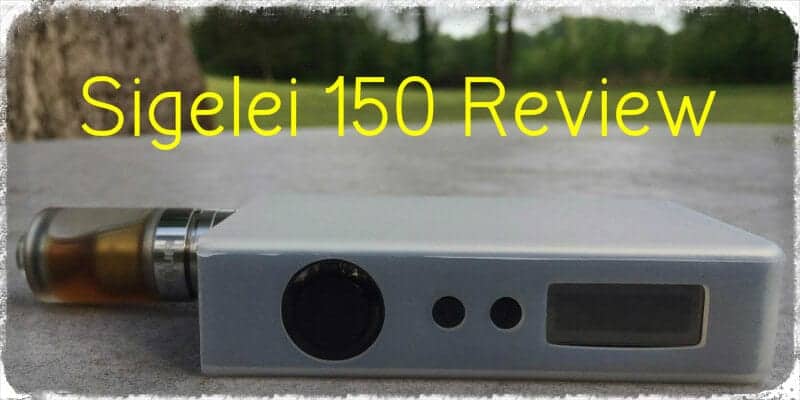 The latter part of recent years featured an influx of big power box mods, some claiming power levels of 250W or more. Earlier in vaping, 30W box mods were considered as having big power. It didn't take long to escalate, that's for sure. As the "cloud chasing" trend fully emerged, manufacturers paid attention and dropped numerous high wattage box mods onto the market.
On an editorial side note, I believe that however you choose to vape is the right way for you. I'm a frequent visitor and active participant on several vaping forums and all too often see vapers being critical of how others vape. I'm not a fan of this behavior and you won't catch me judging how others choose to get their vape on. Infighting within the vaping community is the last thing we need.
Additionally, I will also not directly address the issue of whether or not high power vaping is potentially more harmful than vaping at lower power levels. The facts simply aren't out there yet. Vaping at any power level likely carries some risk – it is a mechanism for smoking cessation and harm reduction and should be viewed as such. Most things in life come with some inherent risk and it's up to each individual to decide if their chosen activities or in this case, their preferred vaping methods, come with an acceptable risk. For those interested in reading more on this subject, please follow the work of Dr. Farsalinos.
Okay, back to the topic at hand. The subject of this review is the Sigelei 150 box mod, a 150W dual 18650 powerhouse. I'm no stranger to Sigelei's big power boxes, having previously owned a Sigelei 100 and Sigelei 100 Plus. Both were excellent devices. Does the Sigelei 150w continue the trend? Let's find out.
The Sigelei 150 used for this review was provided by Gearbest.
Where to buy the Sigelei 150:
The Packaging and Included Stuff
The Sigelei 150 is packaged in an attractive box with a slide out tray. The contents include the device, a clear silicon protective sleeve, a user manual, and an Asmodus warranty card. Asmodus is the US based distributor and provider of warranty service. The device carries a 3 month warranty.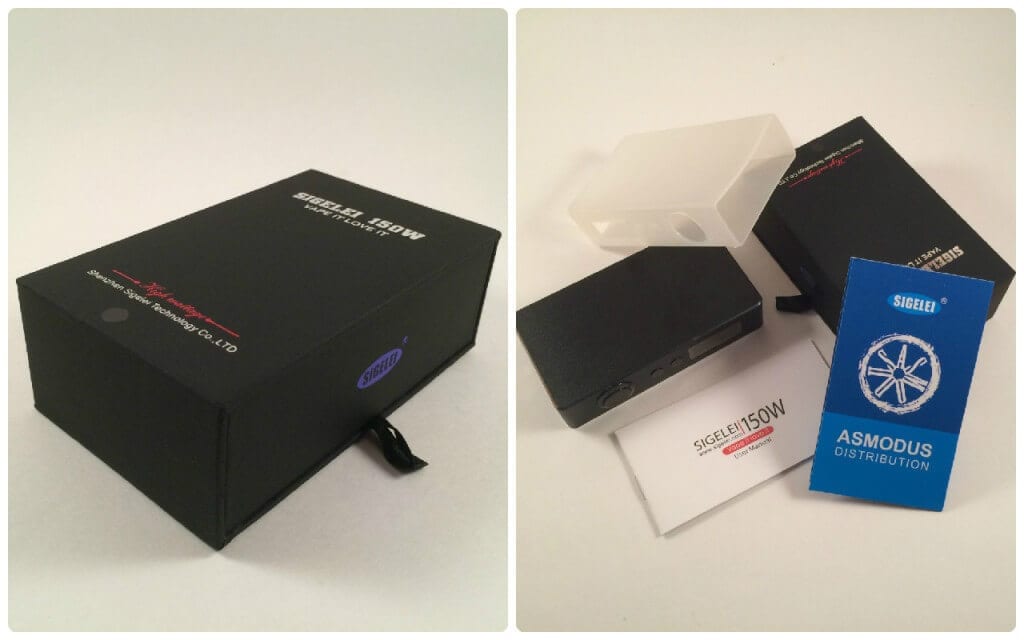 Sigelei 150 Specifications:
Power output: 10W-150W
Atomizer resistances supported: 0.1Ω-3.0Ω
Maximum output voltage: 7.5V
Battery voltage operating range: 6.4V-8.4V
Dual 18650 batteries
Size: 103*58*23mm
Weight: 260g
Features
Spring loaded 510 connector
Magnetic battery door
OLED screen
Protective silicon sleeve
Aluminum construction
Low voltage protection
Reverse polarity protection
Short circuit protection
Build Quality
The Sigelei 150 is a nicely constructed box mod. Although fairly big, as is the case with most dual battery devices, it is comfortable to handle, especially with the silicon sleeve on the device. The black finish on this example is uniformly applied and without any noticeable defects. Silver beveling highlights the edges of the box resulting in a simple but attractive aesthetic.
No button rattle is present and each button has a slight tactile "click" when engaged. It should be noted that a common complaint with the Sigelei 150 is a loose/rattling/spinning firing button. The trim around the button apparently has a tendency to loosen over time causing the firing button to rattle and sometimes stick in the firing position. The unit I received for review has some traces of hot glue around the button ring, perhaps indicating Sigelei is aware of and has addressed the issue. During the two weeks I used the mod the firing button never exhibited any problems.
Externally, in addition to the large firing button and two smaller wattage adjustments buttons, you will find the OLED display screen, battery venting slots on the bottom of the device, and a spring loaded 510 connector on top. The battery door is secured by four magnets and is very easy to remove by using the tab at the bottom of the door. The door snaps back into place very convincingly due to the fairly strong door magnets.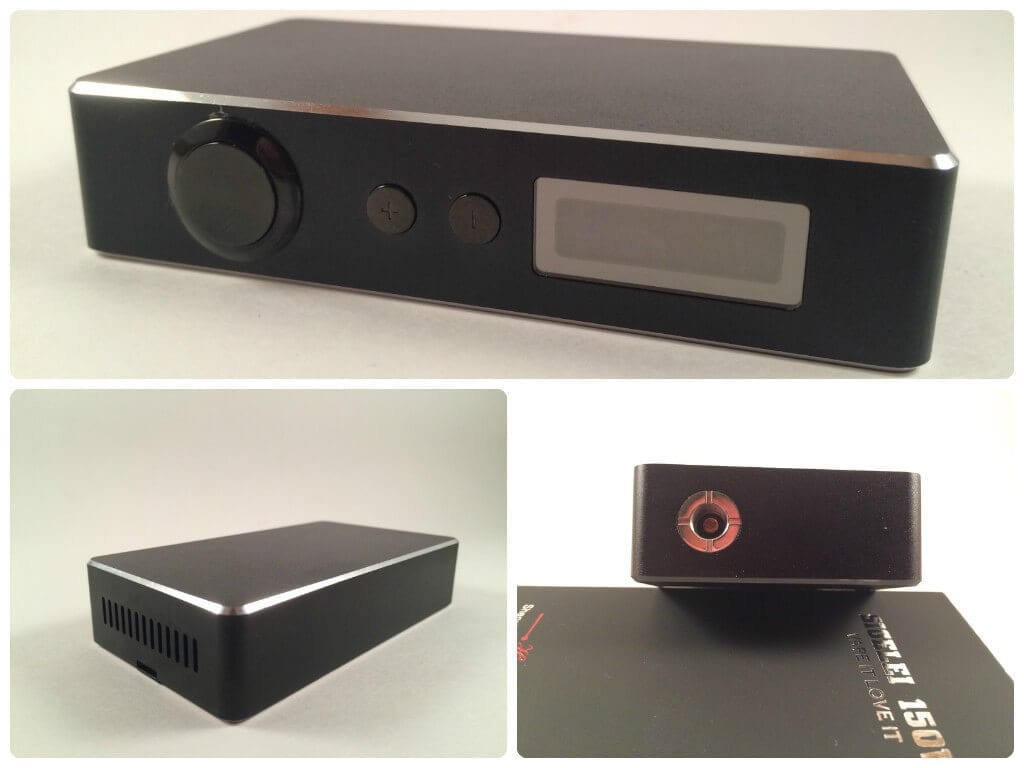 The internals are tidy and all of the working bits are enclosed in a plastic shroud. The battery sled features polarity indicators to ensure you insert your batteries in the proper orientation – note that the batteries are in a series configuration rather than a parallel configuration. The battery contacts are spring loaded and the battery sled has a built in battery ribbon to assist in removing the cells when they need to be charged. This device does not have on-board charging so the batteries must be removed and charged in an external battery charger.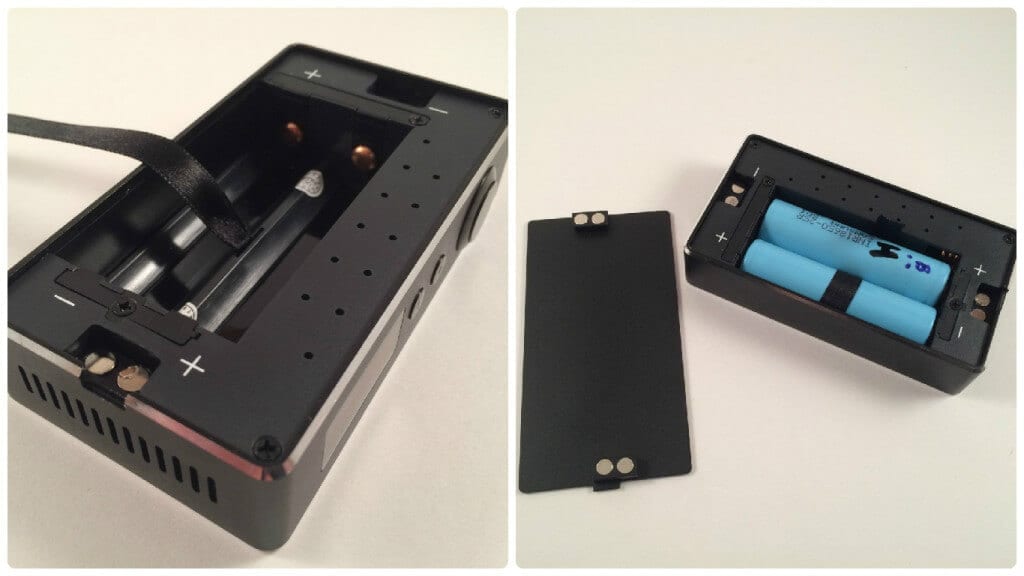 The Sigelei 150w is very well constructed device and shows an attention to detail both externally and internally, save for the traces of hot glue around the firing button ring.
Performance and Usage
The Sigelei 150 doesn't have very many bells and whistles relative to its usage. There is no menu system, just the simple display layout which provides current power setting, atomizer resistance, remaining battery life expressed as a percentage, and output voltage.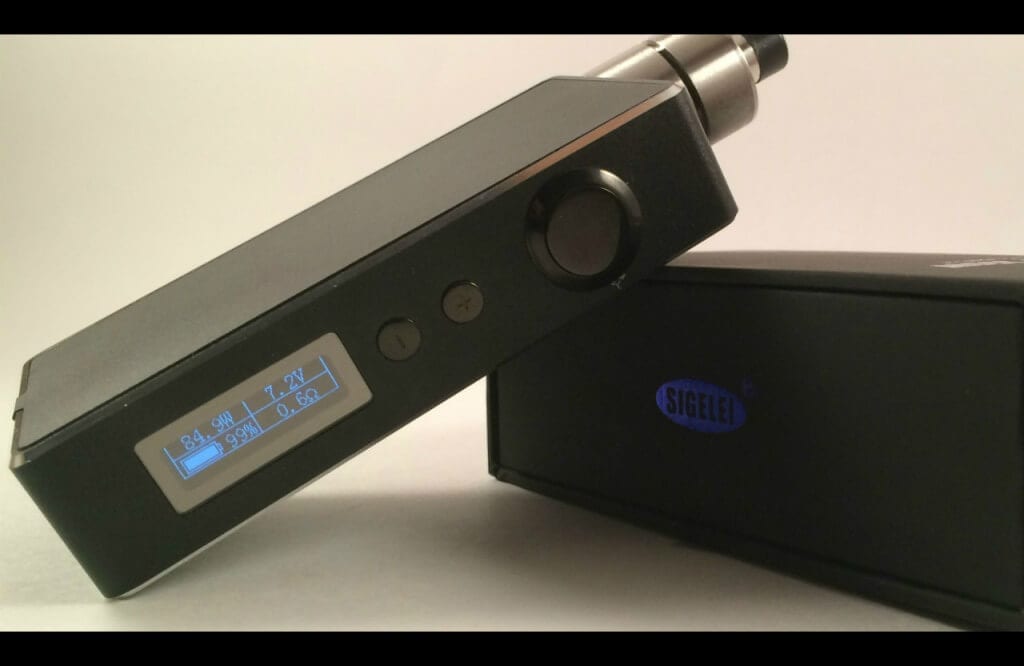 Pressing the firing button five times will turn the device on or off. Wattage is adjusted using the small up and down buttons. Wattage adjusts in 0.1W increments up to 50W and then increments by 1W up to the 150W maximum. Holding down either of the wattage adjustment buttons for a few seconds will result in accelerated adjustments. The device can be locked by simultaneously pressing the up and down buttons.
How does the Sigelei 150 perform? Like a beast, that's how. I used the device with two different atomizers – an MMV OverOne RDA for high power testing and a Footoon Aqua V2 RTA for battery life testing. In both cases, the Sig 150 performed well.
I did not venture up to the 150W maximum, largely because the 0.6Ω build in the OverOne wasn't within the operating parameters to achieve maximum power output. I'll discuss that more in a bit. I did run it at an indicated 100W but due to some inaccuracies of the board and my 0.6Ω build, I was really only hitting about 75W. Regardless, it was making some fog.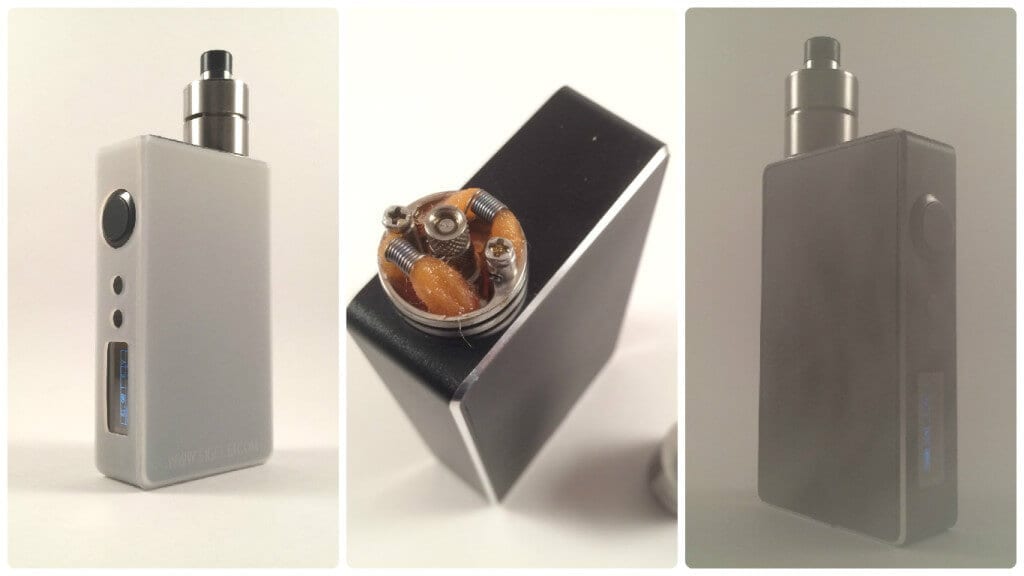 Running the Sigelei 150 at 23W with my  Aqua V2 was an impressive exercise in battery life. Although I didn't benchmark the usage times or battery run times, suffice it to say the batteries last a really, really long time at conservative power levels. I wasn't using the Sigelei 150 exclusively during testing but I did use it regularly throughout the day and went several days between charges using the Aqua V2.
Battery safety: always use a new pair of matched safe chemistry, high drain batteries with these devices. Dedicate the pair to the device, always use them together, always charge them together, and rotate their positions in the device at each battery swap. This process is often referred to as "marrying" the batteries and is the recommended practice to ensure optimal battery safety.
Now, let's discuss the operating parameters of the Sigelei 150. The Sigelei 150 uses dual 18650 batteries in a series configuration. This means the battery output voltage is doubled while the maximum continuous drain rate (CDR) remains the same. In the case of my Samsung 25R batteries, the CDR is 20A. Fully charged, battery output voltage is 8.4V.
I won't digress into a full blown dissertation on how Ohm's Law applies to regulated, variable wattage (VW) devices but will cover some general information. Too often, I see folks on various vaping forums applying unregulated Ohm's Law calculations to regulated, VW mods. To quote a recent TV commercial, "That's not how this works, that's not how any of this works". In a nutshell, unlike a mechanical mod, atomizer resistance has no bearing on battery current drain (amp draw) – it only affects the board's output voltage and output current as you'll see below. The battery current drain is determined by the mod's power setting and the real-time voltage of your batteries.
For the examples below, I'm using screenshots from the excellent Steam Engine tool created by Lars Simonsen. I'm also assuming an APV efficiency value of 93%. I don't know the actual value for the Sig 150 but it is likely in that neighborhood. APV efficiency is just what it sounds like – how efficiently the board turns battery input power into output power.
First, let's look at how atomizer resistance affects the usable power range. The Sigelei 150 has maximum output voltage limit of 7.5V and maximum output current of 30A. In order to remain at or below the 7.5V and 30A thresholds, your atomizer resistance must fall between 0.17Ω and ~0.37Ω.  As atomizer resistance increases, output voltage also increases. As atomizer resistance decreases, output current increases. Relevant values are highlighted below using an example resistance of 0.37Ω. I encourage you to use this tool and play around with the values to get an idea of your device's limitations and how the values relate to each other.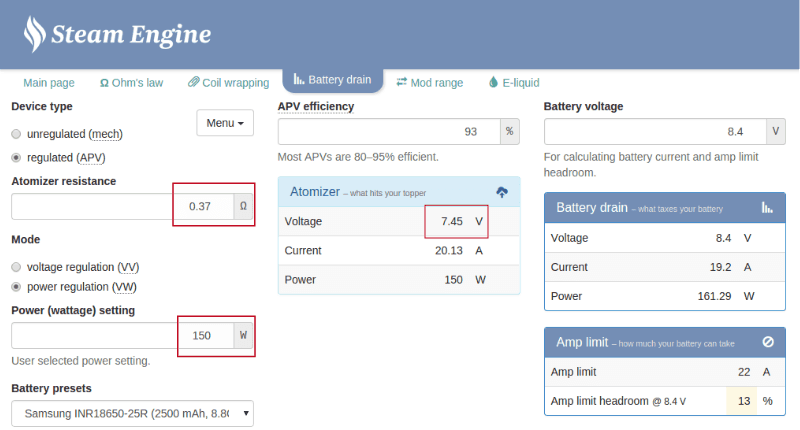 Now, let's cover battery current drain. As previously noted, your power setting and real-time battery voltage are what determine your battery current drain. For the first example, let's see what's going with a fully charged pair of Samsung 25Rs (8.4V) at the maximum power of 150W. Notice the amp draw is 19.2A, already very near to the CDR limit of the batteries.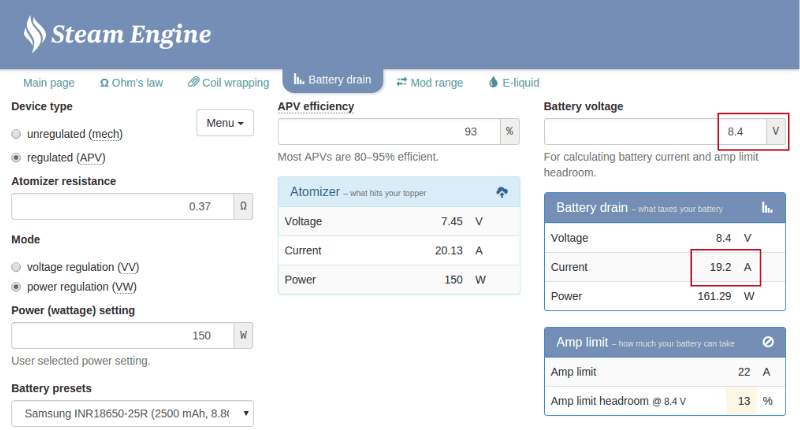 It is important to understand that as battery voltage decreases, battery current drain increases. At 150W, you are afforded very little voltage loss before unsafe battery drain is achieved. For the sake of the below example, I'm using the Sigelei 150's low voltage threshold of 6.4V. Notice the battery current drain is now 25.2A, in excess of most batteries maximum CDR.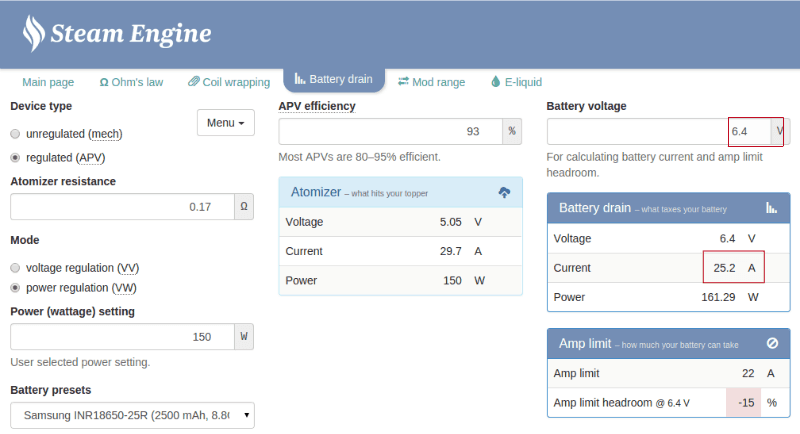 If you are going to run this device at or near maximum power, please use batteries with the appropriate ratings and make sure they are in good condition. 150W is a *lot* of power and running the Sig 150 at that level is asking a lot of your batteries. Safety first, yo. Again, play with the Steam Engine app and plug in different values to see how hard you are working the batteries.
Lesson concluded. Now, back to the real life performance of the Sigelei 150. I didn't perform extensive testing but I did generate a few quick numbers in an attempt to gauge the device's accuracy. The table below tells the story.

I didn't test beyond 80W since my build was limiting the potential performance. But, you'll notice that as the power setting increases, accuracy decreases. I don't consider this a very big deal and, unless you just absolutely have to have every single one of those 150W, neither should you. There is still plenty of power on tap and I just adjusted the power to my preferred taste and temperature.
Conclusion
The Sigelei 150 is a well built, powerful mod. I did not experience any problems or failures with the device – none. It performed flawlessly and delivered all the power I could handle along with crazy good battery life. If you are after a high power box and can live with the Sigelei's inaccuracies and understand you'll likely not achieve a full 150W, you could do a lot worse than this box. And, to reiterate, the only draw of this mod shouldn't be the potential power but also the excellent battery life afforded by dual 18650s. Just because the power is there, it doesn't mean you have to use it. I used the Sigelei 150 much more often with my Aqua V2 at 23W than I did with my dripper at big power numbers. So, in summary, it's not only a powerhouse fog making monster, it's also very practical.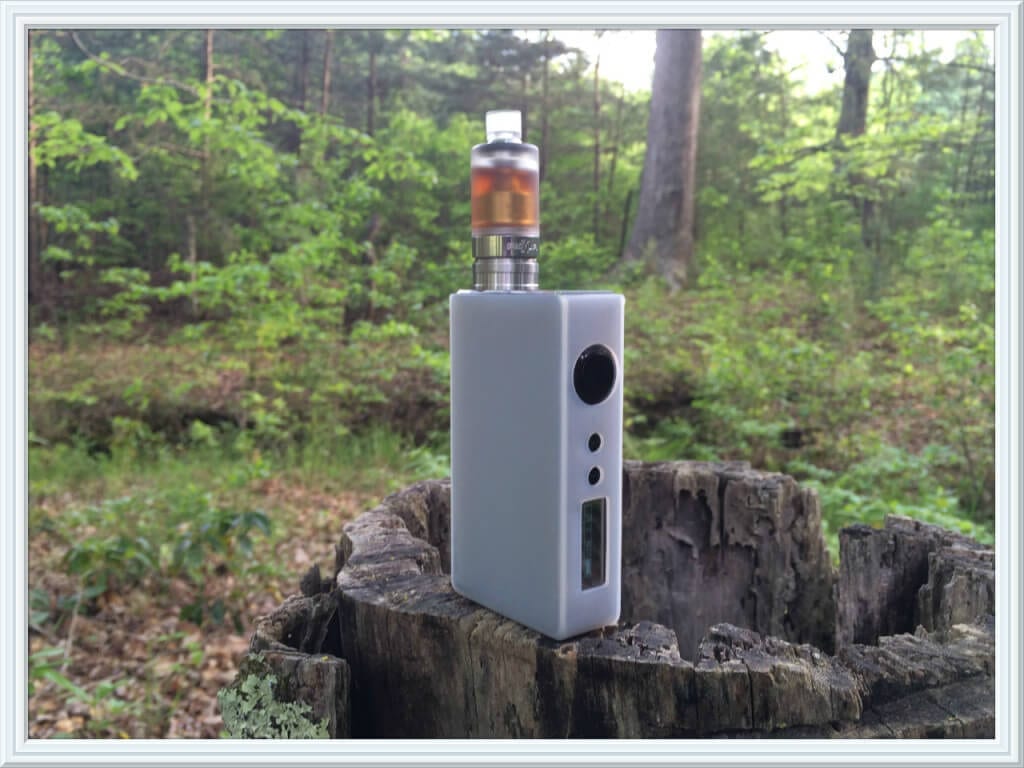 Where to buy the Sigelei 150
Fuchai 213 Review Sleek Design (& Awesome Power)
Sigelei is a brand that's been creating for some increased buzz and talk in the vaping community lately, and a lot of this has had to do with the company's latest product - the Sigelei Fuchai 213. The 213 is the latest mod that the company's released, and it's shaped up to be a pretty stellar product.

The Sigelei may not be a household name just quite yet for all who vape, but after finishing up my Sigelei Fuchai 213 review, it really should be. The company hit some rough waters with the initial launch of the 213, but the mod in its current version is one heck of a product. It's powerful, sleek, and extremely capable.

With all of this being the case, is this the mod to get? Or are you better spending your money with other brands to get a powerful and stylish mod? Keep reading this Fuchai 213 Plus review to find out!
Fuchai 213 Ratings
Fuchai 213 Review
It's a bit difficult to summarize my entire Sigelei 213 Fuchai review in one single paragraph, but the best way for me to describe the mod is something that's ridiculously powerful with an supremely sleek and stylish design.

The 213 is one of the more powerful mods I've gotten to play with, and all of that power also comes with excellent vapor/flavor, great battery life, and so much more.

There sure is a lot to talk about here, so let's get into it.
Pros
To kick off my Sigelei Fuchai 213 Plus review, let's talk about build quality and design. There are tons of good-looking and well-built mods that you can currently buy, and while it's becoming increasingly difficult for mods to do this, Sigelei has somehow found a way around this with the Fuchai 213.
The Fuchai 213 is available in a handful of different colors, and the overall look that's present here is extremely sleek and stylish. The overall aesthetics are quite subdued and laid back, but this creates for a mod that looks quit elegant. And where it lacks in flashy design, the 213 easily makes up for that with a great handling experience.
One issue that Sigelei had with the first version of the 213 had to do with a weak battery door, but thankfully that issue appears to have finally be fixed. The battery door on the latest version of the 213 feels incredibly secure and sturdy, and this can really be said about the entire mod. The Fuchai 213 offers a tank-like design and build construction in addition to its good looks, and this is a combination that I'm an absolute sucker for.
Long-Lasting Battery Life
Another area where Sigelei improved the new version of the 213 over the old one has to do with battery life. The former Fuchai 213 didn't offer necessarily poor battery life, but Sigelei went ahead and improved it even more with the latest release of the 213. Even when using the mod at higher wattages and temperatures, you can still expect some good endurance out of this thing.
Great Vapor Quality And Flavor
One big highlight for me while working on the Sigelei Fuchai 213 temperature control box mod review has to do with just how great the vapor and flavor quality is with the Fuchai 213. This is an area that Sigelei has been proving their expertise in with their latest products, and it's very much so evident with the new Fuchai 213.
The flavor you're able to get out of this mod tastes nice and smooth without being too powerful, and the vapor clouds you can create also manage to get quite big with the right settings applied. These might sound like simple things, but being able to get a mod that excels with a nice design, great battery life, and awesome flavor and vapor quality really does create for the perfect trifecta.
Cons
No matter how you look at it, the Fuchai 213 is overpriced when you consider everything it's bringing to the table and the competition that currently exists for it. That's not to say that the 213 is a bad mod, as it's actually a very well-made and executed one.

However, if you do a bit of shopping, it is possible to find other mods that will offer similar experiences for a bit less cash. You might not get that same build quality or power output, but if you'd like to save a bit of money, you can get very similar experiences with mods that don't cost nearly as much.
Top Features
Big, Bright Display For Viewing Settings
On the front of the Fuchai 213 is where you'll find a display that's used to display any settings or tweaks you've made to the mod, and this serves as a great way to see all of your custom preferences. The screen isn't necessarily the brightest that I've ever seen on a mod of this price range, but it's a heck of a lot better than most of the competition out there.
Mods like the Reuleaux RX200S still range supreme in this category, but the 213's display still has a lot to offer and should create for a pleasant viewing experience for most people.
213W Of Power
As the name of the Fuchai 213 suggests, the mod is capable of a power output up to 213W. This is something that I was very anxious to try when I first started working on my review, and I'm pleased to report that I didn't experience any sort of issues when cranking the 213 up to its max power settings.
This is something that the original version of the 213 had trouble with, but the revised model didn't pose any sort of problems. Being able to reach a power output of 213W on a mod this size really is impressive, and even better is the fact that the mod stays comfortable (albeit a touch warm) when vaping at this setting.
Final Thoughts
So, to wrap all of this up, where does that leave us with this Fuchai 213 review? If you'd like to save a few dollars, you can find other vapes for less money that will deliver a similar experience. However, if money isn't an obstacle, there's a whole lot to like about the Fuchai 213. This is a mod with a lot of power, great looks, a fantastic build, excellent vapor quality, and long battery life. If you've got the cash to cover the cost, you won't be disappointed with this one.
Sigelei Fuchai Squonk 213 150w Kit Review
Squonking became incredibly popular towards the end of 2017, and we saw a lot of squonk vape mods being released. However, many of them were fully mechanical or unregulated which some vapers may not prefer to use for various reasons. In this vape review, we'll be covering the new Sigelei Fuchai Squonk 213 150w Kit, which is not only regulated, but also compatible with the new battery sizes we've seen in many new mods which are 20700 and 21700.

We'll cover our first impressions, building and wicking the included RDA, usage, performance, pros and cons, and conclude with whether or not we recommend the Sigelei Fuchai Squonk 213 150w Kit!
First Impressions
The Sigelei Fuchai Squonk 213 Kit comes in a pretty nice box that shows the name and image of the kit on the front and on the back it shows some information about what's included. Everything inside of this box is packaged quite well, so you don't have to worry about it when it's in transit, which is always a good thing! Once you slide open the packaging, you're immediately met with everything that's included.

I do want to mention that I did receive the blue color option, but there are other colors available such as Red, Yellow and Black. Included with the Fuchai Squonk 213 Kit by Sigelei, you do receive the Fuchai Squonk 213 150w Box Mod, Fuchai or Cubic RDA (I've seen this RDA advertised as either one of these names so just stating both), a USB cable, Manual, warning card, bag of spare parts, another squonk door which covers the squonk bottle and an 18650 adapter which is already installed in the device.

You do receive quite a lot with this squonk kit, so I'll give it a pro there for sure. Upon looking at the Fuchai Squonk 213 Box Mod, I first noticed its similarities to the original Fuchai Mod, which was pretty popular. I personally like the design of the Fuchai, so I was happy they stuck with it. The only different with this new version is that it features squonking and it takes the place of one of the battery slots, making this a single battery vape mod.
I also noticed the really soft silicone squonk bottle that's included in this vape starter kit. It's very soft and easy to press, but it's very small and can only accommodate 5ml of e-liquid. This was a bit of a let down for me, and I do wish it was a bigger bottle, say 7ml where you can easily find a replacement if you didn't like the included one or simply need a backup. Finding a 5ml squonk bottle isn't the easiest, as 7ml is pretty much the standard I'd say. This is a con for me as I already knew with a 5ml bottle, you'll be filling pretty often.

The included atomizer is pretty basic, and does come in a color to match the Fuchai Squonk Mod. It does feature side airflow, and it looks to be quite a lot of airflow. In addition, it's not adjustable which is another con in my book. I'm glad they included it though to make this a full kit so the vaper can test out to see if they like squonking without having to invest into a squonking RDA plus the mod, they can simply just get a full kit such as this. The included drip tip is constructed of delrin and it does feature a wide bore, which is something many vapers enjoy, including myself.

Overall, my first impressions of the Sigelei Fuchai Squonk 213 150w Kit was good. There were some cons I had initially, but none of them were deal breakers. I was definitely excited to build and wick this RDA and see how this entire setup performed!
Building & Wicking (Fuchai/Cubic RDA)
As mentioned earlier, the included Fuchai or Cubic RDA is pretty simple, which is a good thing, especially if you're a beginner. This RDA atomizer features a two post velocity styled build deck, which is still one of the easiest build decks to install coils in my opinion. It's not as great for exotic coil builds with thick leads since these posts have a tendency to twist your leads, but it's not a major issue.

There is a good amount of room in this RDA as well, so you can easily fit Fused Claptons or Aliens if you desired. My preferred coil build was actually a dual Fused Clapton with about 6 wraps each, which had a resistance of around 0.2 ohm. Installing these coils were quick and easy, and building on this atomizer will not be an issue for the beginner or advanced user.
Wicking is pretty straightforward as well. This RDA does have a rather deep juice well and a squonk pin is pre-installed. When wicking this RDA, be sure that your cotton does touch the bottom of the juice well, but do not stuff your cotton in there. Make sure your cotton is nice and fluffy to ensure effective wicking during squonking. Lastly, be sure not to cover the squonk holes in the middle, you want the e-liquid to be able to freely flow to both sides of the build deck with no issues.

Overall, I must say when it comes to building and wicking the included RDA, it's incredibly easy. Its two post velocity styled build deck makes coil installs a breeze and the juice well is deep so you can get a good amount of cotton in there with no troubles.
Everyday Usage
The Fuchai Squonk 213 150w Box Mod is shaped and sized similarly to the original, so it's very comfortable to hold. In addition, there's no sharp edges to be found whatsoever. What's even better is that when you hold it in your hands and using your thumb to press the fire button, your ring finger naturally lays by the squonk bottle, so the way it's designed it really great for squonking. This is a huge pro in my book! Also, with its size you can easily carry it in your pocket or book bag with no issues.
This device is compatible with three different battery sizes which are 21700, 20700 and 18650. You can only use an 18650 battery with the included adapter. However, when using a 21700 or 20700, there is no adapter needed. It's definitely another pro that this squonk vape mod is compatible with all of these battery sizes, as there aren't many on the market that is able to do so that's mass produced and priced affordably.
I do want to mention that when you are using a 20700 battery, there is a slight battery rattle. You can especially feel the battery rattle when you're moving the device back and forwards. I'm not sure why exactly, but it's a con to be mentioned. I haven't noticed this battery rattle when using the other battery sizes though, so that's a good thing. Something else to mention is that the squonk door, which you can take off to access your squonk bottle, does have some play to it. It is secure in place, but it moves just a bit too easily for my liking.
The Sigelei Fuchai Squonk Mod features a color display screen which is bright and clear, so it's easy to see in pretty much any situation. It's right on the front, and right above it is where you'll find the wattage up and down buttons. The fire button is located on the side by the fire buttons. Using this device is pretty simple, and is the same as the previous Sigelei Fuchai Mod. 5 clicks of the fire button will turn this device on or off.
Pressing the fire button 3 times will enter the menu where you can choose the different temperature control options alongside the standard power mode. The TC options are Ti, Ni200, SS304, SS316, and SS317. Pressing the fire button and wattage up button at the same time will allow you to adjust your preheat settings. You can also lock the buttons by pressing the fire button and wattage down button at the same time. Lastly, by pressing the wattage up and down buttons at the same time will allow you to lock in the resistance (for TC mode only).
The last thing I want to mention when using this device is that all of my atomizers say flush and made a connection with zero issues. It can house atomizers up to 25mm without a overhang, which is most certainly a pro!
Overall, using this squonk vape kit has been great! There were some minor annoyances like the squonk door and battery rattle, but nothing that really made me want to stop using it. This squonk mod is very easy to use, and best of all, it's compatible with three different battery sizes!
Performance
The Sigelei Fuchai Squonk TC Box Mod does have a maximum wattage output of 150w. Now, with a single battery, I highly doubt it can reach this amount of wattage and not sure why Sigelei would even advertise it as such. I would say this device is more along the lines of 100w rather than 150w, but only when using a 20700 battery since the available 21700 batteries aren't the greatest.
When using an IJoy 20700 battery, I will say that it does feel like it's giving 100w or very close to it, but you won't be continuously vaping at this wattage for long due to battery sag. If you're a vaper who is in need of 80w and above, then I would highly recommend checking out a dual battery squonk mod such as the Geekvape GBox which will not only give you the desired power, but good battery life as well.
With that being said, the battery life I would get from a 21700 or 20700 battery is great! This is certainly the case when vaping at lower wattages such as 50w and 60w. As expected, vaping at 75w and above will limit the amount of battery life you'll get. I could get through most of the day without needing to recharge or change the battery when vaping at slightly lower wattages, which is great when considering it's a single cell device.
The temperature control mode does work fine as well and I did only test this device in temperature control for stainless steel wire. It does feel quite accurate in regards to the temperature setting, and the ramp up is fast thanks to its preheat function. Going by how it performs in TC mode for SS wire, I would say it'll work just as great in Ni200 or Ti mode. It's not on par with the likes of a DNA Box Mod, but it's satisfying.
Something worth mentioning that since the squonk bottle is only 5ml, you will be filling it pretty often. I found myself filling it every 2 hours or so, depending on how much I was vaping. Thankfully it's very easy to access and fill. You can always use a squonk refill bottle so you don't have to take out the silicone squonk bottle. I do wish they made that area just a bit bigger to accommodate bigger bottles as I would've loved to use the Lost Vape silicone squonk bottle or something else for more capacity.
Now onto the performance of the included RDA. As mentioned previously, it does have side airflow, which is not adjustable and it is quite airy for me personally. It performs fine, but it's not going mind blowing and I wasn't expecting it to be. The flavor is decent, and the vapor production is great. I've been personally using this device more with a single coil RDA such as the Pulse 24 BF RDA, which not only gives me better battery life due to it being a single coil, but much better performance as well. Honestly, I think this kit should've included a single coil RDA rather than dual coil as it's more fitting for a single battery regulated squonk box mod.
The overall performance of the Sigelei Fuchai 213 Squonk Mod was solid. However, The same cannot be said for the included RDA. It's a decent performer at best, but it's not a bad atomizer to be included for those first getting into squonking. If you're new to squonking, be sure to check out our guide to squonking video here:
Pros:
Cons:
Conclusion
In conclusion, the Sigelei Fuchai Squonk 213 150w Kit is a decent performing squonk vape kit that's priced well. I do think this is a pretty decent squonk kit for those looking to step into the world of squonking since it comes with basically everything you need aside from batteries and e-juice.
There were quite a few cons to this one, and most were annoyances rather than major cons. The first few are annoyances such as the slight battery rattle and the squonk door having some play to it. With the Fuchai or Cubic RDA, I honestly didn't expect much just by looking at it, and for what it is, it's a fairly decent performer.
Like said before, it's not going to have the best performance, but it's decent enough for the beginner wanting to get into squonking. The 5ml bottle is simply a let down, and there should've been a larger capacity for sure. The fact that Sigelei markets this as a 150w mod is just inaccurate as it's just not possible in my opinion to get 150w from a single cell.
Overall, it's a decent squonk kit for the price and I do think it's a solid entry for those looking to get into squonking. You have all the safety features of a regulated mod, which is great for the beginner. There honestly aren't many single 21700 or 20700 squonk mods on the market, and I think this is a big reason as to why vapers would want one. This is pretty much one of the key reasons as to why I'll keep using this one, just not with the RDA. So if that's something you're looking for and don't mind the cons listed, then I can definitely say check one out, as it does pretty much as expected and it's very comfortable to use.
We hope you find this review helpful in finding the right squonk starter kit to fit all of your vaping needs! Feel free to leave any questions or comments down below! Thanks for reading!