Best E-Juice Flavors (Top 25 Reviewed in 2017) | Vaping Cheap
Top 25 Best E-Juice Flavors in 2017
With the wild and wonderful amount of e-liquid choices out there, it can sometimes be hard to chose one that you would like to try, let alone finding the perfect choices that you would consider keeping in your daily rotation. Luckily we can break down each various e-juice into what we call flavor profiles.
When you know that your palate is interested by certain flavor profiles rather than others, it can make it an easier task to look out for new e-liquids within that profile. Or if you understand where an e-juice you like fits into a certain profile, that may open up new possibilities for you to try which your most likely going to enjoy or will be more suited to your palate. We are going to outline the major e-liquid profiles and have a look at why they are a popular choice amongst the vaping community.
In addition, for each category we'll be listing some of the best e juice flavors. When listing some of the best e liquid on the market, there are tons of options available and taste is subjective, so what we may like you may dislike and vice versa. In every best e liquid reviews, it's important to note that everyone's palette is different and finding what you favor may take some time with so many options. This article will certainly help pin point and nail down some options, making it a little easier to find your all day vape!
Tobacco
As most of us made the switch to Vaping from smoking regular cigarettes, tobacco flavors are the most common first step into the Vaping experience for many of us. Tobacco flavors are very important here, because a lot of the time this is the make or break for people sticking to the change from smoking. Thankfully there are a wide variety of different choices to choose from when it comes to tobacco flavors. And these are quite a simple choice for people to make as they usually mimic the name of the cigarettes they used to smoke. From Marlbro to Camel, Pipe to Cigar – the possibilities are endless. It's really a no-brainer, find an e-juice that resembles what you used to smoke and your good to go.
RY4, in its many different varieties, is often quite a popular choice for tobacco flavors. RY4 got its name from the creator of e-juice and e-cigarettes, Mr Hon Lik, who worked for the company called RUYAN. They produced the first e-cigarette and its accompanying e-liquid back in 2004. RY4 was the name he gave to the recipe he decided to finally push out to the public and this name has stuck around ever since.
Quite a number of smokers use Menthol cigarettes and guess what? Yes, there is a plethora of Menthol infused Tobacco flavors out there to take your pick from. Menthol has also found its way into many other flavor profiles and is often used as a cooling agent in other recipes – more on this later.
Tobacco connoisseurs who are now into vaping can also enjoy NET vaping. This is called Naturally Extracted Tobacco and involves the process of steeping the tobacco leaves themselves in PG to draw out the natural flavor of the tobacco. This process eliminates the need for artificial flavoring and can yield some wonderful results.
Tobacco flavors are also the stepping stone from beginner vaping to starting to explore other flavor profiles. So we see a lot of tobacco flavors having the addition of either sweeteners, caramels, menthols or fruits etc. which start to expand the users options for delving further into different flavor profiles.
Some popular flavors in the Tobacco flavor profile are:
Flue Cured or Fired Cured
Marlboro (USA Blend)
Camel
Cherry Tobacco
Cuban
Coumarin
French Pipe
USA Blend
Menthol
RY4
555
Top Tobacco E-Juice Flavors
Here lists some of the best tobacco e-juice flavors in our opinion. While there are a vast amount on the market, these are what stood out to us the most.
Prelude By Blacknote
If you crave a premium tobacco experience that can replace some of the finest cigars, don't miss out on this fine e-juice. Its flavor is naturally cold extracted from tobacco grown in the sandy plains of the Italian Alps, and has a subtle taste unique to the fine Verona soil. Flue cured leaves with natural sugars and resins make this a bright, full-bodied, smooth vaping experience. Best of all, there are no artificial flavors, colors, dyes or chemical additives used in the manufacture of this premium e-juice.
Extracted in Italy, Bottled in California
50VG/50PG
Nicotine Strengths up to 18mg
No artificial ingredients
Mt Baker Vapor USA Blend Tobacco
Moving away from the premium tobacco experience is Mt Baker Vapor's USA Blend Tobacco. Even though more affordable it still offers an excellent and traditional USA Tobacco vape experience. Perfect for the beginner who just switched from smoking and looking for an affordable tobacco vape juice and best of all it's available in a giant 240ml bottle for those wanting some e-juice to last for quite some time. This is the classic American tobacco.
Nicotine Strengths up to 24mg
30ml/240ml Bottle Size Options
Variety of Blends Available
Can fully customize your e-juice to your desire
Fruit
Fruit is a very accessible flavor profile as we are all accustomed to the taste of fresh fruit. The move to a single fruit flavor is non intimidating for a new vaper who may have started with tobacco. Fruit is a safe bet, because we all have our go to favorite, so it is also a good alternative to starting on a tobacco flavor. We generally know what each fruit tastes like, so it's known what the e-juice will be like. You have the standard run of the mill type fruit or you can venture into the more exotic territory and taste fruit that you wouldn't normally have access to in your part of the world.
If you like your fruit ripe and extra sweet go for things like mango, raspberry and pineapple. However if you prefer more subtle type fruits, head for the likes of melons, berries and apple. To go out on a limb, you can try dragonfruit, pomegranate or durian.
Some popular flavors in the Fruit profile are:
Strawberry
Banana
Grape
Apple
Blackcurrant
Top Fruit E-Juice Flavors
Fruit flavors are incredibly popular due to their fresh taste and all day vape potential. Here are some of the best!
Awesometown Garden Watermelon
Garden Watermelon is an excellent and affordable fruit flavored e-liquid. The primary flavor notes are Watermelon, Kiwi and Strawberry. However, the twist to this e-juice is the slightly candied watermelon that's sweet yet vibrant mixed with kiwi and ends with a strawberry. This is an incredibly refreshing vape juice that's offered in 60ml bottles, and a high VG blends providing you with plenty of vapor and flavor! You can check out our full review here.
60ml Bottle
High VG Blend
Nicotine Strengths up to 6mg
Loaded E-Liquid Cran Apple
Loaded E-Liquid is brought to you by Ruthless and is a 70VG/30PG blend which is perfect for almost all applications in vaping. This blend is great for both sub ohm tanks and drippers, and this blend provides you with the best of both worlds when it comes to flavor and vapor. Loaded E-Liquid Cran Apple is a wonderful blend of fresh apples and cranberry and leaves you with a very faint cooling effect at the end of the exhale. What's great is that this e-juice is available in a 120ml bottle size, so it'll last you a great amount of time before needing to restock!
120ml Bottle Size
70VG/30PG
Nicotine Strengths up to 6mg
Om Vapors Mantra
Mantra by Om Vapors is a tropical fruit blend mixed with green tea. Don't let the green tea scare you off as this addition gives this e-juice a unique and tasty exhale! The fruit flavors you'll find in Mantra are garden-fresh strawberries, peaches and mangos. Each flavor blends incredibly well together bringing you to a tropical paradise every time you take a vape. Best of all, Mantra is affordable, is offered in various bottle sizes and nicotine strengths to suit almost any vaper's needs!
Bottle Sizes Offered: 30ml, 60ml, 120ml
Nicotine strengths up to 9mg
High VG Blend
Dessert/Savory
We all love our desserts, right? Something we look forward to after our meal or as a cheeky treat. Desserts can be a very popular flavor profile as they often provide that satisfaction or comfort as the actual food product itself does. Desserts are usually sweet, but can also be slightly savory as well. Dessert can take many forms and fear not, they have all been encapsulated into various eliquid recipes for you to choose from.
Custards are one of the most popular flavors in this vape juice flavors list and are usually built off the standard Vanilla Custard. A good custard can leave you super satisfied in its thick eggy taste with a creamy after tone left lingering in your mouth. Variations we often see here are the inclusion of fruits, chocolate and biscuits. Even though this is true, some of the most popular flavors include boosted e juice which is a strawberry and cream/milk flavor, which is another favorite in this category.
Cake is most certainly an inclusion on the dessert table and is most welcomed in e-juice flavors. Chocolate cake, pound cake, cupcake, cheesecake the list goes on. Don't forget all of the varieties of Pie we enjoy as food, are also available in the e-juice variety. Not to forget Donuts, Cannoli, Pastries, Cinnamon Buns, Cookies, Ice Cream and Gingerbread just to name a few.
Some popular flavors in the Dessert profile are:
Vanilla Custard
Apple Pie
Bavarian Cream
Donuts
Banana Nutbread
Cheesecake
Cinnamon Roll
Sugar Cookie
Top Dessert E-Juice Flavors
Dessert is probably one of the most popular type of e-juice flavors today and there's plenty of good reasons why. Since being one of the more popular flavor profile, we'll provide you with a few more e-juices that we find are some of the best in this category.
Loaded E-Liquid Glazed Donuts
It's not a surprise that another flavor from the Loaded e-liquid line is listed in this article as this is a premium e-juice line with a not so premium price and they're simply tasty! Who doesn't enjoy a good glazed donut flavor? This is a spot on glazed donut flavored e-juice and is just as sweet as you imagine it would be. This is certainly one of the best dessert/savory flavored e-juice on the market, and thankfully it's available in a large 120ml bottle size!
70VG/30PG
120ml Bottle Size
Nicotine Strengths up to 6mg
Fuggin E-Juice CheeBerry
Strawberry cheesecake vapes are a very popular flavor profile, and for good reason. CheeBerry is a thick and creamy New York Cheese Cake drizzled in strawberry syrup and topped of with fresh, ripe strawberries! It's as delicious as it sounds, and is on the sweeter side, so this e-liquid will certainly satisfy that sweet tooth of yours! CheeBerry by Fuggin E-Juice has a high VG blend of 80VG/20PG, so you'll be getting excellent flavor and vapor production!
120ml Bottle Size
80VG/20PG
Nicotine Strengths up to 18mg
The Sauce LA Open Road
Open Road by The Sauce LA is a perfect blend of sweet, gooey and rich caramel infused rice krispy treats vape juice with subtle notes of marshmallow. This e-juice does come pre-steeped so it's ready to vape at soon as it arrives to your doorstep. This is one of the most popular flavors from The Sauce LA, and we could easily see why. This is definitely one of the better rice krispy treat vapes we've had and it's absolutely delicious. If you're looking for this type of flavor profile, look no further!
High VG Blend
Nicotine strengths up to 6mg
Primary Flavors: Caramel, Marshmallow, Rice Krispy Cereal
Cloudberry Vapors Vanilla Creme Cookie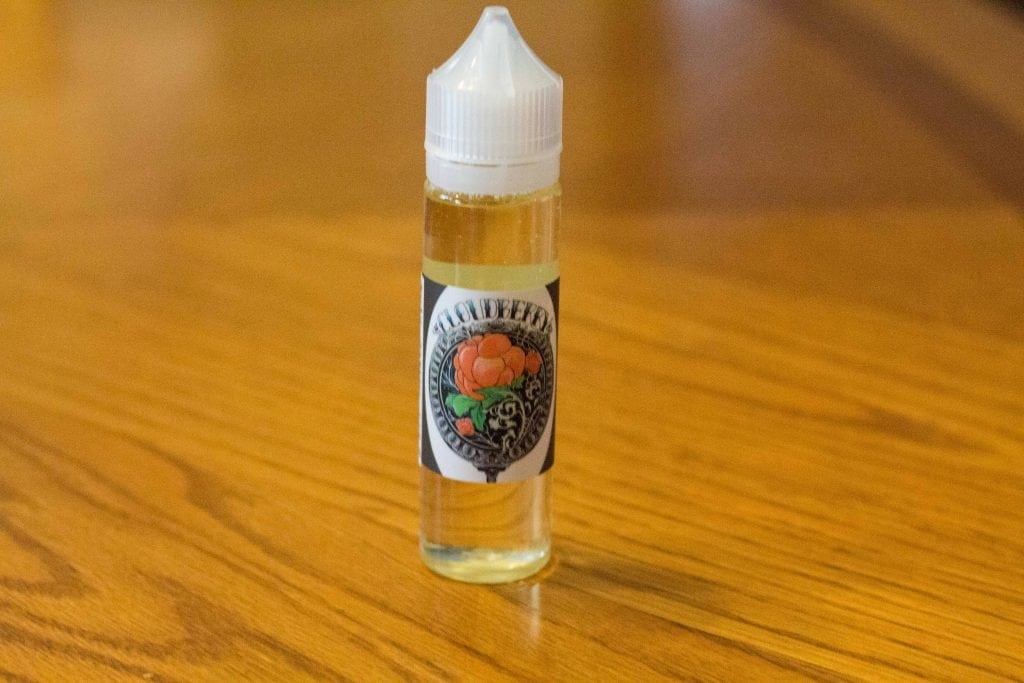 Vanilla Creme Cookie by Cloudberry Vapors is hands down one of the best cookie and cream vapes we've had, and we enjoyed it so much it made it to our best cheap e-juice article! This e-juice is described as a sweet blonde vape featuring vanilla cookies sandwiched around a thick layer of creme filling and this exactly what it tastes like. If you're looking for a good cookie vape with hints of cream, give this one a shot, you'll be pleasantly surprised.
Bottle Sizes Available: 30ml, 60ml, 120ml
Nicotine strengths up to 24mg
Variety of Blends available
Awesometown Vanilla Custard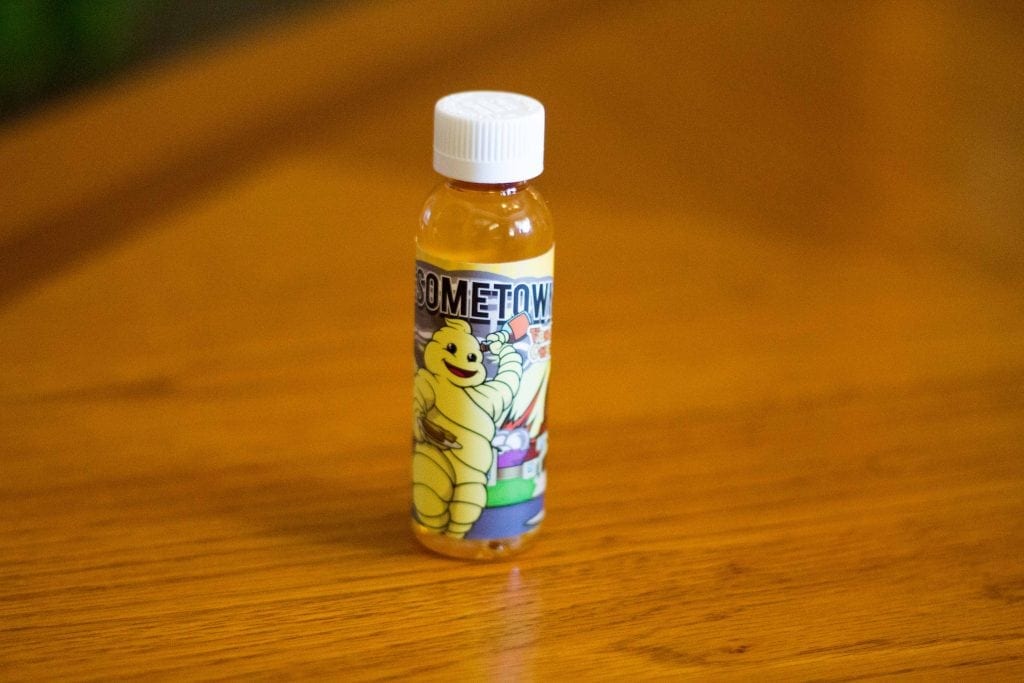 The best tasting vape juice for this flavor category wouldn't be complete without a vanilla custard, but Awesometown Vanilla Custard is not just your average same old vanilla custard you're used to. This one is much different as it adds a twist! That twist is the addition of Jamaica Rum, and Nilla Milk Wafer! The Jamaican Rum gives it a unique taste, and the Nilla Milk Wafer simply rounds it out. If you're looking for a sweet and creamy vanilla custard vape, this one is it!
60ml Bottle
High VG Blend
Nicotine strength up to 6mg
The Zen Vaper Samsara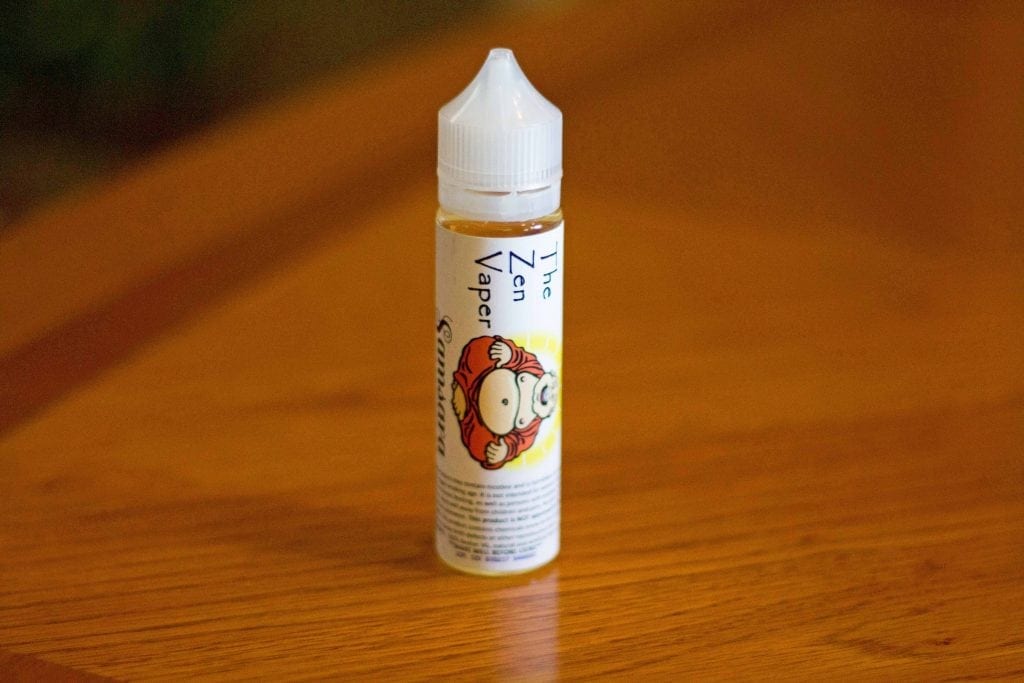 As mentioned in our full review for The Zen Vaper, they make some fantastic e-juice that are complex and incredibly well blended. The same can be said from their newest flavor Samsara, and just like a vanilla custard, a strawberries and cream vape had to be mentioned. Strawberries and Cream is probably the most popular flavor profile on the market today, and Samsara is one of the best we've had. The description of this e-liquid is a big bowl of hand-made vanilla bean ice cream and just the right amount of sliced ripe strawberries then topped with a dollop of hand-made whipped cream. You taste each and every flavor when vaping this e-juice, which makes it that much better.
60ml & 120ml Bottle Size Options
70VG/30PG
Nicotine strengths up to 6mg
Breakfast/Cereal
It is argued that Breakfast can be the most important meal of the day, so why would we discount having that available to us in a vapable form? No-one wants to miss out on the best part of their morning, so why not be able to enjoy it at anytime of the time of the day.
Cereals are a great option as they translate very well to e-liquid recipes. From fluffy rice crisps to sweet, fruity, pebbly loops of crunch all drowned in a generous helping of milk. Or those nut clusters that leave your mouth with notes of oats, honey and coconut.
Maple Syrup fans are sure to be satisfied with the inclusions of Pancakes and Waffles in this flavor profile. And don't be disappointed, pretty much anything you can think of to eat alongside your Pancakes or Waffle is included in an e-juice somewhere.
Some popular flavors in the Breakfast profile are:
Captain Crunch
Fruit Loops
Pebbles
Pancake Man
Belgian Waffle
Coco Chocolate
Top Breakfast/Cereal Flavors
Breakfast and Cereal flavored e-liquids have become more and more popular over the years and many e-juices have been released with this type of flavor profile. Even though there are many, these are what stands out to us the most in regards to flavor intensity, blend, quality and price.
Double Comma Vapes Double Clutch Crunch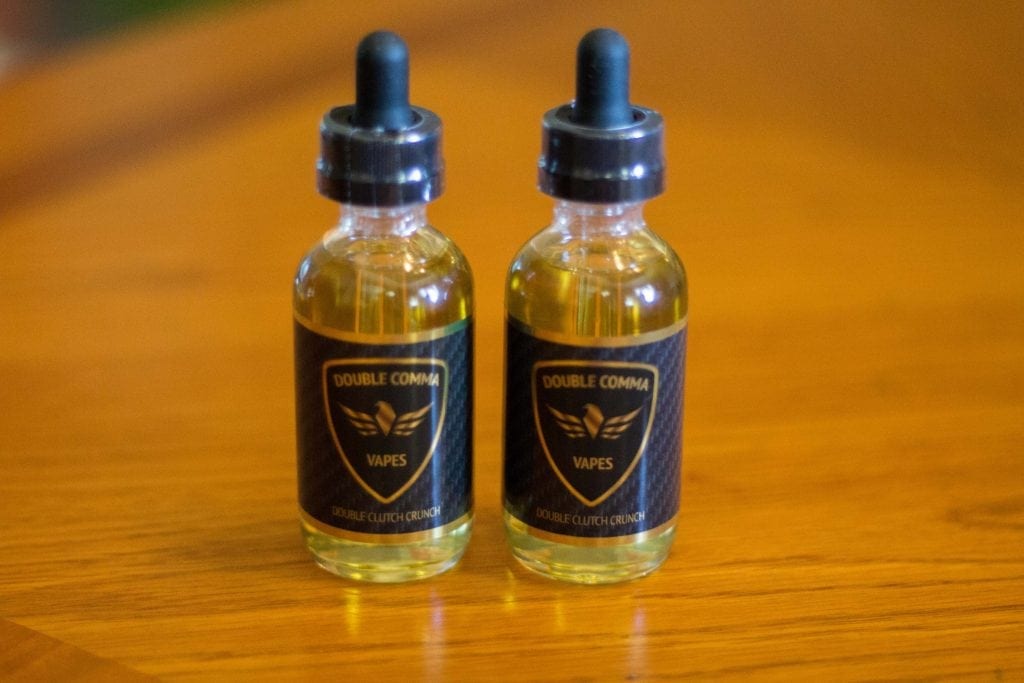 We recently reviewed the entire line of Double Comma Vapes and this specific flavor is what stood out to us the most and became one of our favorite breakfast flavors instantly. This e-juice did win the Iron Award at Vape Nights Las Vegas, and we can easily see why. This is a much different cereal vape than what we've been accustomed to by the addition of peanut butter and banana. These 2 flavor notes mixed with crunch cereal simply brings forth a unique and tasty vape experience!
Bottle Sizes Available: 30ml & 60ml
Nicotine Strengths up to 6mg
80VG/20PG Blend
The Sauce LA Capone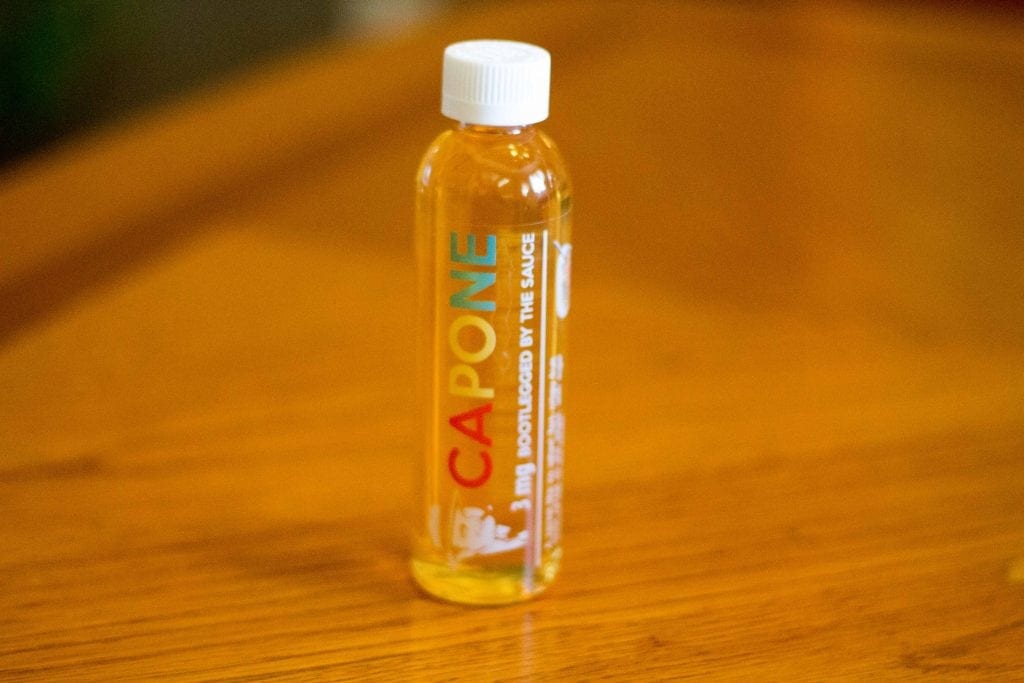 Capone is another popular flavor from The Sauce LA, and have become an all day vape for many, especially those looking for an affordable yet tasty fruit loops vape. With Capone you'll experience tart, crispy cereal on the inhale and rich, creamy milk on the exhale. The creaminess is what really attracts us to this e-juice and is only one of the reasons as to why it's one of our top breakfast/cereal top e-juices. With its high VG blend, you'll get plenty of vapor and flavor!
Primary Flavors: Fruity Cereal & Sweet Milk
High VG Blend
Nicotine strengths up to 6mg
The Zen Vaper French Toast
If you've read our review for The Zen Vaper, then you know how much we love this flavor from them. This is an excellent french toast vape that really captures this flavor profile perfectly. As with the other flavors from The Zen Vaper, this one is blended masterfully and you can taste every single flavor note without having to look for it. With its 70VG/30PG blend, it'll vape great in both tanks and drippers alike.
Bottle Size up to 200ml available
Nicotine Strength available: 3mg
70VG/30PG Blend
Vape Breakfast Classics French Dude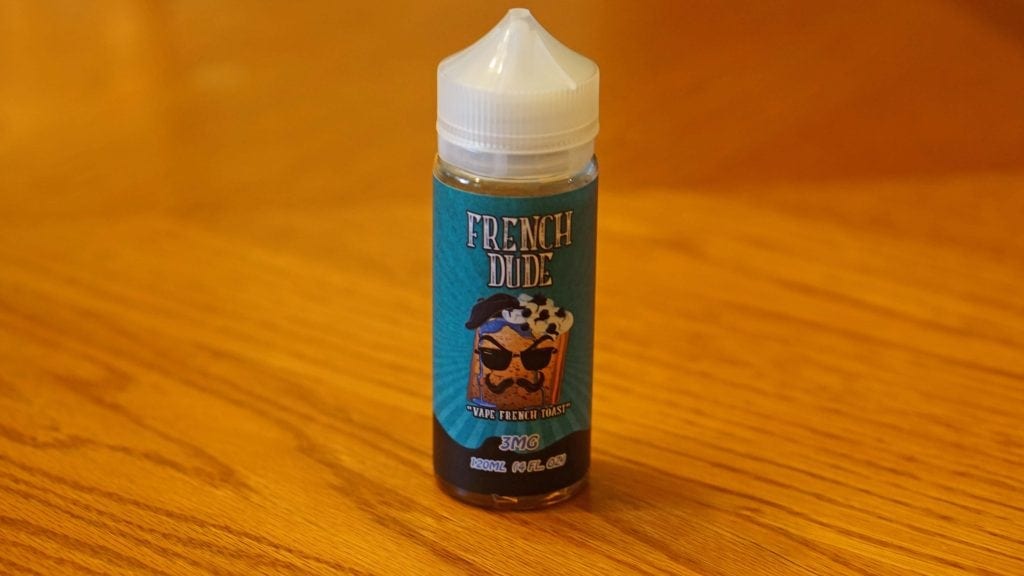 This is another french toast breakfast vape juice, but is much different when compared to the last one mentioned. For one, French Dude by Vape Breakfast Classics is much sweeter, so if you have a sweet tooth, you'll certainly be satisfied with this one. The flavor description is french toast topped with blueberry, whipped cream and drizzled with maple syrup, which leaves with a creamy yet sweet vape experience. Even though a breakfast flavor, this is an e-juice we can vape all day everyday.
Nicotine strengths up to 6mg
Primary Flavors: Whipped Cream, Syrup, French Toast, Blueberry
80VG/20PG Blend
Yogurts
Yogurt e-juices are typically semi-sweet fruit flavors with a creamy base. Yogurt e-liquid tend to be light bodied with just enough sweet from the fruit and tang from the Greek Yogurt to keep you satisfied all the way through the day.
Some popular flavors in the Yogurt profile are:
Kiberry Yogurt
Blueberry Yogurt
Strawberry Yogurt
Top Yogurt Flavors
Yogurt flavors can be either creamy or tangy depending on the mix of the e-juice. While some vapers prefer the creamy base, a lot of other vapers love the tangy experience they get from a greek yogurt. While not the most popular e-liquid profile, it definitely has a place for a lot of vapers.
Fuggin Vapor BlueGurt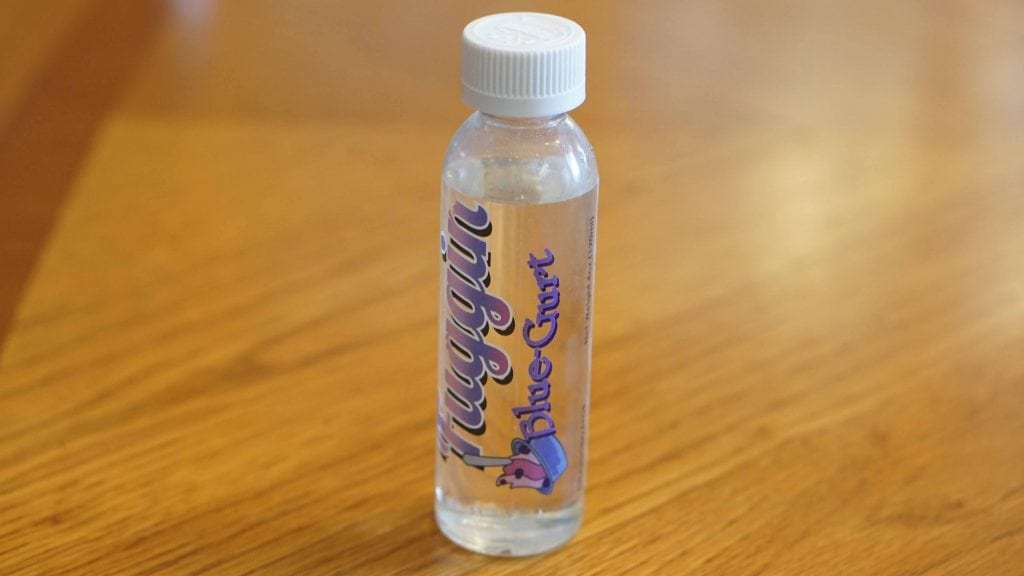 BlueGurt by Fuggin Vapor quickly became one of our favorite yogurt based e-liquids and you can surely tell since it made it into our best cheap e-juice article. This is more of a creamy yogurt rather than a greek yogurt and is blended incredibly well to bring you a sweet and flavorful vape experience. The flavor description of this one is freshly picked blueberries smothered in a creamy bowl of yogurt, and that's exactly what it tastes like. The creaminess is what sets this yogurt flavor apart in our opinion and is what truly won us over.
120ml Bottle Size
Nicotine strengths up to 18mg
High VG Blend (80VG/20PG)
Candy
We all have our favorite candy that reminds us of being kids running around the candy store. Whether you are craving chocolate, fruit chews, lollipops or even candy mints you can find the e-liquid to satisfy your sweet tooth. What's better is that you can enjoy all that flavor without the guilt. Pretty much any candy you can think of is represented in this flavor profile so go ahead and be young again.
Some popular flavors in the Candy profile are:
Jolly Rancher
Skittles
Blue Razz
Bubblegum
Gummi Bears
Fairy Floss
Peanut Butter Cups
Cinnamon Hots
Marshmallow
Top Candy Flavors
Candy flavored e-liquid is another popular e-liquid profile as many vapers enjoy the sweetness they experience. Even though not all vapers have a sweet tooth and enjoy much less sweet vapes, here at Vaping Cheap it has become one of our top e-liquid profiles! Here we'll list some of our favorites.
Bazooka Sour Straws (Entire Line)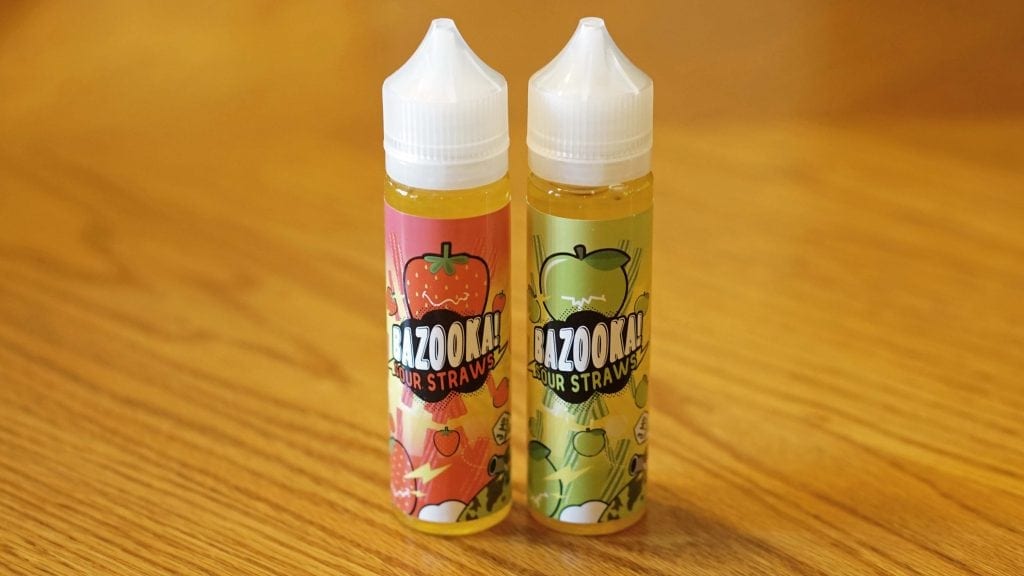 When we reviewed Bazooka Sour Straws, we were completely blown away by how spot on this e-juices were; hence is why we recommend the entire line. Each flavor has that sourness to it, but since the flavors all have a different primary fruit flavor, they each provide a different vape experience. There were select flavors from this line that were not as sour, and some were had more sourness to it, so this line can easily fit the palette of any vaper.
60ml Bottle Size
High VG Blend
Nicotine strengths up tot 6mg
New ICE flavors available (Same flavors with added menthol)
Om Vapors The Balance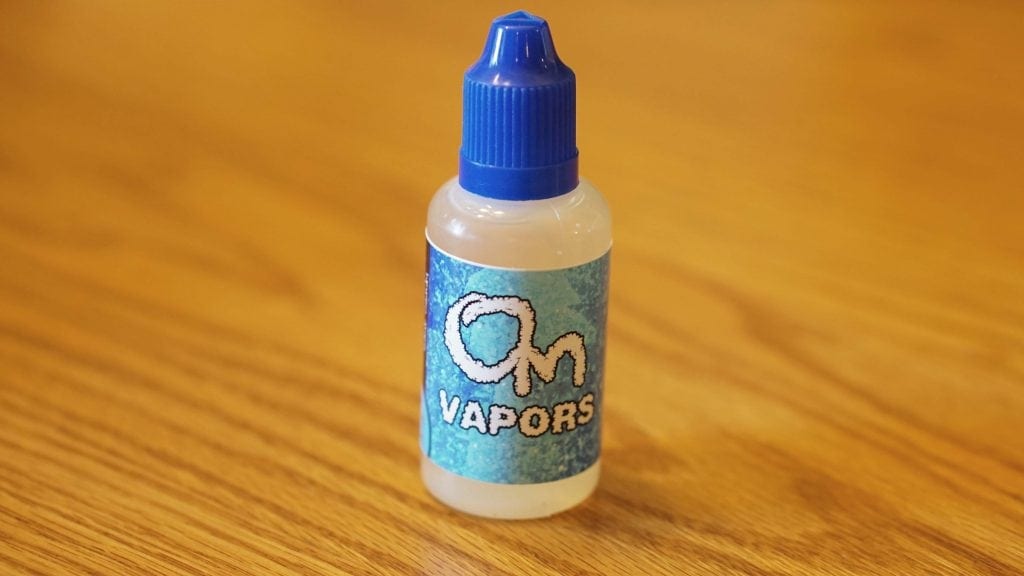 The Balance by Om Vapors is described as a Blue Raspberry Sour Candy which is a bit similar to one of the Bazooka Sour Straws e-juice, but this one adds a twist! You experience tart raspberry and lemonade flavors, and left with a sugary and fruity sweetness for an excellent finish. This e-juice does have a 75VG/25PG blend, so you'll be experiencing solid cloud production and flavor! This is the perfect blend for both tanks and drippers alike.
Bottle Sizes up to 120ml available
Nicotine strengths up to 9mg
High VG Blend
Awesometown Pure Pomegranate & Raspberry Rupture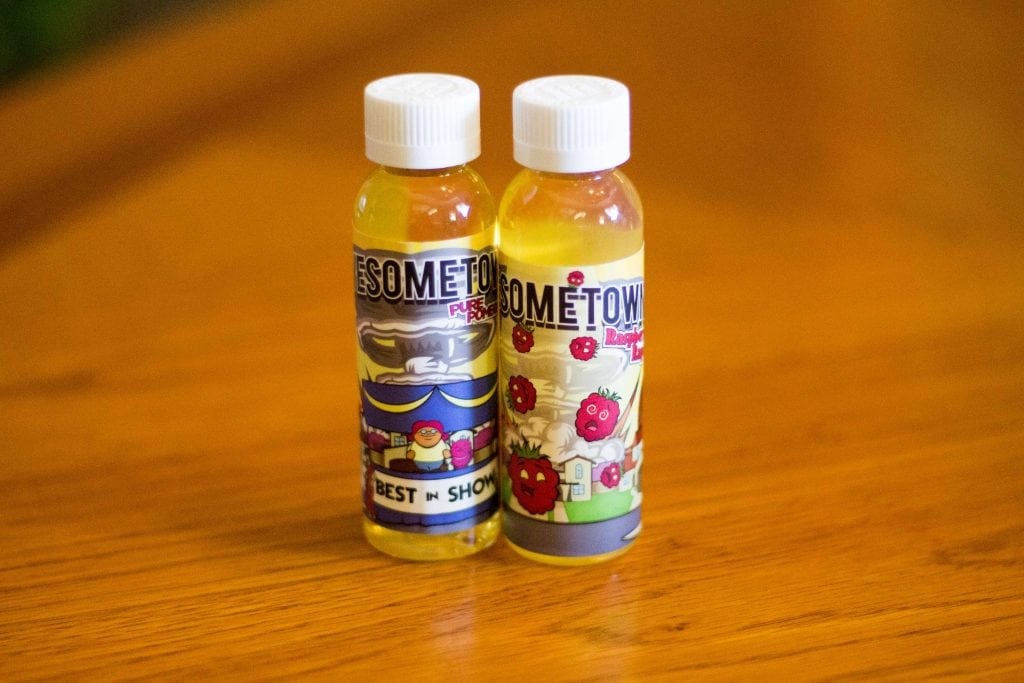 Pure Pomegranate and Raspberry Rupture are two of the newest flavors in the Awesometown e-juice line, and is a wonderful addition to the already great line of e-liquid. Both of them feature gummy candy, and has similar fruit flavors, but differ slightly making them quite different. Raspberry Rupture has raspberry, strawberry and kiwi while Pure Pomegranate has Pomegranate, strawberry and kiwi. Honestly, we couldn't choose between either so we included both, as they're delicious!
60ml Bottle Size
High VG Blend
Nicotine strength up to 6mg
Menthol
This is another popular profile for those menthol fans. If you smoked menthol cigarettes or just enjoy a cool, refreshing hit then something from the menthol range will most likely take your fancy. Menthol will give you that icy blast you know and love and is just as effective in vaping form. Menthol is also added to other flavors to give them a unique twist or to cool them down. It is always a good idea to try your favorite flavor with a menthol option if it's available. Even if it's just a drop of menthol, you may not even taste it, your flavor may just seem a little cooler as a result.
There are also many sweet/fruity menthol flavors commercially available along with the traditional menthol tobacco flavors. Along with straight menthol flavors, they are all different strengths and some may be too strong of a menthol hit for you, so you may need to try a few to find your sweet spot. With a good e-liquid vendor you should be able to choose the menthol strength. For those extreme menthol junkies, you can also get menthol e-liquids with added mint, koolada or eucalyptus which really takes things to the next level to help you keep your cool.
Some popular flavors in the Menthol profile are:
Subzero
Thug Juice
Menthol Freeze
Frost
Beverages
Everyone has their favorite go to drink of choice when certain cravings kick in. Fancy an ice cold cola on a hot day to quench your thirst or even kick it up a notch with a rum and cola? Think of an effervescent soda fountain brimming full of your favorite drinks or if you need a pick me up you could opt to go for a red bull style energy flavor or an ice tea.
Then there are the hot beverages such as coffee, tea or hot chocolate Alcoholic flavors don't always have to mixed with soda, think of cocktails, straight spirits, shooters or Irish creams. If you prefer milkshakes or a milk based drink, there are also may varieties of e-juice that will tantalize your taste buds here as well.
Some popular flavors in the Beverages profile are:
Coffee
Cola
Pink Lemonade
Dream Tea
Red Bull
Strawberry Milk
Creme De Menthe
Etco Cooler
Top Beverage Flavors
Beverage flavors are quite popular and a lot of them tend to be on the "fruity side" or "creamy side". Whether it'd be a coffee or lemonade, these type of flavor profiles are great for anytime of the year. Even though some are great for specific seasons, some vapers make these type of flavors their all day vape! Here are some of our favorites.
The Sauce LA Caramel Waffle Cappuccino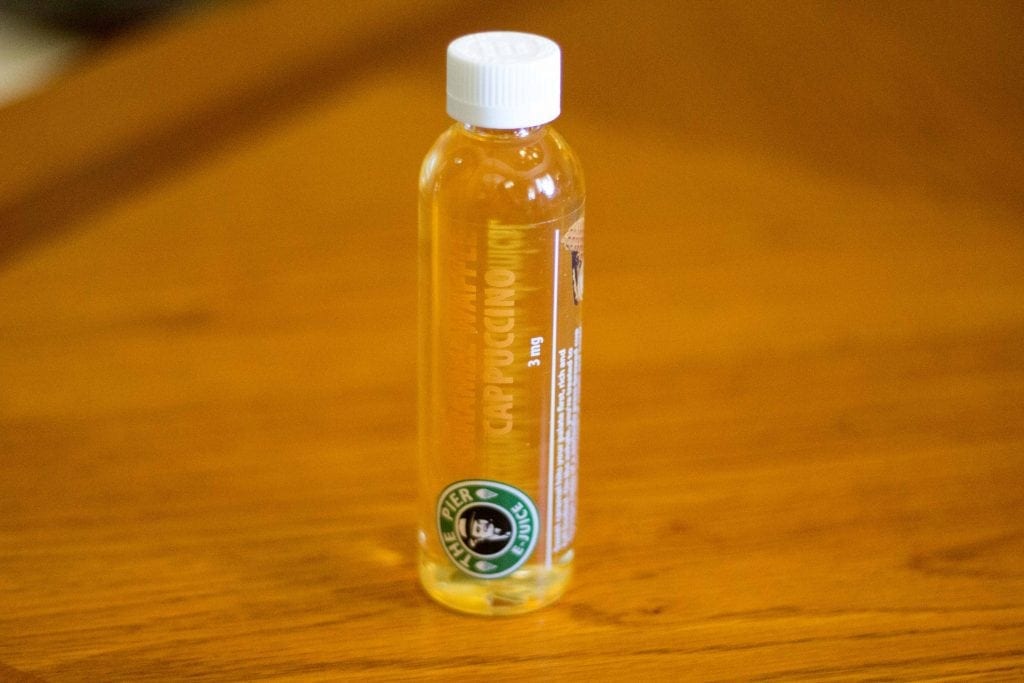 Another award winning e-juice, The Sauce LA Caramel Waffle Cappuccino. This is probably the best coffee flavored e-juice we've come across and we can easily see why it won the Iron Award for best coffee/tea flavor, because it's just that good. The primary flavors in this e-liquid are coffee, caramel, waffle and buttercream. You can taste each and every flavor note as you vape, and all of these flavors are blended well providing you with one of the best coffee vape experiences the market has to offer.
Award Winning
High VG Blend
Nicotine strengths up to 6mg
Fuggin Vapor Raspy Lemonade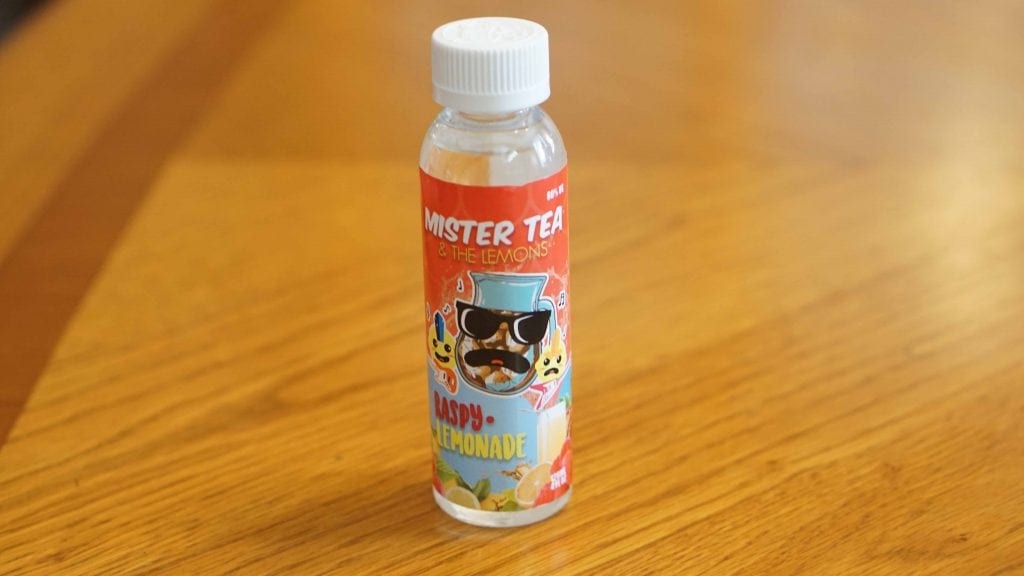 Who doesn't love a good lemonade vape, especially in the summer time? Well, this is a lemonade vape you can vape anytime! This e-juice is described as a classic sweet lemonade soaked in mashed up raspberries, and it's pretty spot on to that description. On both the inhale and exhale, you're met with a slightly tart yet sweet raspberry lemonade, and as you vape you keep coming back for more! Easily one of our favorite lemonade vapes on the market!
80VG/20PG
120ml Bottle Size
Nicotine strength up to 18mg
Om Vapors Chimera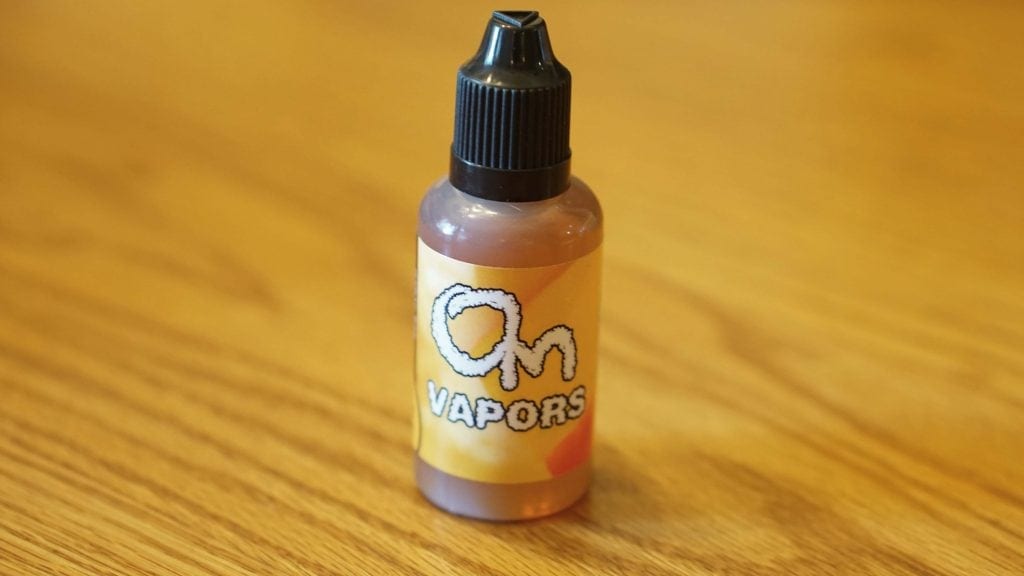 Om Vapors Chimera is a strawberry banana milkshake and is a mix between two of their popular flavors, Mindful Monkey and the Cobra. This is an excellent blend, and has a creamy banana ice cream on the inhale and a tart strawberry on the exhale. Milkshake flavors are very popular, and this one is a must try if you're a fan of this type of vape. With its high VG ratio, you'll be experiencing plenty of clouds and tons of flavor!
Various bottle sizes available
Nicotine strengths up to 9mg
High VG blend
In no way is this an extensive list or even scratched the surface of what is widely available to you in e-liquid flavors. As you are starting to figure out, the possibilities are endless, however by utilizing profiles it can certainly open up your options and quickly rule out others. One thing to keep in mind is that the name of the e-liquid may be far from the actual taste. So be sure to read the notes and figure out where it sits in each flavor profile. Also the name of an e-liquid may mimic the name of your favorite flavor, this is obviously done for copyright reasons, so if there is a flavor you are after and you see one that is mimicking that taste – go for that one.
When you start to mix different flavors, the flavor profiles can blend and get closer together in weird and wonderful combinations. You can take a two flavors from different flavor profiles and when you mix them together you get something totally unique which brings it into it's own unique profile. Think of Rum and Tobacco, Cucumber and Mint, Peaches and Cream, Strawberry and Cheesecake, Fried Cake Batter and Peanut Butter. You get the picture.
Vaping and e-liquids are such an exciting culmination and evolution of our palettes. The beauty of this is that you are sure to find a variety of e-juice that will tickle your tastebuds and keep you satisfied. And there will always be new and inventive flavors coming out in each of the flavor profiles we have talked about earlier. As with all good food and drink, there is always something to cater for everyone's taste and this rings true with e-juice and vaping.
We've shown you some of our favorites, what are some of your favorite profiles? We would love to hear from you in the comments section below.