QP Design Fatality M25 RTA $59.95 + FS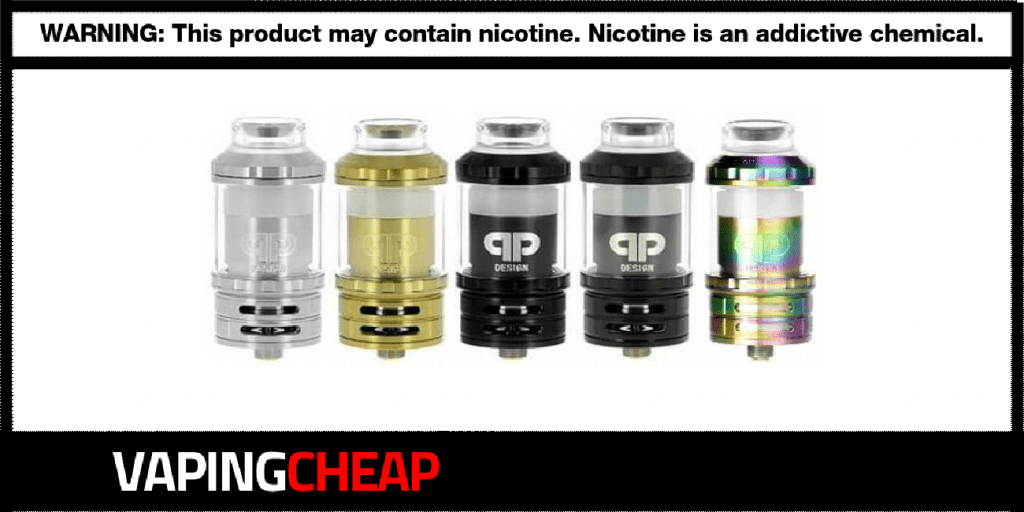 The QP Design Fatality M25 RTA is now in stock and on sale at a USA based store. Get yours for $59.95 plus free shipping. There's many different color options available including the newest colors such as Matte Black, Rainbow, Gold and more.
QP Design's Fatality M25 RTA is a followup from their original release. However, this newer version sports a smaller overall base diameter of 25mm. Additionally, a few upgrades and improvements have been implemented, which we'll cover shortly.
The Fatality M25 RTA by QP Design can hold either 4ml of e-juice (with the straight glass) or 5.5ml (with the bubble tank). There is a top fill port with feature their thread-less clip on cap design, so it's quick and easy to fill.
One improvement that has been made is the airflow. For one, QP Designs has implemented an airflow stopper, so it's easier to take off the base. Also, it won't free spin when adjusting, which is definitely a good thing. That's not something new as we've seen this type of feature with other RTAs, but wasn't present before.
As you'd expect, the QP Designs Fatality M25 RTA keeps the original quad adjustable airflow. There's two different airflow adjustment rings on the outside. The top AFC ring controls the side angled airflow while the bottom AFC ring controls the center airflow. There's a unique ultem airflow insert inside of the deck as well, which provides an even smoother draw. This is yet another improvement made to make this new RTA that much better.
Speaking of the build deck, this atomizer features a raised post-less deck. With this design, you can install many different coils for flavor, both single and dual. You'll be able to install one large inner diameter coil or dual coils, whichever you desire. You can replace the cotton or coil when the tank without emptying the tank section, which is convenient and a must have feature with any rebuildable tank. Lastly, at the top, it does come with a wide bore 810 drip tip pre-installed.
If you're looking for a solid performing RTA that has tons of airflow configurations and accommodates both single and dual coil builds, then you'll want to grab the QP Designs Fatality M25 RTA. It's priced slightly higher than others, but it's one helluva vape and well worth the cash.
QP Design Fatality M25 RTA 25mm Features:
25mm Base Diameter
Stainless Steel & Glass Construction
4ml or 5.5ml E-Juice Capacity
Top Fill Design with Thread-Less Clip On Cap
Raised Post-Less Build Deck

Compatible with Single & Dual Coil Builds

Quad Adjustable Airflow Design

Top AFC Ring Controls Side Angled Airflow
Bottom AFC Ring Controls Center Airflow
Removable Ultem Honeycomb Airflow Insert (Inside of Deck)

Can Replace Cotton & Coils Without Emptying Tank
Airflow Stopper
Gold Plated 510 Connection
Wide Bore 810 Drip Tip
What's Included
Fatality M25 RTA 25mm By QP Design
Clear 810 Wide Bore Drip Tip
Straight Glass Tank Section 4ml
5.5ml Bulb Glass Tank Section
Bag of Spare Parts
Card of Authenticity
Check Out The QP Design Fatality M25 RTA Review
More Great Vape Deals...
---
Hellvape Drop Dead RDA $18.56
Rebuildable Dripping Atomizer For a limited time only, the new Hellvape Drop Dead RDA is now back in stock and on sale right[...]