OXVA Arbiter 2 RTA $20.49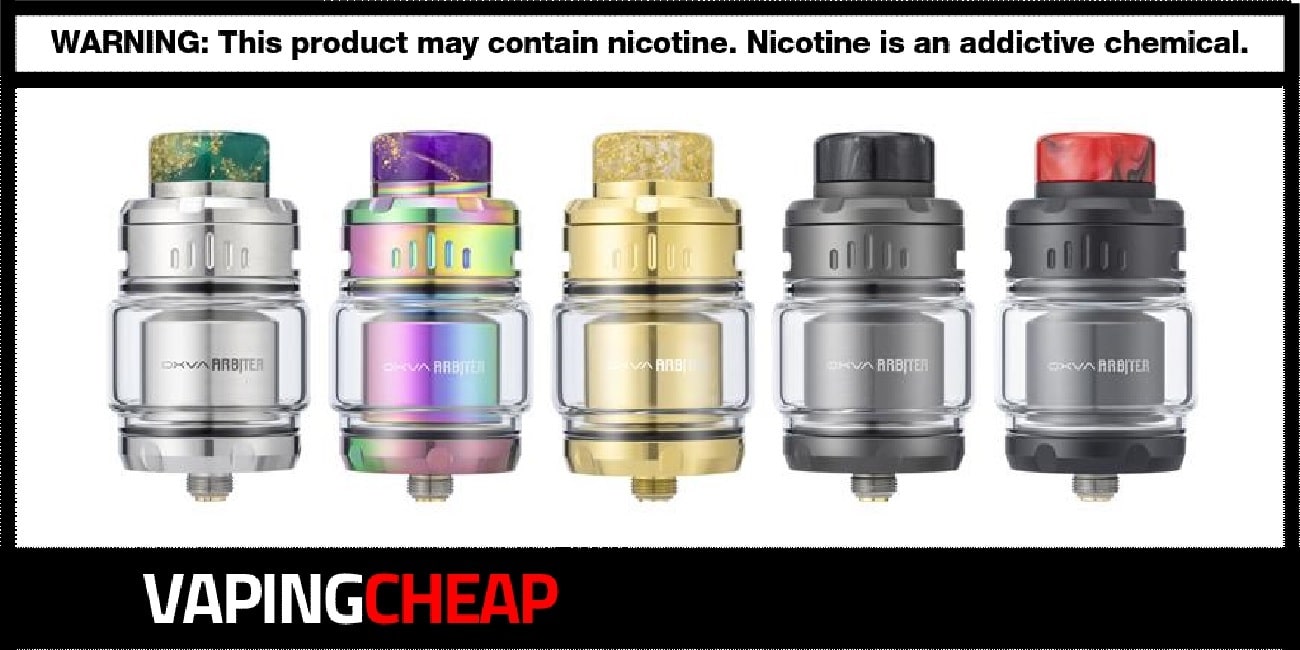 Here are cheap deals for the new and improved OXVA Arbiter 2 RTA. You can get one of these atomizers on sale for just $20.49 when using the code "OXAR2". It's now in stock at a US shipper for $30.29. You can pick from five different color options including Black, Gold, Gunmetal, Rainbow and Stainless Steel.
OXVA's Arbiter 2 RTA is an upgraded version of the original Arbiter RTA. One of the primary differences is the overall size of this atomizer. It's smaller than the original, coming in at 26mm. With the bubble glass installed, it does hold 5ml. If you install the standard straight glass, the maximum capacity is 3ml. Either way, filling it an absolute breeze with its top fill design.
Building on the OXVA Arbiter 2 26mm RTA couldn't be simpler. It sports a ramp style postless build deck that supports both single and dual coil builds. You've got plenty of options with this one. Another great feature that was loved on the original is the top airflow system. The Arbiter 2 RTA tank features a fanned airflow design, giving you a great draw and excellent flavor. Lastly, the adjustable top airflow system can be locked and unlocked.
If you're looking for a rebuildable tank that sports top airflow, is easy to build on and priced affordably, then definitely check out the Arbiter 2 RTA by OXVA. Now, if you primarily enjoy vaping on single coils, you'll want to check out the previous Arbiter Solo RTA.
OXVA Arbiter 2 26mm RTA Features:
Primarily constructed from stainless steel material
Overall diameter: 26mm
Maximum e-juice capacity: 5ml or 3.5ml (Straight Tank)
Top fill design
Postless ramp style deck
Supports both dual and single coil builds
Fanned airflow by the coils
Adjustable top airflow system
Airflow locking mechanism
Five color options available: Black, Gold, Gunmetal, Rainbow and Stainless steel
What's Included:
OXVA Arbiter 2 RTA
3.5ml Tank
Pre-built Coils
Cotton Strips
Accessory Bags
User Manual
Be sure to check out the OXVA Arbiter 2 RTA video review