OXVA Arbiter 28mm RTA $18.90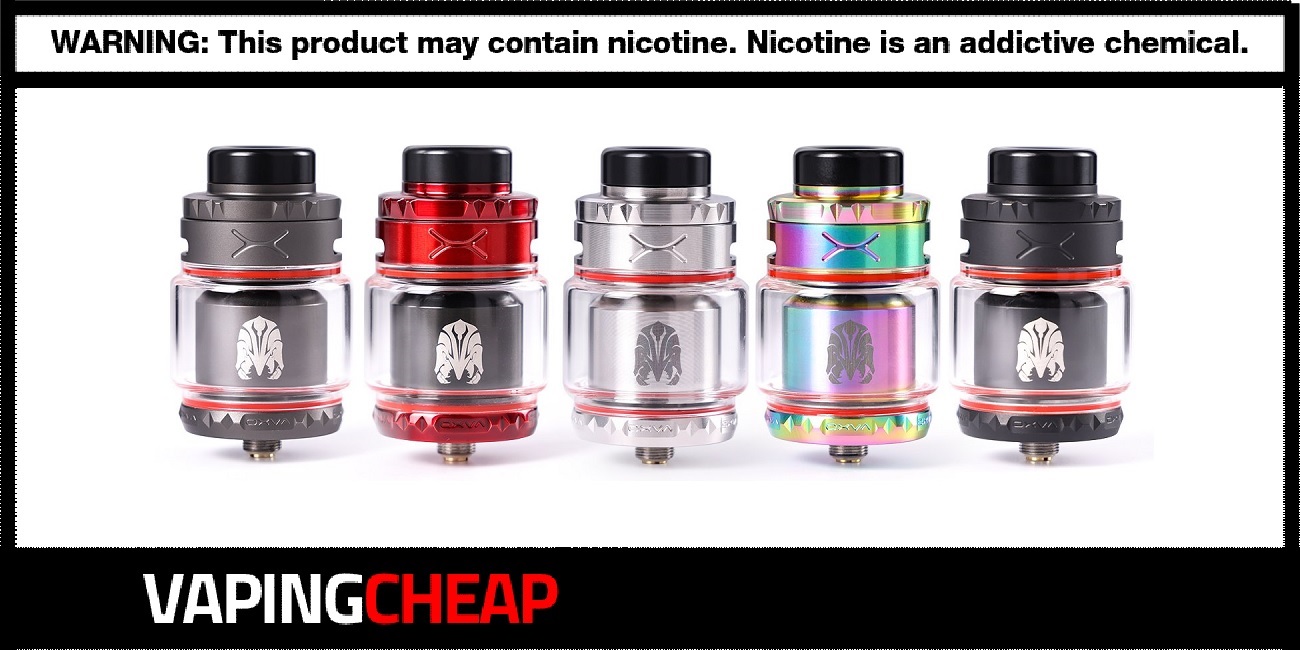 For a limited time only, the OXVA Arbiter 28mm RTA is now in stock and on sale. You can get yours for only $18.90 after using the code "EZ5". It's also available from a USA based store for $29.66 with free shipping over $50 after applying the coupon code "Myvpro10". You can choose from five different color options including Black, Rainbow, Stainless Steel, Red and Gunmetal.
OXVA's first rebuildable, the Arbiter RTA sports an overall diameter of 28mm. As expected with bigger tanks like this, the e-juice capacity is also large at a massive 6ml. With the straight glass installed, it'll hold 4ml, which is still quite good. Either way, you can quickly fill it using the large top fill ports. The Arbiter 28mm RTA is primarily constructed out of stainless steel material and comes with a large heat-resistant wide bore drip tip.
There are a couple features that makes the OXVA Arbiter much different from the rest of the RTAs on the market. First off we have the build deck. It's an angled build deck that not only makes it easy to install the coils, but can use both single and dual coil builds. Next, we have the airflow system. It's a unique top airflow system that makes airflow go under the coil, giving you a 100% bottom airflow vape style. With this design, you're getting the awesome flavor from bottom airflow, but leak resistance since the air travels in through the top!
If you're looking for a new and unique atty compatible with both single and dual coil builds, then definitely check out the OXVA Arbiter 28mm RTA. For their first rebuildable tank, it's definitely a winner!
OXVA Arbiter RTA Features:
Overall Diameter: 28mm
Maximum E-Juice Capacity: 4ml or 6ml ( Bubble Glass)
Top Fill Design
Angled Build Deck
Unique Top Airflow System
Stainless Steel Construction
Gold Plated 510 Connection Pin
Comes In 5 Different Color Options: Black, Gold, Rainbow, Red and Stainless Steel
What's Included:
OXVA Arbiter
4ml Straight Glass
Fused Clapton Coils
Cotton Strips
User Manual
Accessory Bag
Be sure to check out the OXVA Arbiter RTA review video
More Great Vape Deals...
---
Uwell Caliburn Pod Vape Kit $11.99
For a limited time only, the Uwell Caliburn Kit is now available on sale right here for only $24.99! No coupon code required! Various color options[...]
Vapefly Nicolas MTL Tank $9.96
For a limited time only, the Vapefly Nicolas MTL Tank is now on sale right here for only $11.99! No coupon code required! The colors available[...]
Mechlyfe Slatra RDA $8.91
The new Mechlyfe Slatra RDA in collaboration with AmbitionZ VaperR is now in stock and on sale for just $8.91. To get[...]