Juul Tips, Tricks & Hacks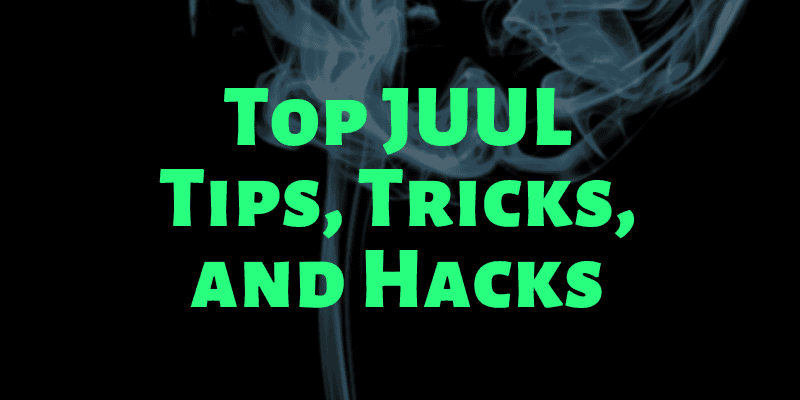 Not getting everything you want from your Juul? Well we have insider Juul tips, tricks and hacks that will make you experience a whole different side of your Juul!
But that's not all!
Save money with out secret Juul Pods tricks, including our quick and easy Juul pod refill method.
Get ready to take your Juul vape to the next level! We have the Juul tricks you need to get your Juul performing better than it's ever had before.
If your still trying to learn about the device and don't own a Juul starter kit yet. Start with our full in depth Juul Review. You'll see our full thoughts on this device, and let you know if it's the right device for you.
Juul Tips - Everything You Need To Know
---
How To Use Juul
When looking at a traditional vape, and then the Juul, a question may be asked on how to use Juul. Firstly, we'll say that this is often asked, because there's no buttons, any type of screen or control function, so how to Juul? It's simple, and the fact is, the Juul is probably one of the easiest vapes to use on the market today. So here are the first steps you'll want to take before using the Juul for the first time.

The first thing we recommend doing when you get your Juul Vape is to charge it. Do keep in mind that the Juul does utilize its own proprietary charger, so make sure you don't lose that piece. Simply plug it into a USB slot in your computer or any other charging device that's able to house a standard USB cable, and attach the Juul. The Juul device will attach magnetically, and you will see the LED battery light indicator start glowing.

If you're like us and want to be able to charge your Juul without any hassles or when on the go, then you might want to look into a different charger such as the Jmate PCC or the newer Jmate P2 PCC. Believe us, this makes life a whole lot easier with the Juul.
Once you're done charging your device, slide in your preferred Juul Pod at the top, and you're on your way to Juuling! Once the pod is inserted, you can simply take a vape. The beauty of this device is that you actually don't need to press any buttons, or mess with any configurations to dial in your vape.

When it comes to how to hit a Juul correctly, there's no absolute wrong way to do it. However, we'd recommend not pulling too hard as this could risk both spit back and over saturating the wick within the pre-filled Juul pod. This can lead to gurgling or even leaking, so you'll want to avoid that.
How To Clean Your Juul
Cleaning your Juul is incredibly important to keep it performing at its best. Without cleaning it, you can experience a far less satisfying hit, or even worse, potentially even damage your device. This is the case with pretty much any vaping device or pod vape, keeping it clean is essential to keep it performing just as good as the first day you got it. We'd say this Juul tip is one of the most important you'd want to keep in mind when Juuling.

Now, when it comes to cleaning your Juul vape, you'll want to take out any pod that may be inserted into the device. The same top part where you're able to insert your Juul pods is where you'll actually want to clean first. Simply take a Q-tip to reach into this section to clean any residue that might be residing in there whether it be e-liquid or condensation. You want to make sure the contacts are fully cleaned, and it's completely dry. You can also use rubbing alcohol on the Q-tip if necessary, then wipe until dry with the other side of the Q-tip that wasn't soaked with rubbing alcohol.

Another part of the Juul we recommend cleaning is the actual pod. Sometimes these pods can leak or leave e-juice residue at the bottom where the connection points are. Simply take a paper towel, or any cloth to clean this section of the pod. The last thing you want to do is insert a leaky or messy pod into your Juul starter kit. Make sure it's completely dry, and then reinsert the pod to start vaping again.
Pod Tips
When choosing which Juul Pod you want, it can be difficult, especially at the start since there's quite a few flavors. Also, there's now two different strength options available, so deciding on which one is right for you can even further complications. We've got some Juul Pod tips for you in order to make that decision much easier.

When it comes to flavors, it's definitely trial and error, as you may find that one flavor you wouldn't think you'd like in a vape, you actually prefer. Believe us, this has happened on countless occasions. With that being said, there are different types of flavors available such as fruit, tobacco and dessert. You can check out our personal favorites as we listed all of them in our article Best Juul Flavor. We'll say that the cool mint is definitely worth trying out.

Now, for the actual strength, this highly depends on what you're looking for. If you're an ex-smoker, then you'd want their higher nicotine strength pod. When you're ready to start cutting down on your nicotine consumption, then you'll want to try out their lower concentration. For experienced vapers, we'd say definitely start with the lower strength variant first as it'd probably be more than enough to satisfy your needs.
Juul Hacks - Get More Out Of Your Vape
---
How To Refill Juul Pods
Many people don't know this, but you can absolutely refill your Juul pods with a few simple steps. This leads to you not only save some cash, but allowing you to fill with your preferred nicotine e-juice, such as nicotine salt vape juice. We must say that this is probably one of, if not the best Juul Hack. Now, let's get started on how to refill your Juulpods.
What You'll Need
Juul Device
Juul Pod
Small Screwdriver (Flathead)
Pair of Tweezers
Q-Tip
Paper Towel
Steps To Fill Your Juul Pod
You'll first want to take off the top cap of the pod as this will grant you access to inside. To do this, simply take the flathead screwdriver and pry it from the side. Don't use too much force as you'll need to reattach it when you're finished. Put enough pressure and angle it properly, and the cap will come off with ease.
Grab your pair of tweezers and gently take out the rubber piece on the top side of the pod. This is something you'll also need to put back into place, so be gentle when taking it out of the Juul pod.
Next, you'll want to clean the inside of the pod with the Q-Tip. This allows you to have a clean pod with little to no residue of the e-liquid that was inside of it previously. We recommend this as mixing different flavors may not always yield the best results.
Now, you will want to pat down the cotton pads inside of the top cap of the pod. Take the cotton out of the pod gently, and pat down onto a tissue paper.
For this step, you'll want to now fill the Juul Pod with your preferred e-juice. We recommend using a unicorn style bottle to fill as it's much easier in comparison to a glass dropper bottle. However, either will work just fine.
Reassemble the pod to how it was before, and you're good to go! Now you're back to Juuling, except this time with your own preferred vape juice, and the best part, you just saved some cash!
Check Out This Video To Refill Your Juul Pod The Right Way
How To Make Your Juul Hit Harder
For you vapers wanting a stronger hit out of your Juul, this is the Juul hack for you. There's a couple of ways you can achieve a stronger throat hit from the Juul, and one of them is as simple as taking the pod out, and reinserting it back in the Juul starter kit. You might think this may not work, but give it a shot and you'll immediately tell the difference.

The second way to make your Juul hit harder is by keeping it clean. As mentioned earlier with the Juul tips, it's essential to keep your Juul vape clean. Keeping the contacts in top notch shape allows for better conductivity; therefore giving you the best performance. So, if you noticed that your Juul isn't hitting as well as it should be, give it a good cleaning session, and you'll be getting the same satisfying hit just like when you took it out of the packaging. This is definitely the case if you've been Juuling for quite some time, and haven't cleaned it at all. The Juul can become quite dirty over a long period of time, so remember to take care of it!

Another quick Juul hack to get a stronger throat hit is to lightly squeeze the Juul pod. You'll want to squeeze the middle area with just enough pressure where you'll see bubbles arise. What this is doing is allowing it to wick more, and provide more saturation. Now, if you notice a slight dryness to your vape, this can potentially solve that issue as well. Remember not to squeeze too hard as you can damage your pod.

The last hack for your Juul is pretty quick, and easy to do. Take the pod out of the Juul mod, and blow into the other end of it. It works, but it's not something we'll always recommend doing to get a stronger hit out of your Juul. This method will more than likely waste e-juice, and it's not as if Juul pods are super cheap. However, if you're okay with that part, then this will definitely be the Juul hack to do when in the need of a stronger hit.
Juul Tricks - Quick Fixes & Adding Style
---
Customize its Look with Juul Wraps
Here's a cool Juul trick that many vapers probably don't know. There's a bunch of different Juul skins that you can get to customize your Juul. These are also known as "Juul Wraps", and are available for other vape devices as well. They simply wrap around the entire body of your Juul, covering it from top to bottom, except for the ports of course.

You not only get a completely different look for your Juul, but some even have a grip to them as well, if you're into that kind of stuff. Although it's not something everyone wants to do, we know there are plenty of vapers who want a custom look or feel for their Juul vape. This is by far the easiest way to achieve it, and it's super cheap too!
How To Fix Juul Party Mode Glitch
You may wonder what is the Juul party mode glitch, and while not everyone has experienced or heard of this issue, it actually has occurred quite frequently, and random at that. The Juul party mode glitch is essentially one of the sensors of the Juul device malfunctioning.

However, there is an actual party mode with this said sensor, which basically turns different colors based on your movement. The key so this is that it happens when in motion. With this glitch, it occurs regardless even if you aren't moving. While some Juul vapers may like this to happen, not everyone would want their LED indicator light on their Juul going haywire.

To fix this said issue, simply give it a slap on your palm, and if that doesn't work, on a harder surface. You'll want to aim it so that you're impacting right behind the actual battery LED light. After doing this, this issue will be resolved, and you're good to go. Just remember not to use too much force as you can most certainly break your Juul.
Getting The Most Out Of Juul Vape
In conclusion, these are all the Juul tips, tricks and hacks available at your disposal. Whether you're looking for some quick tips on getting started with your Juul, or want to get more out of it with some Juul hacks or tricks, we've given you all you need to know.

These simple, and some cost effective Juul tricks will definitely be good to know down the road. It's ideal to completely understand your device thoroughly, so you're able to get the most out of your vape experience. Since many vapers often use this as a vape to quit smoking, saving money and being able to customize your experience tailored to fit your needs, ensures you won't ever want to go back to traditional cigarettes.

We hope this article helps you in getting the best vape from your Juul. As always, thanks for reading! Let us know in the comments of any tips, tricks or hacks you use for your Juul!