Cassadaga Liquids Sale 60ml $13.46 (USA)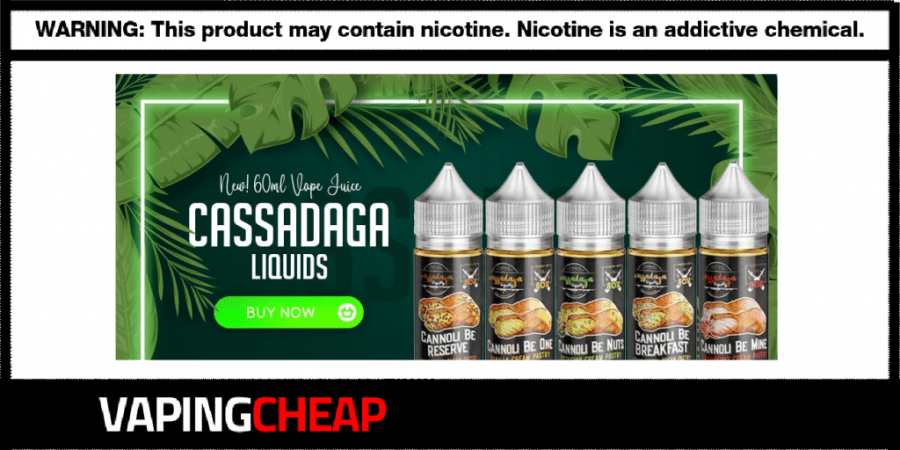 Here's a cheap deal and discount on the entire line of Cassadaga Liquids. Grab 60ml bottles of premium vape juice for just $13.46 with code "LOVE8V".
There are a bunch of tasty and unique flavors available in the Cassadaga Liquids line. This includes Cannoli Be Nuts, Cannoli Be One, Cannoli Be Reserve, Cannoli Be Breakfast, and Cannoli Be Mine. Each flavor option that's on sale come in a 60ml chubby gorilla bottle.
Additionally, each Cassadaga E-Liquid is available in 0mg, 3mg and 6mg freebase nicotine strengths. Also, the VG/PG blend of each vape juice is 70VG/30PG, so it'll vape great in pretty much any atomizer you use with it. You'll get plenty of clouds and flavor with Cassadaga premium vape juice.
If you enjoy vaping on dessert or bakery flavors, then you'll definitely want to check out this Cassadaga Liquids sale. Keep in mind this is a limited time e-juice deal, so don't miss out to get some extra discounts.
Cassadaga E-Juice Sale Details:
60ml Bottle Size (Chubby Gorilla)
70VG/30PG Blends
Nicotine Strength Options: 0mg, 3mg, 6mg (Freebase)
5 Unique Flavor Options to Choose from
More Great Vape Deals...
---
Mechlyfe Slatra RDA $8.91
The new Mechlyfe Slatra RDA in collaboration with AmbitionZ VaperR is now in stock and on sale for just $8.91. To get[...]
Uwell Caliburn Pod Vape Kit $11.99
For a limited time only, the Uwell Caliburn Kit is now available on sale right here for only $24.99! No coupon code required! Various color options[...]