Jmate PCC Review | Best Juul Charger?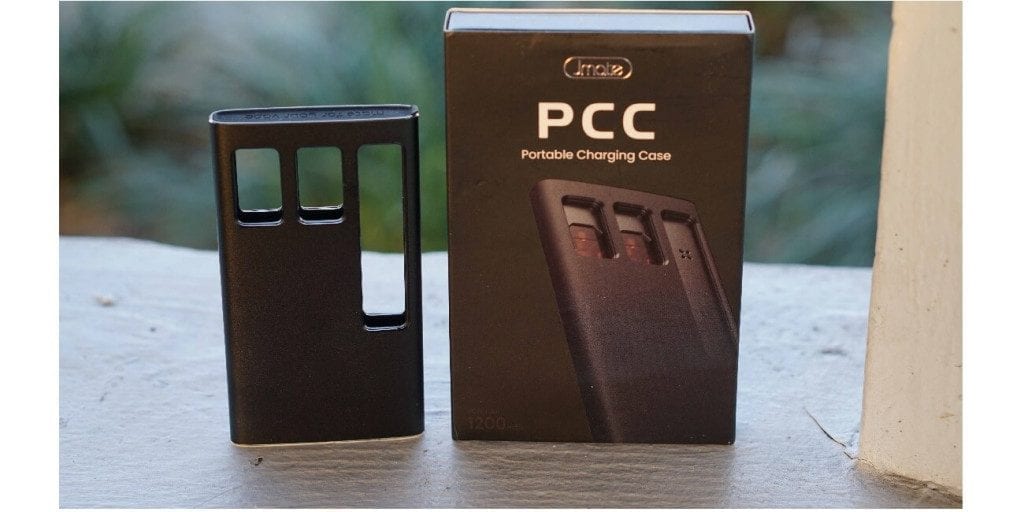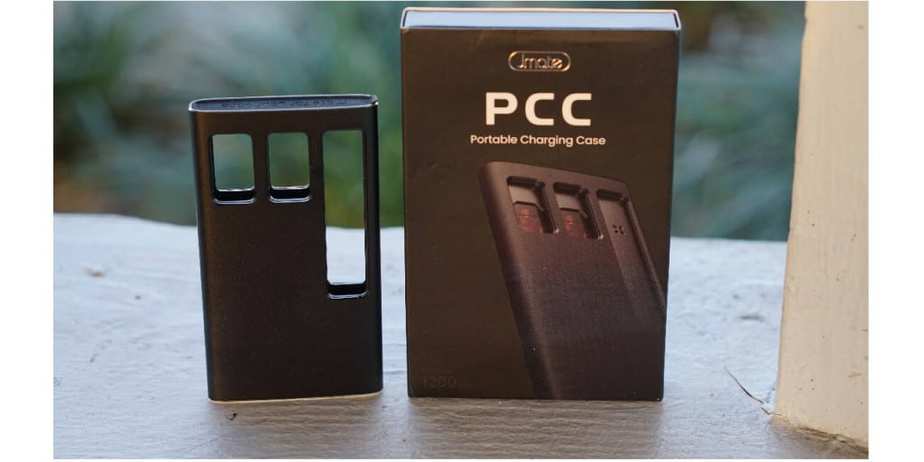 The Juul device is one of the most popular pod systems on the market today, so it's only natural we'll see new accessories be released. One thing that may be annoying for some with the Juul is the charging cable, which is incredibly small and can be easy to lose. Jmate has released a new portable charging case to solve that issue alongside providing a carrying case for your Juul. Is it the best on the market? We'll let you know in our Jmate PCC Review.
Jmate PCC Features
Jmate Portable Charging Case First Impressions
The Jmate PCC comes in a sleek and slim black box with the name and image of the device right on the front. On the back, you'll see some product specifications in various languages, which I thought was a nice touch. On the side, you'll see some branding and that's about it. It's simple, but looks very nice.

Once you slide open the packaging, you're immediately met with the PCC by Jmate. It's wrapped, which is great since that does protect it while it's in transit. Once you lift the charger outside of the box, there is also a USB charging cable underneath alongside some information in regards to the operation, which I'll cover later in the review.

My first impressions of the charger is that it's very sleek looking and super lightweight. Honestly, I thought it would've weighed a bit more by looking at it. It is primarily constructed out of Aluminum Alloy and plastic, but does sport an anodized finish, which not only looks good, but feels good in the hands too. It does add another level of protection, which is always a good thing.
At the top of the PCC, you'll see a silicone plug which opens up and allows you to slide the Juul alongside two pods. The plug opens up quite easily, but stays in place securely. On the bottom is where you can find the charging port to charge the case alongside the battery size inside, which is 1200mAh.

On the front you do have some branding, but it is very subtle, which I do like. I know some vapers simply dislike over branding, so with this one you don't have to worry about that. It does have somewhat of a "professional" look to it for sure.

I will say that the build quality and overall construction is very good, and I was certainly impressed by it, especially considering its price. It's very slim, so I knew for sure I could easily slip this into my pocket or bag when on the go.

All in all, my first impressions of the Jmate PCC was great. It's aesthetically pleasing and super lightweight.
Jmate PCC Day To Day Usage
PCC does stand for "portable charging case", and I must agree with that. It's very portable, and easy to carry around with me during the day. It never felt too bulky in my jean pocket, and it's slim enough to fit pretty much anywhere in my backpack.

The first thing I always recommend with anything that has an internal battery built in is to fully charge it before using it. It does say that it takes 90 minutes to fully charge the case, and I found that to be quite accurate. It can charge up to 1A, which is good enough when considering the battery size. When charging it, you'll notice the light flickering, but when it's done charging, it'll glow solid. This light is located at the bottom, right next to the charging port and is easy to see.

Now, one thing I was worried about was the Juul staying in place while it's inside of the case. I will say there's no worries there whatsoever. Once you close the plug, it does kind of "click" into place and you can press it down with a bit pressure and feel when it's completely secure.

I literally shook it up and down, even sideways and it never budged, and everything was kept securely. This is definitely a huge pro in my opinion, as the last thing you want with a charger like this is for it to be loose or not have a good connection.
You can fit two pods for your Juul, which is definitely another pro. This allows you to take multiple flavors on the go while charging your Juul. I put two of my favorite flavors in there, Mango and Cool Mint, which in my opinion are two of the best Juul flavor currently available.

I do wish it held more pods, but that would've definitely increased its size. I do hope they release a larger version of this which has a larger battery and perhaps even hold two Juul devices rather than one. However, that's not saying this is bad by any means as it does exactly what it should do. Speaking of the Juul, if you haven't experienced or vaped one as of yet, be sure to check out our full Juul review.

Charging the Juul in this case is quite easy, simply lift the plug up top and slide the Juul into place. It can only slide in one way, which is the charging light of the Juul facing the Jmate branding (or front of the case). This is another pro for sure in my opinion, as this allows you to know that you've inserted the Juul in the correct position.

While the Juul is charging, you'll the light flicker until it turns green, letting you know it's finished charging. It does take about 40 minutes or so to fully charge the Juul and I was able to get the quoted four charges out of the case before the battery was depleted.

Inside the case, it does let you know of a few things when using it. For one, the PCC light does glow while it's charging, and the light stays on when it's finished charging. In addition, the light will flash when the battery level is low for the PCC and the light comes off when the Juul is completely charged. That's essentially your user manual as there's not much more to it than that.

Overall, it was a pleasure to use the Jmate PCC on a daily basis. It's incredibly easy to use, and easy to carry with you wherever you go.
Jmate PCC Performance
When it comes to performance, there's not much to cover, but there are some things worth pointing out. For one, it does have an output of 5V 500mAh, and charges the Juul in about 40 minutes, depending on the state of the battery of the Juul.

This is the time it would take to fully charge it when the Juul's battery is depleted. I found this to be quite accurate, and depending on how much I was vaping determined how much I actually needed to charge the PCC.
However, once you're finished vaping, you can simply slide it back into the case and have it charge while you're not vaping, so you'll always have a freshly charged Juul. It can charge the Juul up to 4 times before needing a charge too, which should get you through the day with no issues.
I normally don't vape the Juul every day until the battery is depleted, but I know some vapers do. So, even if you were to vape a Juul until the battery is dead, you'll still get quite a few charges on the go and the case itself will more than likely last an entire day for you.

For me, I could easily get a week or two of battery life in the PCC since I don't vape the Juul very often, maybe a few vaping sessions throughout the day. That's just an example of how long you can go with this charger if you were like me, but even if you vape the Juul often, and need to charge the case, it only takes about an hour and a half to be charged completely. Since you can charge it via USB, you can essentially charge it anywhere.

So, when it comes to performance there's honestly nothing really to complain about. It does what it's supposed to do, and does it quite well on the go.
Jmate Portable Charging Case Pros & Cons
Conclusion: Best Portable Juul Charger?
In conclusion, the Jmate Portable Charging Case does everything you want it to do for your Juul. The case not only holds it, but charges it as well and can hold up to two Juulpods. It's super slim and easy to carry in your pocket or bag, making it a perfect case for on the go.

There was only one con I found with it and it is subjective, which is the fact that it only holds two Juul pods. Like mentioned previously, I think if it were more than two, the overall shape and design would've been much bigger so it wouldn't be nearly as portable. For me, it's not really a huge deal since I think two is sufficient throughout the day and allows you to swap whenever you please.

All in all, I think Jmate did a wonderful job with this charging case. It works well, and it's user friendly. There's no over branding, and it's sleek looking, which matches the Juul perfectly. It's definitely one of, if not, the best portable Juul charger we've come across. If you're looking for a charging case for your Juul, then definitely check out the Jmate PCC. I don't think you'll be disappointed with it.

We hope this review helps you pick out your next Juul accessory! Thanks for reading our Jmate PCC Review! As always, feel free to leave any questions or comments below!