Best JUUL Flavor | Ranked From Best To Worst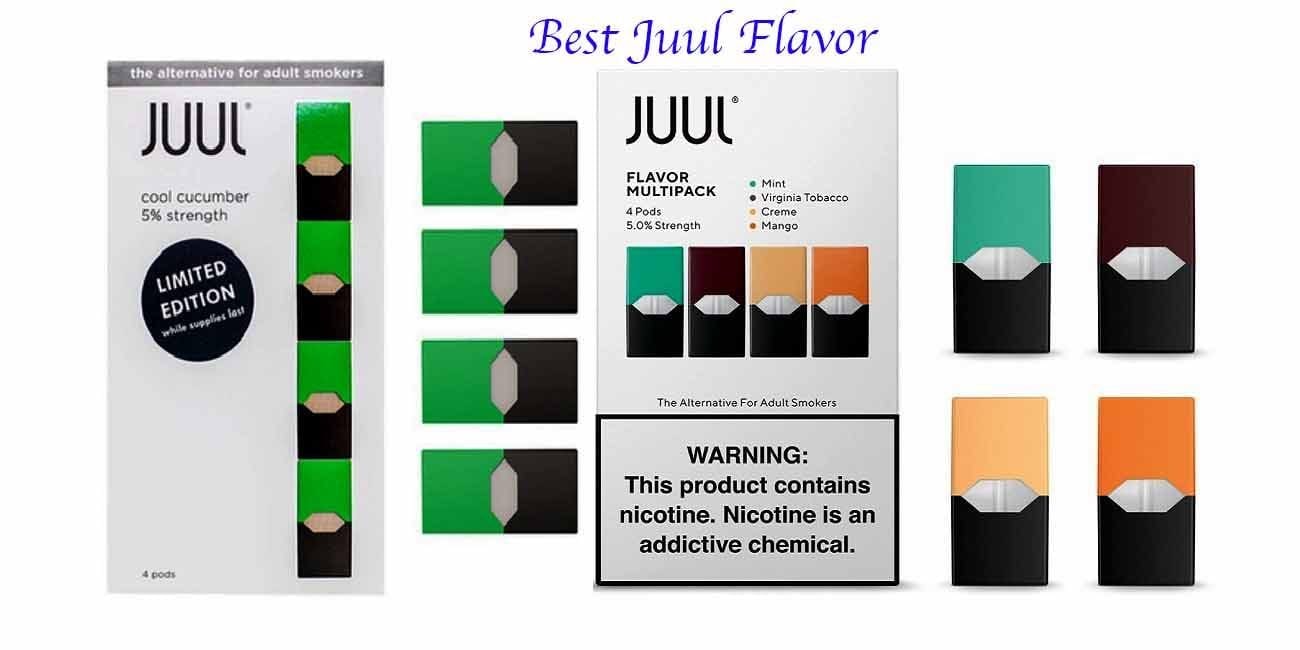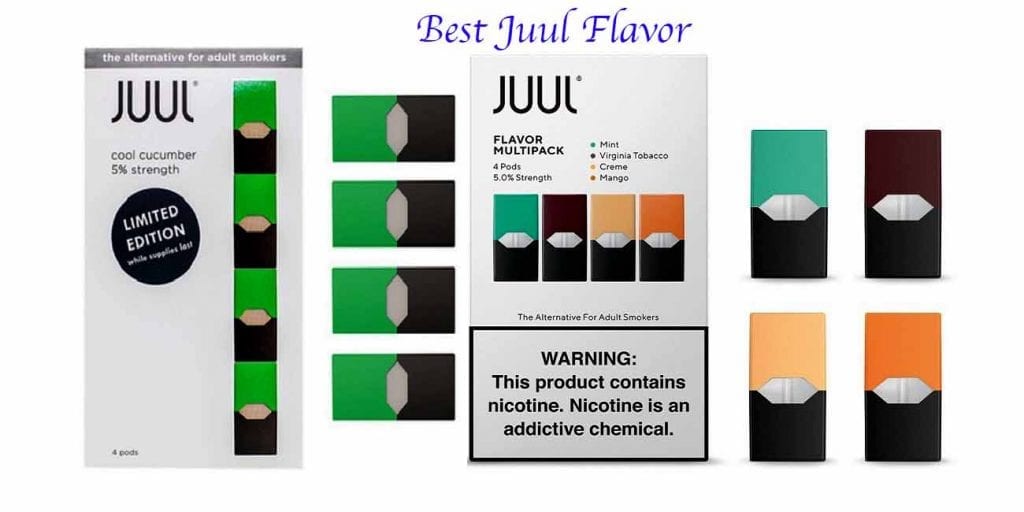 When considering the best Juul flavors there are various aspects to keep in mind. First, taste is subjective. For example, I really enjoy the Mango Juul pod but a different vaper who hates the taste of mangos will probably hate it.

Even if the pod comprises the highest quality ingredients and when inhaling the sweet vapor you could swear you just bit into a fresh mango, the vaper who hates mango's will still hate this Juul pod.

That's why during this review I tried to ignore my taste preferences, rating each pod based on how well the unique flavor profile has been represented.
Before we get any further, if you're interested in reading our full thoughts about the actual Juul device, be sure to check out our in depth Juul review.

Now lets dive into our top Juul Flavors list to help you decide which Juul pod flavors are good and others you might want to pass on. Here's the Juul Flavors Ranked from best to worst in the chart below:
Flavor Guide:
Mango. Ripe mango with hints of tropical fruit.

Mint. Crisp peppermint with a soothing aftertaste.
Virginia Tobacco. Rich, unmistakable tobacco.
Fruit. Peaches, grapes and berries with herbal notes.
Creme. Vanilla cake, silky custard and crème brulee.
Classic Tobacco. Familiar, robust tobacco flavor with aromatic notes.
Menthol. Traditional menthol flavor with a brisk finish.
Cucumber. Cucumber with a hint of mint.
- https://support.juul.com/learn/read/find-your-favorite-flavor
Juul Pod Flavors - Our Favorites
Cool Mint
This is one of the limited edition flavors available for the Juul device. Cool Mint delivers when it comes to matching the actual flavor profile and taste. It tastes exactly as the name suggests, and is one of the better mint type flavors we've had for a closed Juul pod system.

The throat hit is just as expected and comes in smooth while providing a perfect mint finish. There is a cooling effect there as well, which certainly adds to the overall experience when inhaling and exhaling. If you like mint flavors, then this might be your new favorite for the Juul.
Mango
This is another great flavor available for the Juul and this type it's fruit based. Mango tastes exactly like it should, a fresh ripe and authentic tasting mango. That's exactly what you experience throughout the inhale and exhale.

The throat hit feels a bit stronger on this one, but it is very satisfying. Juul executed this flavor extremely well and mimics the fruit one hundred perfect, which isn't something that's easy to do. If you enjoy fruit medley or mango flavors, you won't be disappointed with Juul Mango.
Creme Brulee
Who doesn't love a dessert flavored e-liquid? Crème brûlée is exactly what it sounds like, a custard dessert with vanilla bean. It's described as rich and creamy, and that's exactly what we think of it.

Throughout the inhale and exhale it's incredibly cream. On the inhale is where you'll taste mostly custard, but as you exhale is where the vanilla bean comes shining through. It's well blended together, and just tastes great. This is a perfect vape for after dinner or with a cup of coffee in the morning.
Classic Menthol
Classic Menthol is pretty much what it's labeled as, a pure menthol flavor. On the both inhale and exhale, you get a crisp menthol flavor and it does the provide a wonderful cooling effect that's desired by many vapers and smokers.

For the smoker who enjoys menthol e-liquid flavors, this is a perfect option as it does what its supposed to do and provides that taste of pure crisp menthol flavoring. This is great for an experienced vaper too! If you're looking for a straight menthol flavor with no fruits or any other additional flavors in the mix, then look no further.
Classic Tobacco
Here's another popular flavor that's great for the smoker or vaper who craves traditional analogs. With this Juul Pod you'll get a earthy and rich tasting tobacco flavor on both the inhale and exhale. There's also a smoky note you'll experience hovering in the background as you exhale.

Classic Tobacco is the second tobacco based flavor from Juul and is definitely, so far, the best available. If you enjoy a rich, earthy and smoky tobacco flavor, you'll certainly enjoy this one. The throat hit and nicotine satisfaction is there with this one too.
---
Juul Pods Flavors FAQs
Best Juul Pod Flavor - Which Is It?
As mentioned previously, taste is subjective. With that being said, if we had to choose two of the best Juul flavors it'd be Cool Mint and Crème brûlée. Cool Mint just tastes great and is the best tasting in our opinion. It's crisp and clean tasting while providing that "mint" taste alongside a subtle cooling effect.

Crème brûlée is just a tasty dessert flavor, and these types of Juul flavors are all day vapes for many vapers. This flavor provides a creamy inhale and exhale, and you can taste all the flavor notes described including the custard and vanilla bean. It's just blended really well, and we were certainly impressed by it. This is easily a flavor you can vape all day long.
Which Is The Strongest Juul Pod?
This is another question we often when it comes to these pods. In our experience, the strongest juul pod regarding throat hit is definitely the Mango flavor. It has a bit more throat kick than the others from our experience, but still remains quite smooth. However, they're all typically 50mg salt nicotine strength, so from all the flavors, you'll experience the same nicotine strengths and satisfaction.
What Are The Best Juul Pods For Me?
To answer this question, there's a few things you need to consider. For one, which type of flavor do you enjoy most, whether it be fruit medley, menthol, tobacco, dessert or something else. The next thing to consider is when do you enjoy vaping the most.

There's multiple Juul flavors that are great to vape all day, but there are some we feel fits the time of the day better such as Creme Brulee which is great for either after dinner or in the morning. This is subjective of course, but depending on what you're doing and the time of day, it can determine which flavor you might like the most.

Your best bet is to try multiple flavors and see which one you enjoy the most, and how often you see yourself choosing that flavor over others.
What Nicotine Strength Is Available For The Juul Pod Flavors?
Currently, the only nicotine strengths available for each flavor is 50mg. However, there may be a 30mg option available in the future.
Conclusion
When it comes to the best Juul flavors, it's clear for us in regards to which we preferred and which flavors we simply did not like as much. However, we will say that each flavor does deliver in regards to nicotine and throat hit satisfaction as expected.

Our top three picks are Cool Mint, Creme Brulee and Mango. They all tasted exactly as described, which cannot be said for many closed pods on the market. When we wanted a heavier throat hit, we definitely went straight to the Mango Juul Flavor, it simply was the most satisfying in regards to this aspect. For our all day vape, it was definitely cool mint, this was the flavor we went to the most. When it comes to an after dinner or morning vape, Creme Brulee was it, it mixes well when drinking coffee and satisfied that sweet tooth after dinner.