Joyetech eGrip Mini Kit $12.98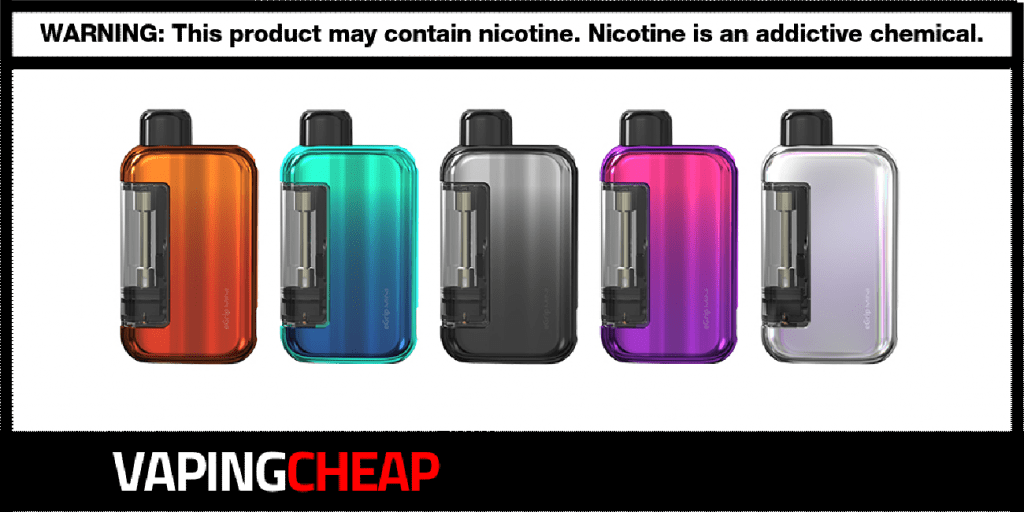 Here are cheap deals and discounts for the Joyetech eGrip Mini Kit. Get one from just $12.98 when using the code "EGRIP". It's also available from a US shipper for $25.61 plus free shipping over $50 with code "MYVPRO-2020". There's multiple color options available including Aura Black, Coral Red, Aura Glow and more.
Joyetech's eGrip Mini Vape Kit is quite different when comparing it to their original Exceed Grip Pod System. It sports a much smaller form factor, and has a unique 3D display design. It definitely looks better that's for sure! Another great feature is it now has Type-C Charging, and as we've seen in other pods vapes, it's much better for a few reasons. For one, it charges quicker, and secondly it's a much better connection. Charging its 420mAh battery will only take you about 30 minutes.
The eGrip Mini Pod Kit by Joyetech as features a draw activated firing system, so there's no buttons whatsoever. It also has a maximum wattage output of 13w. What's great about this device is that it provides a constant power output, giving you the same enjoyable vape experience every single time.
Like the previous version, the eGrip Mini has two different types of cartridges available. They install from the side as well, making it easy to swap, and fill. The first pod cartridge features a 1.2 ohm coil, and great for mouth to lung vaping. With this one it'd be ideal for higher nic e-liquids, and nicotine salt e-juices. The second option is the 0.5 ohm mesh pod cartridge, best for direct lung vaping. Both have a 1.3ml e-liquid capacity, and fills from the side.
This is yet another awesome portable all in one device, or pod kit by Joyetech. If you're looking for a new kit that won't break the bank, charges fast and has multiple pod options, then definitely check out the Joyetech eGrip Mini Starter Kit.
Joyetech eGrip Mini Pod Kit Features:
Portable Size
Built In 420mAh Battery
USB Type-C Charging
30 Minute to Fully Charge
Maximum Wattage Output: 13w
Constant Power Output
Draw Activated Firing System
3D Display Design
Refillable Pod Cartridges

1.3ml E-liquid Capacity
Side Filling
Creative Side Way Cartridge
0.5 ohm Mesh Coil
1.2 ohm NiCr

5 Color Options
What's Included (Dual Pod Cartridges Version)
Joyetech eGrip Mini Device
eGrip Mini Cartridge (0.5 ohm Mesh)
eGrip Mini Cartridge (1.2 ohm)
Charging Cable
Lanyard
MTL & DL Drip Tips
Warranty Card
User Manual
More Great Vape Deals...
---
G-Taste Aries RTA 30mm $19.79
The new G-Taste Aries RTA 30mm is now on sale from $19.79 using the code "vapingcheap" with free worldwide shipping over $30. Simply log[...]