Innokin iTaste DRV Review
iTaste DVR Review
The Innokin iTaste DRV is designed specifically for variable voltage vehicular vaping. The device draws its power from a standard 12volt car lighter so that the user is able to vape while driving, without draining their portable e-cigarette battery/devices during vehicular commutes. The iTASTE DRV featured in this review was sent to me for free by Mount Baker Vapor (read our Mt. Baker Vapor E-Liquid Review), it's packaged in a simple beige gift box and retails for $74.99 USD.
Use coupon code "VapingCheap" for 10% off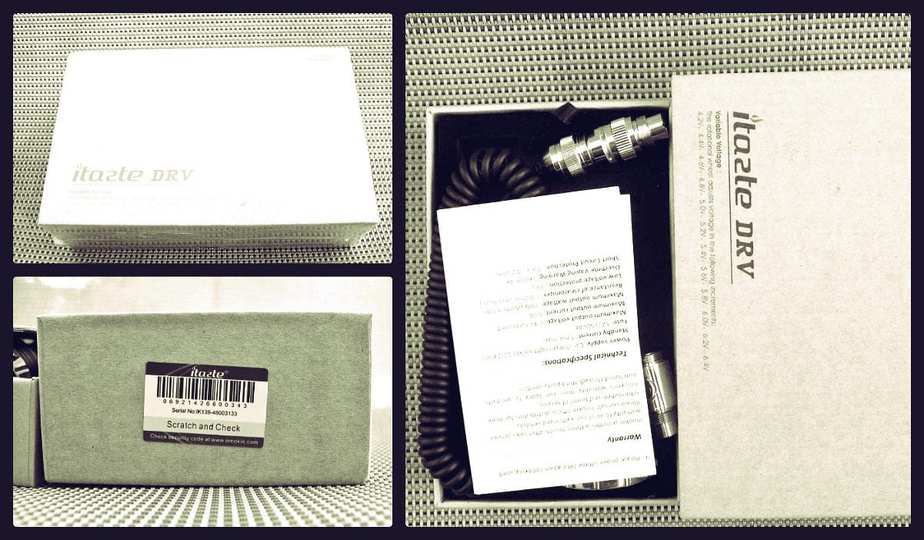 iTASTE DRV SPECIFICATIONS
Brand: Innokin
Type: Variable voltage vehicle vaping system
Connection threading: 510 to Ego
Color: Silver and black
Technical Specifications:
Power supply: Car charger light socket 12/24DCV
Standby current 5mA max
Fuse: 5A/250VAC
Maximum output voltage 6.4V (unloaded)
Maximum output current 5.0A
Maximum output wattage 20W (Watts mode)
Resistance of clearomizer 1.0 Ohm (minimum)
Low voltage protection: 9.6V
Overtime Vaping Warning: 2600m Ah
Short Circuit Protection: 0.6 +/-0.2 ohm
Package Contents:
1 x iTaste DRV
1 x Retractable coiled cord
1 x Manual switch
1 x Automatic switch
2 x iClear16D dual coil Clearomizer
1 x manual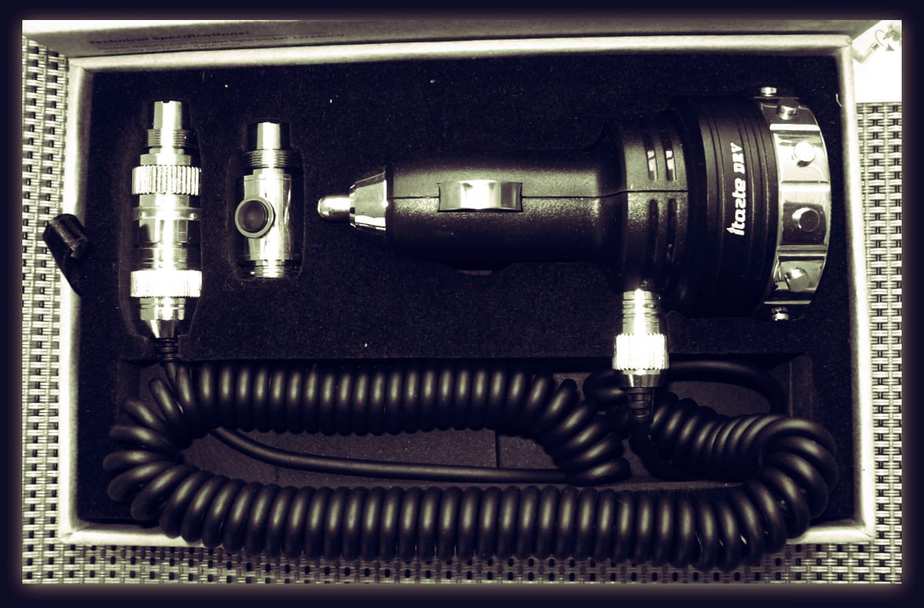 BUILD QUALITY
Like all other e-cigarette devices made by Innokin, the DRV is well made in terms of materials, construction, and durability. The iTaste DRV is comprised of the main variable voltage (VV) rotary dial head with a durable coiled cord and a built in car charger adapter. The VV rotary dial has a power button at the center of the dial which you depress to activate/deactivate. The rotary dial has voltage settings from 4.2V-6.4V, and you simply turn the dial to your desired voltage setting. The dial moves very easily and has a clicky feel as you move through the different voltage settings.
The coiled cord attached to the main rotary head has connection adapters at both ends of the cord, one adapter for the fire switch and one that can be connected/disconnected from the rotary head. Disconnecting the cord from the main device after use may make for easier storage depending on the size of your vehicles glove compartment or center console.
There is one manual button switch and one automatic draw activated switch, both of which screw on to the adapter at the end of the coiled cord. Both of the included switch adapters are standard 510 to Ego threaded and can be used with any atomizer with 510 and/or Ego connection threading.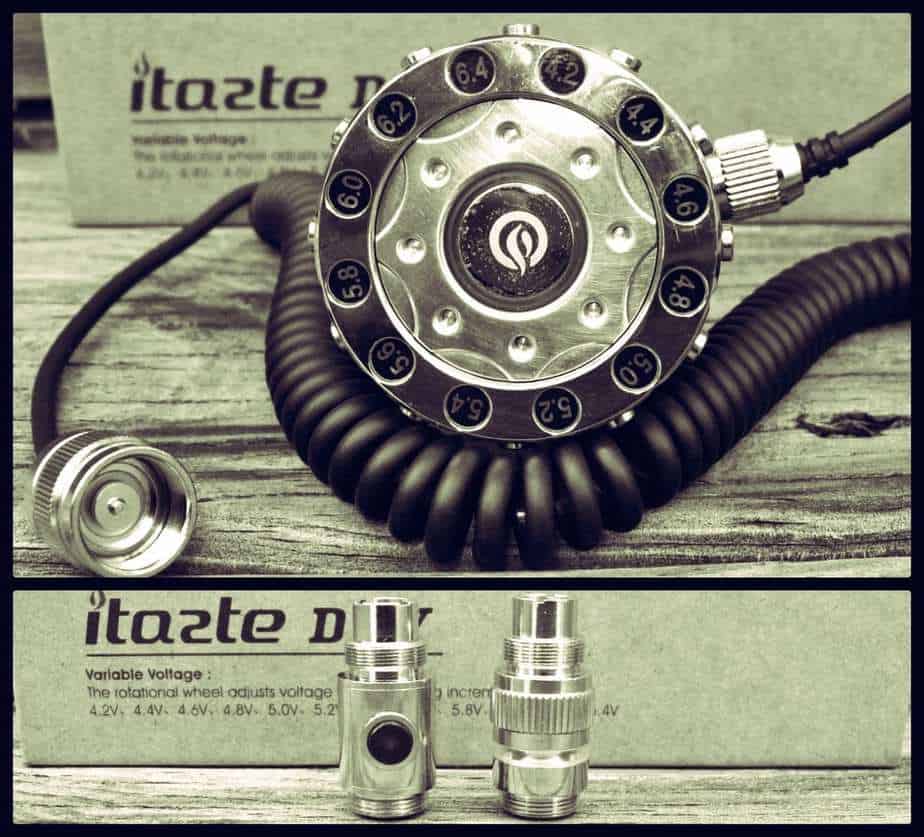 Underneath the felt gift box inserts you will find two individually wrapped Innokin iClear 16D dual coil clearomizers with a 2.1ohm resistance. The iClear 16D works just like every bottom coil clearomizer in that you unscrew the base of the clearo where the coil head is pre-installed and turn the clearo upside down to fill with e-liquid. The iClear 16D has a 2ml e-liquid capacity and like other polycarbonate clearomizers it is not suitable for use with citrus or cinnamon flavored tank cracking e-liquids.
The iClear 16D appears to be made well although it is just a simple polycarbonate clearomizer. I used only one of the included clearomizers for the purpose of this review and after two weeks of being filled with a 50/50 blend e-liquid I did not experience even the slightest amount of leakage from the clearo. However, I find that this type of atomizer is best suited for beginner vapers or experienced vapers who have not moved into more advanced rebuildable devices.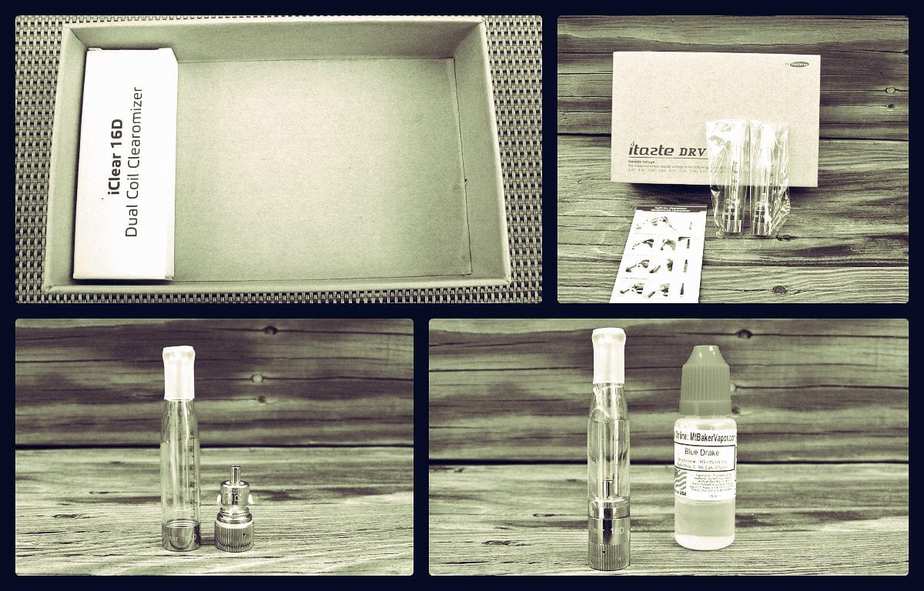 PERFORMANCE
As previously mentioned, the DRV is powered by a 12 volt car lighter which the DRV plugs into. Depending on the vehicle being used there may be some issues with either fitting the rotary head into the car lighter or being able to see and access the rotatory dial once installed. The interior layout of my Toyota Forerunner happens to be perfect for the DRV, so after installing it into my car lighter it was easy to access and use.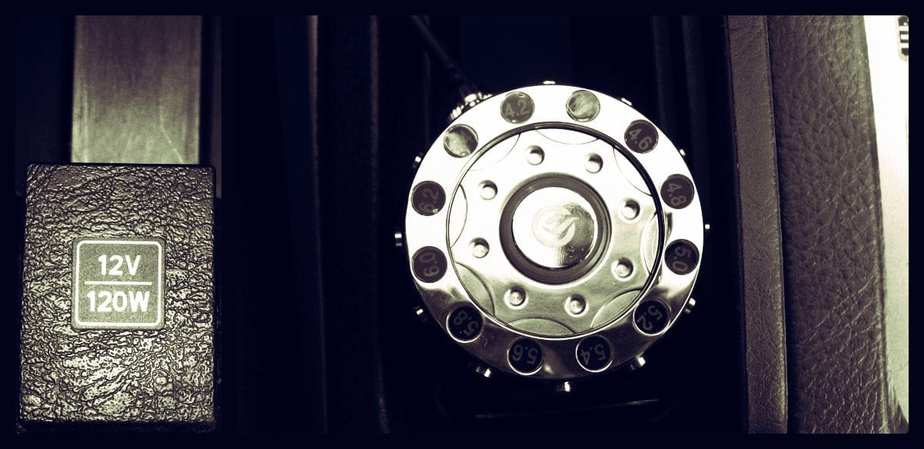 Depressing the power button at the center of the VV rotatory dial will turn the device on. The power button will turn green when activated, and the current voltage setting will light up. For my first vape I used the automatic draw activated switch with the included iClear 16D clearomizer. However, I did not like using the automatic switch. I felt like the draw activation wasn't strong enough to fully power the atomizer so I immediately swapped in the manual button switch.
Right away I could tell that the device itself was not accurately regulating the power delivered to the atomizer according to the voltage setting selected. In my experience replacement coil clearomizers perform best at no more than a 2-2.5 amp/current draw, which would be 4.2v with a 2.1ohm atomizer resistance. However, with this device set to 4.4 volts the iClear 16D barely produced any vapor at all. I had to crank the VV rotatory dial up to 5.6 volts in order to get a decent amount of vapor production, a VV setting which would normally produce a burnt/harsh vape on most other properly regulated VV devices. This leads me to believe that the DRVs regulated voltage settings are off by approximately 1 volt or so.
Once it was clear that the DRVs regulated voltage settings were inaccurate, I simply set the device to a higher voltage setting until I felt that I was getting a satisfying vape regardless of the atomizer type attached. The DRV is actually very comfortable and easy to use while driving and is not overly distracting. The coiled cord is generous in length so there isn't any struggling or fiddling in order for the attached atomizer to reach your mouth. It is good that the DRV is a 510 connecting device and can be used with any 510 threaded atomizer, including rebuildable atomizers which I would recommend for the best vape experience.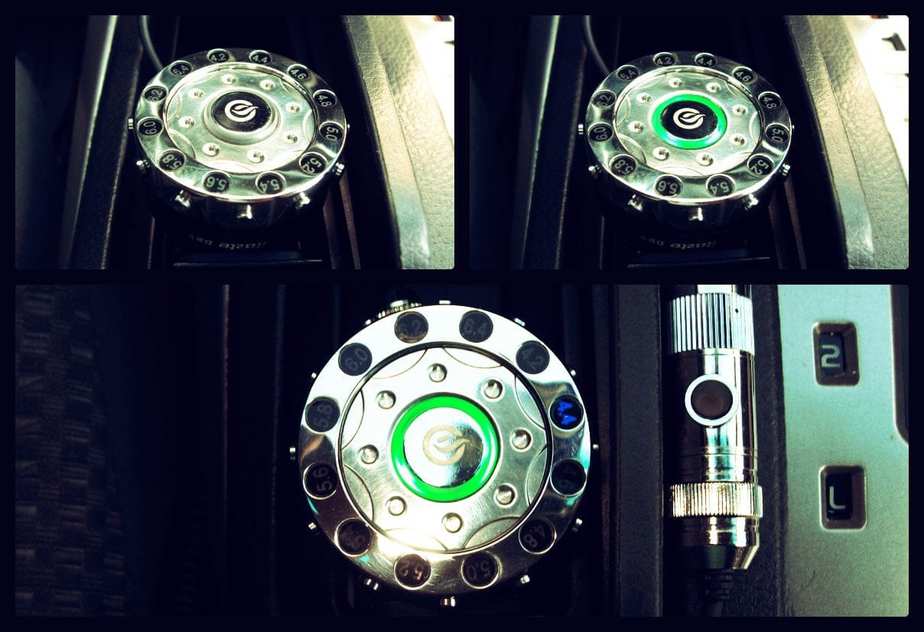 OVERALL
Conceptually speaking, the Innokin iTaste DRV is a brilliant idea and a good aide of convenience for the traveling vaper. However, I am a bit disappointed in Innokins inability to deliver a device that can accurately provide regulated variable voltage as promised. Innokin is not a stranger to producing high-quality variable voltage devices that actually work as intended with market mainstay products like the MVP, iTaste VV V3, and the VTR.
Inaccurate regulated voltage output aside, I would still recommend this device for vapers who spend a lot of commute time in their car. The greatest benefit of the iTaste DRV is that you can preserve the battery life of your other portable e-cig devices while driving. If you can ignore the numbered voltage settings on the rotary dial and simply set the device to taste, and satisfaction, then I believe that most would find the iTaste DRV to be a useful and convenient device to have.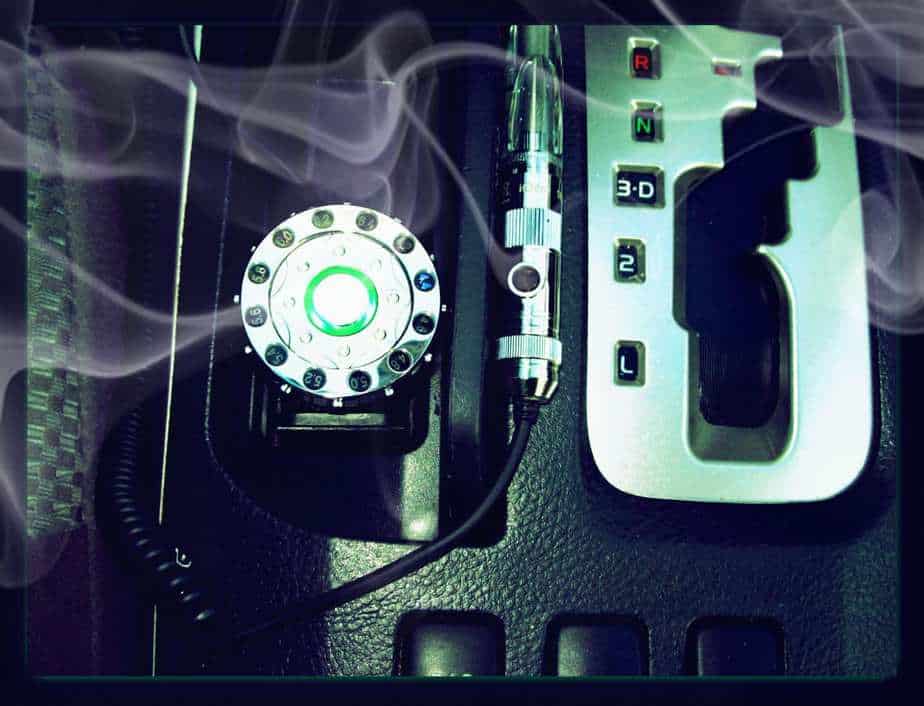 Buy a Innokin iTaste DRV
iTaste DRV for $67.49 – Use coupon code "VapingCheap" for 10% off.