Mt Baker Vapor Review: Flavor Accuracy and Throat Hits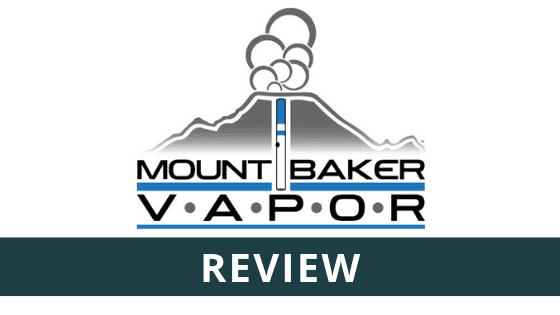 Finding the best e-liquid is never easy. And even though a lot of the companies claim their e-juice is the best, you can't always trust them... But if you've been doing your research, you have most likely read or heard about Mount Baker Vapor.
The company has been in business since 2011 and seems to be knowing what they're doing just right. Premium quality ingredients, reasonable prices and tons of positive reviews seem promising. More on this in a bit...
Now, the fine folks over at Mount Baker Vapor were kind enough to provide me with six of their premium USA made e-liquids, 2 of which were chosen by Mt Baker Vapor from their best sellers list for the purpose of a review.
I was actually very excited to do this e-liquid review because while I am already very familiar with the name Mount Baker Vapor. And this is the first time that I have had the opportunity to do the Mount Baker Vapor review.
So let's get to it, shall we?
About Mt Baker Vapor
Mount Baker Vapor is one of the most recognized names within the electronic cigarette community. Having been in business online since 2011, Mt Baker Vapor is also known as MBV by those most familiar with them within the vaping community.
Although Mt Baker is primarily known as a e-liquid vendor who sells premium USA made e-juice at extremely affordable prices, they also sell a wide variety of major name brand electronic cigarette hardware from manufacturers like Kangertech, Innokin, Nitecore, Sony, and many others.
While Mt Baker is first and foremost an online vendor, they have expanded their business scope into a Brick and Mortar store located in Lynden, WA, which caters to the local residents of that area. Servicing customers worldwide, their business philosophy is simple; provide great quality products at an affordable price with customer service being their #1 priority.
Mt Baker offers some of the best prices for premium quality e liquid that can be found on the internet. Their e-liquid prices start at just $4.99 for a 15ml bottle, and $7.49 for a 30ml bottle of their non specialty flavored e-liquids. Use our special Mt Baker Vapor coupon code "VapingCheap" to save an additional 10% off. That makes 15ml bottles just $4.49 and 30ml bottles only $6.74 each.
Mt Baker has also launched a specialty line of e-liquids named "GWAR fluids", which are unique e-liquids bottled in glass 30ml bottles, with prices starting at $10.99 per 30mls.
If you have any trouble finding the best flavor amongst their standard menu, or specialty line of GWAR fluids, Mt Baker Vapor also has a "build your own e-liquid" option where you can choose up to 5 different flavors to create your own custom blend.
The prices for "build your own e-liquid" begin at $5.99 for a 15ml bottle. All orders over $15 receive a free 15ml juice sample, and all orders over $50 include free shipping. Most of their eliquid orders will ship within 24 hours of order placement.
Get 10% off with discount code: VapingCheap
Mt Baker Vapor Review
My first impression of the Mt Baker e-liquids out of the package was "Wow, these smell great", the package was very fragrant and sweet smelling. All 6 of the 15ml bottles that I received were clearly labeled with the name and nicotine strength,
PG/VG ratio, # of extra flavor shots, batch mix date, ingredient list, nutritional facts, and of course the Mt Baker Vapor logo. All of the 6 flavors are 12mg nic strength, 50/50 PG to VG ratio, with no extra shots. All of them were mixed between 7/26-7/29/14, and I received the e liquid samples on 8/01/14.
If you're not up for reading my thoughts, here's a quick review of what can you expect from Mt Baker Vapor:
Blue Drake
Atomizer used: Mephisto RDA with a 1.2ohm single coil.
This flavor is described as being a fruity blend with a tang, that also has bite to it with a rush of berry on the end. Fresh out of the package this tasted like a blue raspberry, with a cough medicine like overtone.
I let this one steep for approximately a week and half with the top off before trying it again. When I came back to it, the flavor appeared to mellow out, the cough medicine taste was no longer present. I still get a blue raspberry flavor, although I do not find the flavor to be tangy, nor is there any bite to it. It has the right amount of sweetness, and a smooth texture.
Overall this was just ok for me, it is not one that I would order again.
Flavor accuracy: 5/10
Vapor: 10/10
Throat hit: 6/10
Old Fashioned
Atomizer used: Aerotank Giant with 1.8 ohm dual coil, Mephisto RDA/1.2ohm single coil
This is described as a blend of fruit, amaretto, and citrus. Out of the package I could clearly taste the amaretto and fruit blend, but there was also a strong sense of menthol which initially threw me off.
While the basic flavor was good, and clean, I found that I could not vape an entire 4ml tank of this flavor, due to what tasted like menthol to me. I also allowed this one steep for a week or so, and then came back it.
What I initially thought was menthol, now seemed more like a Koolada additive, which was easier for me to vape. My guess is that the Koolada may have been added to create a "cool and refreshing" taste, but I would probably love this flavor without it.
Flavor accuracy: 7/10 (without Koolada in the mix, this would be a 9/10 for me)
Vapor: 10/10
Throat hit: 7/10
Hawk Sauce
Atomizer used: Mephisto RDA/1.2ohm single coil
Hawk Sauce is described as a complex blend of sweet and slightly sour berries, with a light hint of cool menthol. Upon the first taste I found the menthol to be very overwhelming, not light at all. So much so that I felt that I could not clearly taste the fruit flavors behind it.
The menthol flavor lingered in my mouth after taking a hit. After I let the juice steep for a week I could taste the berry flavors more clearly. However, this is still very much a menthol flavor to me, as opposed to a berry flavor with a little menthol in it.
In defense of MBV, it is fair to state that I simply do not like menthol flavors, and perhaps this is why the menthol seems so prominent to me. The berry flavors are there, and it is a pleasant, sweet tasting berry flavor that I would love to taste more of, and without the menthol. I would probably enjoy MBV's flavor Faux Hawk, which is the non-menthol version of Hawk Sauce.
Flavor accuracy: 5/10
Vapor: 10/10
Throat hit: 7/10
Spurburry
Atomizer used: Mephisto RDA/1.2ohm single coil
Spurburry e-juice is described as a deliciously complex and full flavored fruity blend. While I found this to be a pleasant berry flavored e-liquid, I did not find it to be complex, at least not initially. At first vape blueberry was the only fruit that I could clearly discern, but there is a definite sweet fruitiness to the overall flavor.
After letting it steep for two weeks my initial impressions did change, and I was able to taste the full mix of fruits within the blend. The flavors of blueberry, strawberry, and kiwi come through to create a smooth, and sweet fruity taste. I find this one to be a nice vape, although I would like to feel more throat hit.
Flavor accuracy: 9/10
Vapor: 10/10
Throat hit: 6/10
Cinnamon Roll
Atomizer used: Aerotank Giant/1.8 dual coil
Cinnamon Roll is described as a deliciously sweet dessert vape, with a perfect blend of cinnamon and frosting. At first vape it was clear that this is definitely a good cinnamon roll flavor, but I could tell that it would benefit from a little steep time. Initially the cinnamon flavor overshadows the bakery roll flavor, but this one quickly developed into a well rounded cinnamon roll taste. After steeping the flavor became sweeter, smoother, and a little buttery. When I first started vaping 3 years ago, Cinnamon Danish Swirl was one of my favorite ADV, and this flavor is very reminiscent of those days. This is one that I would definitely order again.

Flavor accuracy: 9/10
Vapor: 10/10
Throat hit: 8/10
Conclusion
While I didn't love every single juice flavor that I sampled for this Mt Baker Vapor review, I am very aware that taste is subjective. Just because I didn't care for a particular e-liquid flavor that doesn't mean its not a good juice.
I definitely have the impression that these flavors are high quality premium e-liquids, made with quality ingredients. I am positively impressed by the fact that none of the flavors tasted weak in terms of strength, even as none of them were prepared with extra flavor shots. All of the 50/50 blend e-liquids had the perfect vapor production, although some were better than others with regards to throat hit.
Mount Baker Vapor appears to be a solid vendor with a very diverse menu and extremely reasonable prices. I would feel comfortable ordering from, and recommending Mount Baker Vapor as a go to vendor for affordable premium quality e-liquids.
Get 10% off with discount code: VapingCheap