Freemax Gemm Pod Mod Kit $17.81 (USA)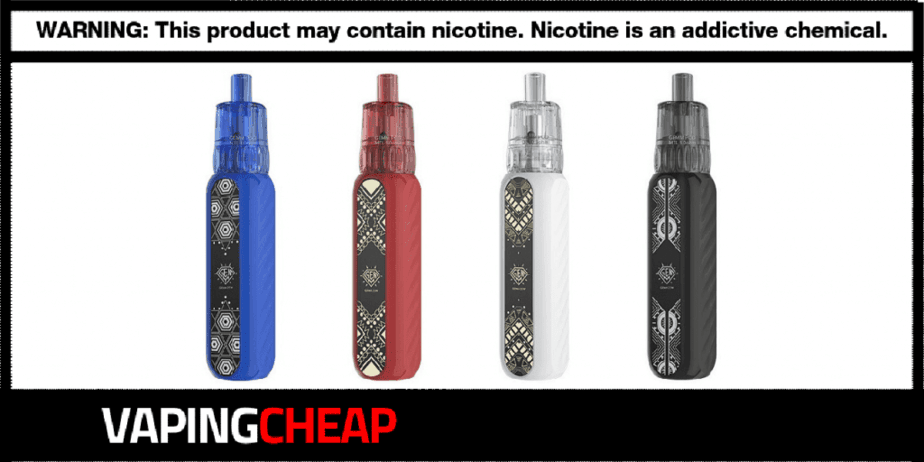 Here are cheap deals, discounts and sales for the Freemax Gemm Pod Mod Kit. Grab this 25w starter kit from a USA based shop for just $17.81. No code required for the sale price. Free shipping is included when you spend over $75. There's multiple color options you can get including Black, Red, White and Blue.
The Freemax Gemm 25w Pod Mod Kit looks fairly similar to the original Freemax Gemm Starter Kit, but differs quite a bit. Like the original, it looks just like a vape pen. However, this new kit shares more similarities to a pod vape. Included, you'll get both the Freemax Gemm Pod Mod and two pods or tank cartridges.
Let's cover the device first. It packs a large 1,300mAh built in battery, and charges via micro USB. Additionally, it has a maximum wattage output of 25w. You're able to adjust the wattage too, between three different power levels. Simply click on the fire button three times and it'll switch. There's two LED light indicators on the pod mod, one for the battery and the other to show you the power output mode.
As mentioned earlier, there's two pod cartridges included, and each will provide a different vape. Firstly, you'll get the 0.5 ohm pod, which is designed for DTL or direct to lung vaping. Secondly, there's the 1.0 ohm cartridge, which can be used for mouth to lung vaping.
Airflow is adjustable as well on these pods, which is always a good feature to have. Each pod does have a 2ml e-liquid capacity, and rated to be filled between 10 or 20 times! That's a ton of usage from each Freemax Gemm pod cartridge. Lastly, the coils inside of the cartridges are SS904L mesh, and wicked with tea fiber cotton, ensuring maximum flavor.
If you're looking for a unique pod kit that offers multiple vaping experiences, and that's easy to use then you'll definitely want to check out the Freemax Gemm Pod Mod Kit. For just over $20, it's an excellent pickup for both beginners and experienced vapers.
Freemax Gemm 25w Pod Kit Features:
Internal 1,300mAh Battery
Micro USB Charge Port
Max Wattage Output: 25w
Adjustable Wattage Output (3 Levels)
2 LED Light Indicators
Minimum Firing Resistance: 0.5 ohm
510 Threading
Multiple Safety Protections
Two Different Pod/Tank Cartridges

0.5 ohm SS904L Mesh (DTL)
1.0 ohm SS904L Mesh (MTL)
2ml E-Liquid Capacity
Tea Fiber Cotton
Adjustable Airflow
What's Included
Freemax Gemm 25w Pod Mod
0.5 ohm Gemm Pod
1.0 ohm Gemm Pod
Replacement Silicone Plugs
Charging Cable
Warranty & Warning Cards
User Manual
Check Out The Freemax Gemm 25w Pod Mod Kit Review
More Great Vape Deals...
---
Vapefly Firebolt Cotton $1.89
For a limited time only, the Vapefly Fireboly Cotton 20pcs is now on sale right here for only $2.99! No coupon code required to get this[...]