Eleaf iJust 21700 Kit $8.99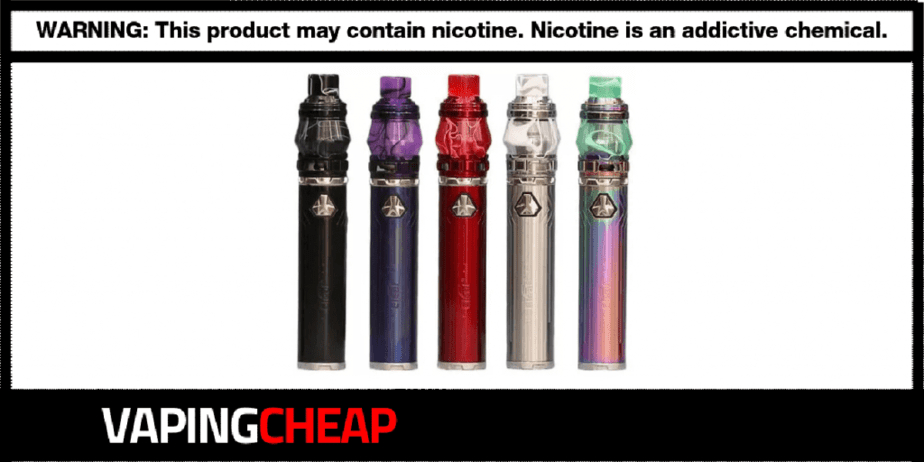 Here's a cheap deal and discount for the Eleaf iJust 21700 Kit. Get yours for just $8.99 using discount code "21700K". There's a bunch of different color options available including Black, Dazzling, Purple and Blue, Red and Silver.
The new Eleaf iJust 21700 Kit includes both the iJust 21700 Mod and the Ello Duro Sub Ohm Tank. The new Eleaf iJust Mod requires a single high drain 21700 or 18650 battery, so it's the first in the series to actually use an external battery. Depending on which version chosen, a cell will be included in the packaging. However, it'll pair great with the Samsung 40T.
Additionally, it has a maximum wattage output of 80w and a minimum firing resistance of 0.1 ohm. There is a large fire button on the front of the mod, which can be used to turn the device on and off. This button is also used to vape when it's turned on. Just like many other vape pens, this one is easy to use. As expected, the iJust 21700 does have multiple safety protections built into the device.
Moving onto the Eleaf Ello Duro Sub Ohm Tank. It has an overall diameter of 25mm, matching the included mod perfectly. In addition, this tank has a unique vase glass section that holds a maximum e-juice capacity of 5.5ml. With this amount of capacity, you won't be needing to fill too often, that's for sure. When comparing it to other sub ohm tanks, the Ello Duro does hold more than the average. You can fill this tank using the sliding top fill design and there is also a child safety lock at the top.
This full kit includes two of the new HW coils which does have a self cleaning feature. Another great feature is that these coils have large wick holes, allowing for fast wicking even with higher VG vape juices. Lastly, this atomizer has fully adjustable bottom airflow.
All in all, this is an excellent sale on the Eleaf iStick 21700 Kit. Whether you're looking to take your next step in vaping or looking for a cheap backup kit, you won't be disappointed with this one. This is especially true with it costing you less than $30.
Eleaf iJust 21700 Vape Kit Features:
Eleaf iJust 21700 Mod

Requires a 21700 or 18650 battery
Maximum wattage output: 80w
Minimum firing resistance: 0.1 ohm
Large fire button (5 clicks on/off)
Multiple safety protections
4 Color LED Indicator Light

Eleaf Ello Duro Sub Ohm Tank

Overall diameter: 25mm
Maximum e-juice capacity: 5.5ml
Top fill design
Child proof lock
Uses the new HW Coil Family with LPSC Technology
Adjustable bottom airflow
Wide Bore Resin Drip Tip
What's Included
Eleaf iStick 21700 Mod (with or without cell)
Ello Duro Atomizer (5.5ml or 2ml version)
HW-M2 Coil Head (0.2 ohm)
0.2 ohm HW-N2 Coil Head
Charging Cable
Spare Parts Bag
2 User Manuals & Warning Cards
Check Out The Eleaf iJust 21700 Review