Dovpo Blotto RTA $21.73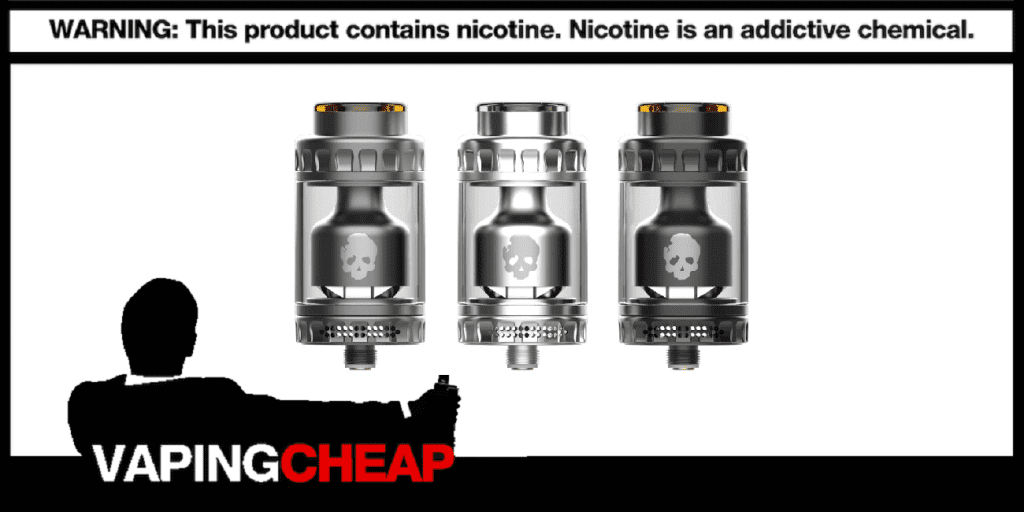 The popular Dovpo Blotto RTA designed by Vaping Bogan is now in stock and on sale! Get it from a China based shipper for only $21.73 after logging in and using the code "HALL15". It's also available from a USA based store for only $22.39 when applying the discount "HALLOWEEN20". There's six color options currently available which are Silver, Gun Metal, Black, Army Green, Purple and the new Rainbow.
The Dovpo and Vaping Bogan Blotto RTA sports a base diameter of 25mm. It also has quite a few unique features that focus upon flavor and versatility, and by the looks of it, it's definitely going to be one of the Best RTAs of this year.
The first unique feature has to be the airflow system, as it has a 242 degree direct to coil airflow design to provide flavor similar to an RDA, which is pretty impressive to say the least.
Airflow does come in from the bottom of the Blotto Tank, and its a honeycomb design, so it's silky smooth. It's fully adjustable as well, giving a wide open draw or a restrictive direct lung vape. Aside from its one of a kind airflow system, it features a unique bottle cap design at the top cap, and bottom airflow control sleeve. While that doesn't affect its performance, it certainly makes it look completely different than any other atomizer in its category.
When it comes to e-liquid capacity, it holds a maximum capacity of 2ml or 6ml depending on which tank section is attached. What's great is that it includes not one, but two bubble glass sections, one is glass, and the other is Ultem. Building on the Blotto RTA by Dovpo and Vaping Bogan is pretty easy to since it does feature somewhat of a postless style deck.
On top of that, it can support both single and dual coil builds! Another cool feature is that it includes a bottle opener that also acts as a coil cutting tool, so you'll know how much coil length you'll need each and every install.
If you're looking for not only a unique looking RTA, but one that offers one of a kind features to provide stellar flavor, and versatility, then definitely check out the Dovpo Blotto RTA. We highly suggest jumping on this atomizer deal before they're all gone!
Vaping Bogan Blotto RTA Features:
Collaboration between Dovpo & Vaping Bogan
Base Diameter: 25mm
E-Liquid Capacity: 2ml or 6ml
Glass & Ultem Bubble Tank
Top Fill
Postless Style Build Deck
Supports Single & Dual Coils
Unique Airflow System
242 Degree Airflow
Dripper Level Flavor
Dual Diffusion Airflow
Fully Adjustable Bottom Airflow
Bottle Cap Design (Top & Bottom)
Color Options
What's Included
Blotto RTA by Vaping Bogan & Dovpo
Bubble Glass Tank Section
Ultem Bubble Tank Section
Bottle Opener (Acts as coil cutting tool)
User Manual
Bag of Spares
Check Out The Blotto RTA Review & Build Tutorial