DotMod DotStick Starter Kit $40.42 (USA)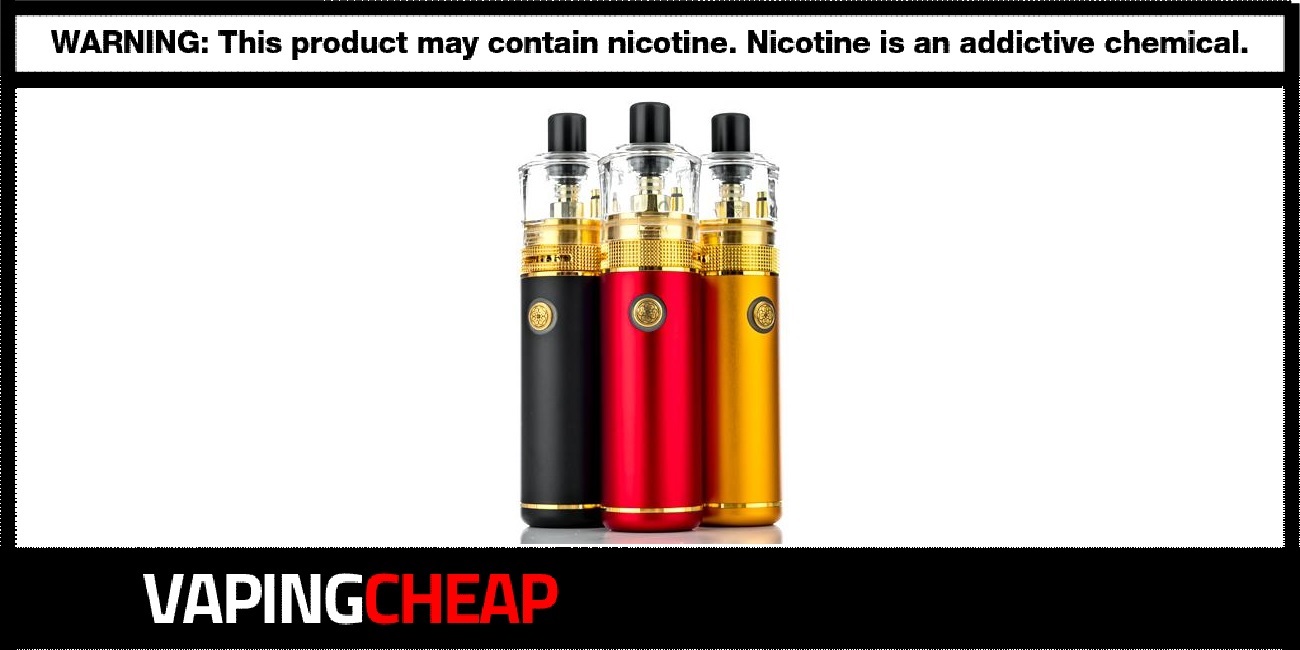 Here's an amazing deal for the newly released DotMod DotStick Starter Kit. Get yours from a USA based shipper for only $40.42. No code is required for this discount. It's also available from another USA based store for $63.00 after the code "VC10". It is available in four color options which are Black, Gold, Red and Stainless Steel.
DotMod's DotStick Starter Kit is highly compact making it extremely portable. In addition, it is powered by a single high drain 18350 or 18650 battery. You can charge the device using a micro USB cable. However, it is recommended you use an external charger. The DotStick's proprietary chipset has a maximum wattage output of 27w and comes with tons of safety features built-in.
This starter kit has four different firing modes including bypass, 20w, 24w and then 27w. You can quickly swap through each setting after clicking the large fire button three times. The LED battery indicator light is also used to tell which mode you've selected. You can also turn the device completely off.
Moving on to the included DotStick Tank. It has an overall diameter of 22mm, matching perfectly with the DotStick Mod. Furthermore, it holds a maximum e-juice capacity of 2ml and features a unique filling system. It's located at the bottom, but incredibly easy to use.
Included, you'll get two of the new DotStick Coil heads, one being a 0.4 ohm mesh coil and the other being a 1.0 ohm mouth to lung coil head. What's great about this tank is that it's also compatible with the Smok Nord Coils as well, giving you plenty of options. Lastly, it sports a dual adjustable bottom airflow design.
If you're looking for a MTL kit that not only looks good, but performs great, then definitely check out the DotStick AIO Kit by dotMod. What's even better is that it's compatible with two different battery sizes. With the 18350 installed, it's super tiny!
DotMod DotStick 27w Kit Features:
DotMod DotStick Mod

Requires a single high drain 18350 or 18650 battery (Not Included)
Maximum wattage output: 27w
Four User Modes: Bypass, 20w, 24w and 27w
LED battery indicator light
Compact design
Multiple user modes
Large fire button

DotMod DotStick Tank

Overall diameter: 22mm
Maximum e-juice capacity: 2ml
Spring loaded bottom fill design
Uses the new DotStick Coils
Compatible with the Smok Nord Coils
Adjustable bottom airflow
What's Included:
DotMod DotStick Mod
DotMod DotStick Tank
0.4 ohm Mesh Coil Head
Drip Tip
Extension Tube
Micro USB Cable
1.0 Ohm Coil Head
User Manual
O-Rings
Be sure to check out the DotMod DotStick Starter Kit Review
More Great Vape Deals...
---
Vandy Vape Mato RDTA $22.40
Here are cheap deals and discounts on the new Vandy Vape Mato RDTA. Get this atomizer from only $30.36plus free[...]