Smok Nord Coils 5 Pack $8.92 (USA)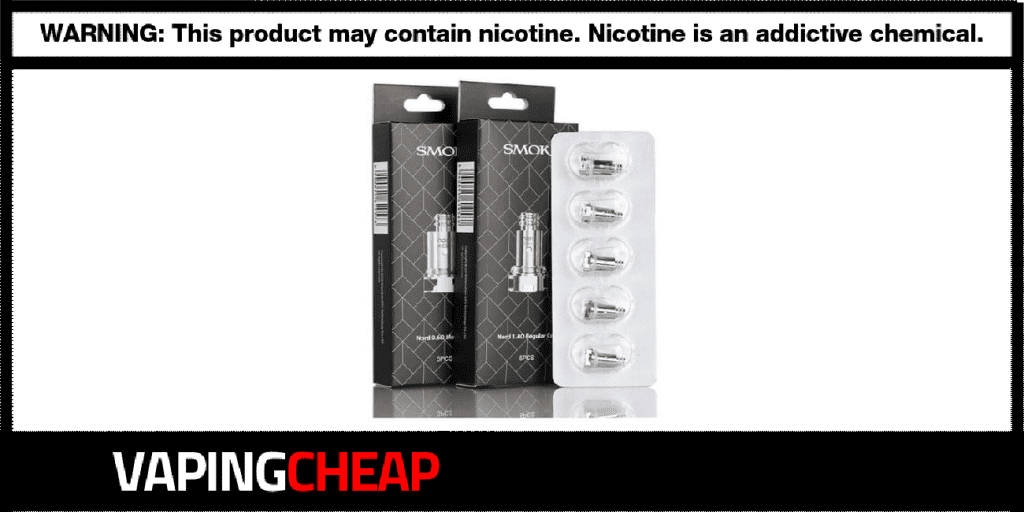 Here are cheap deals and discounts for the Smok Nord Coils. Grab a 5 pack for just $8.92 using discount code "CART15"!
The Smok Nord Replacement Coils come in a pack of 5 coils and are compatible with various devices including the original Nord Pod, and even the newer Nord 2 pod system. With that being covered, there's a bunch of different options you're able to choose from. Additionally, there's Nord coils for both mouth to lung (MTL), and direct lung (DL) vaping.
Firstly, you have the option of the 0.6 ohm mesh Nord coil, which is designed for DTL vaping, These are some of our personal favorites as the flavor is great. There's also the Nord regular 1.4 ohm, which you can use for a MTL vape. If you enjoy mesh coils, and MTL, then the newer 0.8 ohm mesh MTL coil will definitely be of interest to you. Additionally, there's a ceramic 1.4 ohm coil, which is similar to the regular coil, but with a ceramic core. Lastly, there's the Nord Regular DC Coil, which feature a dual coil.
All in all, this is an excellent sale for the Smok Nord Coils. For the sale price, you can't go wrong, especially since they come in a pack of 5 coil heads. If you've been looking for cheap Smok Nord coil heads, then look no further.
Smok Nord Replacement Coils Features:
Compatible with Various Devices (Nord, Nord 2 & More)
Comes in a pack of 5 coil heads
Coil Options:

Nord Regular

1.4 ohm Coil Resistance
MTL Vaping

Nord Mesh

0.6 ohm Coil Resistance
DL Vaping

Nord Ceramic

1.4 ohm Coil Resistance
MTL Vaping

Nord Regular DC

0.6 ohm Coil Resistance (Dual Coil Design)
DL Vaping

Nord MTL Mesh

0.8 ohm Coil Resistance
MTL Vaping