Black Widow RDA Review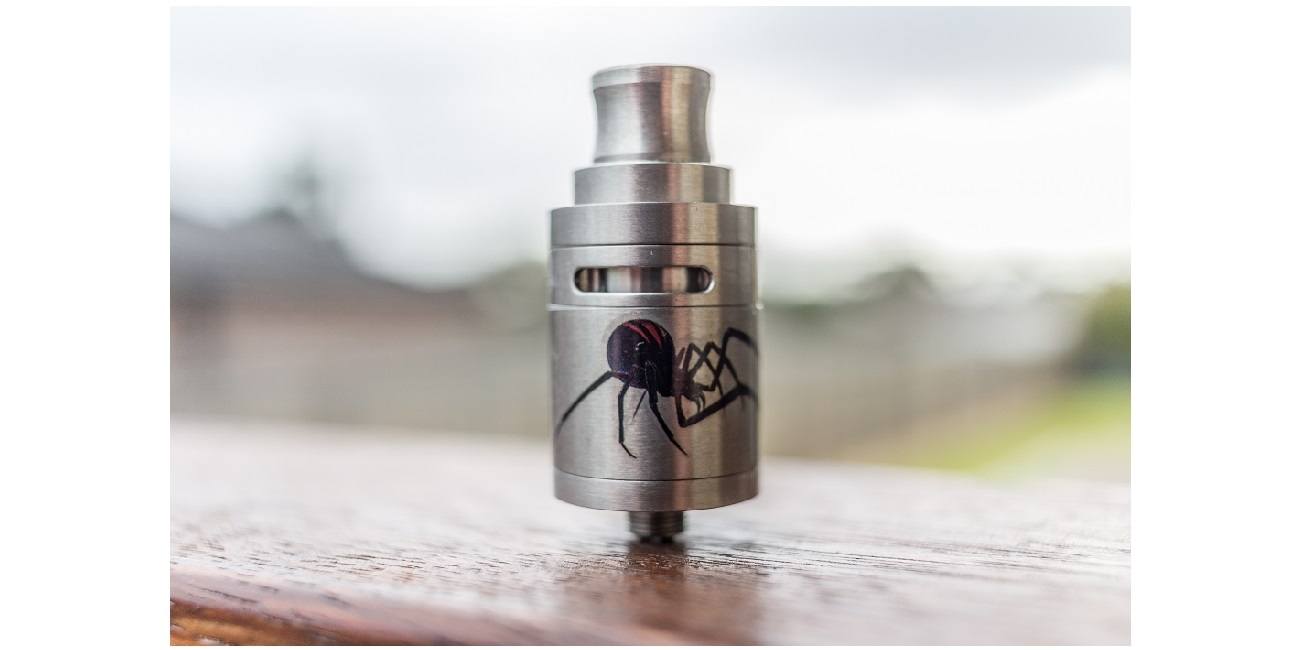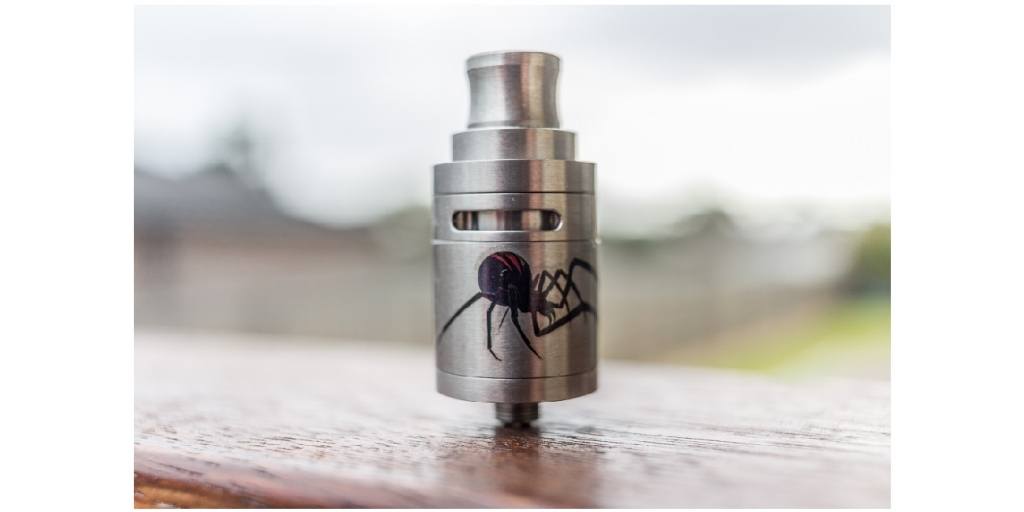 Today's review is going in depth on the Black Widow RDA from Chinese company iCloudcig also referred to as Cloudjoy. The Black Widow is the next inline from the popular Fishbone RDA, from which it shares one main feature – the ceramic cup.
The Black Widow comes in the box along with a bag of spare o rings and screws. A spare ceramic cup and 2 premade coils are also included.
Purchase Here: $10.77 USAPurchase Here: $13.03 China
Coupon Code for Purchase in USA: YEAHBABY
The RDA is 22mm and has a copper 510 thread. It's milled out of stainless steel with a Velocity style build deck. An interesting feature of this atty is the turbine fan sitting inside the drip tip. Apparently it is there to improve airflow and vapor production. Will it also cool the vapor? The ceramic base or catch cup is supposed to help with flavor, heat dissipation and eliminate shorting.
The airflow control is located at the top of RDA, as it is top airflow. The wide bore driptip is contoured at the mouth end. There is no drip tip adapter to utilize your favorite drip tips, so you'll have to make do with the included tip.
The Black Widow presents itself looking very clean and well-constructed. There are no burrs on the metal or threads and everything fits together like a glove. The laser engraved spider on the outside, looks like it has been applied well and hopefully won't fade over time. Although a spider print may not be for everyone, it looks good to me. Let's face it, it is probably not an RDA you would be choosing if you have arachnophobia.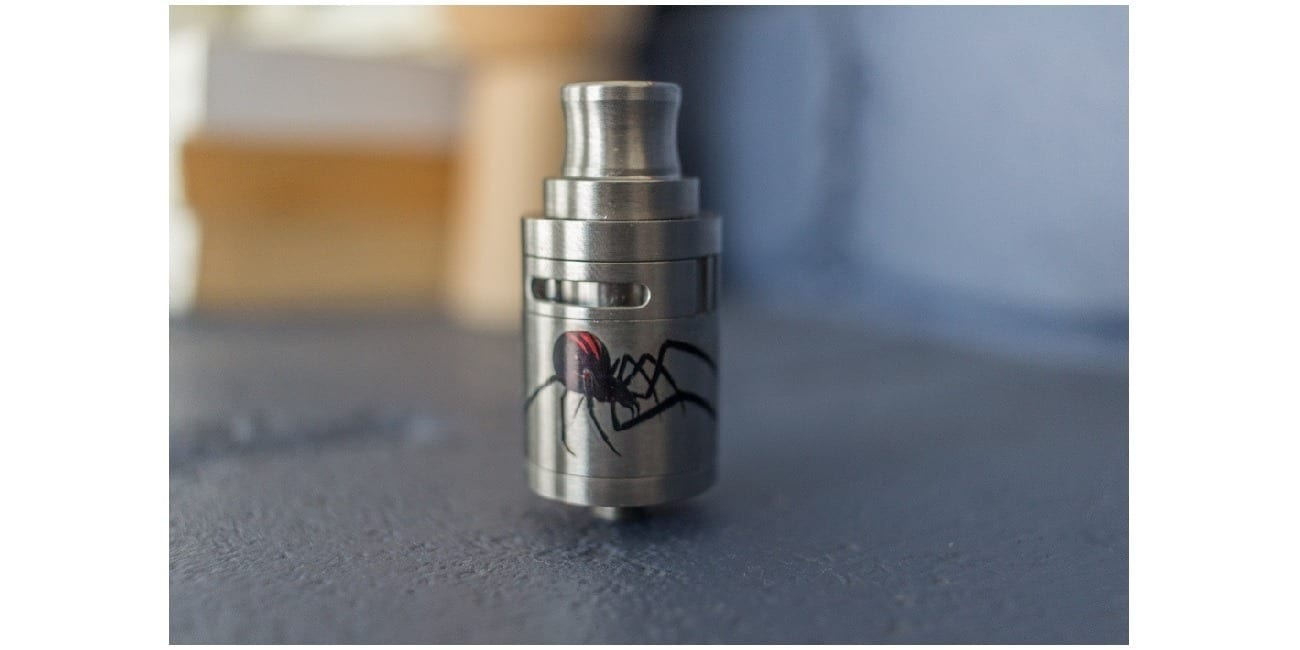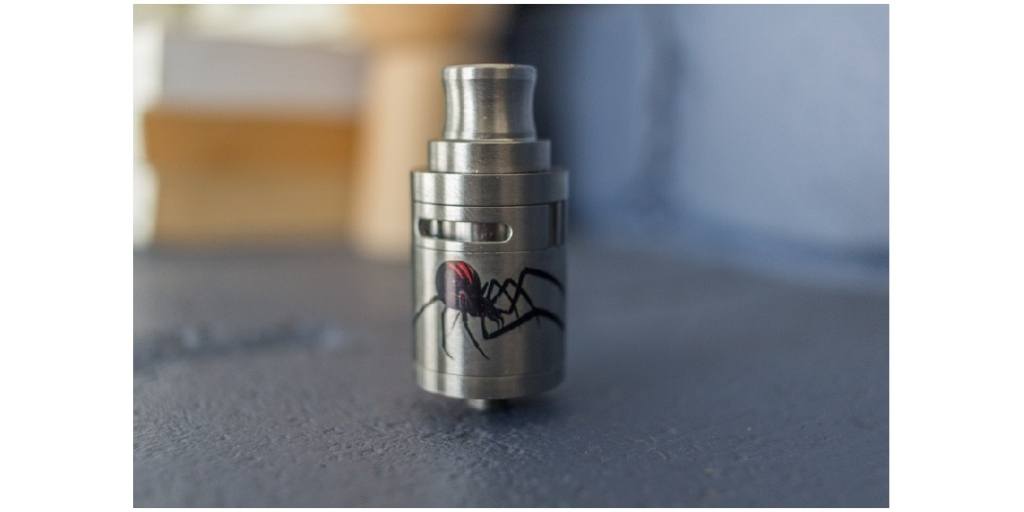 The Black Widow is quite tall for an RDA, however being top airflow it needs some height for air to get to those coils. The top adjustable airflow can be easily adjusted left and right to open or close to your taste. It is very easy to adjust, not too loose or tight, just right.
The o-rings hold the atty together snug and seal well, giving just enough pressure to ensure it is not hard to separate the base. There are no wobble or loose connections once the separate parts are put together. If anything does go wrong, wears out or gets lost, there are plenty of spares in the bag. When the RDA is cold the drip tip can be a bit tight to pull out, but this goes away once it warmed up a little.
When taken out of the box, the atty did have a smell of machine oil. Definitely not as bad as some of the RDA's I've seen in the past, but there none the less. A quick bath in hot water, as per usual with new attys, with some dish washing liquid and we were good to go. The fan housed in the drip tip still smelled of strong plastic after washing it, however there was no noticeable taste while using it.
The stock coils that came with the Black Widow RDA look to be 26AWG kanthal with a 2.5 mm ID. They are 7 spaced wraps with an ohm reading of 0.34 when both were installed for a dual coil setup. I had these in to begin with and they performed quite well wicked with cotton. Decent flavor and good vapor production. Being spaced 26 guage, I found the sweet spot for the stock coils was between 60-70 watts.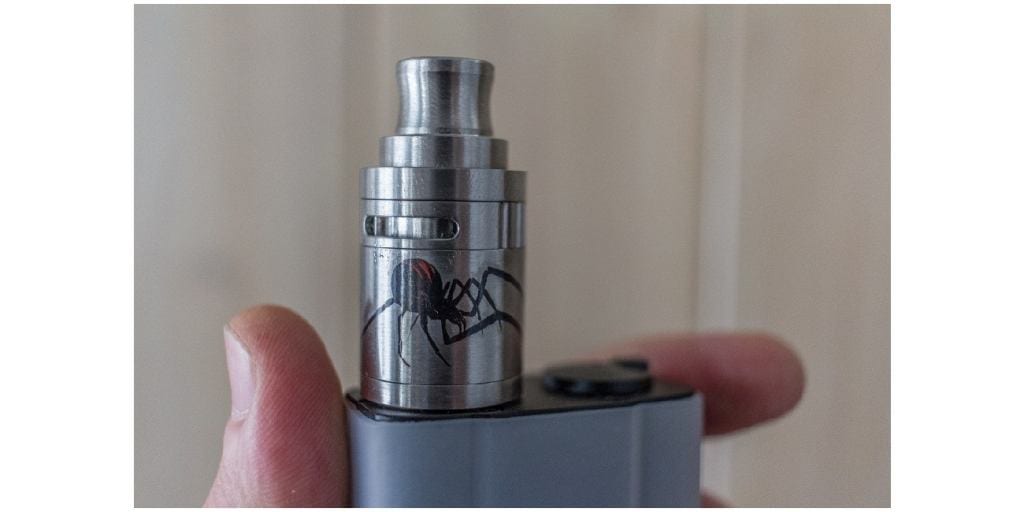 The next build I installed some stainless 316L 26AWG, with a parallel 7 wrap dual contact coil setup. This brought out even more flavor and enabled the use of temp control, enabling me to dial in the sweet spot for the juice I was vaping. I presume the pure surface area to wick helped the flavor here. I didn't run into any issues with this atty in temp control mode, the mod remained in TC mode and didn't ever kick me back into power mode.
The Black Widow comes alive when you use Clapton coils. Although a challenge to install, once you do it's well worth it. The challenge began when trying to get them straight and pinched together with the raised porcelain sections getting in the way and getting the coils close enough to the posts so they don't short out on the chamber.
Purchase Here: $10.77 USAPurchase Here: $13.03 China
Coupon Code for Purchase in USA: YEAHBABY
Another thing to watch out for is the height of the coils. The air flow channels protrude down into the chamber and can touch the coils if you build them too high. 3mm coils can fit, however they are very tight and take a lot of positioning to get right. I would recommend 2.5mm as the biggest internal diameter to ensure a good fitment and to avoid any possible shorts. Keep your builds well within the internal diameter of the porcelain cup to ensure when you put the chamber back on, there is no shorting.
The ceramic cup is a tight fit and I'm glad they include a spare one. A small piece of porcelain broke off when I removed the cup to wash the broken down parts. It was still totally usable, just broke a piece off at the bottom of the positive post, so be careful it is fragile.
There are 4 raised sections of the ceramic cup where your U shaped wick sits at the right angle. These ensure the wick doesn't touch the insides and get burnt on the side of the chamber. This is a handy feature, but this makes it hard to use screwdriver or drill bit to position and straighten your coils when fitting and prepping them.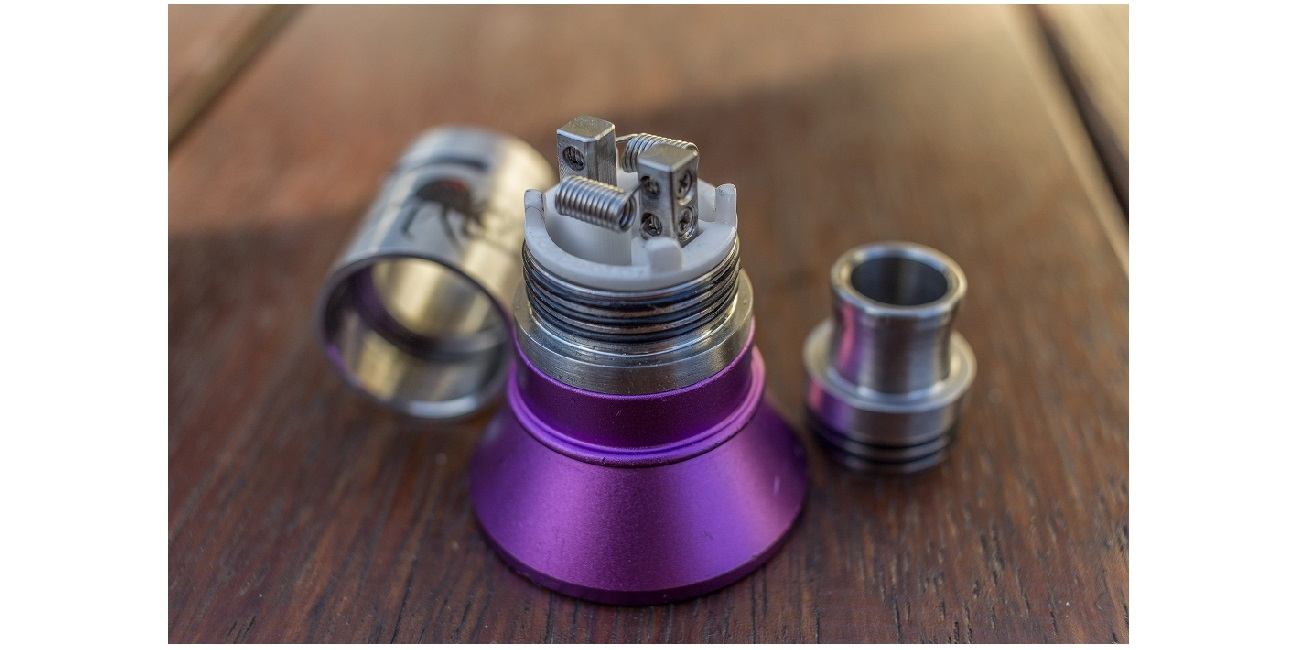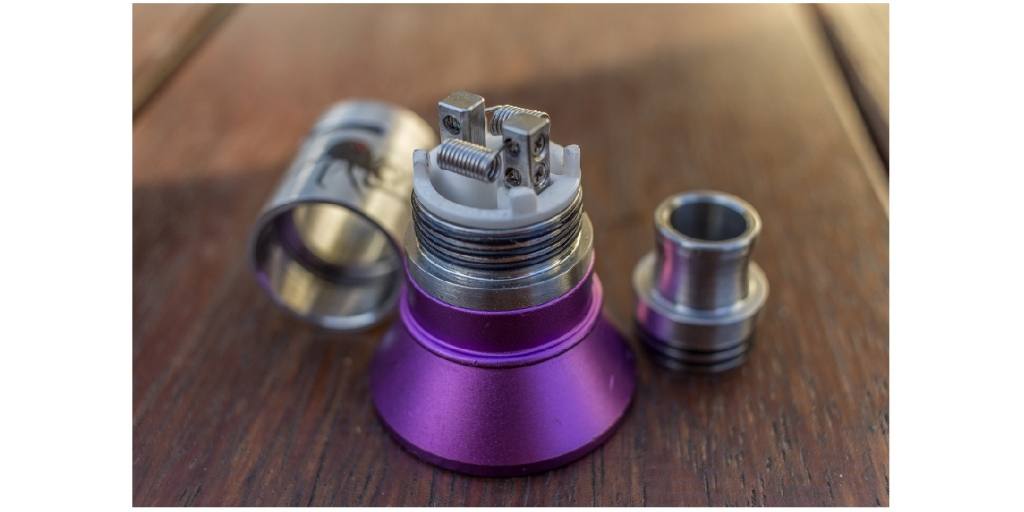 The removable fan in the drip tip breaks down into 3 pieces. The fan is easily removed by pushing a screw driver down and forcing it out. It is not a loud sound and can be felt spinning when you give it a decent pull. I found that there is quite a bit of condensation left on the fan during the normal course of vaping. If you take off the drip tip to re-drip and put it down, you will get some e-liquid on the table. I prefer to take the fan out when I am out and about, as you can drip straight down through the drip tip. I say the fan does cool the vapor down a slightly, but if your using a temp control you can easily achieve a cooler vape if desired. I'm still after a few weeks, undecided if I like the fan or not. At least if it's not your cup of tea, it can be easily removed.
Airflow on the Black Widow won't let you down. It caters for a very airy vape when wide open and can be backed off for a tighter drag. Wide open the air certainly comes right down under the coils and delivers some huge clouds. Taste wise, wide open is okay, but at 80% closed is where the real flavor kicks in. Compromising on cloud production, but the taste is the pay off and it's well worth it.
Being a top airflow atty, I have not experienced any leaking from the air holes. This makes the Black Widow very pocket friendly, as you do not have to worry about any rouge juice in your pocket.
With more complex could builds, you will have to watch the heat. The drip tip is all stainless steel and will disperse the heat to your lips. The design of the Black Widow means that everything fits into a very small space, which means everything heats up a lot quicker.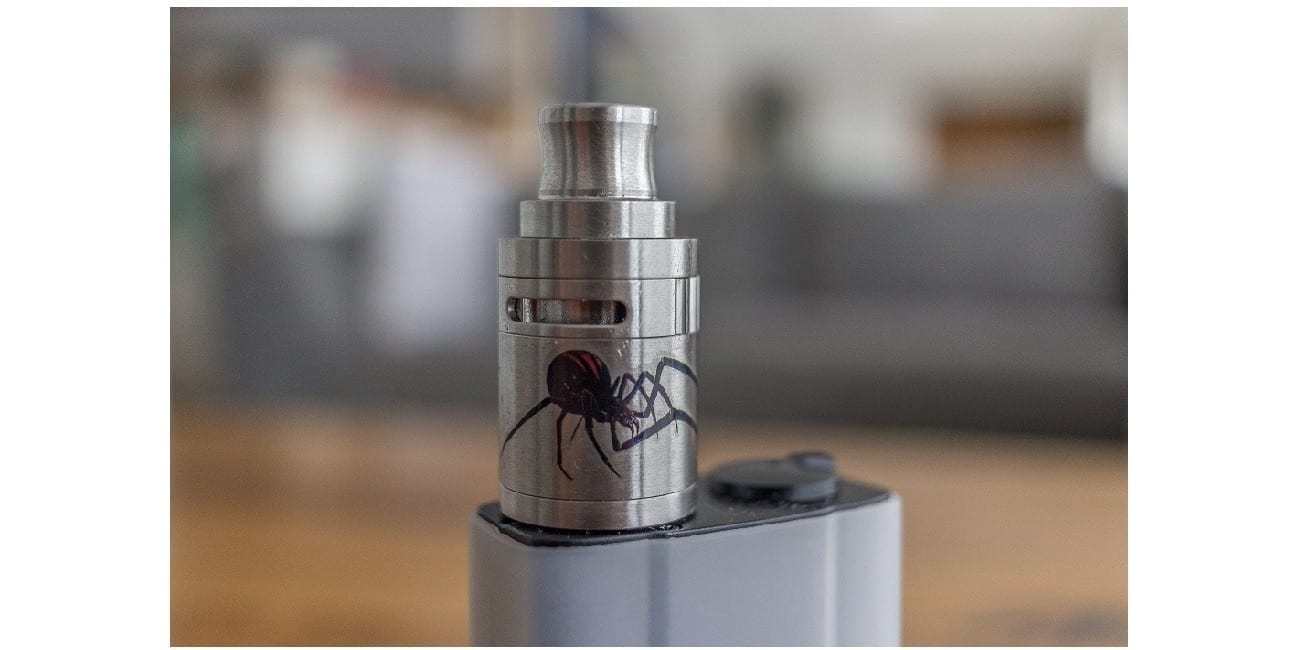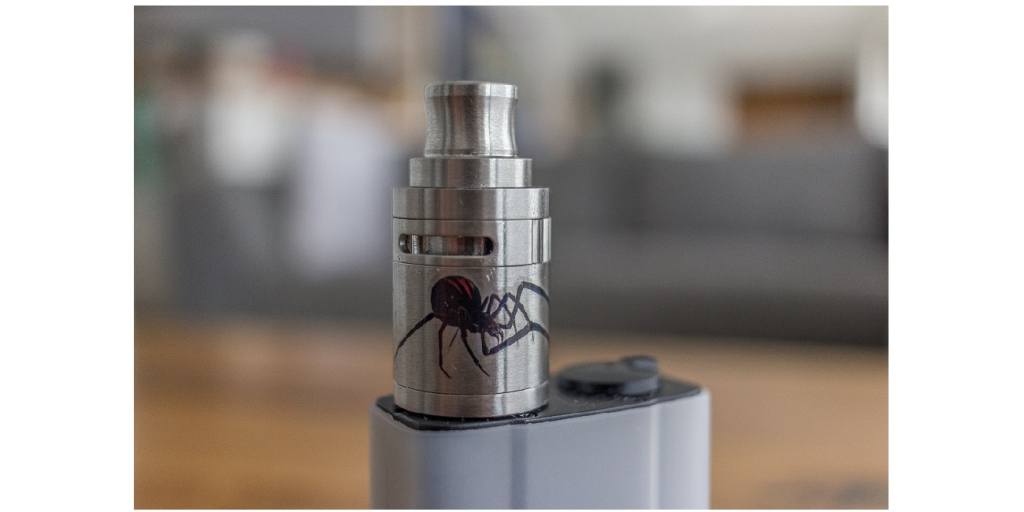 The velocity style build deck is easy to work on. You will need a very fine Philips head screwdriver as the screw heads are very small. It does come with the famous little blue screwdriver, but I find I need something with a bit more leverage. As mentioned before the four posts sticking up on the porcelain cup can be a pain when trying to position your coils. And you really do have to watch your positioning due to the narrow chamber and airflow channels. Make sure you can visualize a gap between the coils and the chamber/airflow channels or use a resistance checker to check for shorting.
If you get any spit back, you may need to fit your wicks a bit tighter in the coils. Also don't over-drip as this can lead to spitting and gurgling.
All in all this is a good value RDA for its price point. It presents some interesting features and challenges once overcome can be very rewarding. Both cloud chasers and flavor junkies will find this a useful RDA, and those are a combination of the two that will not disappoint.
Purchase Here: $10.77 USAPurchase Here: $13.03 China
Coupon Code for Purchase in USA: YEAHBABY