Warning Eliquid Sale! Buy 1 Get 1 Free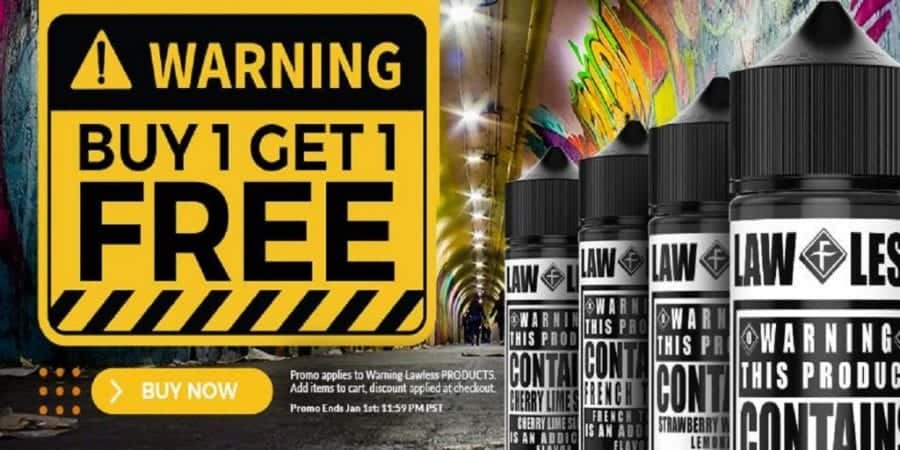 Here's a cheap deal and discount for Warning ELiquid by Lawless. Buy 1 Get 1 Free! No code needed, simply add the two products you want into your cart, and the discount will apply during checkout. With this promo, you can get 2x100ml for under $10, or 2x30ml for $7.95.
Warning E-Juice by Lawless Products consists of 4 unique flavors. Additionally, there's e-liquids are available in both freebase and nicotine salt options. The flavors you'll find include Watermelon Lemonade, Cherry Lime Slush, French Toast and Apple Pear Kiwi. When it comes to nicotine strengths, there's three to choose from in freebase, which are 0mg, 3mg and 6mg. For salt nic, there's currently only 35mg available. Lastly, each flavor does come in a chubby gorilla unicorn bottle.
If you're looking to try out some new vape flavors at a cheap price, then you'll definitely want to check out this sale on Warning E-Liquid. For the price of two bottles, you really can't go wrong.
Warning Vape Juice Sale Details:
BOGO Sale (Buy 1 Get 1 Free)
100ml or 30ml Chubby Gorilla Bottles
Nicotine Strength Options: 0mg, 3mg, 6mg, 35mg (Salt)
4 Flavors To Choose From:

Apple Pear Kiwi
French Toast
Cherry Lime Slush
Watermelon Lemonade
More Great Vape Deals...
---
Mechlyfe Slatra RDA $8.91
The new Mechlyfe Slatra RDA in collaboration with AmbitionZ VaperR is now in stock and on sale for just $8.91. To get[...]
Vapefly Nicolas MTL Tank $9.96
For a limited time only, the Vapefly Nicolas MTL Tank is now on sale right here for only $11.99! No coupon code required! The colors available[...]