Vaporesso Gen Mod $31.49 | Vape Kit $44.68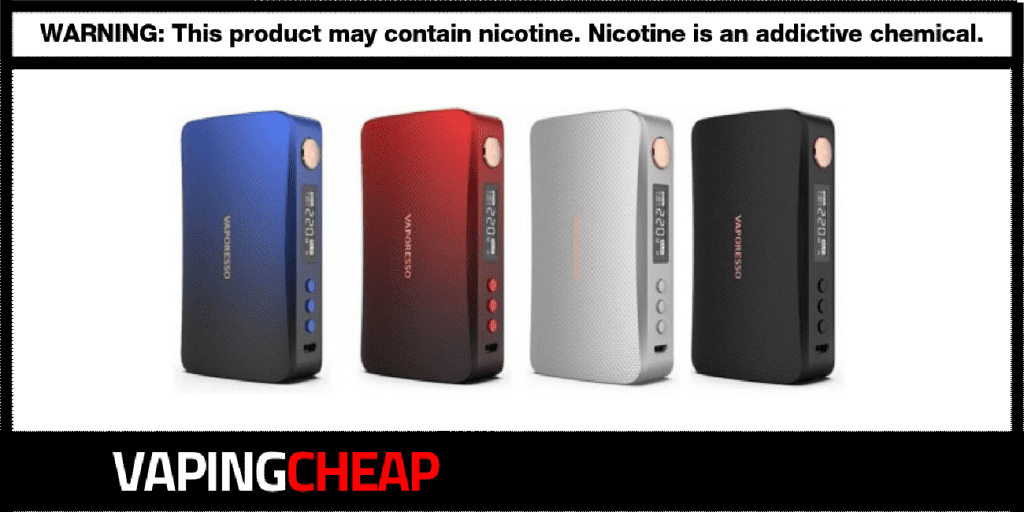 Here's an amazing deal on the Vaporesso Gen Mod! Get it from only $31.49 using code "VGM". However, you can also get the Vaporesso Gen Vape Kit for only $44.68 using code "VGK". There's four different color options available which are Silver, Black, Black Red and Black Blue.
Vaporesso's Gen 220w TC Box Mod is powered by two high drain 18650 batteries. It is powered by the new Axon Chip, allowing for a maximum wattage output of 220w.
There is also a Pulse mode as well, continuously giving you a hit throughout your puff. In addition, with this chipset, it's much easier to operate than before in previous devices, which is great for both new and advanced vapers!
Another great feature of the Gen Mod is its construction. It features 4 layers of coating, giving a soft rubber-like feel while still being extremely durable. With the multiple layers, it is scratch proof and flame retardant. The minimum firing resistance of this box mod is 0.03 ohm, but we do not recommend building that low. Lastly, the Gen 220w has a 0.91 inch OLED display screen.
All in all, this is a great deal for the new Vaporesso Gen Mod. If you were a fan of their previous mods or simply looking for a new dual battery mod, then this is a vape mod deal worth checking out for sure. As with all Vaporesso devices, this one is packed with many features and best of all, its build quality is second to none.
Vaporesso Gen 220w Box Mod Features:
Requires 2 High Drain 18650 Batteries (Not Included)
Powered by New Axon Chip
Maximum Wattage Output: 220w
Minimum Firing Resistance: 0.03 ohm
4 Layer Coating

Soft Touch Casing
Durable Construction
Scratch Proof
Flame Retardant

Pulse & Eco Modes
0.91 Inch OLED Display Screen
Easy To Operate (Human Centered UI)
Lightweight Design
Color Options: Black, Silver, Black Blue, Black Red
Check Out The Vaporesso Gen Mod Review