Vandy Vape Kylin RTA Resin Bubble Tank Review – Awesome Accessory!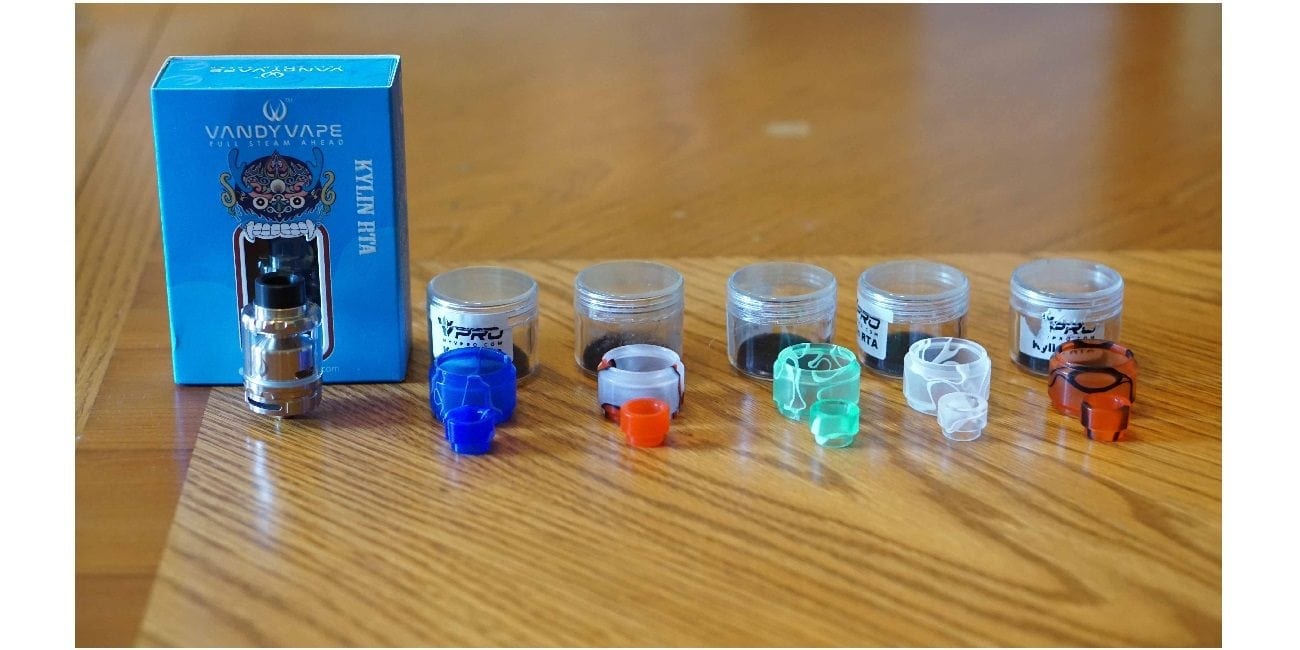 Vandy Vape Kylin RTA Resin Bubble Tank Review
In this vape review, we'll be covering something different this time around rather than the typical hardware or e-juice review. This review is on the new Vandy Vape Kylin RTA Resin Tube and Drip Tip Kit from MyVpro. The Kylin RTA was one of the most popular RTAs of 2017, and even into 2018, it's still widely used.
Even for us at Vaping Cheap, when we're in need of a large capacity dual coil RTA, the Vandy Vape Kylin is one of the atomizers we can easily come back to due to its excellent performance. However, if you needed the large capacity, you were stuck with the large glass tank section, which made this atomizer much taller than it's shorter variant.
Before getting any further into this review, we'd like to thank MyVpro for sending this vape accessory our way for the purposes of this review. We'll cover our first impressions, usage, pros and cons and conclude with whether or not we recommend the Vandy Vape Kylin RTA Resin Bubble Tank!
First Impressions
The Vandy Vape Kylin RTA Resin Tube and Drip Tip Kit comes in a small round plastic container, and to access it, simply unscrew the top. On the front of the packaging, you'll see MyVpro's logo alongside the name of the atomizer (Kylin RTA). It's a rather simple package, but it does protect what's included quite well. This vape accessory is available in various color options such as White, Red, Blue, Green, Orange and Dark Teal. I do like the fact that MyVpro offers quite a few colors, as not everyone will like the same color. This is definitely a pro in my book.
Another great thing about this kit is that it not only includes the bubble tank section, it includes a matching drip tip. For the price, I think just having the resin tube was good enough, the included drip tip is bonus. This is great for vapers who enjoy matching their tank and atomizers with their mods. With both the included tank section and drip tip, it eliminates the step you need to find a matching drip tip since everything is included.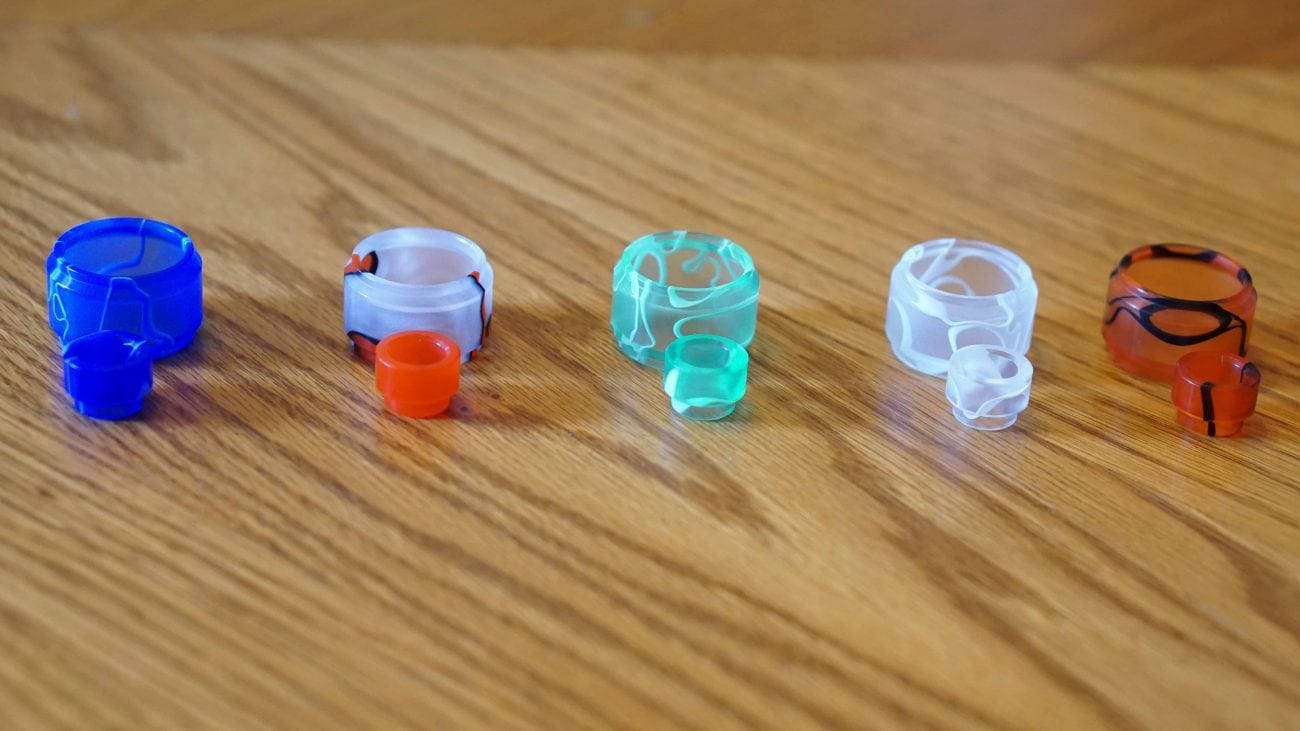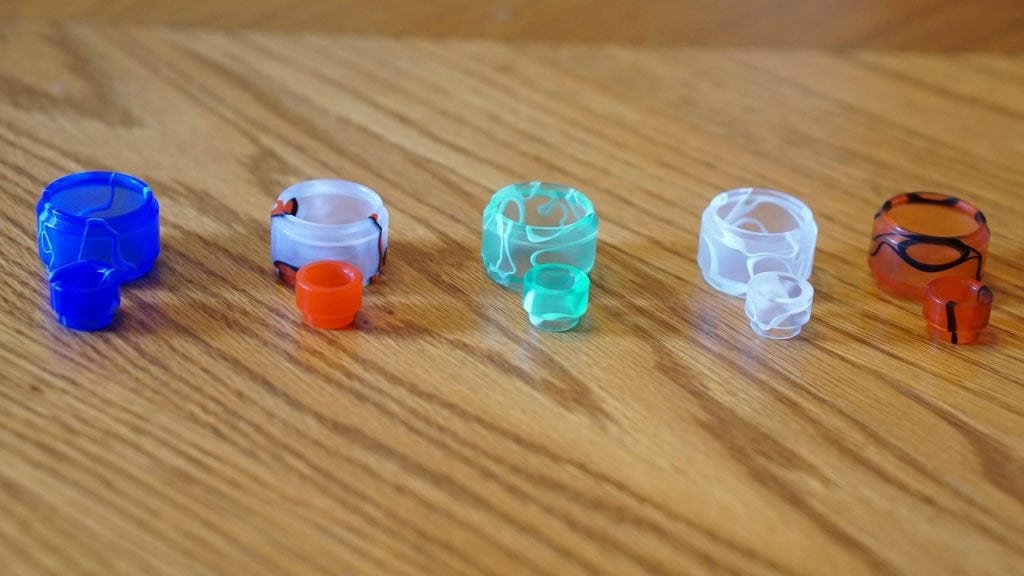 All of the color options do have somewhat of a design to them as to be expected since they're constructed of Resin material. I personally like the way Resin looks whether on mods or accessories like this. Of course, this is subjective and you may not like how Resin looks. However, it is a popular option in the vape industry today and gives the mod or accessory some "spunk". With that being said, I was impressed with the quality and color options MyVpro offers with this kit. All of the colors offered in my opinion simply look great.
So with the Vandy Vape Kylin RTA Resin Bubble Tank, it keeps the short profile of the original glass tank section, but gives the capacity of the taller tank section included with the atomizer. So rather than having a giant RTA sitting on top of your mod, you have the shorter variant plus the e-liquid capacity. Now I know not everyone is a fan of bubble tanks, but if you've read our previous reviews, you know we're big fans of them.
All in all, my first impressions of the Vandy Vape Kylin Resin Bubble Tank were great! I had no complaints whatsoever in my first impressions of this vape accessory.
Usage
Using the Kylin RTA Resin Tube and Drip Tip Kit has been a great experience overall. As mentioned previously, this kit allows you to have similar e-liquid capacity of the taller tank section of the Kylin RTA, but keep the short profile which many people prefer. This is a big pro in my opinion, as I much rather have a short or smaller tank with a large e-liquid capacity than a tall tank. This is especially true when you're wanting to use this atomizer on a smaller or more compact vape mod. Putting a tall tank on a small box mod just doesn't look right, and with this accessory, you'll have no issues.
I did vape a wide range of e-liquids when using the Resin Bubble Tank including fruit, bakery, breakfast, candy, dessert and more with zero issues. I didn't have any e-liquids with high amounts of citrus flavors inside, but I did vape an orange cream flavor and saw no negative results. I know this may be a concern of some vapers when it comes to these style tanks, but I haven't had any issues. Do keep in mind since there are a ton of different ejuice flavors on the market today that your results may differ, but I wouldn't worry too much based on my experience.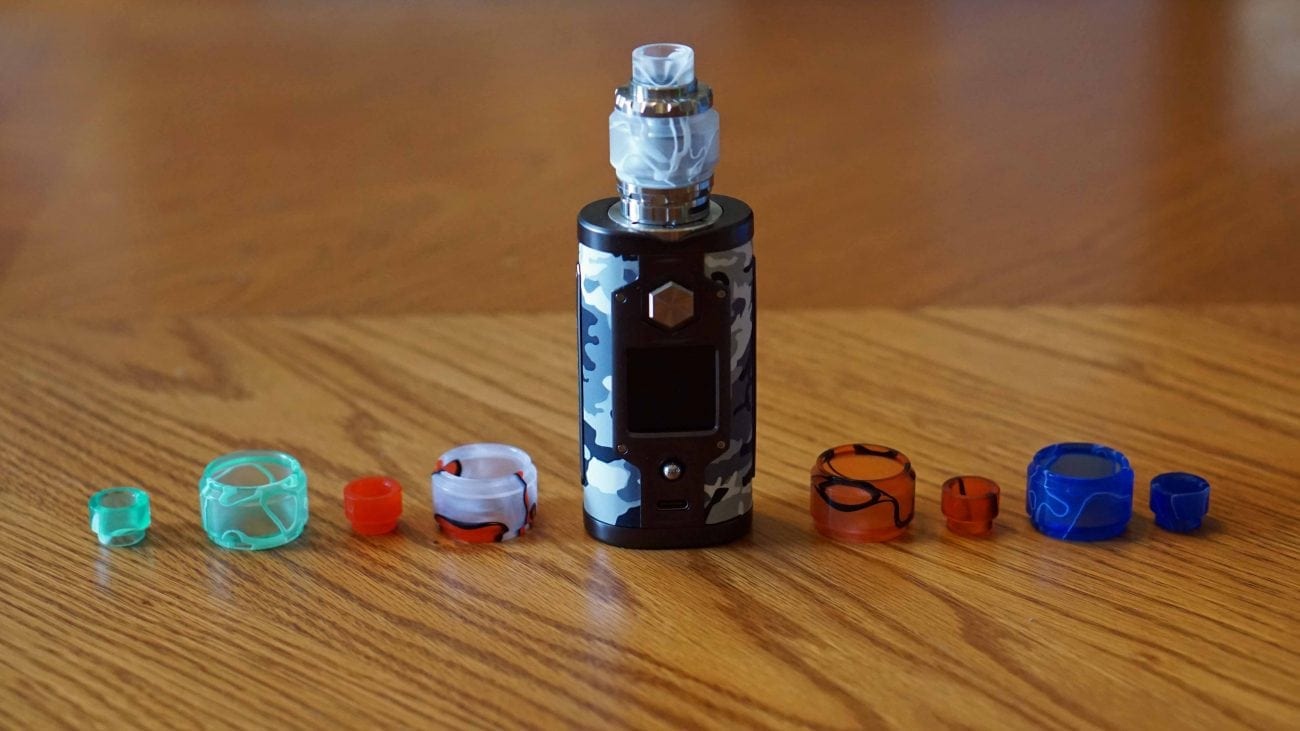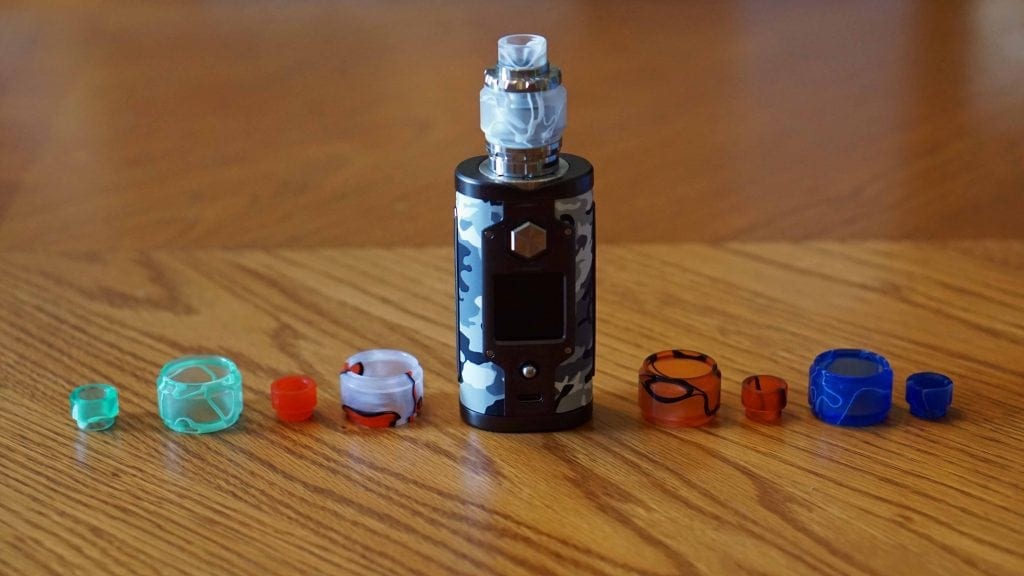 When it comes to how this accessory fits, it does fit the Kylin RTA perfectly. It's pretty much the perfect size, and it's not too loose or too tight once you have the entire tank assembled. This was a concern of mine at first since I've had experiences where a tank section wouldn't fit right on the tank it's for, but I was happy to see that all of the colors received fit the Kylin RTA with no issues whatsoever. In addition, they all look great on the Vandy Vape Kylin RTA and my favorite colors were White and Red since I had a mod to exactly match the color pattern of both.
Something else I do want to mention that with a taller tank section installed, you can expect a bit less of flavor; hence is why a lot of vapers choose a shorter and more compact profile when available and is probably one of the main reasons as to why these bubble tanks are so popular. This is the case with the Kylin RTA Resin Tube and Drip Tip Kit, you get the same great flavor from the short profile, but the e-liquid capacity of the taller tank section.
All in all, using the Vandy Vape Kylin RTA Resin Bubble Tank has been nothing, but great. I had no issues with the range of e-liquids I would use, and best of all they fit this tank pretty much perfectly.
Pros
Solid build quality
Wide range of colors available
Extends E-Liquid Capacity to 6ml
Fits the Kylin RTA with no issues
Includes matching drip tip
Cons
No standard bubble glass tank option available (Resin only – subjective)
Conclusion
In conclusion, this vape accessory does exactly what it's supposed to do, which is give you more e-liquid capacity, but keeping a short profile, and it does so with style due to its resin construction. What's great about this accessory is that it includes the resin bubble tank plus a matching drip tip, so you can easily match up your tank, drip tip and mod.
When it comes to cons, I didn't really have any. The only one I could think of is that the only option currently available is resin, and as mentioned before, some vapers simply don't enjoy how resin looks. It would've been great if there was a standard bubble glass tank option available, but for me, I'd certainly pick the resin version over it.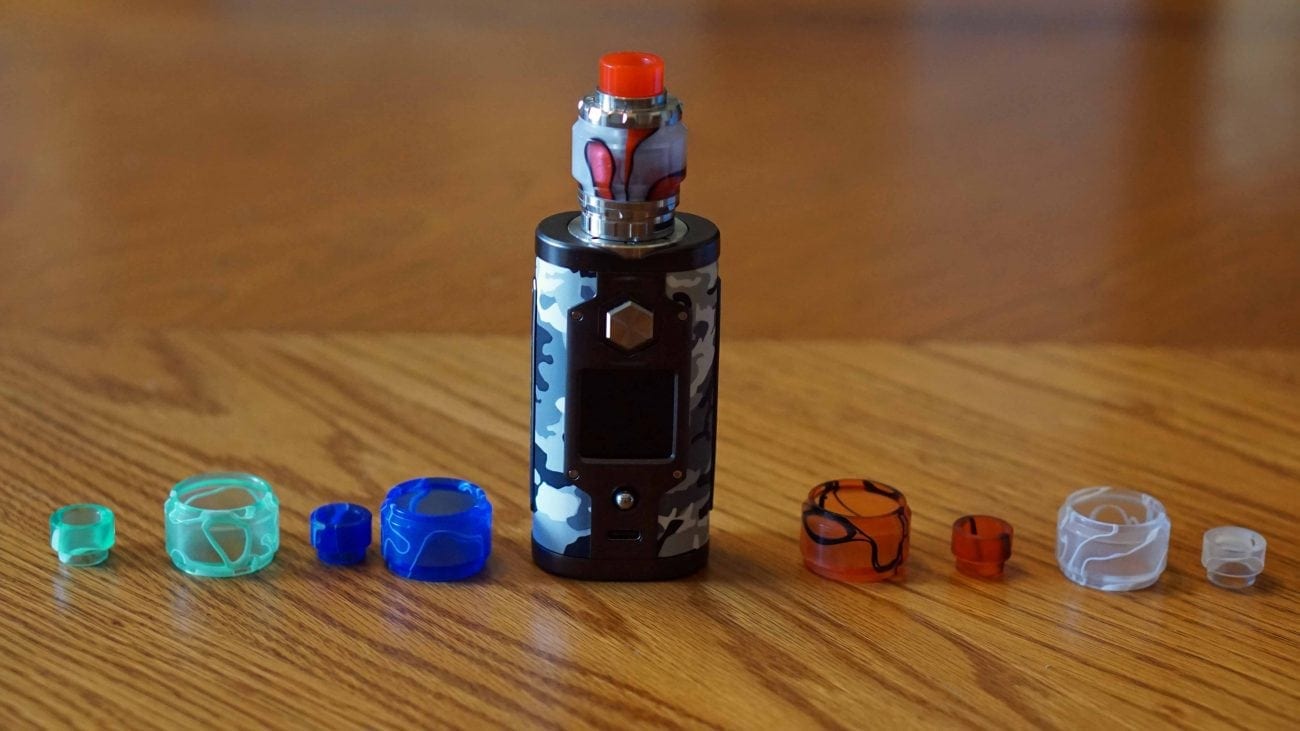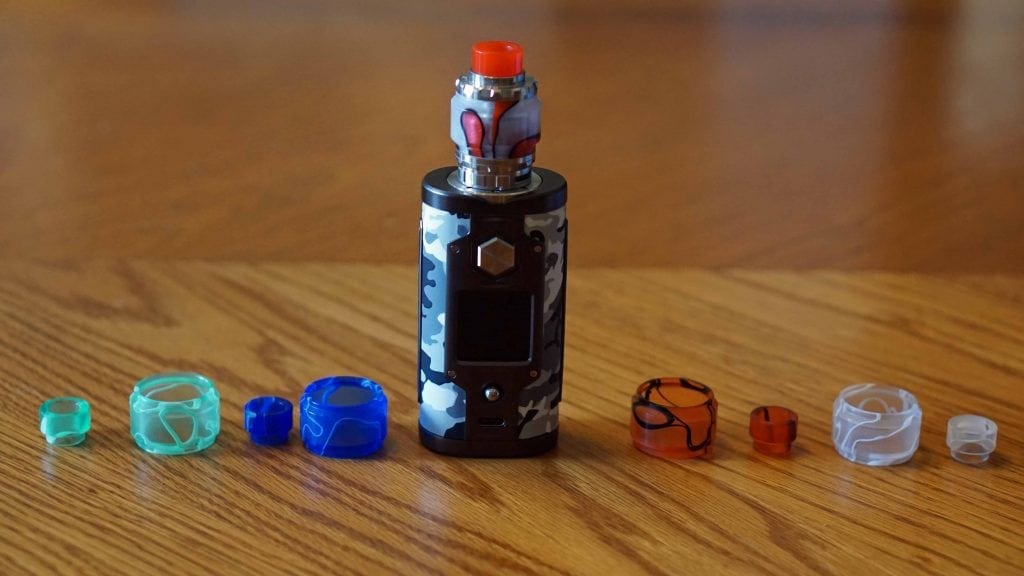 Overall, this is an excellent vape accessory for the vaper who owns a Vandy Vape Kylin RTA who wants more e-liquid capacity, but keep a shorter tank profile. If you don't own a Kylin RTA, and was put off by the small e-liquid capacity with its shorter profile, then this is something that might peak your interest in picking one up. Regardless, for the price, the Vandy Vape Kylin RTA Resin Tube and Drip Tip Kit provides immense value and is definitely recommended.
We hope you find this review helpful in finding the right vaping accessory to fit all of your vaping needs! Feel free to leave any questions or comments down below! Thanks for reading!
Product Features:
Resin Construction
Compatible with Vandy Vape Kylin RTA
Includes 6ml Capacity Resin Tank Tube & Resin Wide Bore Drip Tip
Colors Available: White, Red, Blue, Green, Orange, Dark Teal