Steam Crave Hadron 220w Mod $79.20 + FS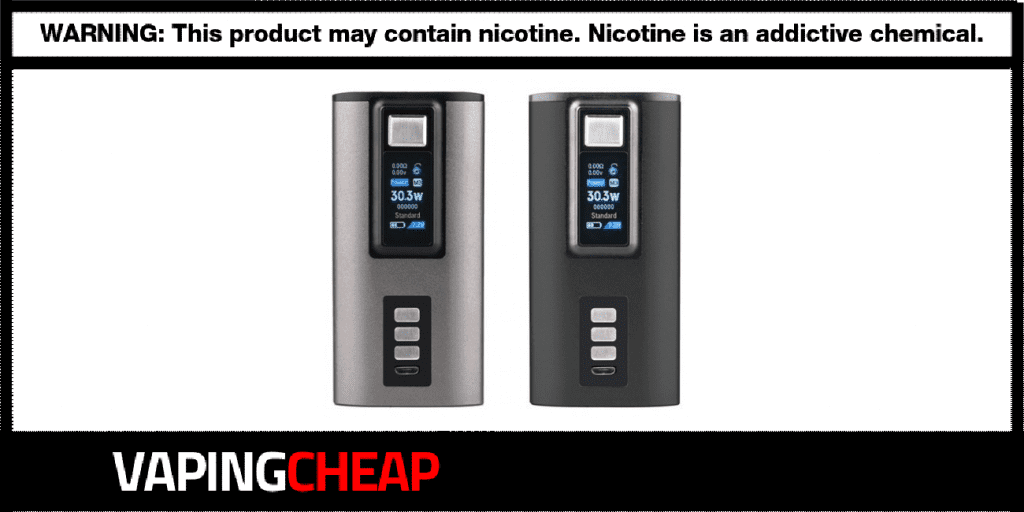 Here are cheap deals and discounts for the Steam Crave Hadron 220w Mod. Grab yourself one for just $79.20 plus free worldwide shipping when using code "vapingcheap". There are two colors available which are Gunmetal and Black.
The Steam Crave Hadron TC Box Mod features a custom YiHi SX490 chipset, and can deliver up to 220w of power. Additionally, there's little to no voltage drop, giving you the most, and accurate output wattage. What's even better is that it utilizes two high drain 21700 batteries! However, you're able to use two 18650 batteries if preferred with the included adapter.
On the front, you'll see it's huge color display screen, so it's easy to see all of the vaping information such as wattage setting, coil resistance, battery life, mode and more. Another pretty awesome option is that a squonk add-on will be available down the road, so you'll be able to turn this devie into a squonk mod.
When looking at the top of the Steam Crave Hadron Box Mod, you'll notice a centered 510 connection. It can support all of your larger atomizers with ease, up to 35mm to be exact. So, most, if not all atomizers you attach will look amazing. We'd say it'll be a great match for their Glaz V2 RTA that's for sure, since it's a rather larger tank. Lastly, as you'd expect with this vape mod, it does have temperature control. It's available for multiple wires, and you can customize it as well.
If you've been looking for a dual 21700 box mod that can fit your larger atomizers with no problems, then look no further than the Steam Crave Hadron. With its custom chipset and all of its features, you just cannot go wrong with this one.
Steam Crave Hadron TC Box Mod Features:
Powered By Custom YiHi SX490 Chipset
Requires 2 High Drain 21700 Batteries (Not Included)
Can Be Used With 18650 Batteries (With Adapter)
Max Wattage Output: 220w
Maximum Voltage Output: 8v
Temperature Control (Ni200, Ti, SS)
Low Voltage Drop
High Quality Centered 510 Connection
Fits Atomizers Up To 35mm In Diameter
BF Add-On Coming Soon
Firmware Upgradeable
Color Options: Black, Gunmetal
What's Included
Steam Crave Hadron 220w Vape Mod
18650 Battery Sleeves
Micro USB Cable
User Manual
Check Out The Steam Crave Hadron 220 Review
More Great Vape Deals...
---
Hellvape Drop Dead RDA $18.56
Rebuildable Dripping Atomizer For a limited time only, the new Hellvape Drop Dead RDA is now back in stock and on sale right[...]