SnowWolf P50 Pod System Kit $13.75 (USA)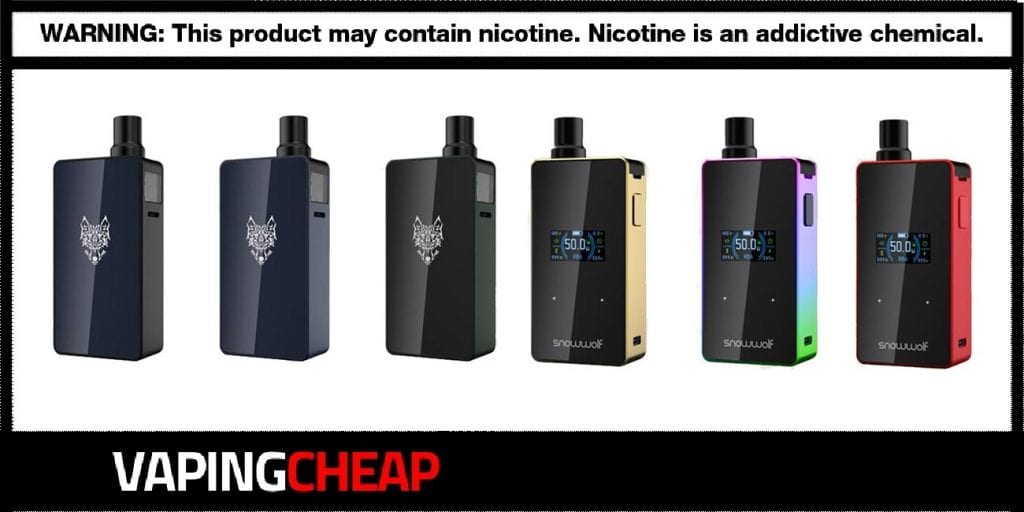 The new SnowWolf P50 Pod System Kit is now in stock and on sale from a USA based shipper for only $13.75. You'll also get free shipping if your order total is over $75. It's also available from a China based store for $39.99. There's six color options available including Black, Rose Red, Gold and more.
SnowWolf's new P50 Pod Mod Kit utilizes a large internal 1250mAh battery. It's also powered by the IFV960 Smart Chip. What's great about this chipset is that it automatically detects which coil you install inside the pod cartridge. The P50 pod device has a couple different firing modes as well such as Intelligent Constant Power Output, Gradient Power Output. Another great feature is the max wattage output, 50w!
It also has a maximum voltage output of 4.0v and can support coils down to a 0,25 ohm. There are some similarities to their previous release, the SnowWolf Taze Pod Kit. However, there's one major difference, and that's the touchscreen display. This makes it incredibly easy to navigate, and pays homage to their most popular mod, the SnowWolf Mod.
SnowWolf's P50 Pod Vape Kit includes one refillable pod cartridge in the box. It holds a maximum e-juice capacity of 4.5ml and can be filled from the side. Furthermore, it also features an adjustable airflow system. You'll also get two of the Taze-B coils, each have a 0.6 ohm resistance, and vapes great up to 25w. The best part is that the SnowWolf P50 is compatible with the entire Taze coil family!
The SnowWolf P50 Pod System Kit is quite unique compared to other pod vapes. Not only does it have a huge built-in battery, and 50w output, but a touchscreen display! How awesome is that!
SnowWolf P50 50w Pod Mod Kit Features:
Internal 1250mAh battery
Powered by the IFV960 Smart Chip
Charged using a USB type-C cable
Maximum wattage output: 50w
Gradient Power Output and Intelligent Constant Power Output
Colored Touchscreen Display screen
Utilizes the P50 Refillable Pod Cartridge

Maximum e-juice capacity: 4.5ml
Side fill design
Adjustable Airflow design
Compatible with the Taze Coil Family
Optional RBA Section (Not Included)
Comes with 2 coil heads
What's Included:
SnowWolf P50 Pod System
Refillable Pod Cartridge
Two Taze-B 0.6 ohm coil heads
Drip Tip
USB Type-C Cable
510 Drip Tip
User Manual
Warranty Card