Smok Morph 2 Mod $26.99 | 230w Kit $39.99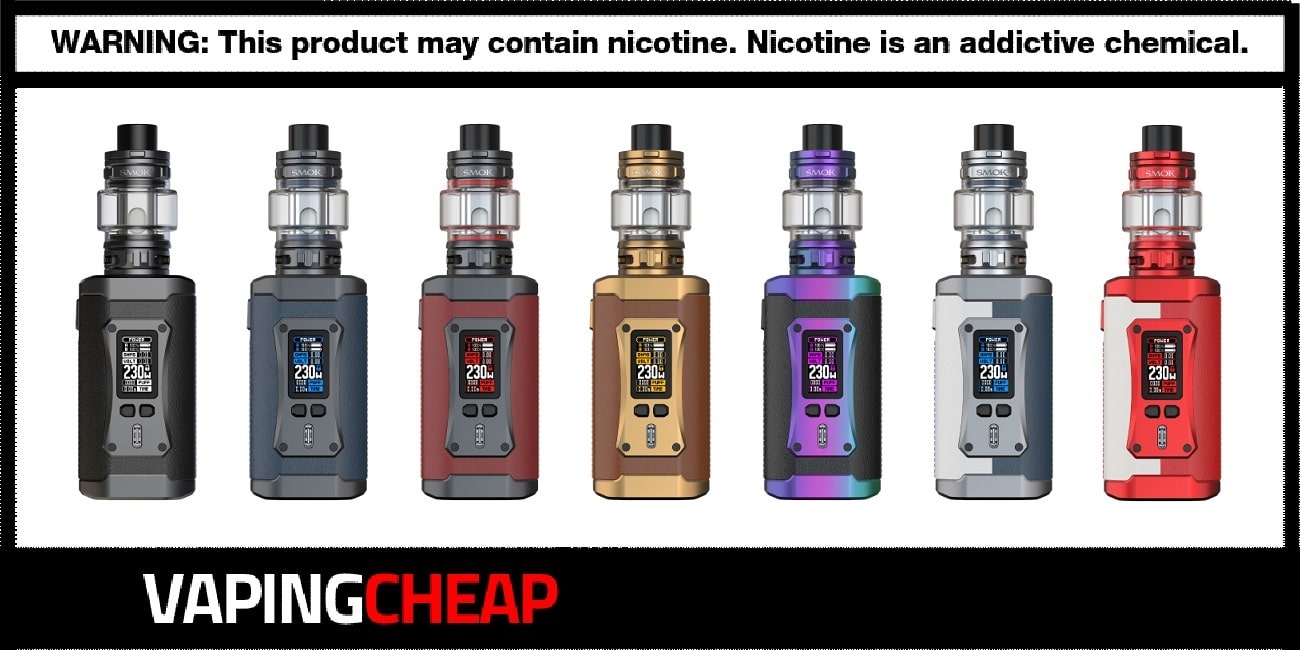 Here's some of the best discounts and sales you'll find on the Smok Morph 2 Mod. You can get yours for as cheap as $26.99. Get this discount by using the code "Morph2M". The starter kit is also on sale for only $39.99 when using the discount code "SM2K".
It's also available at a US shipper for $45.74 with coupon "Vapor25". There's a wide range of color options to choose from.
The Morph 2 by Smok is an update to the original, but boasts a new design. Like the original, it houses 2 high drain 18650 batteries, but delivers a maximum wattage output of 230w. That's more than enough power you'll need for pretty much any atty.
Now, since the Morph 2 box mod is powered by the IQ-S chipset, it offers an incredibly fast response time alongside a ton of different safety features. On top of that, you've got various user or firing modes.
Speaking of, like the previous Morph 219 Kit, you have wattage mode and temperature control. However, there is another user mode called adaptive power mode. What this specific mode does is automatically adjusts the wattage depending on the battery level. Another great feature has to be the huge front display screen.
If you opt in for the full 230w Kit, you will get the Smok TFV18 Tank. This large tank atomizer has an overall diameter of 31mm and can hold a maximum e-juice capacity of 7.5ml.
What's great about this tank is that it uses a sliding top fill design, making it super quick to fill. What else you'll get in the box of the Smok Morph 2 kit are two of the TFV18 meshed coils. One is the 0.33 ohm meshed coil and the other is the 0.15 ohm dual meshed coil. If you do use the dual mesh coil the e-juice capacity lowers to 6.5ml, which is still pretty good and more than most other attys on the market. Lastly, this tank features an adjustable bottom airflow system.
For you vapers looking for a powerful vape starter kit, then definitely check out this one. The Smok Morph 2 Kit or mod alone is a great choice for vapers either looking to upgrade their setup or simply want another to add to the collection.
Smok Morph 2 230w Starter Kit Features:
Smok Morph 2 Vape Mod

Requires two high drain 18650 batteries (Not Included)
Maximum wattage output: 230w
Powered by the IQ-S Chipset
Large display screen
Multiple user modes: Wattage, Temp control (Ni, Ti and SS wires) and Adaptive power mode
Tons of safety features
Three button layout

Smok TFV18 Sub Ohm Tank

Overall diameter: 31mm
Maximum e-juice capacity: 7.5ml
Sliding top fill
Adjustable bottom airflow
Compatible with the Smok TFV18 coils
What's Included:
Smok Morph 2 Mod
TFV18 Vape Tank
0.33 ohm Mesh Coil Head
Replacement Glass Tank
0.15 ohm Dual Mesh Coil Head
USB Type-C Cable
User Manual
Be sure to check out the Smok Morph 2 Kit review video