Vapefly Kriemhild Sub Ohm Tank $14.50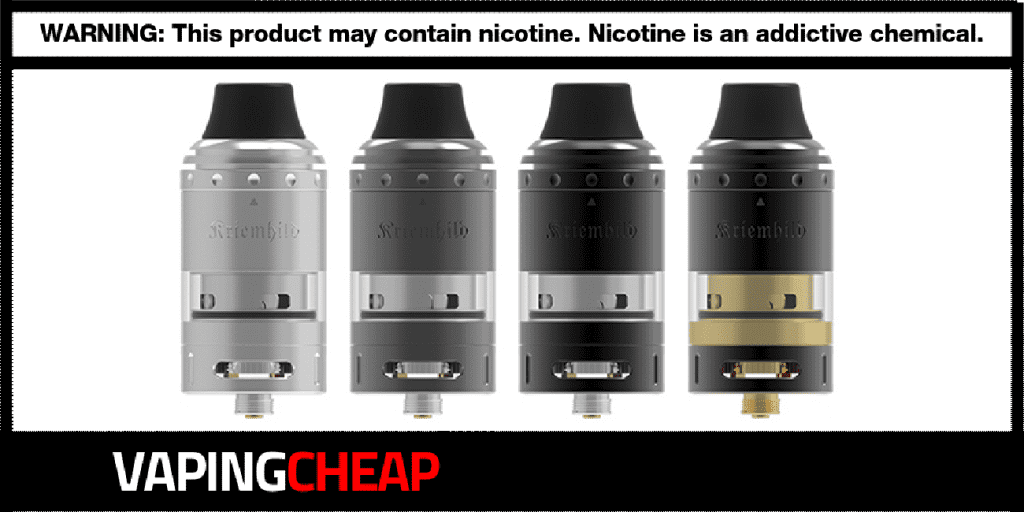 Here's a great deal and discount for the Vapefly Kriemhild Sub Ohm Tank in collaboration with German 103. Buy one for $14.50. No discount code required. It's also available from a USA based shipper for $15.20 with free shipping over $80 after the code "XMAS20". You can choose from three different color options including black, black/gold and gunmetal.
The Vapefly and German 103 Kriemhild Sub Ohm Tank sports an overall diameter of 26mm. With its wider diameter, it's definitely a great match for those larger vape mods for clouds. Since its a larger tank, it does have an e-liquid capacity of 5ml. Filling it can be done from the top, which makes it very easy to fill with your favorite e-liquids.
What's great about its top fill method is that it features a self-closing design, which covers the e-juice ports. This helps avoid any leaking from occurring when filling. Additionally, it comes pre-installed with an ergonomic delrin drip tip, which is not only comfortable on the lips. but heat resistant as well.
Another great feature is the fully adjustable bottom airflow. This style of airflow (in our opinion) for sub ohm tanks simply provide some of the best flavor. However, what makes the flavor that good is the actual coil heads that's compatible.
There's three different coils that's available. This includes a Ni80 0.2 ohm mesh coil, KA1 0.2 ohm dual mesh coil, and Ni80 0.15 ohm triple mesh. An optional RBA will also be available, so you can use your own coils as well. Coil installation is a breeze too, as the Vapefly Kriemhild vape tank features a simple plug and play installation.
All in all, the German 103 and Vapefly Kriemhild sub ohm tank looks to be like another winner. For you sub ohm tank fans, this one is definitely worth adding to your collection.
Vapefly x German 103 Kriemhild Tank Features:
Overall Diameter: 26mm
Height: 55.5mm (Including Drip Tip)
Maximum E-Liquid Capacity: 5ml
Sliding Top Fill Design

Self-Closing E-Juice Holes
Childproof
Changeable Silicone

Ergonomic 810 Delrin Drip Tip
Fully Adjustable Bottom Airflow
Compatible with Kriemhild Coils

Ni80 0.2 ohm Single Mesh (50w - 80w)
KA1 0.2 ohm Dual Mesh
Ni80 0.15 ohm Triple Mesh (50w - 80w)
Plug & Play Installation
Optional RBA

Stainless Steel & Glass Construction
What's Included
Vapefly Kriemhild Tank
Triple Mesh Coil (0.15 ohm)
Single Mesh Coil Pre-Installed (0.2 ohm)
Glass Tank Section
Spare O-Rings
Filling Port Silicone
Pole Silicone
User Manual
Check Out The Vapefly Kriemhild Tank Review
More Great Vape Deals...
---
Aspire Nautilus GT Kit $49.90
Here are cheap deals, discounts and sales for the Aspire Nautilus GT Kit in collaboration with Taifun. Buy one from[...]