Smok G-Priv 2 Kit Luxe Edition $35.99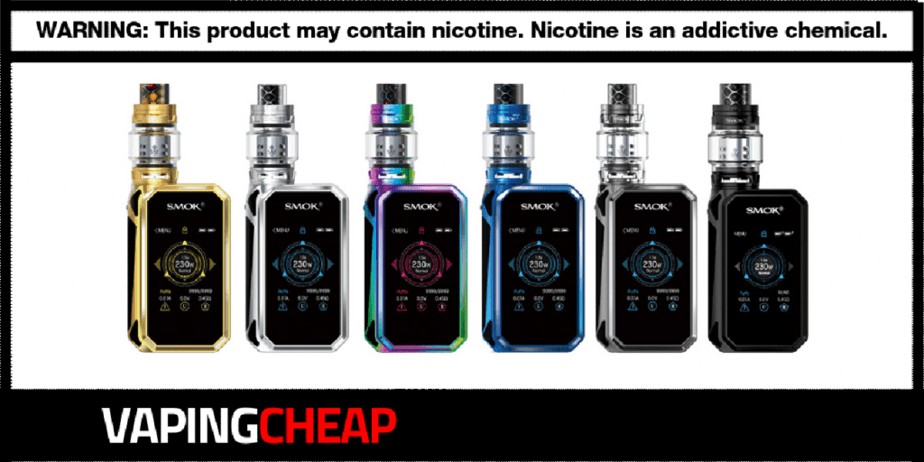 This awesome sale is back for the Smok G-Priv 2 Luxe Edition. The Smok G-Priv 2 is for sale at just $35.99 using code "GP2Lux". There are many unique color options for you to choose from including Chrome, Matte Black, Gold, Blue and more.
The Smok G-Priv 2 Kit Luxe Edition includes both the mod and TFV12 Prince Tank. Smok's G-Priv 2 Luxe Edition Mod is an upgraded version of the original, but keeps many similar unique features. Firstly, there's the large 2.0 inch touch screen display. It has an upgraded user interface (UI) making it easier to use. Additionally, there's a independent screen locking button, which is definitely a huge pro.
While it's not in use, simply lock the screen to not only avoid any accidental changes, but conserve battery life. Speaking of, it is powered by two high drain 18650 batteries, and has a maximum wattage output of 230w. Like many other vape mods, this one has temperature control for Ni200, Ti and SS.
The Smok TFV12 Prince Sub Ohm Tank sports an overall diameter of 28mm. Also, it has a maximum e-liquid capacity of 8ml. With that much capacity, you won't be needing to refill it often, that's for sure. Even when you have to fill it, it won't take long at all since it does have a top fill design.
Another great feature is the cobra resin wide bore drip tip. It's perfect for cloud chasing, and doesn't get hot while vaping at higher wattage settings. As with a lot of sub ohm tanks, the coils are what really makes the tank great. Included in the packaging, you'll get both the 0.4 ohm Quad Coil, and the 0.12 ohm Decuple Coil.
At just over $35, the Smok G-Priv 2 Luxe Edition is a complete steal. It has a ton of unique and innovative features, and comes with an awesome tank. For you vapers wanting the absolute newest release, check out the Smok G-Priv 3.
Smok G-Priv 2 Kit Luxe Edition Features:
Smok G-Priv 2 Luxe Edition Box Mod

Requires 2 High Drain 18650 Batteries (Not Included)
Max Wattage Output: 230w
2.0 Inch Touch Screen Display
Independent Screen Locking Button
Large Side Firing Bar
Zinc Alloy Construction
Ergonomic Design
Temperature Control (Ni200, Ti, SS)
Minimum Firing Resistance: 0.05 ohm (TC), 0.1 ohm (VW)

Smok TFV12 Prince Sub Ohm Tank

28mm Overall Diameter
Stainless Steel & Glass Construction
8ml Maximum E-Liquid Capacity
Top Fill Design
Fully Adjustable Bottom Airflow
Wide Bore Cobra Resin Drip Tip
Compatible with Smok Prince Coils
What's Included
Smok G-Priv 2 Vape Mod Luxe Edition
TFV12 Prince Tank
V12 Prince-Q4 0.4 ohm Coil (Pre-Installed)
Spare V12 Prince-T10 0.12 ohm Coil
Replacement Glass Tank Section
USB Cable
User Manual
Bag of Spares
Check Out The Smok G-Priv 2 Luxe Edition Review