Horizon Falcon 2 Sector Mesh Coils 3 Pack $9.14 + FS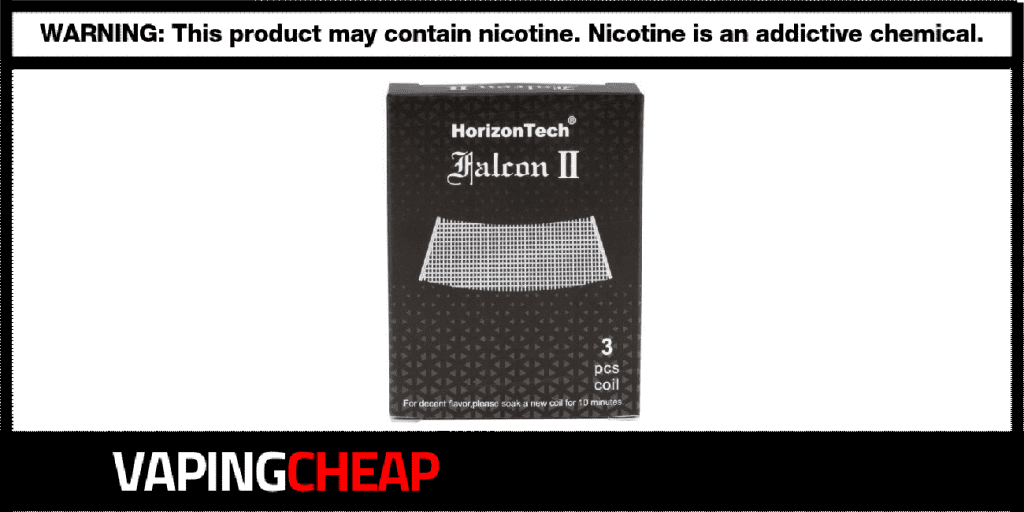 Here are discounts, and cheap prices for the Horizon Falcon 2 Sector Mesh Coils. Grab a 3 Pack for just $9.14 plus free worldwide shipping. It's back in stock at a USA based store for $13.95 plus free shipping over $50.
These replacement coil heads by Horizontech are designed for and compatible with the new Falcon 2 Tank. There's currently only one coil option available which is the 0.14 ohm mesh coil. Aside from the mesh, there is one other feature that makes it perform as well as it does.
That feature has to do with the actual wicking materials. The Horizon Falcon II Sector Mesh Coil features both organic cotton and wood pulp.
Another great feature of the Horizon Falcon 2 Sector Mesh Coils is the structure. With its tapered structure, it forms a bottom-up vapor compression path, making the flavor denser and the vape smoother. Additionally, the fan-woven shaped mesh heating wire inside of the Horizon Falcon 2 replacement coil head assists with providing that super smooth draw, and dense flavor production.
If you're in need of cheap Horizon Falcon 2 II Sector Mesh Coils, then you'll definitely want to grab a few packs. They offer amazing performance for both flavor and vapor, and certainly last long than traditional coils.
Horizon Falcon 2 Replacement Coil Features:
Pack of 3 Coil Heads
Compatible with Horizon Falcon 2 Tank
0.14 ohm Coil Resistance
Fan-Woven Mesh Heating Wire
Tapered Coil Structure
Smooth Vapor & Dense Flavor
Wicked With Organic Cotton & Wood Pulp
Wattage Range: 70w - 75w