Oumier Wasp Nano RDA from Ave40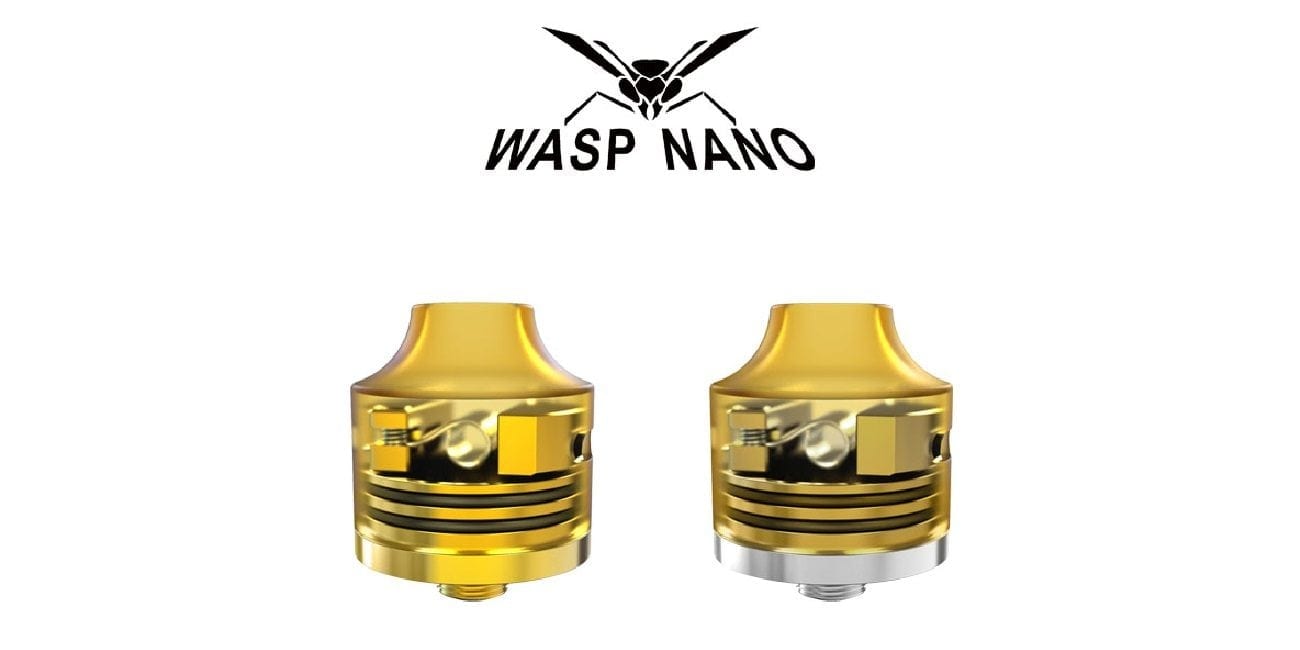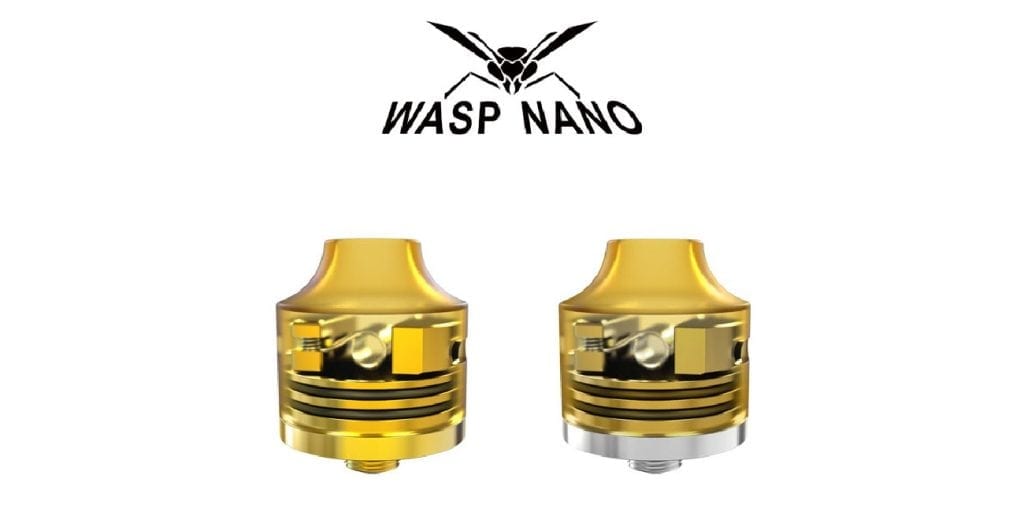 Rebuildable Dripping Atomizer
The Oumier Wasp Nano RDA is a 22mm atomizer that features a compact design. The overall height is only 22.5mm, so you can only imagine how tiny this RDA is! It does include an Ultem top cap, which certainly gives it an eye appealing look, and keeps the heat off of your lips when vaping at higher wattages! The top cap is a one piece design, but you can insert your favorite 510 drip tips into the top cap if desired. Included with the Wasp Nano RDA you do receive the atomizer itself, a bag of spare parts and a pack of organic cotton. The colors available for purchase include Pearl White, Black, Silver and Gold.
What makes this atomizer so great is that it is designed for flavor, and it does include a squonk pin (BF pin), so you can use this RDA on all of your squonk box mods! The juice well is quite deep, especially when considering its size, so pairing this RDA with a squonker is a match made in heaven. Even when not using it with a squonker, you can easily drip right through the top cap due to its design.
Your coil is sitting right in the middle, and right under the drip tip section of your top cap. This further ensures excellent flavor! Even though this atomizer is on the smaller size, you still can fit some of your exotic coil builds in the Wasp Nano such as Fused Claptons, Aliens, Claptons, Staggerd Fused Claptons and more. Depending on how thick your coil build is, we recommend an inner diameter of 3mm or 2.5mm. With a standard Fused Clapton, you can easily fit a 3mm ID with no issues in this atomizer.
Building on the Oumier Wasp Nano is easy as well. Be sure when you are wrapping your coil to have each lead facing the opposite direction, and you can simply slide your lead into the post hole, and tighten them down. Like mentioned previously, you do have room to fit larger builds, and with the post hole size, it will easily trap your thicker wires.
Something else that makes this RDA unique is its fully adjustable airflow system. The airflow is aimed directly at your coils, and if you do lift your coils just a little higher, which is something we do recommend, the airflow will hit the bottom of your coil, which will yet again ensure great flavor. If you prefer to have the airflow hit the sides of your coil, you can easily do so by lowering your coil just a little once it is installed. The airflow itself is located in the post block, which is quite unique.
The airflow itself is fully adjustable, so no matter if you like an airy draw or tighter draw, this RDA has got you covered. Now, don't expect tons of airflow, but it is quite surprising how much airflow this atomizer does have when you consider its size. With a single coil build, you won't be needing a ton of airflow to cool down your vapor.
Speaking about its size, this is the perfect RDA to attach to your smaller devices to stealth vape! Since it is quite compact and 22mm diameter, it'll look great on all your smaller box mods and even good on your larger box mods! With single coil builds you won't need tons of wattage to power them, so you'll be experiencing extended battery life with any of your vape mods.
The Oumier Wasp Nano RDA is an excellent flavor chasing RDA that offering a unique airflow, and is easy to build on. With its included squonk pin, you can use this atomizer with all of your squonk box mods, which is a huge pro! If you're into flavor chasing and looking for a compact 22mm RDA, then the Wasp Nano is definitely something worth considering, especially since it's under $20!
Product Features:
22mm Base Diameter
Height: 22.5mm
Compact Design
Single Coil Build Deck
Gold Plated or Stainless Steel Build Deck
Easy to Build & Wick
Includes Squonk 510 Pin to use with Bottom Feeder/Squonk Box Mods
Ultem Top Cap
Compatible with 510 Drip Tips
Fully adjustable side airflow
Includes Bag of Spare Parts & Organic Cotton
Colors Available for Purchase: Pearl White, Black, Silver, White