Om Vapors Nic Salt Review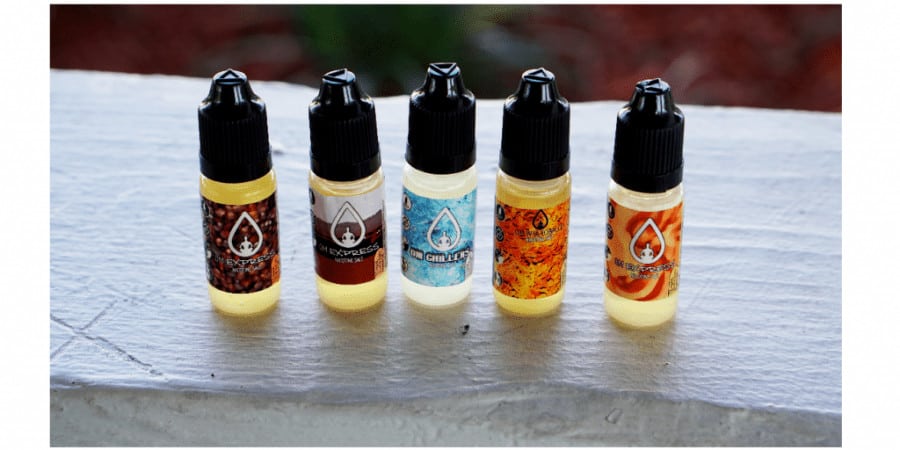 For years now, Om Vapors have become a favorite for many vapers when they're looking for quality e-juice at an affordable price. With the popularity spike of nicotine salts, many vapers old and new sought after these types of vape juices as they provide nicotine satisfaction. Not to mention, they work perfectly in mouth to lung setups, which has become a trend yet again. Sticking to their roots, Om Vapors has now released their own nic salt line, but keeps their affordable price tag to ensure vapers can enjoy quality e-liquids without breaking the bank. With that being said, in our Om Vapors Nic Salt Review, we'll be giving you our full thoughts on multiple flavors you can buy today.
However, before going into this review, it's important to note that these are higher milligram nicotine salt e-liquids; therefore they are to be vaped with lower wattage systems. Devices such as pod vapes or mouth to lung tanks are ideal for this type of vape juice. We do not recommend sub ohming, or using any sub ohm device with any higher strength nicotine salts.

Also, let's cover pricing, options and availability. When it comes to prices, you know Om Vapors offer some of the best cheap e-juices on the market, and the same can be said for these new nic salt flavors. 10ml bottles will only cost you $1.99 per bottle, allowing you to sample multiple flavors at one super low price. Additionally, each nic salt flavor is offered in 12mg, 24mg and 48mg in both regular nicotine salts, and WTA nic salts. All of the flavors reviewed are available now. If you don't enjoy nic salts, and prefer regular freebase nicotine vape juices, then definitely check out our previous Om Vapors Review.
Remember, taste is subjective! What flavors you might enjoy other vapers may not, and other flavors you don't enjoy others vapers may.
Om Vapors Salt Nic EJuice Review
Om Vapors Sub Zero Nic Salt Review
Flavor Description: Mint and Menthol

VG/PG Blend: 60VG/40PG

Nicotine Strength Tested: 12mg Salt Nic
By reading the flavor name "Sub Zero", you can pretty much expect what kind of e-liquid this is. If you guessed mint or menthol, then you're absolutely right. It's a straightforward mint and menthol blend that's not too cool, but cool enough to satisfy you vapers who enjoy that type of vape experience. It's definitely a good thing in my opinion that it's not too icy or cold as you vape it, as sometimes too much menthol can be overwhelming, and even unbearable at times.

With that being covered, on the inhale Sub Zero by Om Vapors, you'll get a nice, and refreshing blast of menthol. As you exhale, you get a superb blend of mint and menthol. Now, you might wonder if there's a difference between the two, and I will say there is. You can actually taste both the mint, and menthol flavoring as you exhale. It's almost like a 50/50 blend between the two, as they're both equal in taste. One doesn't overpower the other, and it's just a really great tasting mixture. Who knew mint and menthol would taste so good together?

Moving onto throat hit. There was a slight throat hit, but it's very smooth and to be expected. I tested this flavor in a 12mg nicotine salt, which is my preference. You do get that nicotine satisfaction as well, so there's no worries there. I'd say there nicotine is definitely good quality.

Overall, I definitely enjoyed Om Vapors Sub Zero Nic Salt. Like mentioned earlier, it's a fantastic blend of mint and menthol, and has just the right amount of "cooling". If you like these kind of flavors or any type of menthol e-juices really, I'd definitely recommend giving this one a go. I doubt you'd be disappointed. Check out our video review down below for our first impressions of this flavor, and some others they have available.
Om Vapors Smooth Salt Nic Review
Flavor Description: Bourbon, Vanilla, and Tobacco

VG/PG Blend: 60VG/40PG

Nicotine Strength Tested: 12mg
Unlike the previous flavor reviewed, this one you can't really guess what kind of flavor it is by the name. With that being said, Om Vapors Smooth Nic Salt is a blend of Bourbon, Vanilla and Tobacco flavorings. To start, I'll say you tobacco lovers are definitely going to enjoy this one.

On the inhale of this vape juice, you get mostly a mixture of bourbon and tobacco. However, when you exhale, you get the bourbon, and tobacco with background notes of vanilla. The vanilla flavoring does give it a bit of creaminess, which I personally enjoy. You still mostly get that tobacco and bourbon up in the front of the exhale though.

Honestly, I feel that the extra creamy notes you get helps round out the tobacco flavor, while the bourbon gives it an added touch of boldness. Typically, you'll see many tobacco e-juice flavors mixed with different custards, vanillas or rum. Not all of them are as tasty as this one though. I think Om Vapors did an excellent job balancing these three flavor notes. Their vanilla flavoring really helps round out the entire vape experience, and makes it that much more enjoyable in my experience.

When it comes to nicotine strength, this one was also tested in 12mg. However, Om Vapors does offer WTA nicotine options as well for Smooth. If you enjoy a stronger throat hit, then you'll want to give this a shot. It still remains quite smooth, but it noticeably more throaty than their regular nicotine salts. Regardless, this flavor was smooth as 12mg, just like its name. There was no harshness whatsoever, and was enjoyable.

I'm not the biggest fan of tobacco flavored vape juices, but I did like this one more than expected. It's not my favorite out of the bunch due to my preference, but it was still good. Like said before, I do think vapers who like tobacco vapes will thoroughly enjoy this one. If you're that vaper, then you'll want to grab yourself of bottle of Om Vapors Smooth Salt Nic.
Om Vapors Budino Nic Salt Review
Flavor Description: Vanilla Pudding, Butterscotch, Caramel, Cookie, and a touch of Cinnamon

VG/PG Blend: 60VG/40PG

Nicotine Strength Tested: 12mg
Budino Nic Salt by Om Vapors is described as a mixture of vanilla pudding, butterscotch, caramel, cookie and finished off with a hint of cinnamon. That's a whole lot of flavors, and I will say up front you won't necessarily taste every flavor note, but you will pick apart certain flavors for sure.

On the inhale, I mostly taste vanilla, and caramel. As you exhale, you do get a mixture of flavors mentioned in the actual description. When it comes to the dominant flavors in this vape, you mostly get that vanilla pudding, caramel, and butterscotch. You do get background notes as well of cookies, but a very faint hint of cinnamon on the exhale to round everything out.

The overall vape is quite creamy, which is something I do enjoy quite a bit. I'd say this is thanks to the vanilla pudding, caramel and butterscotch. The cookie flavor is not the most prominent, but you do get this flavor hovering in the background, but in the forefront of the background notes. Budino is relatively complex as there's a lot of different flavor notes, but you can clearly taste what they're going after which is an Italian Butterscotch Pudding. So when it comes to flavor description, and accuracy, I'd rate this one highly.

Let's cover nicotine, and whether or not it was smooth. Om Vapors Budino Salt Nic is just as smooth, if not just a bit smoother than the previous two flavors. There's no harshness nor any burning or stinging when exhaling through your nose, which is always a pro in our book.

All in all, if you're a fan of dessert flavors, you'd definitely enjoy Budino Nic Salt. It's a very smooth vape, relatively complex yet you're able to taste the main flavor notes to match the description they were going for. This Om Vapors flavor is one of my personal favorites when it comes to their nicotine salts.
Om Vapors The Legend Nic Salt Review
Flavor Description: Peanut Butter, Chocolate and Ice Cream

VG/PG Blend: 60VG/40PG

Nicotine Strength Tested: 12mg
Peanut Butter vapes are kind of a hit or miss in my experience. Sometimes they come off as dry tasting. Thankfully, Om Vapors nailed this flavor, and it's pretty accurate to the flavor description. Speaking of, Om Vapors The Legend Nic Salt is a sweet blend of peanut butter, chocolate and ice cream.

These two flavor notes, peanut butter and chocolate are quite strong, but in this blend, they complement each other. They're definitely the two primary notes throughout the vape experience, but I'd say the peanut butter flavor note is a bit more dominant. With that being covered, on the inhale you'll mostly get peanut butter with a faint hint of chocolate. As you exhale is where The Legend shines, and comes together perfectly. You get a sweet, and cream peanut butter and chocolate mixture.

Now, on the bottle, it does say that this is a peanut butter chocolate milkshake vape, and I will say that's pretty much what it tastes like. The ice cream flavor really ties the two together, and brings forth this creaminess that's simply delicious. It's not overly sweet though, as Om Vapors is known for not adding any additional sweeteners to their vape juices. The Legend is just sweet enough to satisfy my sweet tooth, and I thoroughly enjoyed this vape.

Throat hit on this e-liquid is also very smooth. Since their other nic salt flavors are so smooth, I didn't expect any less. Like Om Vapors Smooth Tobacco, this one is available in WTA nicotine strength options, so if you wanted a stronger throat hit from this flavor, you sure can get it.

This is yet another awesome dessert flavor from our Om Vapors Nic Salt EJuice Review. It's masterfully blended, and really captures that milkshake flavor note, bringing together an authentic, and flavorful vape experience. If you enjoy desserts, peanut butter or creamy e-liquids, then The Legend by Om Vapors is a must try.
Om Vapors Cafe #7 Salt Nic Review
Flavor Description: Coffee, Caramel, Milk, and Cream

VG/PG Blend: 60VG/40PG

Nicotine Strength Tested: 12mg
Cafe #7 Nic Salt by Om Vapors has a few flavor notes to bring together a unique and tasty coffee vape. There's, of course, coffee, caramel, milk and cream. However, for the actual description, it's described as a Cappuccino with light cream and caramel. Either way, it's definitely a coffee flavor, and it's by far the most dominant flavor note you'll get from this vape juice.

On both the inhale, and exhale you do get an authentic coffee taste, that does kind of resemble a cappuccino. It does taste pretty good, although it is quite a bold flavor, and something I would consider as niche. Where this flavor does shine is the exhale. In the background of the coffee flavor, you do get hints of caramel, and it is on the creamy side. The caramel flavoring does a good job on rounding out the bold coffee, and adds a bit of sweetness that's needed in my opinion.

When it comes to creamy e-liquids, Om Vapors really does a great job, and this is yet another great example of that. You don't really get much of a milk taste though as mentioned in the flavor description. This may be a good or bad thing depending on what you enjoy. Personally, that didn't bother me much as I found the overall creaminess pretty much perfect for this e-juice.

For throat hit, Om Vapors Cafe #7 Nic Salt was super smooth at the 12mg tested. This specific flavor is not available in WTA nicotine strengths, but you still can opt for a 48mg if desired. There's zero harshness on this vape juice, and no burning or stinging.

Something I do want to mention with this flavor is that I much preferred it in an MTL RTA. I found that the flavor notes came out a bit more, but that's subjective. Regardless, it's something worth mentioning. For you coffee fanatics, you'll love this e-liquid. Cafe #7 is a smooth, and creamy coffee vape flavor that's done right.
Om Vapors Nicotine Salt Review Conclusion
In conclusion, the Om Vapors Salt Nic e-juice line is top notch. You'll get both tasty, and super smooth vape juices that's affordable. They've checked all the boxes when it comes to overall quality in nicotine, flavor accuracy, taste, and satisfaction. For the money, it's some of the best nicotine salt vape juices you can get.

All of the flavors in this review were enjoyable, but there were a couple that stood out to me. These were Budino, The Legend and Cafe #7. I personally enjoy dessert flavors, and these were just awesome. However, the tobacco and menthol mint flavor were pretty solid, and I honestly enjoyed both of them more than I originally thought I would. This is especially true with Sub Zero, the mint and menthol blend.

We hope you enjoyed our Om Vapors Nic Salt Review. If you're looking for some tasty salt nic vape juice at a cheap price, then we highly recommend checking these guys out. Let us know if you enjoy nic salts, and what, if any, are your favorite nic salt e-liquids. Thanks for reading!