Tesla Nano 120w Steampunk Review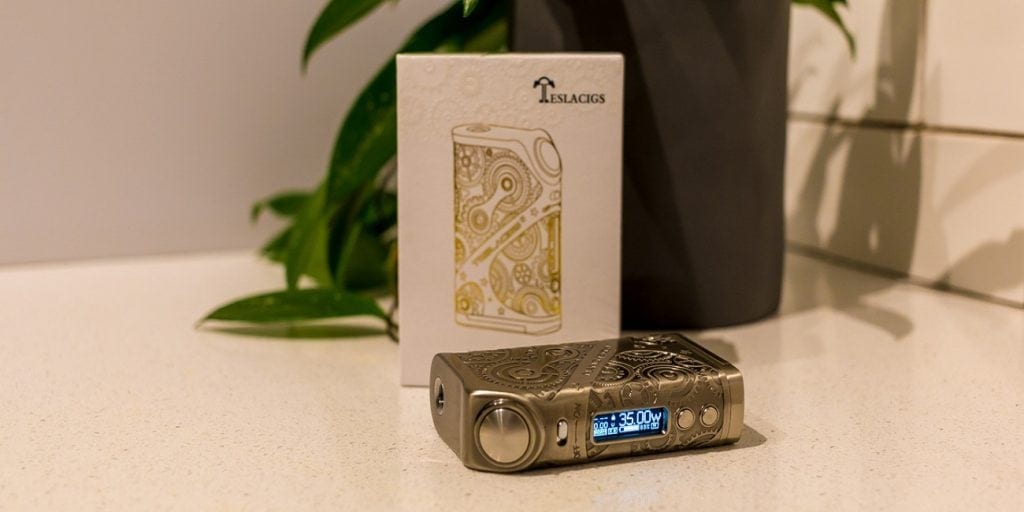 Tesla Nano 120w Steampunk Review
Steampunk (noun) is a genre of science fiction that has a historical setting and typically features steam-powered machinery rather than advanced technology. Tesla is back with the latest contender in their Steampunk styled line of Nano mods.
The Tesla Nano 120w Steampunk Mod is a dual 18650 box mod that is engineered out of a single block of zinc alloy. The mod features a slew of settings including temperature control and has a physical on/off button, which is almost unheard of these days. We would like to thank GearBest for sending the Tesla Nano 120w Steampunk Mod to us for the purposes of this article.
What's in the box?
Tesla Nano 120w
USB Cable
User Manual
Out of the box
I have to say that the packaging the Steampunk Nano comes in is stunning. I'm a sucker for good packaging and this one is exquisite. Really well constructed with a nice embossed patterning on it. Tesla has lived up their standard on delivering packaging on this one. A snug fit inside a nice foam frame and wrapped in a protective sheet as well. This mod will certainly hold up to transit and not get damaged at all.
I received the black Tesla Nano 120w Steampunk Mod, however I would say that it looks more gunmetal to me or a faded black at a stretch. It does look breathtaking though, really premium. Not only does it look the goods, but it also feels premium in the hand. Through the weightiness of the mod and it's lovely build quality, you can just feel quality from the start.
The operating face of the Tesla Nano 120w Steampunk Mod has an over-sized fire button which feels super clicky and really nice to use. It is a satisfying button press and the angled fire button does not rattle at all. There is a manual on/off slide button, which I think is a great inclusion on this mod. We do not often see a dedicated power button on mods anymore and I'm really impressed with it.
The 0.91 inch OLED screen is the perfect size and displays everything you could need to know about your setup. Below the screen are the +/- selector buttons. These are nice and clicky as well, however there is a small amount of rattle to them. Not something that puts me off this mod at all, but is there none the less.
On the bottom, the battery door is super solid and very practical. It slides out to unlock without much effort and once it's locked in place it aint moving anywhere. This exposes the battery tray which is clearly marked in terms of battery orientation. The top of the mod houses the 510 connection, which is plenty deep enough and nice and springy.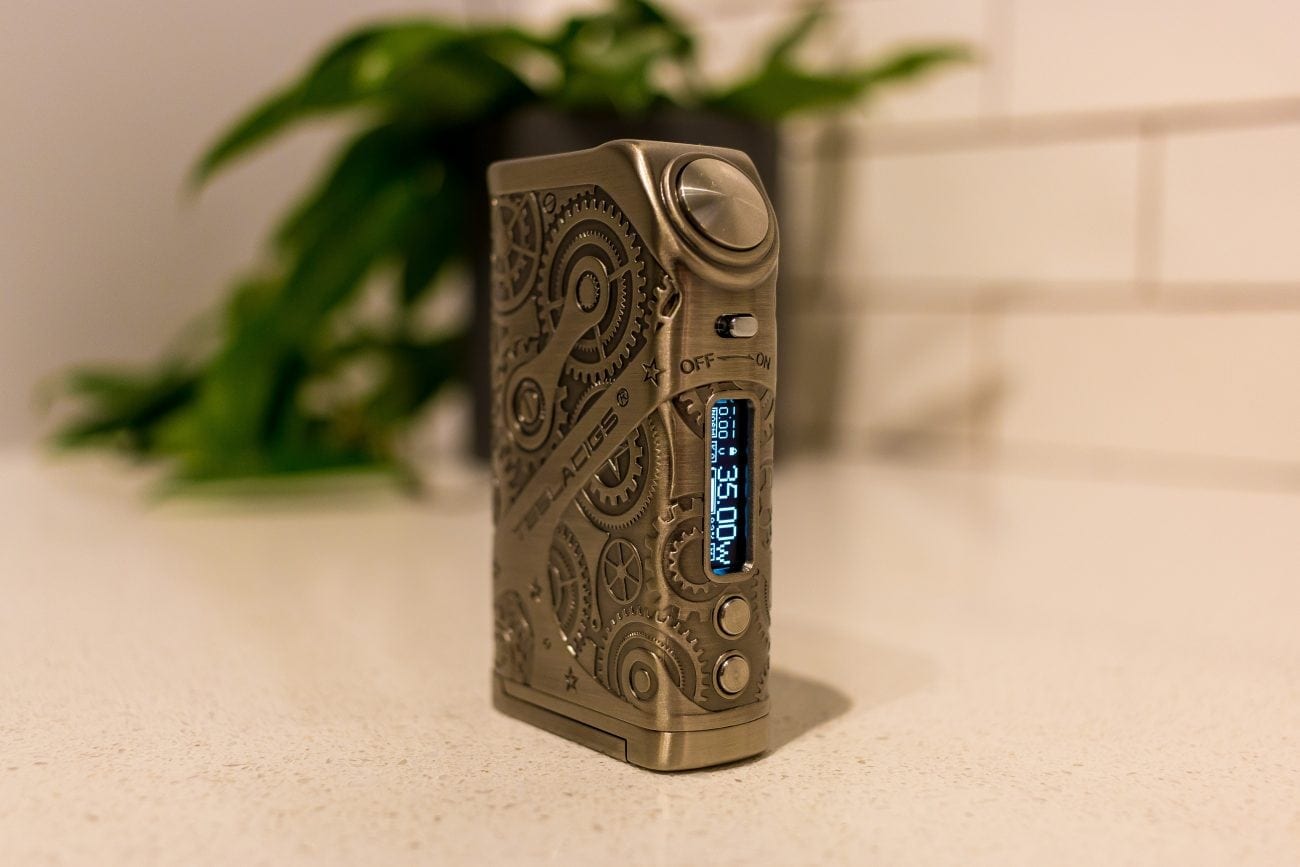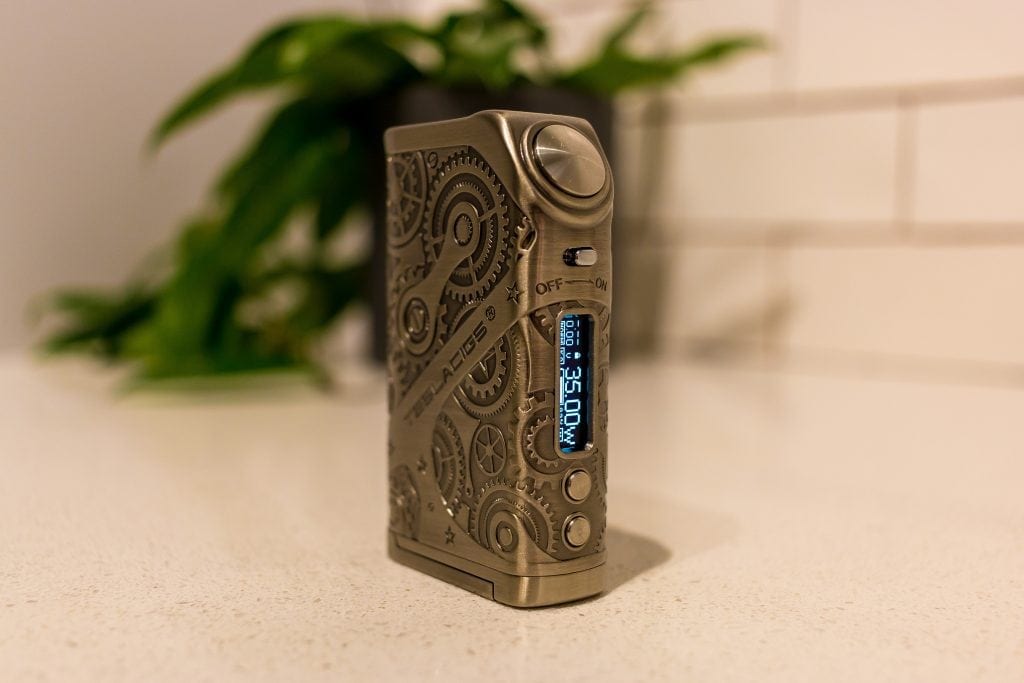 The threads are super smooth and they guide your attys down flush every time without any visible gaps present. The top of the 510 is contoured down to ensure your atty glides right into position every time. A nice touch there in my book.
Don't look for a USB connection because this guy does not have one. You will need to supply two of your own 18650 batteries and the charger to go with them. If you are taking this mod out with you, then make sure you have enough charge to last or take a spare pair with you. You can't top this one up on the go unfortunately. This could obviously be a subjective con to some, however I prefer to charge my 18650 batteries on a dedicated charger and know that they are getting looked after properly.
Overall, I am super impressed with this mod already and I haven't even fired it up. The build quality and finish is second to none and I can feel that this is going to be a quality unit.
Usage
To install the batteries, slide the battery door to the unlocked position and it will spring open revealing the battery tray. The battery orientation is clearly marked and each battery is installed top to tail. Slide the battery door closed to lock the batteries in safely. I forgot to mention that there is absolutely no battery rattle in the Tesla Nano 120w Steampunk Mod which is a definite pro for me. It is recommended use a married pair of batteries in this mod that are the same age and brand. For more information and to refresh yourself on battery safety, please refer to our article.
To turn on the mod, simply slide the dedicated power button over to the ON position. The screen will illuminate showing the Teslacigs logo. Once your done vaping to turn the mod off, simply do the opposite and turn the power switch to the off position. I love the simplicity of this and the fact that you have a physical confirmation of the power state is really helpful for me.
I'm always double checking my mods to ensure that I've clicked them 5 times effectively and if it is in fact powered off in my pocket. This issue is non-existent with the Steampunk Nano. Winning!
The menu system is very simple to use and I have to say I am impressed with the ease of use here. Three quick clicks on the fire button gives you a cursor on the screen. Use the +/- buttons to select any item on the screen and hit the fire button again to enter the sub menu for that item. Change the value of the item with the +/- buttons as desired and then fire again to confirm the selection. That's it.
No top level menu navigation or tricky button combinations to change things. Plus you get instantaneous confirmation of your selection from the on screen display. Hats off to Tesla for making a super simple process of programming the Steampunk Nano. Select something, change it, confirm it, vape it! It doesn't get much simpler than that.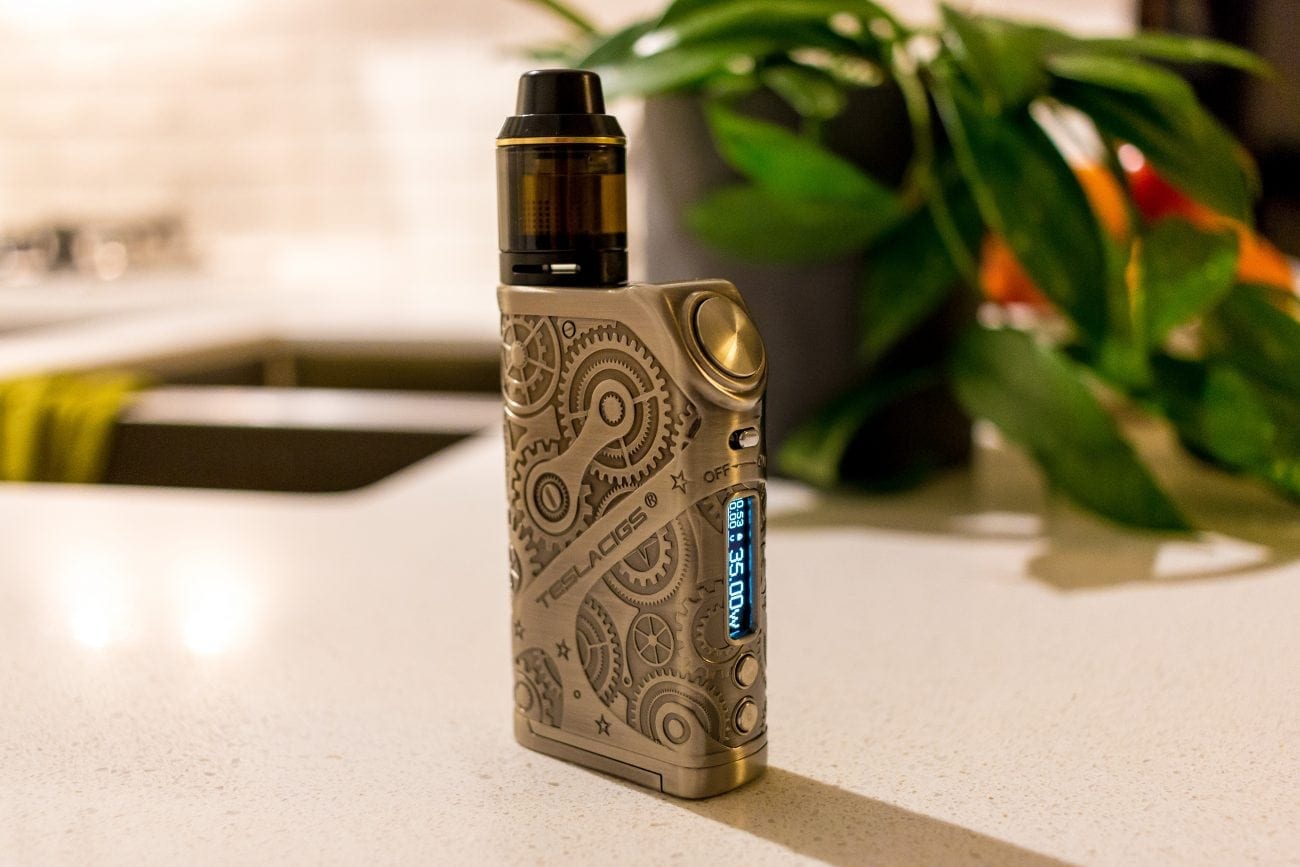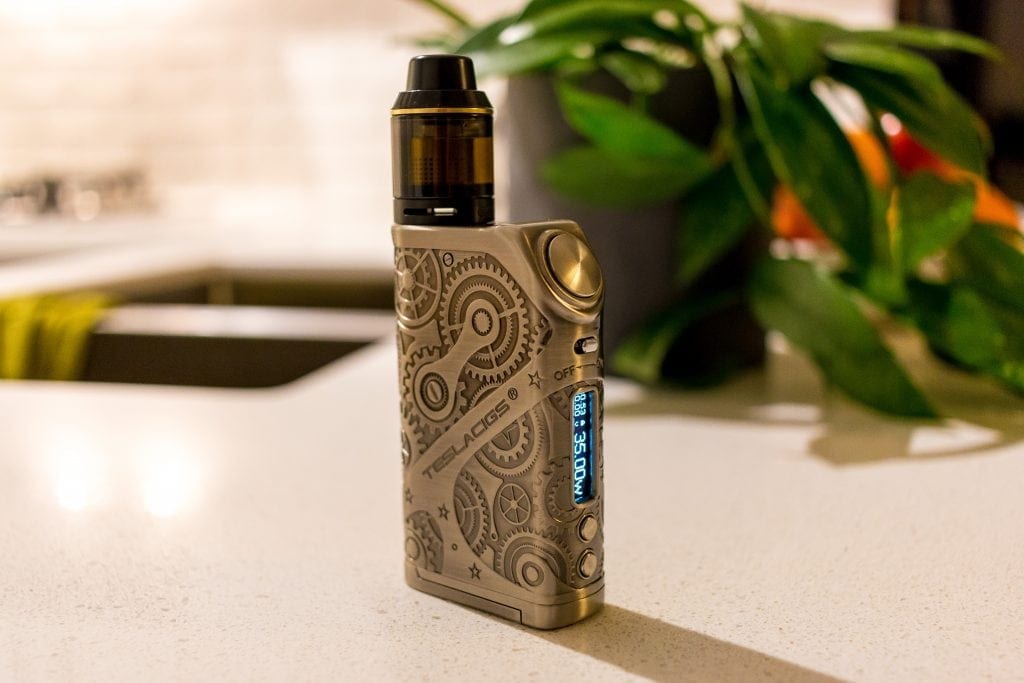 The menu options are Resistance setting, Resistance lock/unlock, Taste Mode, Output Mode, Version Information and Memory Mode. Taste mode gives you Normal, Soft, Hard and User options to chose from different heating ramps. User lets you create a custom curve for each second within the 10 second fire time according to your taste. Output mode gives you the options of Kanthal, Stainless, NI200, Ti or TCR profiles.
In a temperature control mode you also have the ability to change the watts as well as the temperature. Version information will give you some stats on hardware, software and product model. When you enter Memory mode, you have the ability to save and recall you own presets for the Tesla Nano 120w Steampunk Mod.
The wattage changes in 0.5 watt increments and if you hold down one of the selection button it will scroll rapidly through the range at speed. To lock the wattage or temperature, depending on which mode you are in, hold both the fire and down buttons until a confirmation is shown. And just do the same again to unlock. This obviously prevents inadvertently changing your settings.
There is slew of protection available on the Steampunk Nano. Over puffing protection will stop the mod from firing after 10 seconds – pretty obligatory inclusion here no surprises. Low-Voltage protection will show "Low Battery" on screen prompting you to charge or change the batteries. If no atomizer is connected, the screen will read "No Atomizer".
The device has internal controls to detect shorts and will also protect against Kanthal resistance below 0.1 ohm and TC resistance below 0.05 ohm. Automatic Power Adjust Protection will throttle the output of the mod depending on how much charge is left in the batteries when they are nearing depletion.
Performance
I have to say that this would probably have to be one of the most satisfying mods that I have used in terms of performance. Putting the Tesla Nano 120w Steampunk Mod through its paces with pretty much every atty I could throw at it – it took everything and just worked and worked and worked. From the TFV8 coils that go over 120 watts to the Asvape Cobra that likes around 30-40 watts. From single coil RDAs like the Pharorah Driptank with a super fancy coil build to a Limitless RDTA running fused claptons – the Steampunk Nano can handle it all with grace.
I get such a satisfying vape experience in both wattage and TC modes. I feel that the presets are all very accurate and work well with my temperature wires on both pre-built and home made coils. The mod delivers what it advertises and only seems to throttle down when the batteries are really near depletion.
When I compare it to my other mods, it stands up to the delivery of a high end DNA. It fires quickly and responsively straight to the coil and does not lag. It responds and acts accordingly to programming, that being ramp time, TCR or simple wattage and temperature adjustments. It passes the dry burn tests in TC mode, which provides me with confidence this device is a premium performer.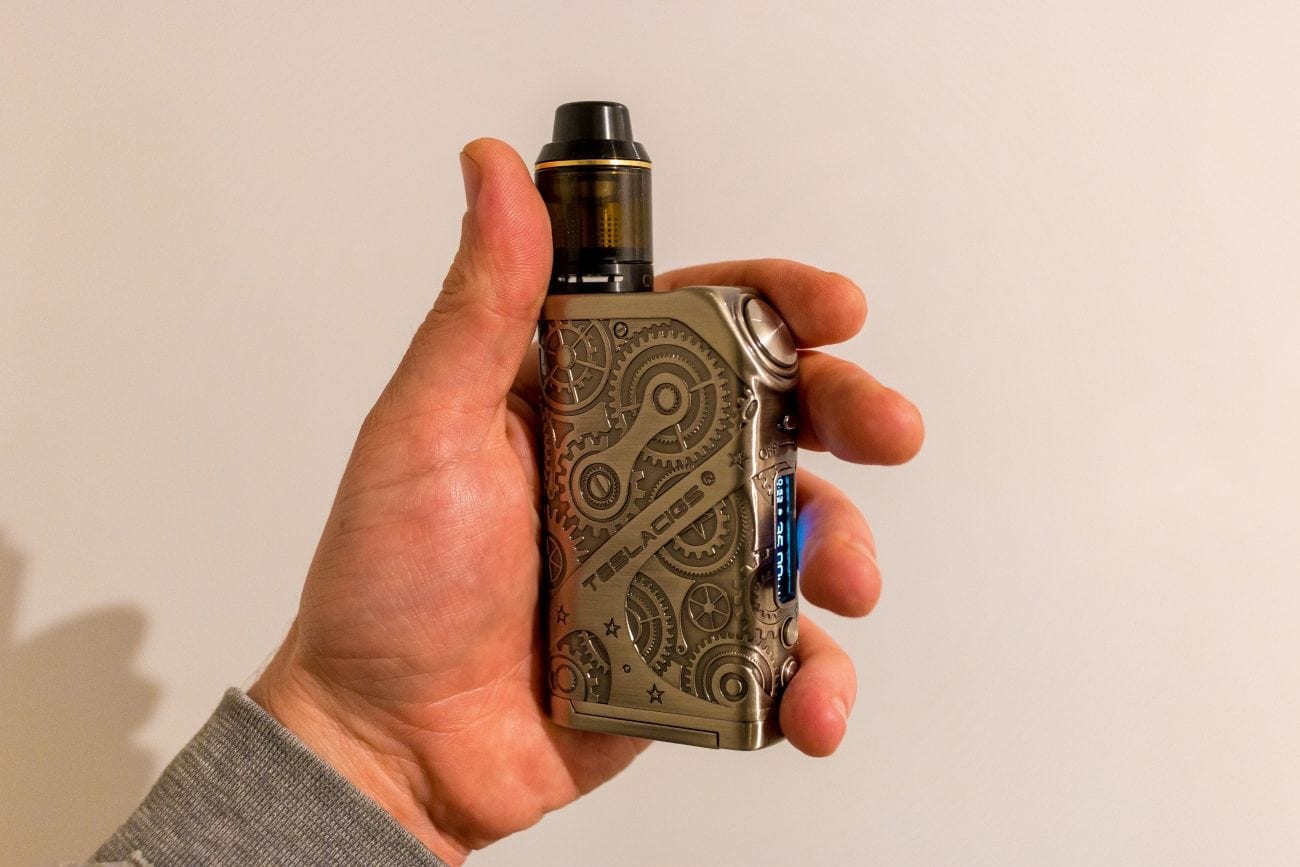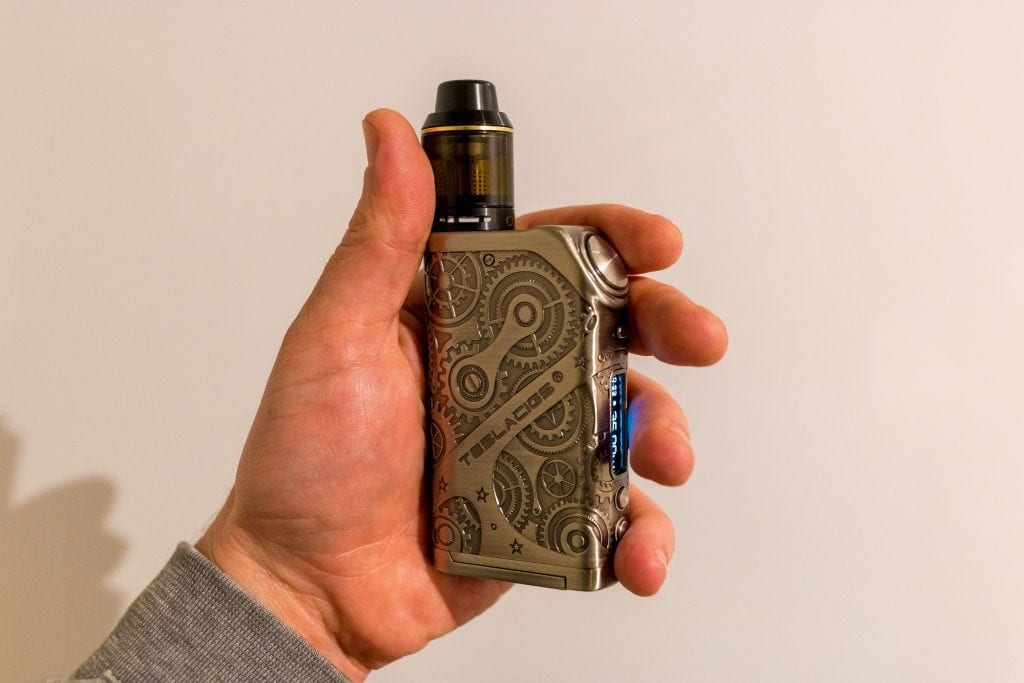 The Tesla Nano 120w Steampunk Mod can fit attys up to 25mm, however it also looks fine with attys smaller than that size. It takes all attys on board without leaving any gaps – so everything really does look great on top. I had no misbehavior with the chip or misreadings of any sort. And as I stated previously I am happy that it deals honestly with Temperature Control and TCR values.
The screen is easy to read and bright enough without bleeding light. It shows all the information I could ever ask for in a clear, concise and informative way. I can read it outside on a bright day with no problems and I can always know where I am at with what the chip is doing.
Battery life is great as I find it to be very efficient with the battery usage. I easily get two days of vaping around 30- 40watts, however this can change when I decide to run higher wattage attys and start to give the batteries a work out. I still think that even at high wattages, this mod is very efficient on battery usage in comparison to other dual 18650 box mods.
Although the Steampunk Nano is super comfortable and a pure delight to use, it is a little bulky. It's not as small as some of the dual 18650 box mods on the market and this combined with the weightiness of mod, means that it really isn't too pocket friendly. By all means it can be carried in your pocket and you may not mind given how much of a satisfying vape it provides at the end of the day. For me, I carry it out sometimes but I probably wouldn't want it in my pocket all day long if I was on the go.
Pros
Great performance
Good looking
Efficient battery life
Cons
Weight and size (Subjective)
Specifications
Material: Zinc Alloy
Dimensions: 90 x 55 x 25mm
Battery: 2 High Drain 18650 Cells
Display: 0.91 inch OLED
Output Mode: KA/TC-Ti/TC-Ni200/TC-SS316/TCR mode
Output Wattage: 7-120w
Maximum Output Voltage: 9v
Max Output Current: 35A
Taste Mode: Norm/Soft/Hard/User
Memory Mode: M1/M2/M3
Resistance Range: 0.1 ohm – 3 ohm (VW)/ 0.05 – 1 ohm (TC)
Temperature Range: 100 – 300C/200 – 600F
Wrap Up
As I mentioned previously the Tesla Nano 120w Steampunk Mod would have to be on of the most satisfying mods I've ever used personally. It looks the part and performs really really solidly. It feels nice in the hand and doesn't get fatiguing to use, although it is quite heavy. It is robust enough to stand up to some abuse and I would have no fear that it would withstand a drop or a decent knock.
The build quality and finish is breathtaking and it is a joy to use. Marry this all with how easy it is to use and the satisfaction it provides, you can't go wrong with this mod. For the price, I think it is a no-brainer and I can certainly recommend this device to anyone who may be interested in giving it a go. I hope this has helped you on your quest for your next box mod. If you have any questions or comments, please feel free to add them below.