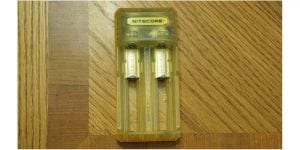 Nitecore Q2 Charger Review
In this vape accessory review, we'll be taking a look at one of the newest chargers coming from Nitecore, the Q2! This is a 2 bay charger that's available in multiple unique color options, which is something we haven't really seen with vape chargers. Nitecore is well known for their chargers, and some of the latest from them were the SC4 and i8, which we previously reviewed and were quite impressed with.
Before getting any further, we'd like to thank Nitecore for sending this charger our way for the purposes of this review. We will provide you with our first impressions, usage, pros and cons, and conclude with whether or not we recommend the Q2 by Nitecore!
[button color="red" size="big" link="https://vapingcheap.com/likes/Nitecore/Q2-Review" ]Purchase Here![/button]
First Impressions
The Nitecore Q2 we did receive did not come with any packaging since it's a sample unit. However, going by past reviews, we're sure the packaging will be top notch as it has always been. Their packaging always keeps the vape chargers safe while in transit, and are of good quality.
With that being said, my first impressions of this charger was that it's quite small and I was taken by surprise by the actual color. It looks almost like Ultem, but I'm pretty sure it's not really constructed out of it. The color I received is actually called "Juicy Mango", and the other colors available are "Pinky Peach", "Blackberry" and "Lemonade". I'm glad Nitecore decided to offer multiple colors as this is not something we often see with battery chargers.
Worth Reading: https://vapingcheap.com/top-vape-battery-chargers/
The Nitecore Q2 is also very lightweight and mixed with it being so compact, I knew it would be great to travel with. In addition, regardless of what color, it is see-through, so you can see all the internals, which is nice touch. Right at the top under where it has the branding is where you will see "Q2". Also, on each tray there's a number to determine which kind of charge speed you can expect, one side says "2A" and the other "1A". 2A charging is definitely a pro in my book, especially for a 2 bay charger.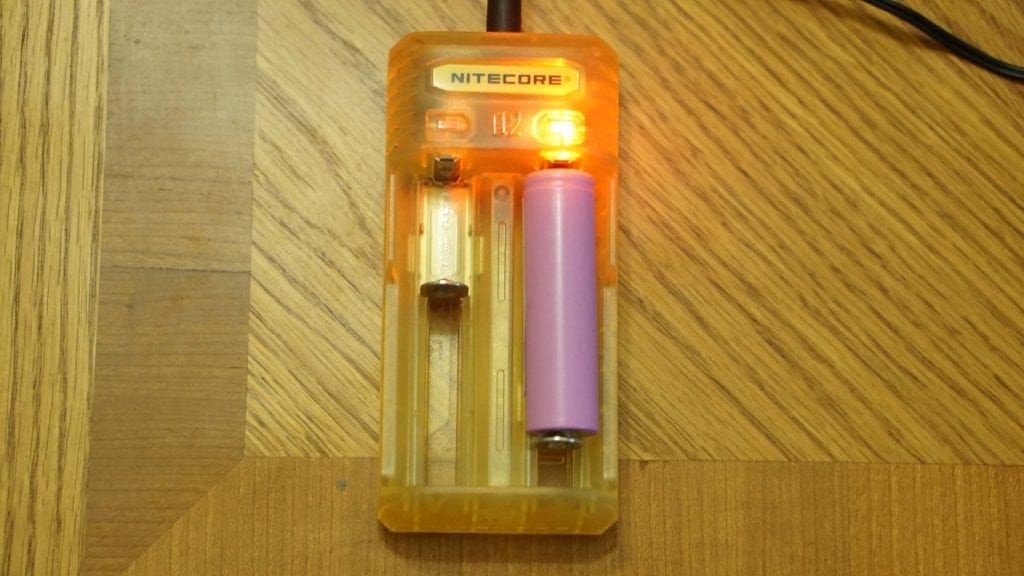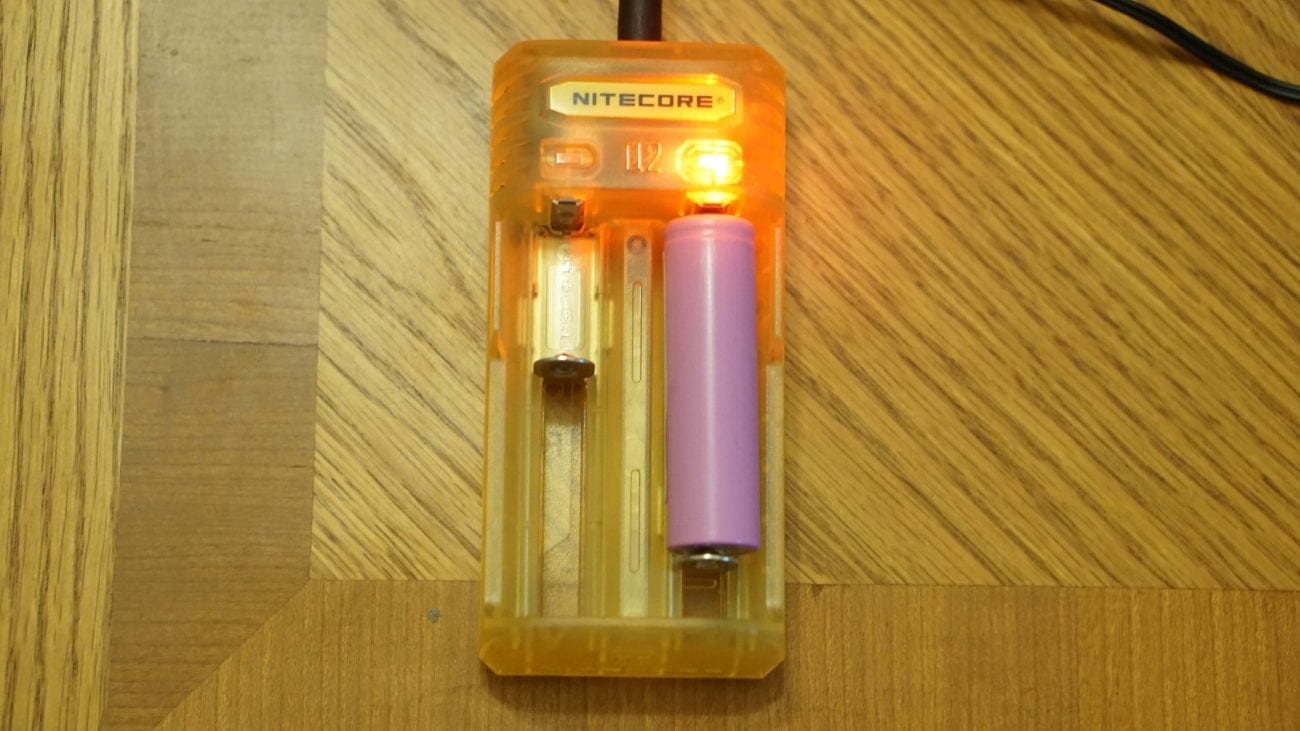 The battery sled is nice and smooth, and it's also very "springy" making it easy to maneuver. This is yet again another pro, as some chargers I currently own, the battery sled is quite crunchy and not nearly as smooth. There are no screens or anything with this vape charger, just a simple LED light to indicate charge status, which may be seen as a subjective con. For the vaper who wants simplicity, this really isn't a big deal. However, for the vaper who wants to see all the information available for their batteries, then they're probably better off with the SC4 previously reviewed.
Overall, my first impressions of the Q2 by Nitecore was great! The fit and finish was solid, and there weren't any real cons to be seen whatsoever.
Usage
Using the Nitecore Q2 over the past couple of weeks has been great. I literally had no issues to report, and it charged all my batteries with zero problems. Like mentioned previously, the battery sleds were smooth, so installing my batteries were done quite easily. When your battery is charging the LED light will glow red, and once it's fully charged it will glow green. If you put a battery in the wrong way, then it will start to flash red, which is great.
Just like other Nitecore chargers, the Q2 has tons of features such as Active Current Distribution, it automatically detects battery status and adopts the optimal charging mode, reverse polarity protection, short circuit prevention, overtime protection and more. Not to mention, it is constructed from flame retardant and fire resistant PC materials, which ensures safety even further. Another great feature is that it is compatible with car adapter, so you can easily use it outdoors with no issues.
If you insert one single battery on the right side, it will charge up to 2A. However, if you install 2 different batteries, then it will charge each slot up to 1A. When charging an 18650 battery at 2A, it charges incredibly quick (in about an hour depending on capacity). If you didn't want to charge a single battery at up to 2A, then simply charge the battery on the left side where it indicates on the sled "1A".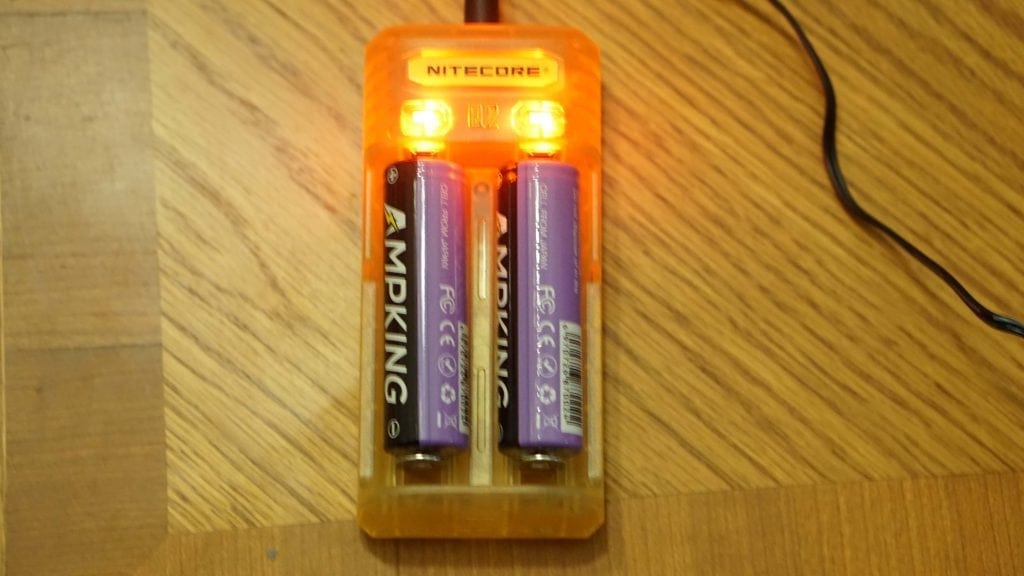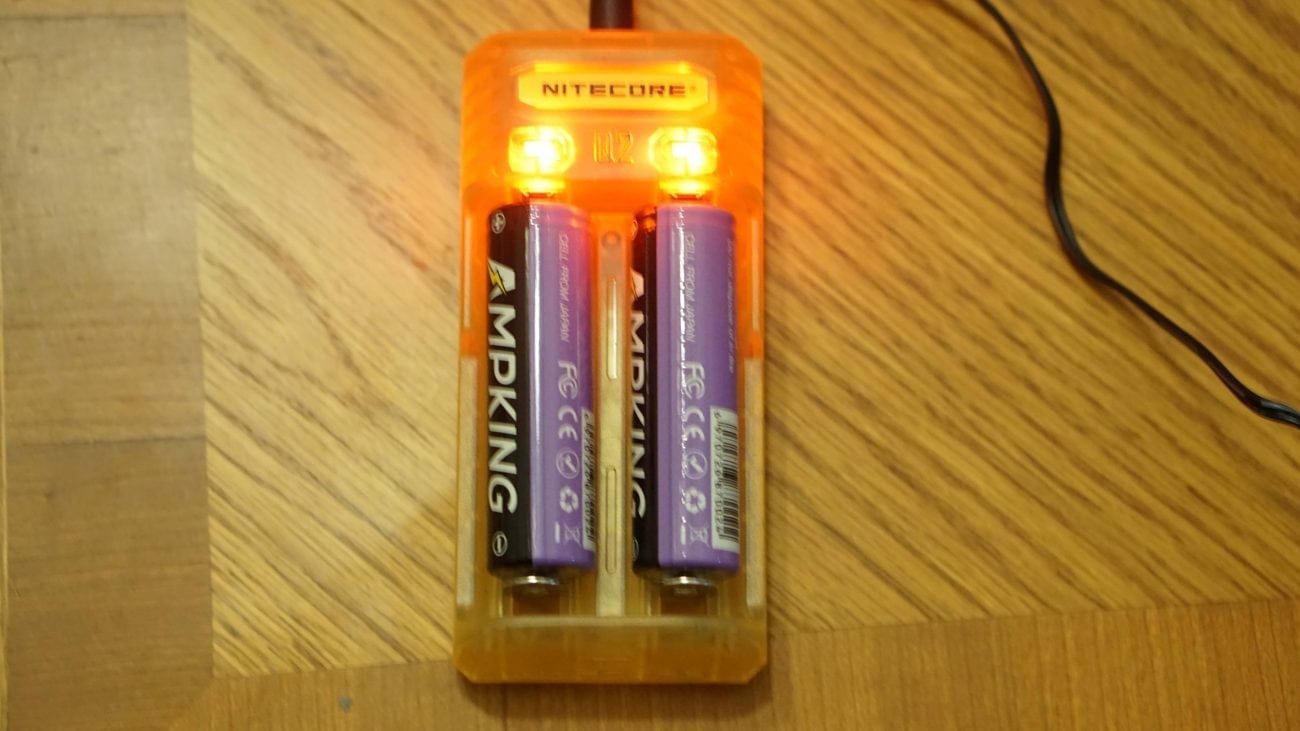 Now the biggest question is, what type of battery can actually fit? I'm happy to say that all the batteries we use for vaping today can be charged using the Nitecore Q2. This includes 20700, 26650, and 21700 batteries. What's better is that you can charge 2 of these larger batteries at the same time, even two 26650s, which is something you can't say for many 2 bay chargers! This is a huge pro in my opinion, and definitely one of the key reasons as to why I enjoy using this charger on a daily basis.
Overall, using the Nitecore Q2 has been great and I've had literally no issues whatsoever during my time testing it on a daily basis.
Pros
Compact & Lightweight Design
Various color options available
Many safety features implemented
Up to 2A charging in a single slot
Compatible with various size batteries (18650, 20700, 21700, 26650)
Simple to use
Affordable
Cons
Some people may not like the colors offered (Subjective)
No display screen (Subjective)
Conclusion
In conclusion, the Nitecore Q2 two bay charger is an excellent vape charger that is compatible with various battery sizes including some of the most we using for vaping today which are 18650, 20700, 21700 and 26650. Like mentioned earlier in the review, there aren't many battery chargers that are 2 bay which can charge these larger sized batteries simultaneously. In addition, I do like all of the color options available, and its lightweight and compact design.
There were only two cons to be mentioned, but both are subjective. For one, I can understand if some vapers may not like the colors offered, but that's not a huge deal in my opinion as it simply works. In addition, if you're interested in a battery charger that offers you information on a display screen, then Nitecore does offer other chargers that'd suit your needs. The Q2 is definitely aimed towards people who want a simple charger, and that's pretty much what it is, a simple vape battery charger.
All in all, I do highly recommend this charger as it does exactly what it needs to, and does it without any problems. I easily see myself using this charger every day, and it's definitely one that'll come with me when I travel.
I hope this review helps you in choosing the perfect vape charger! Feel free to leave any comments or questions down below! Thanks for reading!
[button color="red" size="big" link="https://vapingcheap.com/likes/Nitecore/Q2-Review" ]Purchase Here![/button]