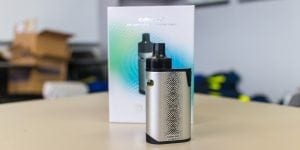 Joyetech Cubox AIO Review
The Joyetech Cubox AIO is an all-in-one starter kit which features a 2000mAh internal battery and integrated atomizer with a 2ml e-liquid capacity. It adopts an anti-leaking structure with top fill and top airflow control systems. The Joyetech Cubox AIO utilizes the ProC-BF series of coil heads which is aimed at MTL (mouth to lung) vaping enthusiasts. It is available in five finishes and features quick 2A charging via micro USB. I would like to thank HeavenGifts for sending us out the Silver version for the purposes of this article.
[button color="red" size="big" link="https://vapingcheap.com/likes/HeavenGifts/Joyetech-CuBox-AIO-Starter-Kit-Review" ]Purchase Here![/button]
Heaven Gifts Coupon Code: ACHEAP15 for 15% Off!
What's in the box?
1x CuBox AIO Kit
1x ProC-BF 0.6 ohm Head
1x QC USB Cable
1x Manual
1x Warranty Card
Spare Parts
Out of the box
The packaging that the Joyetech Cubox AIO comes in is very true to the Joyetech line. It is predominantly white with a colorful product picture on the front and the usual specification write up on the back. The box is two tiered with the mod sitting in a nice protective foam insert on the top level with the accessories underneath.
The packaging is also sealed air-tight and nothing has a chance to be damaged in transit. Upon opening the box I was very surprised to see how small this kit was in comparison to the size of the box. It is tiny! The whole thing can be covered in the palm of one hand – talk about stealth mode.
The Joyetech Cubox AIO looks really good and is super compact. The build quality and overall general impression of this kit are top notch. It is very light and very cute. In no way does it look cheap or flimsy, I think Joyetech have really met their design brief here. There is nothing overwhelming about the Joyetech Cubox AIO at all. It appears very simple and I believe it will also be very simple to operate.
There are no displays, screens or selection buttons to be found. There is a nice, clicky and responsive fire button on the top of one of the curved sides of the mod. And the fire button does not rattle at all either – a definite pro here. On the other side there is a clear window so you can sight the remaining e-liquid in the reservoir.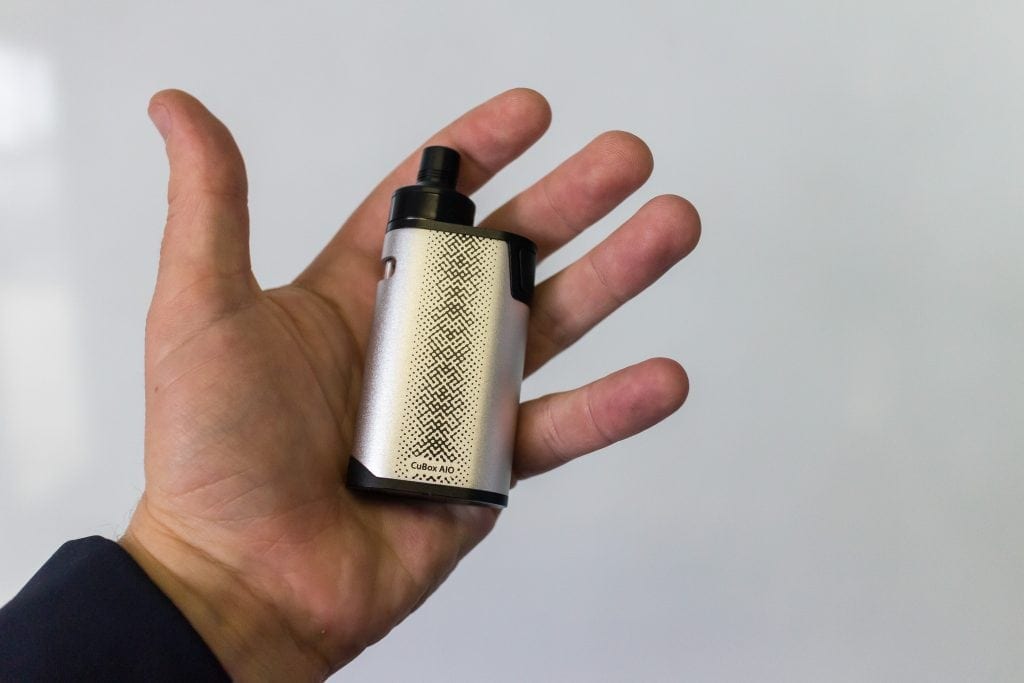 The reservoir also features a light that illuminates when you fire the mod, so you can see your juice level in low light situations. Other features of the Joyetech Cubox AIO are a micro USB port on the face of the mod and battery vents on the base. On the top there is a bank of 5 LEDs that illuminate to indicate the remaining battery level.
The incorporated atomizer sits atop the mod and is fed from the internal juice reservoir. The topcap has the drip tip included and screws off to reveal the fill ports. The chamber also unscrews to facilitate coil installation and cleaning of the juice reservoir. There is an adjustable airflow around the chamber of the atomizer, which has four airflow holes.
Overall the look and feel of the Joyetech Cubox AIO is wonderful. The build quality is high and quality control rings true with this one.
Usage
To charge the Joyetech Cubox AIO, simply plug in the micro USB cable. The indicators will light up to confirm charging is in progress. When the lights go out, charging is complete.
In order to install the coil, you need to unscrew the chamber of the atomizer. Then you need to screw the coil into the top cap and re-install back onto the mod. Remember to add a few drops of e-liuid onto the coil before installing. This will help prime to coil and avoid any dry burning.
Once the chamber is back on the mod it is time to fill up the reservoir. This time you need to unscrew from the drip tip and the top cap section will come off. This will expose the fill ports. You can fill up to 2ml of e-juice into the Joyetech Cubox AIO from the top. This, by the way, also helps keep within TPD compliance levels. Screw the top cap back on and you are ready to start vaping.
To turn the Joyetech Cubox AIO on and off, simply press the fire button 5 times in quick succession. The battery indicators and reservoir lights will turn on to signal the device is ready for vaping. Over the time of using the device, the 5 LED will slowly go down to indicate where the battery voltage is. Obviously the less lights that are on indicate the less voltage is left in the battery.
You can monitor the level of e-liquid by looking through the clear indicator to the juice reservoir. This will also illuminate when the fire button is pressed and stay lit for a few seconds afterwards. A very handy little addition on Joyetech's behalf.
That's it! As I mentioned earlier, no screens, no selection buttons, no fiddling and no frills. It really is as simple as that.
[button color="red" size="big" link="https://vapingcheap.com/likes/HeavenGifts/Joyetech-CuBox-AIO-Starter-Kit-Review" ]Purchase Here![/button]
Heaven Gifts Coupon Code: ACHEAP15 for 15% Off!
Performance
I have to say that this little kit is a top performer. It is ticking many boxes for me and I'm sure it will for those who try it as well. The taste off the Joyetech Cubox AIO is pretty good for such a small unit. It's definitely geared at MTL vapes where vapor production is not a key desire. The draw on this is great for those backed off restricted mouth pulls that really help to mimic the experience of smoking an analogue. There is little to no break in time if you prime the coil properly before using it. The taste does start to get better once you break it in a little.
After filling up the reservoir, there can sometimes be some gurgling present, but this dissipates after a few more tokes. Don't expect to be able to chain vape on this in quick succession. If I take too many puffs in a short amount of time, the coil does start to taste a little dry. Not a full on burnt dry hit, however just a reminder that these coils can take a while to re-wick. I would have liked to have tried it on a thinner viscosity juice, however I didn't get the chance – so that may be the savior here.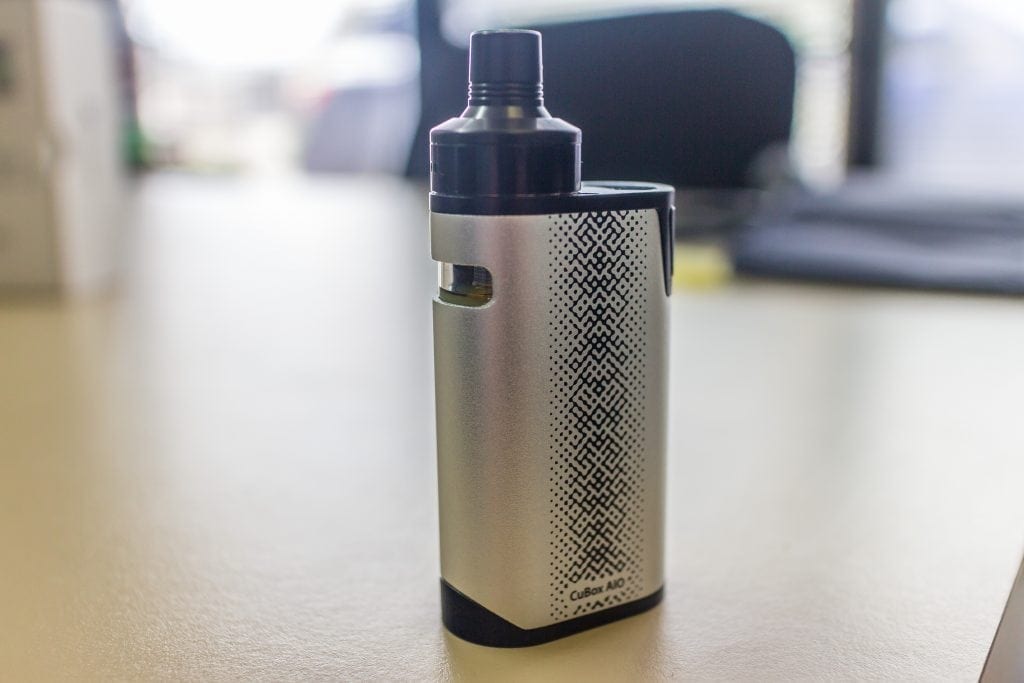 Battery life is pretty good. The 2000mAh battery should get you through most of the day. The saving grace here is because it is such a small battery, it is quick to charge especially if you use a 2A power supply.
I did not experience any mis-behavior or unexpected operations while testing the Joyetech Cubox AIO. I can say that portability is definitely not an issue. This thing it tiny and takes up little to no room where ever you decide to stash it. In your pants pocket or your shirt pocket – this will not be felt and you will hardly notice it is there. The Joyetech Cubox AIO is very, very discrete when out and about and certainly will not draw any attention.
All in all a very satisfying, portable little start kit which performs really well for the price point.
Specifications
Size: 22.5mm(W) x 40.0mm(L) x 87.0mm(H)
Battery Capacity: 2000 mAh
Tank Capacity: 2.0ml
Max Output: 50w
Max Charging Current: 2A
Coil: 0.6 ohm ProC-BF Coil
Pros
Small and Compact
Leakproof
Cons
Chain vaping
Limited battery life and juice capacity
Wrap Up
I am really impressed with the output from this little Joyetech Cubox AIO kit. It certainly will please anyone looking for a compact little kit to satisfy those sneaky MTL tokes. It would work as a back up, as a starter kit or as a tool for those looking to make the switch from smoking to vaping. It really is a versatile little kit and you cannot go past the price point.
I would totally recommend the Joyetech Cubox AIO starter kit to anyone who is interested in trying one out. You will definitely find a place in your vaping agenda for this one, no matter your style. I hope this has helped you on your quest to find your next starter kit. Please leave any questions or comments below, we appreciate hearing from each and every one of you.
[button color="red" size="big" link="https://vapingcheap.com/likes/HeavenGifts/Joyetech-CuBox-AIO-Starter-Kit-Review" ]Purchase Here![/button]
Heaven Gifts Coupon Code: ACHEAP15 for 15% Off!