Nitecore D4 Digicharger (w/LCD) Battery Charger Review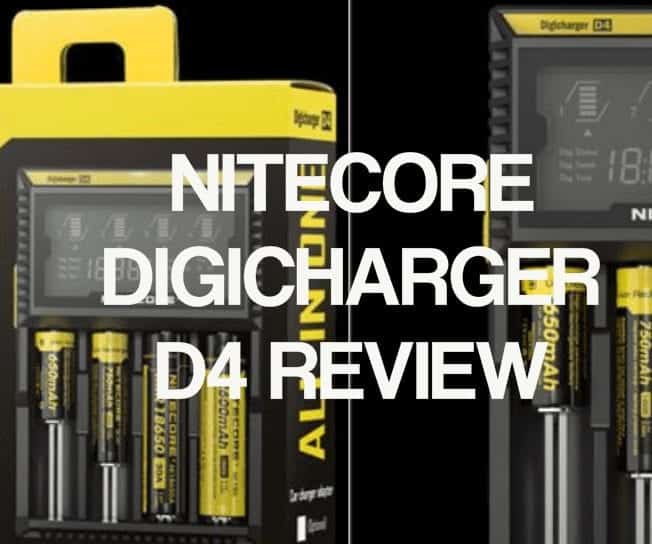 Nitecore D4 Review
Nitecore/SYSMAX was established over a decade ago specializing in DIY flashlight and general purpose illumination tools. However, Nitecore has long since extended their reach into the electronic cigarette community with the introduction of their i2 and i4 Intelligent chargers, which have become one of the best 18650 chargers with high name recognition for quality and dependability amongst vapers. With features such as automatic battery type detection, multiple charge modes, and automatic charging shut off, Nitecore has provided vapers worldwide with the added sense of safety and security we needed when it came to handling Li-ion rechargeable batteries.
Get the Nitecore D4 Digicharger for $26.99 here – Use coupon code "VC10" for 10% off
Being the happy owner of the Nitecore Q4 myself, I honestly didn't think that safe and reliable battery charging could get any better, but boy was I wrong. With the addition of a Crystalline LCD digital display you no longer have to trust that your batteries are charging properly, you can see and monitor the battery charging process. It is worth mentioning that Nitecore isn't just flashlights and chargers, they also have a line of high-quality batteries including IMR 30A 18650.
The Nitecore D4 Digicharger featured in this review was provided by Nitecore/SYSMAX for the purpose of review. The D4 Digicharger is securely packaged in a branded Nitecore D4 Digicharger box with their signature brand colors of black and yellow.
NITECORE D4 DIGICHARGER SPECIFICATIONS
Input: AC 100-240V 50/60Hz 0.35A(MAX), DC 12V 1A
Output voltage: 4.2V / 3.7V / 1.48V
Output current: 375mA x 4 / 750mA x 2
Compatible with:
Li-ion / IMR / LiFePO4: 26650, 22650, 18650, 17670, 18490, 17500, 18350, 16340 (RCR123), 14500, 10440
Ni-MH / Ni-Cd: AA, AAA, AAAA, C
Dimensions: 143mm x 99mm x 36mm
Weight: 239g (without batteries and power cord)
BUILD QUALITY
In the package you will find the main i4 Digicharger, a power cord, and an instruction manual. Just like the i2 and i4 Intellichargers before it, the Nitecore D4 Digicharger is made with ABS fire-retardant materials, intelligent circuitry, and is designed for adequate heat dissipation during charging for additional safety.
There is a large digital display screen and 4 battery slots which can accommodate various sized cylindrical batteries. There is the option for two sources of power supply into the charger, which is the main 100-200VAC adapter to be used with the included power cord for home use, or the 12VDC adapter which can be used for car charging on the go.
There is also a multipurpose SLOT/MODE button on the left side of the device which is used to change the display information for a particular battery slot, as well as changing the charging modes on the D4.
As previously mentioned, the D4 is compatible with of a variety of battery chemistry types (IMR, Li-ion, LiFePO4, Ni-MH, Ni-Cd), but it also accommodates a variety of cylindrical battery sizes from Li-ion 10xxx-26xxx series batteries, to Ni-MH/Cd sizes AAA-C. The D4 automatically detects the battery type and selects the appropriate charge setting for that battery. However, LiFePO4 batteries require manual selection for proper battery charging.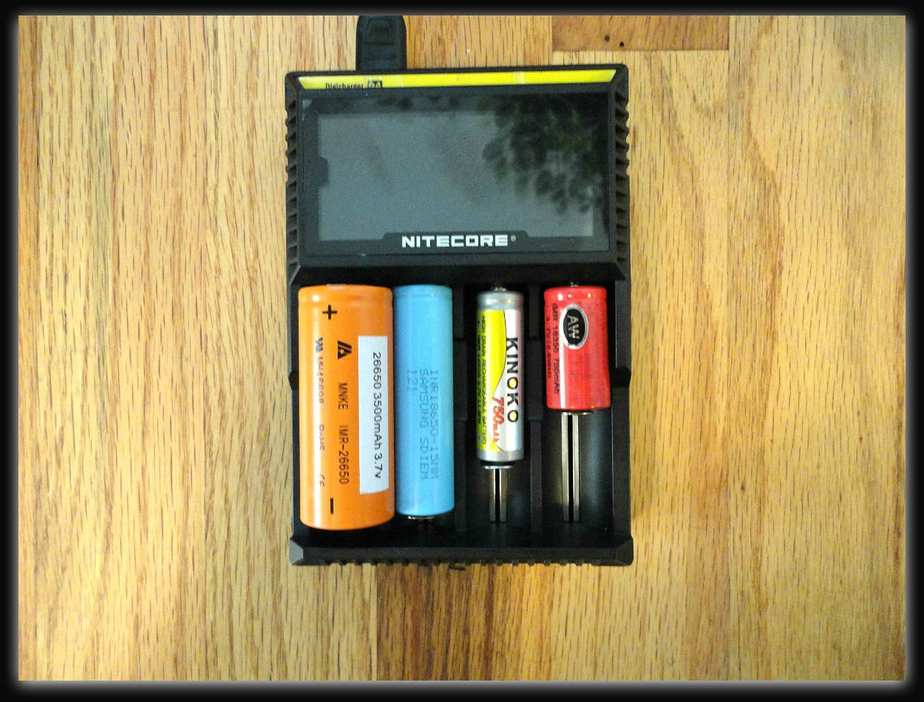 FUNCTION
One of the great things about the Nitecore D4 is that it takes the guesswork out of how to properly charge your batteries because it automatically detects battery type and selects the appropriate charge setting for you. However, charging LiFePO4 and small capacity batteries of 750 mah or less do require the use of the special features incorporated into the D4 charger specifically for these two battery types. Here is where you would use the MODE button on the left side of the charger to manually select the appropriate charge settings for LiFePO4 and batteries with less than a 750 mah capacity.
It is highly recommended that you thoroughly read the entire user manual to ensure proper use of the D4 Digicharger, and familiarize yourself with all of the features available which will be covered in this review in brief.
Additional features are:
Automatic charge mode selection ( CC, CV, dV/dt)
Reverse polarity protection (an error message will appear)
Automatic power off when charging is complete
Over-charge protection
Temperature monitoring
Nocturnal charge mode ( LCD backlight off)
Battery activation
Low current charge mode
Over time prevention (20 hour shut off)
When the D4 is plugged into a power source the letters D4 will appear on the screen to let you know that power is on. Once a battery is installed the detection sensor is activated, the D4 will begin to charge at a low current for 6 secs which is sort of like a battery health detection phase. If the D4 detects zero voltage from the battery an error message will appear on screen after 6 seconds.
*special note from user manual* The D4 is not recommended for use with over-discharged (zero volt) UNPROTECTED Li-ion batteries. Li-ion batteries without a protection circuit can potentially cause a fire or explosion.

While charging, the D4 cycles through 3 informational displays regarding your batteries charge status. The first of which is a timer which I find very useful because it allows you to know how long a particular battery of a certain capacity takes to charge.
Next up on the cyclical digital charging status is the applied charging current for the battery, which is displayed in milliamp hours. Then you have the charging voltage display for that battery. While the D4 can charge up to 4 batteries independently in each slot, you can only display the detailed charging progress of one battery at a time. By using the SLOT button on the left side of the charger you can manually select which battery status you would like to view in detail. Even though you can only access the detailed charge status for one battery slot at a time, the charge bar status indicator remains displayed for all batteries for as long as they are on the charger.
Once charging is complete for one or all batteries installed, a status will illuminate and the word ALL will be displayed on the screen and charging will be stopped for that battery.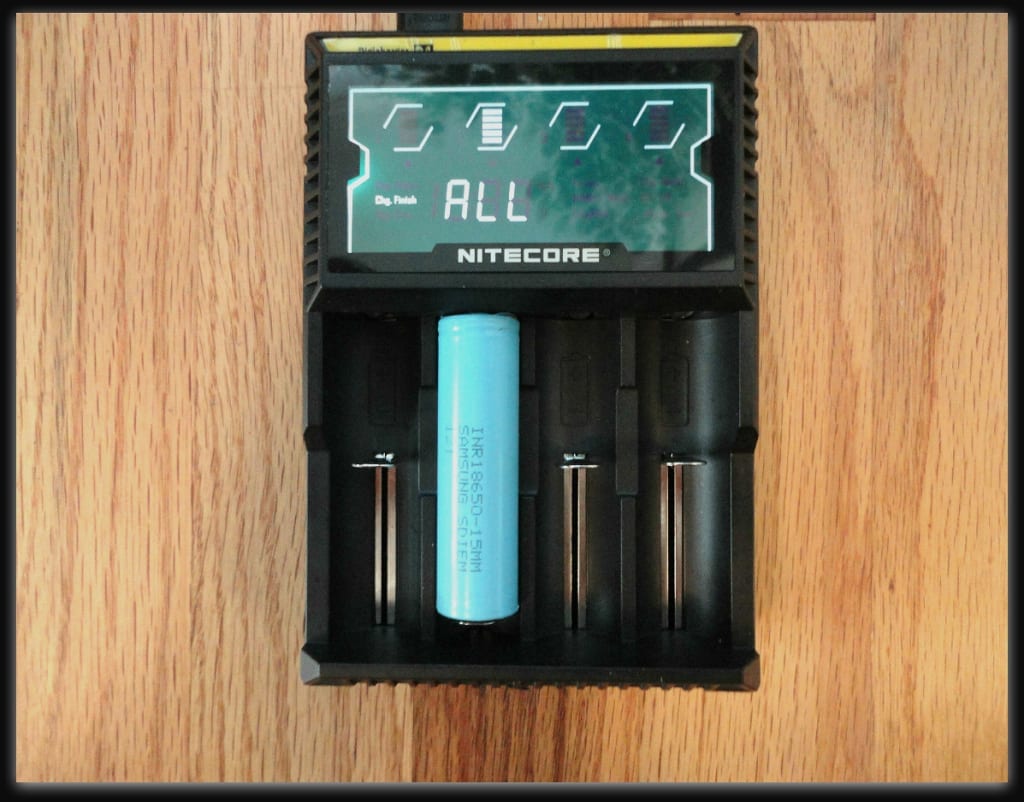 OVERALL
Being an owner and fan of Nitecore i2 and i4 Intellichargers I really didn't think that it could get any better than automatic battery detection and compatibility, and automatic charge cut off .. but it has. With the i2/i4 chargers I often wondered and guessed what the current voltage of my battery was in relation to the charge bar status indicator, and now I do not have to wonder about it because I can see it in digital display.
With the ability to charge different battery chemistries and sizes, as well as being able to select different charge modes along with a host of other important features, the D4 Digicharger has taken the world of rechargeable batteries to whole new level. Nitecore's Digicharger is also available in the D2 version, which is the 2 battery slot variation.
The proper handling of Li-ion batteries is serious business, and battery health and safety should not be taken lightly. Nitecore gets that and aims to provide the kind of safety, security, and peace of mind that we the consumer need. Nitecore has become a trusted and respected name within the general purpose illumination and electronic cigarette community alike, and for good reason. With Nitecore products you can be assured that you are getting the best quality, and the most up to date technology available on the market for rechargeable batteries. I love this Digicharger (smiles).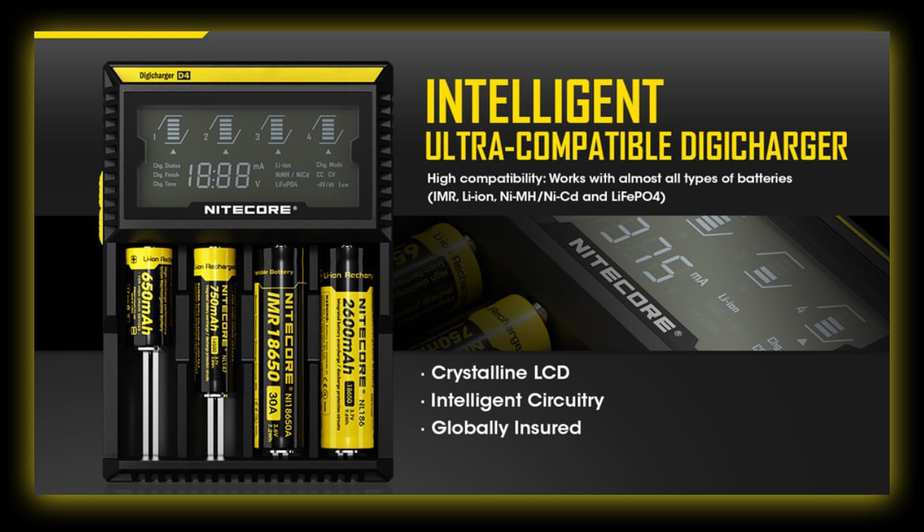 Where to Buy a Nitcore D4/D2
Get the Nitecore D4 Digicharger for $26.99 here – Use coupon code "VC10" for 10% off
Get the Nitecore D2 Digicharger for $21.59 here – Use coupon code "VC10" for 10% off
For more information on the Nitcore D4 battery charger visit the Nitecore D4 webpage.