Jam Monster Lemon 100ml $9.67 | 30ml Salt $14.99 (USA)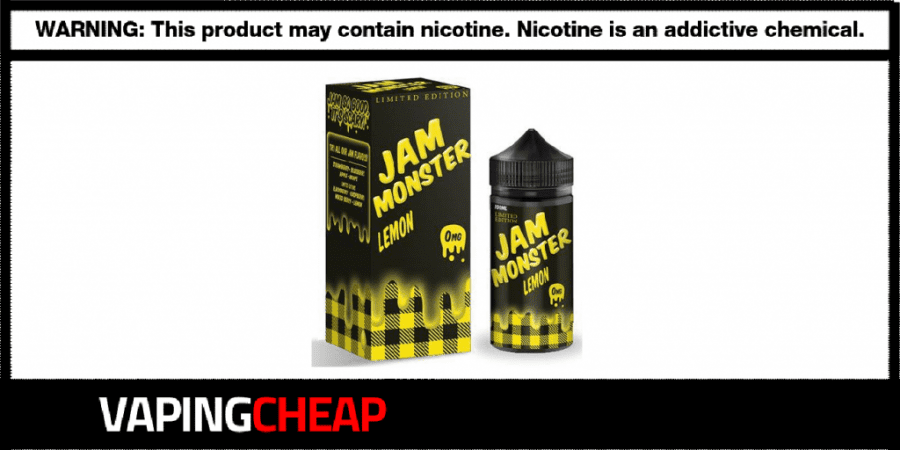 Here are cheap deals and discounts on the Jam Monster Lemon. Get the 30ml salt bottle for just $14.99. You can also get the large 100ml (freebase/regular nicotine) bottle for $9.87 when using the code "Eggs20".
Jam Monster Lemon is described as delicious and sweet lemon pastry tart. The actual lemon tart is blended with a sweet pastry shell, providing a vape that's creamy.
If you enjoy freebase e-liquids, you'll be able to choose nicotine strengths 0mg, 3mg or 6mg. Additionally, it's bottled in a 100ml chubby gorilla, so it's easy to drip with and fill all of your favorite tanks.
Now, for you vapers who enjoy nicotine salts, Jam Monster Lemon vape juice will come in a smaller 30ml chubby gorilla bottle. This version is offered in 24mg and 48mg salt nicotine.
If you're a fan of lemon dessert flavors, then Jam Monster Lemon is an absolute must try. They've release some awesome flavors before, and this is yet another great one. For more discounts on their other flavors. check out this Jam Monster E-Liquid Sale.
Lemon By Jam Monster EJuice:
Offered in 30ml or 100ml Bottle Sizes
Salt Nic Strengths: 24mg, 48mg
Freebase Nic Strengths: 0mg, 3mg, 6mg
Flavor Description: Sweet & Tarty Lemon Pastry Tart
High VG Blend (Freebase)
More Great Vape Deals...
---
Vandy Vape Mato RDTA $22.40
Here are cheap deals and discounts on the new Vandy Vape Mato RDTA. Get this atomizer from only $30.36plus free[...]