Hellvape Fat Rabbit Sub Ohm Tank $23.99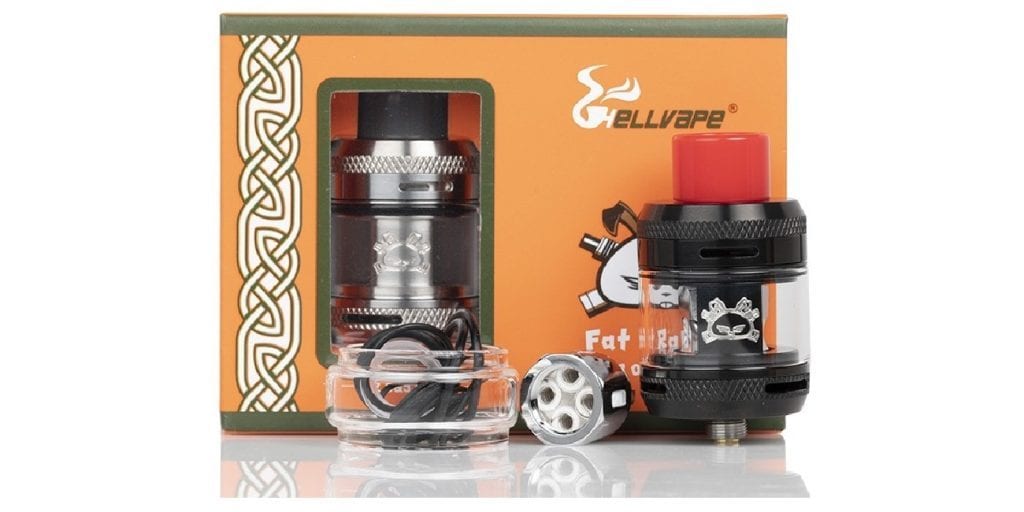 The new Heathen and Hellvape Fat Rabbit Sub Ohm Tank is now available for pre-order! Get it for only $23.99 after logging into your account. No code needed. However, it is in stock at a US shipper for only $35.95 with free shipping over $50. There's a few color options you can choose from such as Black, Stainless Steel, Gunmetal, Rainbow and more.
Buy Cheap Hellvape Fat Rabbit Tank
The Hellvape and Heathen Fat Rabbit Sub Ohm Tank is the cousin of the one of the Best RDAs to come out in recent years. This new vape tank sports an overall diameter of 28mm, but bevels down to 25mm at the base. It's a larger tank for sure, but the curves and overall design looks great. Now, what makes this sub ohm tank unique is the airflow system. Not only does it feature top airflow, but bottom airflow as well, allowing you to fine tune your draw to a full wide open lung inhale, to a restrictive direct lung vape.
Another great feature is that this tank is compatible with Baby Beast style coils, so your coil options are nearly endless. We're glad they went this route as you're not stuck with searching for one set of coil heads, but can choose from a wide range of styles and brands. However, the Fat Rabbit Sub Ohm Tank does include two new Hellcoils. The first is a 0.2 ohm mesh, and the other is a 0.15 ohm quad coil.
The maximum amount of e-juice the Fat Rabbit Tank can hold is 5ml with the bubble glass, but with the straight glass section it holds 2ml, so it is TPD complaint. Filling is done from the top, as it does feature a more traditional threaded fill top cap. At the top, you'll notice an interesting drip tip as well, which is 810 in size, but is Hellvape's antibacterial drip tip.
If you're a fan of the Dead Rabbit series, then you'll definitely want to add the Hellvape Fat Rabbit Sub Ohm Tank to your collection. With its unique airflow design, and coil compatibility, it's destined to be one of the best sub ohm tanks this year,
Hellvape Fat Rabbit Tank Features:
Collaboration between Vapin Heathen & Hellvape
Overall Diameter: 28mm
Base Diameter: 25mm
2ml or 5ml E-Liquid Capacity
Threaded Top Fill Design
Unique Top & Bottom Airflow System
Antibacterial 810 Drip Tip
Compatible with 510 Drip Tips (Using Adapter)
Fully Detachable Structure
Hellvape Hellcoil

0.15 ohm Quad Coil
0.2 ohm Mesh

Wide Wicking Ports
Compatible with Baby Beast Style Coils
Stainless Steel & Pyrex Glass Construction
Gold Plated 510 Contact Pin
Color Options:

Black
Gun Metal
Matte Black
Rainbow
Silver
What's Included
Fat Rabbit Vape Tank by Heathen & Hellvape
0.15 ohm Quad Coil (OCC)
0.2 ohm Single Mesh Coil Head
Bag of Accessories
User Manual
Spare Bubble Glass Tank Section
Hellvape Sticker
Hellvape Fat Rabbit Tank Review
More Great Vape Deals...
---
Tuglyfe Pod System $2.99!
For a limited time only, Flawless Vape Shop is having their BOGO Sale right here where you can get a two bottles of[...]