Geekvape Aegis Mini Mod $26.56 | Kit $40.45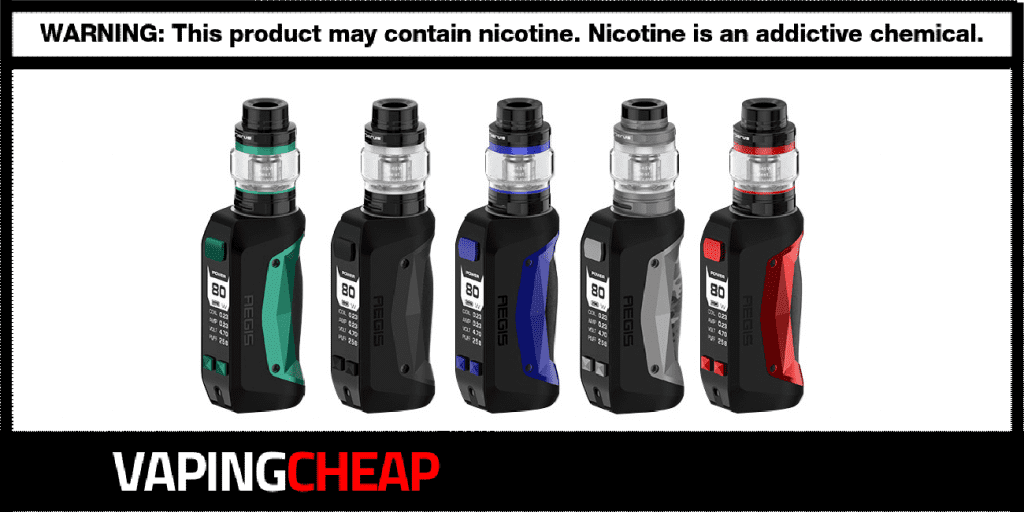 For a limited time only, the Geekvape Aegis Mini Mod is now on sale for just $26.56 when using the code "vapingcheap". The starter kit is available for only $40.45 using discount code "VAPOR25". There are many color options available including Stealth Black, Camo and Gunmetal, Black and Blue and more.
Geekvape's Aegis Mini Mod features a similar design to other mods in the Aegis series, but in a much smaller size. As expected, it's dustproof, shockproof and waterproof, making it durable. However, with its compact form factor, it remains lightweight, perfect for carrying everyday.
What makes the Aegis Mini different in comparison, is that it features a built in 2,200mAh battery, and has a max output wattage of 80w. Charging it won't take long since it does support 2A charging speeds. Also, it's powered by the Geekvape AS Chipset, so you'll get fast firing speeds and accurate performance. Additionally, it does have temperature control for various wires and can fire down to 0.05 ohm.
If you decide on getting the Geekvape Aegis Mini 80w Kit, then you'll get the Cerberus Tank included. This atomizer has a maximum e-liquid capacity of 5.5ml, so it can certainly last throughout an entire work day. Also, it has fully adjustable bottom airflow, and a wide bore drip tip up top. What's great about the Cerberus Tank is that it does utilize the Geekvape Super Mesh Coils and includes two X2 0.3 ohm coil heads. These are a perfect fit for the Aegis Mini 80w Mod since it's best vaped between 30w and 45w.
As we've seen with many sub ohm tanks, mesh coils are the way to go. They offer better performance, and last longer, so you won't be needing to change them out nearly as fast.
Whether you're looking for a compact mod with a built in battery that's durable, or a full kit that offers stellar performance, you won't go wrong with the Geekvape Aegis Mini. It's built like a tank, and has all of the features you'd want in a small size. Now, if you want something even more powerful, check out the Aegis X.
Geekvape Aegis Mini 80w Kit Features:
Geekvape Aegis Mini 80w Box Mod

Internal 2,200mAh Battery
Supports 2A Fast Charging
Powered By Advanced AS Chipset
Maximum Wattage Output: 80w
Temperature Control (Ni200, Ti, SS)
Ultra Compact Size
IP67 Waterproof, Shockproof & Dustproof
Multiple Safety Protections Built In

Geekvape Cerberus Tank

5.5ml Maximum E-Juice Capacity
Top Fill
Adjustable Bottom Airflow Design
Wide Bore Drip Tip
Compatible with Innovative Geekvape Super Mesh Coils
What's Included (Full Kit)
Geekvape Aegis Mini 80w Mod
Cerberus Tank by Geekvape (0.3 ohm X2 Mesh Coil Pre-Installed)
Spare 0.3 ohm X2 Mesh Coil
Additional Glass Tank
Charging Cable
Bag of Spares
User Manual
Check Out The Geekvape Aegis Mini Review