A Fuzion Vapor Review: 6 Mouth-Watering Reasons I Love Them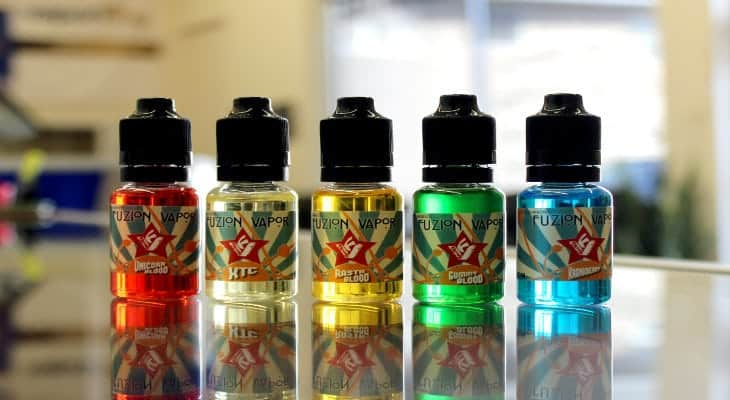 Ah! So pumped to have all my vaping enthusiasts join me again for what is sure to be a flavor packed, scrumptious review, even more so than usual….seeing as this week I've been reviewing a company that's had tongues and taste buds wagging for a little while now, Fuzion Vapor! Now, I can't tell you the sheer volume of cash I've forked out on juices with names and packaging that got me going, only to end up with a sore mouth, disappointed heart and an empty wallet!
Fuzion Vapor, incase you haven't heard of them, may just be one of the coolest and awesomest e-juice companies in the vaping marketplace. Doing a little research on the brand only got me more pumped about this Fuzion Vapor review and here's why: owner and head juice-chef, Shane Johnson, is a stand up guy who not only has a keen creative instinct and a taste for the right combos, he literally has a heart of gold and you know me, I LOVE supporting vendors who actually deserve success!
With a crew of two other buddies, one who was a 911 centre agent before this gig and another who was a firefighter, they cook up a storm in Florida…but don't think they've given up helping people. Not only do they offer special lifetime discounts to members of Emergency or Military Services, every single month they actually donate a full 50% of the sale of one of their popular juices to a charity voted on by their vapers.
While adding up the Company's donations, I actually got tired of punching in numbers so I quit at $120 000, that's right…these three guys aren't only making a difference in the vaping world but they're helping all vapers to go out and make a difference of their own! Turbo-kudos to you guys from Fuzion Vapor, I don't know what else to say.
Fuzion Vapor Ratings
Fuzion Vapor Review
You may think I'm biased because of the charity element here but in fact…I only added a half a star for that and Kaboom!!! This review easily gets 5 cumulo-delicious stars from me! When sampling e-juice, I tend to feel a sense of relief with any product that doesn't irritate my throat and mouth somehow, let alone make me feel like straight up getting ill. So to score 5 stars in a juice review is a feat of epic proportions, in my book at least.
I sampled ten flavors, avoiding tobacco or musty notes…I was a menthol cigarette smoker and have never fancied the taste of tobacco so I knew I wouldn't like those. I also steeped mine for maximum punch.
Complexity: Like many vapers out there, I'm a flavor junky. So you can imagine my elation when I began sampling my ten chosen flavors from Fuzion's various juice lines and was met with levels of flavor complexity, aftertastes, fragrances and mouth-feels which, I dare say, I've never encountered before. Unique, interesting and hands down, a freakin' gourmet vaping experience! How in G's name do you taste one thing going in and then a completely different thing going out, both out of this world delicious, then to top it of you breath out your nose and catch another note which wasn't there before?
Depth: More often than not, 'flavored' e-juices deliver a faint hint of flavor which either disappears on exhale or changes to cardboard or something more offensive, let alone the changes which occur when vaping at higher wattage. Sampling mixes during this Fuzion Vaporizer Review was like scoffing an assortment of boutique candies and deserts…with zero calories, I'm climbing the walls to try more! I used the Fuzion website's flavor descriptions to identify some of the more obscure notes and I was blown away by the attention to detail I found in some of Shane's descriptions!
Range: Choose from Shane's Basic, Standard and Prime Lines to receive everything from deep but highly recognizable favorites like grape and vanilla to complex mixes like Unicorn Blood and Rasta Blood with magically morphing notes which change through initial fragrance, inhale and exhale to become deliciously different or more complex when you vary or increase your wattage.
Besides the flavor range, you can choose from sizes ranging from 15ml to 60ml and nicotine levels from 0mg to 24mg. Keep in mind when sampling flavors that nicotine levels will effect mouth and throat feel and also mask subtle notes at higher levels. I opt for 12mg when I want max yumminess and 18mg when I'm stressing. However, Fuzion does an outstanding job of covering up even the highest nicotine levels.
Affordable Pricing: With prices ranging from just $3 to around $22 per unit, as well as sample packs available, you're getting great products at even better prices here.
Quality Ingredients: When people talk about throat hits in flavors I start to worry because for me this often translates into mouth irritation or burning, due to questionable ingredients. With Fuzion's products, a throat hit means a mouth slam of flavorlicious ecstasy that's a direct result of awesome, punch-packing flavor essences, natural ingredients and agents that will tantalize and refresh your tastebuds and senses. Shane even adds vitamins to some of his mixes! Add his special cooling agent, Koolada, to any of your mixes for the ultimate, menthol free, cooling mouth-feel. Koolada is like the holy grail for me, I love it!
Consideration: They even offer colorless options on some of their products for those of you're paranoid about colors (giggle).
Huh? I had to draw the line whilst listing Pros, there just wasn't enough space in this review. Only thing is, how about offering liter bottles of Nice Melons and Krankberry…hell, liter bottles all round.
Top Features of Fuzion Vapor
Some times I'm not sure what to list in this section of my review but here again, I know I won't have enough space.
Mixing Juices For Himself:

This is an e-juice chef who, like us, is vaping obsessed and always out for a new vaping experience, he was unsatisfied with the juices he was vaping and now he uses his experience and his own sense of flavor to hand craft juices that he'd be happy to vape…and he uses them himself. Far cry from some Taiwanese mega-factory executive who's never blown a cloud in his life.

Heart:

Fuzion Vapor's sizable contribution to deserving charities doesn't go unnoticed. Click this link to see their contribution list. They even offer a rewards program for Military and Emergency Services Personnel.
Conclusion
Not only did I enjoy an assortment of incredibly complex and delightful flavors from this brand during my review, I enjoyed quality of vape all round with rich fragrant clouds. My 70+ year old, anti-smoking parents complimented me on the smell of 'whatever it was that I was smoking' the last time I visited them with my Krankberry and if they like it, I like it too!
Want to understand what you're puffing? Check out this definitive guide to e-liquid and it's basic components: