Freemax Gemm 80w Starter Kit $21.28 (USA)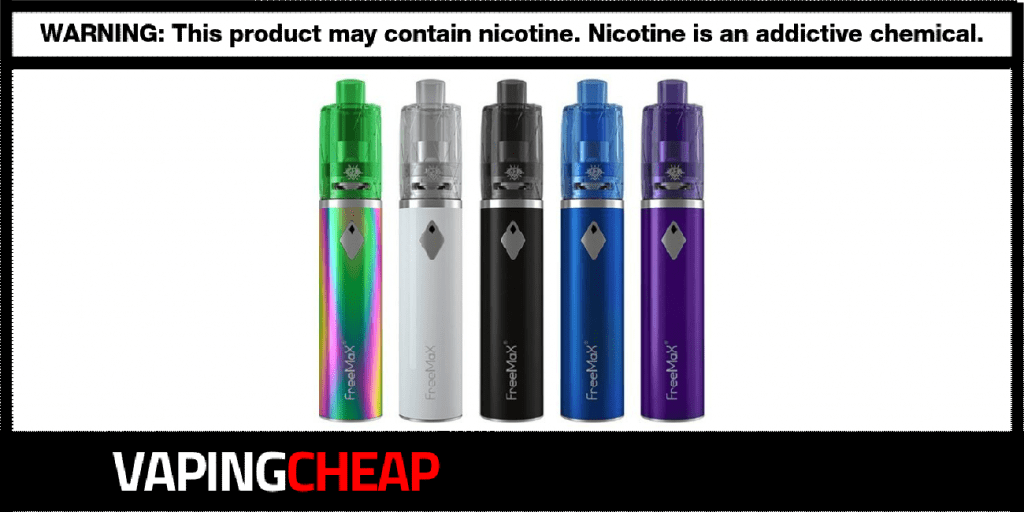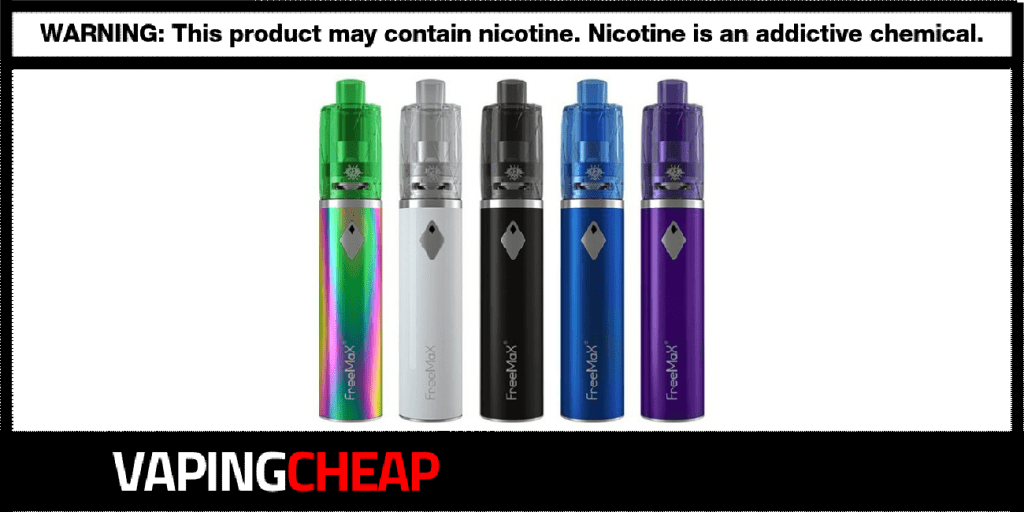 Here's a great deal on the new Freemax Gemm 80w Starter Kit! Get it for only $21.28 using code "disc10". It's also available from a china based vendor for only $24.18. The color options available for you to choose from are Rainbow, Black, Blue, White and Purple.
This vape starter kit includes both the Freemax Gemm 80w Mod, and the Gemm Disposable Tank. Freemax's Gemm Mod has a large 2,900mAh internal battery, and can provide a maximum of 80w. Depending on the coil resistance of the atomizer attached, it can output anywhere between 20w and 80w. There's three different wattage output settings as well, so you do have some type of control when it comes to the wattage output, which is definitely a good thing. Like many devices like the Freemax Gemm 80w, it does have a single firing button alongside an intelligent LED light indicator.
What's great about this vape kit is that although the tank is disposable, it does include two different tanks. One features the built in G2 Mesh Coil which has a resistance of 0.2 ohm, and the other has the built in G1 Mesh Coil which has a coil resistance of 0.15 ohm. Both are rated up to 80w, and the Gemm Mod can output this amount of power with both tanks. The tank with the 0.15 ohm coil does have an e-liquid capacity of 5ml while the other has 4ml. However, both tanks feature a top fill system, and adjustable bottom airflow.
If you're looking for a vape starter kit deal under $20 that's easy to use, then you'll definitely want to check out the Freemax Gemm 80w Vape Kit. At this price, you'll not only get the mod, but two disposable tanks!
Freemax Gemm 80w Kit Features:
Freemax Gemm Mod

Wattage Output Range: 20w - 80w

Three Wattage Adjustments
Total Wattage Output Determined By Tank Used
0.15 ohm Coil - 40w/60w/80w
0.2 ohm Coil - 40w/60w/80w
0.5 ohm Coil - 20w/25w/30w

Built In 2,900mAh Battery
Minimum Firing Resistance: 0.1 ohm
Single Firing Button
Intelligent LED Light Indicator
Many Safety Features

Overtime Protection
Over-Heat Protection
Over-Charge Protection
Battery Virtual High Protection
Short Circuit Protection
Over-Load Protection

Various Color Options

Freemax Gemm Dispoable Tank

Eco-Friendly PCTG Construction
4ml/5ml Capacity
Top Fill Design
Wide Bore Drip Tip
Adjustable Bottom Airflow
Built In Mesh Coil (Non-Replaceable)
Tea Fiber Cotton Wicking Material
What's Included
Freemax Gemm 80w Mod
Freemax Gem Disposable Tank with built in 0.2 ohm G2 Mesh Coil
Freemax Gem Disposable Tank with built in 0.15 ohm G1 Mesh Coil
USB Charging Cable
Warning Card
Warranty Card
User Manual
Check Out The Freemax Gem 80w Kit Review
More Great Vape Deals...
---
dotMod dotAIO Kit $62.96 (USA)
Here's a sale on the popular dotMod dotAIO Kit! Get yours for only $62.96 when using the code "VC10". Free shipping[...]