Dovpo Mono SQ DNA75C Mod $102.00 + FS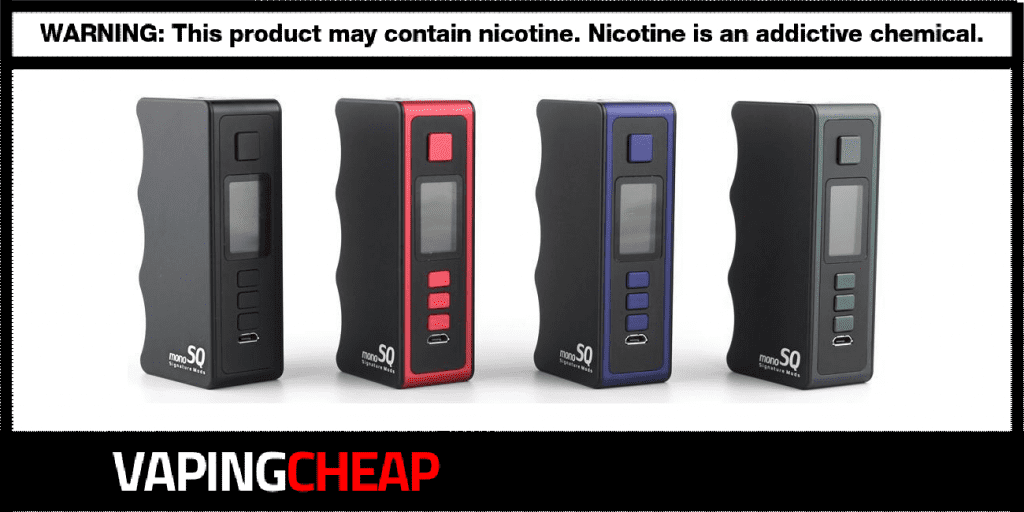 For a limited time only, the Dovpo Mono SQ DNA75C Mod in collaboration with Signature Tips is now in stock and on sale. Grab yours from a USA based store for $102.00 plus free shipping with code "VAPE15". It's also on sale at a China based shipper for $134.99 with our code "vapingcheap". There's only two color options left (blue and green), so be sure to act fast!
The Dovpo and Signature Tips Mono SQ Mod is a follow up from their original release, the SQ Topside. As expected, this new device features an aluminum constructed body, keeping it both durable and lightweight. Additionally, it sports an ergonomic form factor, making it incredibly comfortable to hold and vape with.
Another great feature is that the Dovpo Mono SQ Signature Mod is powered by the Evolv DNA75C board.
Since utilizing this specific chipset, you'll get a large color display screen, and it can be fully customized using the EScribe software. Also, there's temperature control for various wire materials, and you can set up additional profiles while customizing it. This device does require a single high drain 18650 battery, and offers a wattage output range of 1w to 75w. Lastly, the Dovpo Mono SQ DNA75C features a magnetic panel, allowing for quick and easy access to the battery compartment.
If you're in the market for a new DNA box mod, then you'll definitely want to check out the Dovpo and Signature Tips Mono SQ. It features that same ergonomic design, and awesome construction you've come to expect.
Dovpo Mono SQ Signature Mod Features:
Powered By Evolv DNA75C Board
Requires Single High Drain 18650 Battery (Not Included)
Wattage Output Range: 1w - 75w
Temperature Control (Ni200, Ti, SS)
Can Be Fully Customized with EScribe Software
Large Color Display Screen
Ergonomic Design
Aluminum Alloy & Peek Construction
4 Color Options
What's Included
Mono SQ Mod by Signature Tips & Dovpo
Micro USB Cable
User Manual
Check Out The Dovpo Mono SQ DNA75C Mod Review